Ultrasonic Sensors Market By Type (Proximity Sensors, Retro-reflective Sensors, Through Beam Sensors), Application (Object Detection, Distance Measurement), Vertical (Automotive, Healthcare, Food & Beverages) & Region - Forecast to 2020 - 2030
Ultrasonic Sensors Market - Analysis, Outlook, Growth, Trends, Forecasts
July 2020

REP-GB-5134

400 pages
Ultrasonic Sensors Market: Key Findings & Outlook
Global ultrasonic sensors market to reach a valuation of 13.2 Bn by 2030, with a CAGR of 12.0%
Ultrasonic sensors to find lucrative usage in non-destructive evaluation, especially in health monitoring of old buildings and are other complex as preservation becomes important in urban spaces
Through beam sensors to witness a CAGR of 14.4% during the forecast period as Zigbees utilization increases to build personal area network with low power digital radio
Increasing demand and sale of premium cars during the forecast period to boost ultrasonic sensors for improved safety
Increasing adoption of automation in industries eliminating the errors of manuals tasks to propel market growth throughout forecast period
Food Security Solutions to Use Agriculture Sensors for Better Yield
As the food crisis looms, glaring at the global population, it is expected to demand smarter solutions. This has created a massive scope for ultrasonic sensors in the agriculture industry that can rely on its expertise for intelligent inputs.
To name a few, agriculture sensor technology is extremely versatile as it intelligently uses ultrasonic sensors for monitoring crops, fertilizer application, level measurement, and other applications.
They are also used to monitor irrigation systems for preventing overwatering and under watering to prevent damage to crops. Sensors are also used for monitoring and controlling the applications of insecticides, fertilizers, and pesticides.
Pesticides are extensively used on crops to ensure their good health and maximum yield. Oftentimes, these are used in excess, which leads to wastage. Adoption of ultrasonic sensors detect the gap between the crops in rows to spray in places where there are no crops.
As the ultrasonic sensors are extremely robust and have high IP protection degree they can be used under any weather condition without losing performance. Due to such incredible sturdiness, resistance to chemicals, and durability, ultrasonic sensors have gained access in the agricultural sector.
South Asia & Pacific Ultrasonic Sensors Market Shows Consistent Upward Trend
According to Future Market Insights, North America and Europe dominated the ultrasonic sensors market in 2019. Analysis suggests that the incremental $ opportunity for North America ultrasonic sensors market is estimated at US$ 1.3 Bn for 2020-2030.
The U.S. is offering the opportunity for revenue generation over the forecast period, owing to introduction of advanced technologies and increasing investment by companies in various sectors for smart production techniques and process automation. The ultrasonic sensor in North America is estimated to grow approximately by 12% Y-o-Y from 2019 to 2020.
As for South Asia & Pacific the incremental $ opportunity is estimated at US$ 2.2 Bn for 2020-2030. The regional market is projected to register a CAGR of 16.5% during the forecast period.
Prominence of agrarian countries in Asia Pacific region are expected to show 45% to 50% of the global demand for agriculture equipment that is modern and equipped with ultrasonic sensors for better farming. Demand for higher yield amidst an ongoing food crisis is projected to bode well for the regional market.
In South Asia & Pacific, densely populated economy of India contributes approximately 15% towards global population. Higher pregnancy rates that demand of obstetric ultrasonic transducer in medical sector are thus projected to fuel the demand for ultrasonic sensors.
Moreover, due to rising awareness about ultrasonic treatments is also noted to be bolstering market growth in the coming years.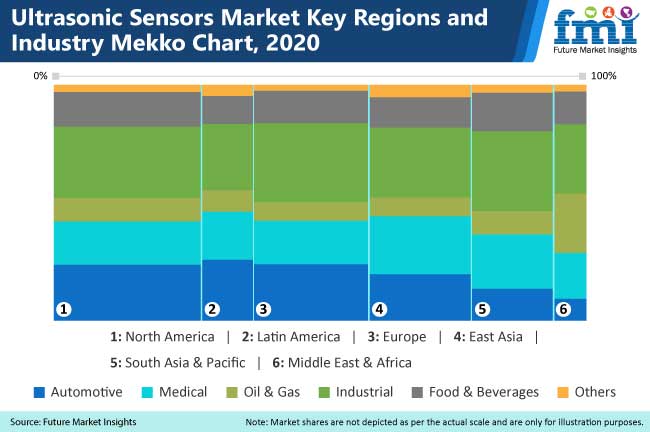 North America ultrasonic sensors market is expected to register a market share of 28%, due to presence of several big automotive and manufacturing players in the region. Moreover, as the ultrasonic sensors have the ability to visualize human body internally without any damage, its demand is increasing for better surgical procedures in the region.
South Asia & Pacific ultrasonic sensors market is projected to expected to witness a CAGR of 16.5% during the forecast period due to rising automation in automotive sector in the region.
In South Asia & Pacific, automotive production in countries such as India, Malaysia, and Indonesia has witnessed a growth of approximately 8%, 12%, and 10%, which is driving the growth of IoT systems in vehicles, thereby boosting ultrasonic sensors market.
The demand for advanced driver assistance system is increasing in the region where ultrasonic sensors are used for anti-collision detection, object distance detection, automatic braking system.
According to Insurance Institute of Highway Safety around 12% of vehicle collision occurs in parking lots, which is increasing the adoption of ultrasonic sensors by automotive manufacturers in the region.
Demand for Safer Drives to Up Ultrasonic Sensor-based Advanced Driver Assistance Systems
In urban areas, congested traffic results in excessive pollution, fuel wastage, decreased productivity, and inefficient time management despite efforts. To improve the road safety and reduce carbon emissions, automobile manufacturers are adding a range of diverse technologies that can help drivers to avoid busy roads and improve fuel efficiency.
ADS systems that are equipped with ultrasonic sensors allows drives to be faster. In addition, they have also been developed to add safety norms to the vehicle.
Ultrasonic sensors detect obstacle and warn the driver in advance of possible collision in a congested traffic environment. These sensors are placed on the front and rear bumpers so that it helps in determining the speed and distance through sound waves.
It is generally used at low speed and at short distance for blind-spot detection and obstacle detection.
According to estimates, in 2020, approximately 91Mn units of ADAS are estimated to shipped globally. In the light of these reasons, Future Market Insights predicts that the automotive segment in the global ultrasonic sensors market will register a CAGR of 12% by the end of 2030
Adoption of Ultrasonic Sensors in Smart Home Automation
Homes have been the biggest concern for ensuring energy savings to make a national difference. Rollout of advancements such as ultrasonic sensors, which operate as motion sensors in IoT home automation systems have enabled excellent savings and lower bills.
These trigger alarms upon detecting motion that at unwanted hours, which works as a safety features. New constructions, emerging number of old age home, and nuclear families have created a big need for safer homes.
This has definitely made a positive impact on the uptake of ultrasonic sensors, which are used in IoT home solutions. Furthermore, better light controls with IoT at home has resulted in lesser energy consumption, prompting its uptake in smart cities.
The sensors help in boosting energy savings as they operate with smart lights that emit lesser. Ability to turn lights on and off with motion detection has also resulted in excellent energy savings due to the convenience they offer.
In 2019, approximately 815 Mn units of home automation products are shipped globally, a number that highlights a gradual shift towards lesser energy consumption.
Ultrasonic Sensors Market: COVID-19 Impact
virus, for sanitization purpose.
Institutions are innovating various tools such as automated touchless doorbell to ensure the visitor does not have to touch the bell to minimize the chance of cross contamination. Innovating of such tools will demand ultrasonic sensors.
The demand for ultrasonic sensors is also increasing for sanitization bands as they have inbuilt proximity sensors and UV light, that can sense when the user's hands is near an object and automatically disinfect the object via UV-light and alcohol-based spray.
Ultrasound is playing significant role in the diagnosis, treatment and in evaluation of severe acute pneumonia associated with severe case of COVID-19. It provides instant, full motion video of cross section analysis of the patient's body and is frequently used to image organs such as the heart, liver, kidney and gallbladder.
Lung ultrasound has emerged as a top tool in the struggle against COVID-19. Hospitals are using it to monitor and even diagnosis cases where tests are unavailable. It is estimated that the adoption of ultrasonic sensors would increase by 1.5X in 2020.
Ultrasonic Sensors Market: Key Players
Collaborations and partnership with key players and acquisition of niche players are the key strategies followed by the leading ultrasonic sensors providers in the market. The global ultrasonic sensors market is fragmented in size, which remains a key factor for making it dynamic and competitive in nature.
Key players operating in the global market are:
Honeywell International
Balluff GmbH
Pepperl +Fuchs AG
Baumer Ltd
Siemens AG
Rockwell Automation
Murata Manufacturing Co, Ltd
Crest Ultrasonic
Omron Corporation
Blatek Inc,
Keyence Corporation
Ultrasonic Sensors Market: Way Forward
Industry 4.0 is referred as industrial revolution that is driving towards automation and data exchange where ultrasonic sensors are being used across manufacturing and supply chain for various purposes. The smart sensors market, which includes ultrasonic sensors, is estimated to grow at approximately 19% every year.
Ultrasonic sensors will be useful in various logistics application, can be used for navigation to fire and corrosion prevention. As industries are accelerating towards automation, it will have to take into account factors including safety, health, and maintenance. For this, ultrasonic sensors and related technology will be at forefr
World's Most Profilic Intelligence Engine
Get Access To The World's Largest Market Research Database.
Sign Up Now
Key Segment
Type
Proximity Sensors
Retro-reflective Sensors
Through Beam Sensors
Others
Application
Object Detection
Distance Measurement
Liquid Level Measurement
Anti-Collision Detection
Others
Vertical
Automotive
Healthcare
Food & Beverages
Oil & Gas
Industrial
Others
Region
North America
Latin America
Europe
East Asia
South Asia Pacific
Middle East & Africa
Need specific information?
Our Clients