UV Stabilized Films Market By Product Type (Optical Films, Adhesive Films), Material Type (Plastic, PET, PVC), Thickness (Up to 20 micron, 20 to 40 micron, 40 to 50 micron), Technology (Adhesion Lamination, Co-extrusion Coating), Application (Printing, Lamination, Industrial, Packaging), End-use Industry (Non-Packaging, Packaging) & Region - Forecast 2019 - 2029
UV Stabilized Films Market - Analysis, Outlook, Growth, Trends, Forecasts
June 2019

REP-GB-7445

306 pages
UV Stabilized Films Market – Key Research Findings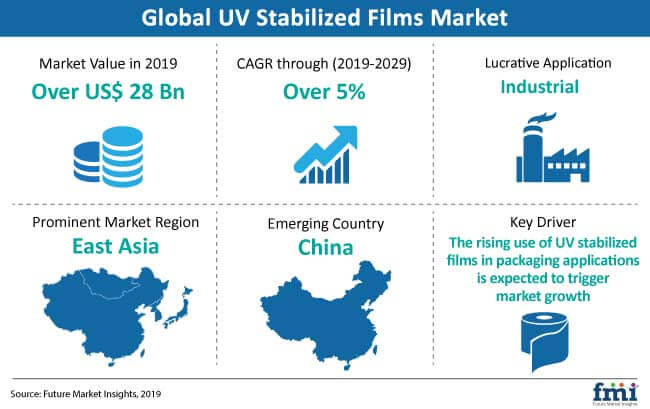 The global UV stabilized films estimated market size in 2019 – more than US$ 28 Bn.
The UV stabilized films market is expected to witness a value CAGR of over 5.0%, during the period 2019-2029.
East Asia & Europe, cumulatively, are expected to account for more than 3/5 of the global UV stabilized films market in terms of market value share during the forecast period.

Europe is expected to represent an incremental opportunity of over US$ 1,365 Bn by the end of 2023.

Among various product types, the adhesive films segment is a prominent segment in terms of revenue generation, owing to its superior adhesive performance.

Among the various UV stabilized films, adhesive films offer good UV-resistance and heat barrier with excellent adhesion.

The co-extrusion coating segment is anticipated to remain dominant technology for the manufacturing of UV stabilized films owing to the better structure of films.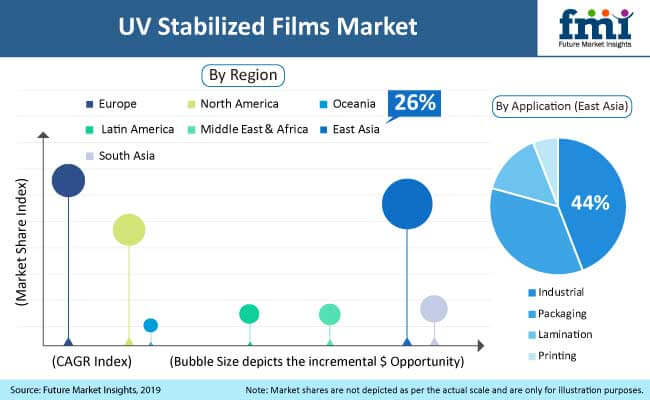 Key Factors Impacting the Global UV Stabilized Films Market
Increasing Global Focus on Maximizing Agriculture Output Can Generate Significant Demand for UV Stabilized Films in the Market

The demand for food items such as crops, fruits, and vegetables has been increasing due to the growth in global population. Various regions are focusing on maximizing their agriculture output in order to meet the rising food demand. UV stabilized films play an important role in the field of agriculture as they provide desirable climate, enhance soil nutrients, and maintain the value of nutrients.

UV stabilized films also protect plants from pets and diseases, and balance the quality and quantity of crops. Usage of UV stabilized films for greenhouse in agriculture has proven to ramp up the production rate by 10-30%. Economies are shifting their focus on expanding agriculture output, which is expected to create significant demand for UV stabilized films during the forecast period.

Continuous Expansion of Various End-Use Industries in Emerging Economies to Create Immense Growth Opportunities for the UV Stabilized Films Market

Manufacturers operating in the global UV stabilized films market are constantly targeting market development activities to generate additional revenue. The global market for UV stabilized films is witnessing a paradigm shift towards untapped markets in emerging economies. High growth rate of end-use industries such as food, building & construction, agriculture, automotive, electrical & electronics, chemicals, and others is likely to create significant demand for UV stabilized films during the forecast period.
UV Stabilized Films Market: Structure Analysis
The global UV stabilized films market is a fragmented market due to the presence of several regional and unorganized market players
Key tier-1 players in the UV stabilized films market include Uflex Ltd, RKW SE, Toyobo Co., Ltd, Kolon Industries, Inc, Kangde Xin Composite Material Group Co., Ltd. (KDX), Toray Plastics (America). Inc., DuPont Teijin Films U.S. Limited, etc
For growth, manufacturers are following the strategy of differentiated product offerings through product innovation.

In December 2018, Uflex Ltd. was granted US patent for formable films that includes one or more layers of BOPET used in Alu Alu blister packaging.
In October 2018, Mitsubishi Polyester Film, Inc. launched new high service temperature solutions with Superio UT-based PEI (Polyetherimid) film.
In July 2017, the company launched two ultra-high barrier PET films for extended shelf life and E-commerce applications.
Effective UV Protection – A Critical Parameter When Used for Industrial Applications
The emergence of greenhouse technology and growing need to protect industrial products from the sun's UV rays has led to the development UV stabilized films market. As continuous exposure to UV rays is likely to weaken the strength and holding ability of the film, manufactures are constantly targeted towards enhancing the film extruding process and developing products with high mechanical strength.
Market Projected to Expand 1.7X through 2029
The global UV stabilized films market is expected to register substantial growth during the forecast period, primarily driven by the increasing demand from non-packaging end-use industries. Advancements in agricultural practices including greenhouse cultivation to sustain food requirements of rising global population will continue to create a high demand for UV stabilized films. Rapid expansion of construction industry, especially in developing countries, is further likely to provide potential growth prospects of the market.
Developing Countries Hold Sustainable Growth Opportunities
Although Europe continues to hold a significant share in UV stabilized films market with presence of well-established players, East Asia is likely to take over its leading position during the predefined period. As urbanization and industrialization in the region are continuously on an upward swing, market vendors are focused on capitalizing on East Asian countries through expansion of their manufacturing facilities and production capacities. China is expected to provide sustained opportunities of growth for manufacturers UV stabilized films.
The Broader Outlook
UV stabilized films, which offer superior barrier performance against sunlight and other external contamination, are in demand for packaging solutions that help processed food products extend their shelf life and preserve overall food quality. With rising intolerance of plastics and greater awareness of sustainability, manufacturers are directing their investments towards R&D activities to enhance the recyclability of their products and minimize the environmental impact.
How Growth will Unfold
The non-packaging end-use industry is projected to maintain its growth impetus in terms of market value, whereas the packaging industry is anticipated to complement the market growth.
World's Most Profilic Intelligence Engine
Get Access To The World's Largest Market Research Database.
Sign Up Now
UV STABILIZED FILMS MARKET TAXONOMY
The global UV stabilized films market is segmented in detail to cover every aspect of the market and present complete market intelligence to the reader.
By Product Type
Optical Films

Retardation Films
TAC Films

Adhesive Films

Diffuser Films
Anti-reflection Films
Dicing Films
Pressure-sensitive Films

Conductive Films
Others
By Material Type
Material Type

Plastic
PET
PVC
PE
Others (PC, PP)

Metal
By Thickness
Up to 20 micron
20 to 40 micron
40 to 50 micron
50 micron & Above
By Technology
Adhesion Lamination
Co-extrusion Coating
By Application
Printing
Lamination
Industrial

Fiber Reinforced Panels
Greenhouse Films
Electrical Insulation

Packaging

Outdoor Labels
Wrapping Films
By End-use Industry
Non-Packaging

Building & Construction
Agriculture
Automotive
Printing
Electrical &Electronics

Packaging

Food

Meat, Poultry & Seafood
Oils
Dry Fruits
Dairy Products
Other UV-sensitive Products

Chemicals
Pharmaceuticals
Region
North America
Latin America
Europe
South Asia
East Asia
Oceania
Middle East &Africa
Need specific information?
Our Clients