About the Report
The veneer sheet market has been exhibiting steady pace of growth. Their increasing use to help give wood works a more aesthetic appeal has been surging. This growth trend is expected to persist in the coming year due to the easy availability of veneer resources. As veneer sheet offers features such as smooth finishing, durability, and wood grain, they are widely used in construction industry especially for building cabinets, on musical instrument, and paneling among other applications. Driven by these factors, the veneer sheet market is forecast to exhibit strong growth in the coming years.
ESOMAR-certified market analysis and consulting company Future Market Insights (FMI) provides insights into key factors driving Veneer sheets market demand in its latest report. In addition to evaluating the effect COVID-19 has had on the Veneer sheets market in general, the study monitors global Veneer sheets sales in 20+ high-growth markets and addresses end-use industries in particular.
What is the Future Outlook for Veneer Sheet Market in Comparison to Historical Pattern?
The consumption of veneer sheets is primarily concentrated in wood working projects for parquet floors and as a part of furniture used in commercial and residential sectors. Owing to its properties such as moisture resistance, sustainability and strength, application of veneer sheet is forecast to rise consistently in the coming years. To cater to the rising demand, key manufacturers are producing multifunctional products such as paper-backed, phenolic-backed and others. According to FMI's analysis, veneer sheets sales have grown at 1.1% CAGR between 2016 and 2020
Veneer sheet is derived from various wood species such as black cheery, oak, maple, mahogany, bamboo, ash, and others. These sheets are usually pasted onto substrates such as blockboard, plywood, or MDF, which are relatively inexpensive to offer a more elegant looking finish. Besides this, veneer sheets offer a more durable surface, which is bound to make an impression among consumers. With construction projects slated to increase, the market will be presented with lucrative opportunities to capitalize on in the near future.
For Instance, governments in the Middle East, especially the government of Saudi Arabia, is focusing on real estate development through various residential and commercial projects that will eventually help boost their economy. In addition, increasing investment in the tourism, healthcare and education sectors in Saudi Arabia has resulted in the proliferation of the construction projects. This will give the opportunity for the key players by manufacturing innovative product to give growth for veneer sheets market in the forecast period.
On the downside, COVID-19 pandemic has caused severe impact on the global economy at various levels and the impact is seen on oil & gas industry as well. The veneer sheets market growth is also projected to be affected by the COVID-19 pandemic crisis and is expected to witness a significant plunge in demand in 2020. With a number of end users affected in regions like North America, Europe and Asia-Pacific. Hence, it is anticipated that supply and demand shortages will result in a substantial drop in Y-O-Y growth, but FMI expects the global market for veneer sheets to rise at 2.3 percent CAGR by 2031.
What is the Commercial Potential of Veneer Sheets?
Veneer sheets are being increasingly used for home décor purposes. It has continued to remain one of the highly sought-after choices among consumers to modernize the otherwise dull and outdated looking furniture. While veneer sheets have been commercially successful, the availability of alternatives such as laminate could be eating away into their share in the global market place.
Nonetheless, veneers will continue being one of the most commonly used materials for decorating and surfacing cabinetry, walls, ceilings, furniture, and others. Moreover, veneers are considered among eco-friendly décor options, since they are renewable and go a long way in replacing solid applications in an economic way.
Why are Veneers Touted as More Sustainable Resource?
The high demand for natural veneers is often backed by the eco-friendly nature. Because they are disposable, there is no requirement for disposing them after use. Natural wood veneers can be recycled at the end of their lifespan and changed into wood wastes that are later used for the production of MDFs. Despite relatively higher price of veneers, their recyclability has helped them score higher in comparison to alternatives available in the market.
More importantly, veneers are preferred because they constitute the best way of utilizing wood. These sheets are needed merely in a thin layer to give desired look to the furniture. Also because they are obtained from natural resources, they are non-toxic unlike laminates, which are made using chemical processes.
What is the Regulatory Impact on Global Veneer Sales?
There are various requirements for the layout, operations and use of veneer sheets that have been recommended by a large number of regulatory bodies such as National Emission Standard for Hazardous Air Pollutants (NESHAP), hazardous air pollutants (HAPs), Environmental Protection Agency and others. In the U.S., this EPA requires facilities manufacturing plywood and composite wood products to reduce their emissions of harmful air pollutants (HAPs). The presence of stringent regulations is likely to have considerable impact on the market.
Country-wise Insights
How large is the Opportunity in India?
FMI has projected India to remain one of the most cost-effective markets throughout the course of the forecast period. Plywood industry in India is thriving back of burgeoning urbanization in the country, which is contributing to growth of veneer sheets market during the forecast period. Furthermore, the replacement cycle of old sheets on plywood is anticipated to lower down at massive rate, this will create opportunity to raise the opportunity for the veneer sheets manufactures to increase the manufacturing scale. In the meantime, India has been the major log importer of tropical timber from Malaysia and Myanmar.
India's construction sector comprises the real estate and urban development segments. Of these, the real estate segment constitutes residential, retail, office, leisure parks, and hotel construction among others. According to the National Investment Promotion & Facilitation Agency, Invest India, the country's construction market is likely to emerge as the third largest one by 2025. The country's thriving construction sector has been offering attractive opportunities for veneer market.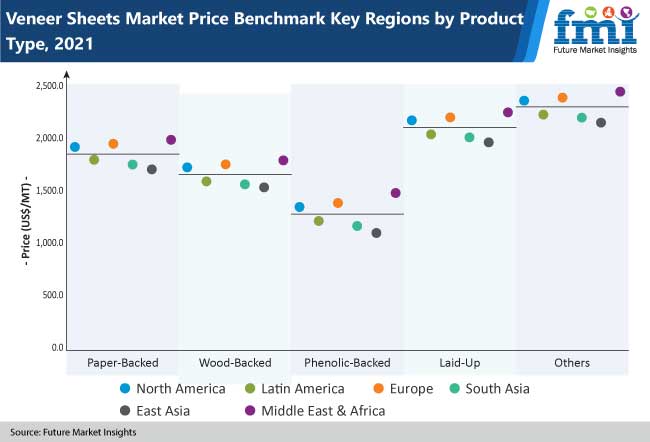 How big is the Opportunity for Veneer Sheets Market in the U.S.?
The U.S. will remain one of the key markets for veneer sales. Growth in the country is expected to be spearheaded by steady expansion of residential and commercial construction. According to the U.S. Census Bureau, construction spending in the U.S. stood at a whopping US$ 1,459.4 Bn in November 2020. With investment in both private and public construction projects predicted to rise, veneer manufacturers will find ample scope to capitalize on in the country.
How will Construction Growth Support Veneer Sheet Sales in U.K.?
The U.K. is among countries to have recorded remarkable growth in construction activities and infrastructural development. Forecasts suggesting steady rise in construction investment have been favoring expansion of veneer sheets market in the country. While sales have been profoundly hampered during COVID-19, the gradually recovering construction sector is poised to offset challenges threatening the market. As per the Office of National Statistics, U.K., construction output of the country has improved by a marginal 1% in October 2020. Recovery of construction projects is likely to enable the market gain momentum within the country.
Will Germany Remain a Lucrative Market for Veneer Sheets?
Germany has been identified as one of the highly attractive markets for veneer sheets and growth forecasts remain positive through the course of the report's forecast period. Growth registered by the market is primarily attributable to the impressive performance by the nation's construction sector. As per the Federal Statistics Office, Destatis, the turnover of the construction industry in Germany improved by 2.2% in October 2020 in comparison to growth exhibited during the corresponding month of 2019.
With construction investment consistently rising, the demand for veneer sheets is set to rise considerably over the coming years.
How is China's Recovery Post COVID-19 Affecting Veneer Sales?
China's recovery post COVID-19 has been a chief driver of veneer sheets market in the country. The rapid economic recovery of China also connotes that industrial activities are picking up pace, including that within the construction sector. Construction enterprises across China had signed a couple of trillions of worth contracts in 2018. In addition to this, the China State Construction has been awarded several contracts as have been to hotels and local casino operators such as Wynn Resorts, Melco, MGM, and The 13 for urban development projects and public works.
Also in 2019, it was announced by China Railway Construction Corporation that the value of contracts it signed newly were up by 25.07% from that of a year ago. The thriving construction sector of China will continue presenting lucrative prospects for veneer sales.
How Big is Opportunity for Veneer Sheets Market in Japan?
Construction investment in Japan is on path of recovery since the Great East Japan Earthquake in 2011. The rising number of construction of new dwellings has been a key factor enabling veneer sheet market growth in the country. However, gloomier weather noticed in the country's construction sector as a result of COVID-19 outbreak could pose threat to the market. Nonetheless continuing trend of investing towards recovery of the sector will aid expansion in the coming years.
Category-wise Insights
What's the Market Share of wood-backed?
The wood-backed segment will continue accounting for one third of the global share among product types through the forecast period. According to FMI, the segment is expected to hold nearly 32% of the market, in terms of product type, by the end of 2031. This is due to its ease availability of resources that make it compatible for all types of applications.
Why residential sector Hold Higher % Share?
Accounting for over 65% of the overall share through the forecast period, residential sector drives continue to account for bulk of demand for veneer sheets market in plywood industry. Growth in the segment is owing to healthy demand from new housing units as well as from renovation & refurbishment. Moreover the advent of custom designed furniture including modular kitchen units have envisaged the use veneer sheets as an economic choice of material as compared other engineered wood products.
Competitive Landscape
With an intent of gaining edge in a highly competitive veneer sheets market, manufacturers have been focusing on innovations and various expansion strategies. For instance, companies such as FormWood Industries, Inc. and Oakwood Veneer Companies have offer a wide range of veneer sheet designed exclusively for specific applications. Through their wide range of products these companies intend to offer solutions best suited for consumer requirements. Other companies such as Century Ply also offer do-it-yourself options for budget friendly and sturdy furniture.
Some of the leading companies operating in the market are:
GREENLAM INDUSTRIES LTD.
Sauers & Company Veneers
Oakwood Veneer Company
Veneer Technologies, Inc
FormWood Industries, Inc.
Turakhia Overseas Pvt. Ltd.
CEDAN INDUSTRIES
CENTURYPLY, Ltd
Herzog Veneers, Inc., Ltd
SR Wood, Ltd
Pearlman Veneers
Flexible Materials Incorporated
*The list is not exhaustive, and only for representational purposes. Full competitive intelligence with SWOT analysis available in the report.
Scope of the Report
Attribute

Details

Forecast Period

2021-2031

Historical Data Available for

2016-2020

Market Analysis

USD Million for value and Units for Volume

Key Regions Covered

North America, Latin America, Europe, East Asia, South Asia & Pacific, Middle East & Africa

Key Countries Covered

US, Canada, Germany, U.K., Brazil, Mexico, France, Italy, Spain, Russia, China, Japan, South Korea, India, ASEAN, Oceania, GCC Countries, Turkey, Northern Africa, South Africa

Key Segments Covered

Product Type, Material Type, Application, Process Type, and Region

Key Companies Profiled

GREENLAM INDUSTRIES LTD.
Sauers & Company Veneers
Oakwood Veneer Company
Veneer Technologies, Inc
FormWood Industries, Inc.
Turakhia Overseas Pvt. Ltd.
CEDAN INDUSTRIES
CENTURYPLY, Ltd
Herzog Veneers, Inc., Ltd
SR Wood, Ltd
Pearlman Veneers
Flexible Materials Incorporated

Report Coverage

Market Forecast, brand share analysis, competition intelligence, DROT analysis, Market Dynamics and Challenges, Strategic Growth Initiatives

Customization & Pricing
Key Questions Answered in the Report
Q1. Which is the Most Lucrative Market for Veneer sheets?
China is the leading country in the global market for Veneer sheets. Sales in china will be over 24% of total demand throughout the forecast period.
Q2. Which are the top-selling Veneer sheets?
Wood-backed and paper-backed veneer sheets are highly sought-after. The demand for wood-backed and paper-backed veneer sheets is expected to remain high in the near future, especially due to their features such as durability, glossy finish, and smooth application.
Q3. Which end-use industry has been exhibiting high demand for veneer sheets?
Veneer sheets are widely used in construction projects across residential sector. Their usage in housing, and building & construction, interior designing is rising day-by-day.
Q4. Which are some of the leading companies providing Veneer sheets?
Some of the leading companies manufacturing Veneer sheets are GREENLAM INDUSTRIES LTD., Sauers & Company Veneers, Oakwood Veneer Company, Veneer Technologies, Inc and FormWood Industries, Inc.etc.
Q5. Which is more preferred Veneer sheets?
The paper backed veneer sheets are in high demand because they are comparatively more economical and durable.
Key Segments
Product Type
Paper-Backed
Wood-Backed
Phenolic-Backed
Laid-Up
Others
End Use
Region
North America
Latin America
Europe
East Asia
South Asia & Pacific
Middle East and Africa (MEA)
Need specific information?
Talk Show:
The Rise of Intelligent Packaging
Personalized, Connected and Sustainable
November 18, 2021
11:00-11:45 AM PST (USA & Canada)
This is a LIVE session