Wine Barrel Market Oak (French Oak, American Oak, Eastern European Oak), Toast Level (Light Toast, Medium Toast, Medium Plus Toast, Heavy Toast), Capacity (Barrique, Hogshead, Puncheon, Others) & Region - Forecast to 2019 - 2029
Wine Barrel Market - Analysis, Outlook, Growth, Trends, Forecasts
November 2019

REP-GB-2206

156 pages
Wine Barrel Market Overview
[156 Pages Report] The wine barrel market is valued at US$ 4.41 Bn in 2021. It is set to grow at 5% CAGR through 2029.
| | |
| --- | --- |
| Attributes | Details |
| Estimate Market Size of wine barrel in 2021 | US$ 4.41 Bn |
| Projected Market Size of wine barrel in 2029 | US$ 6.52 Bn |
| CAGR during 2021 -2029 | 5% |
Among different regions, the U.S is still prominent in the wine market, with a high wine consumption of nearly 33 million hectolitres.
By product types, French oak wine barrels dominate the market by occupying nearly 55%.
In developing economies, number of wine producers are increasing rapidly, specifically in China, Japan, and India due to high demand for premium wines and locally generated flavors by the manufacturers. Overall the global outlook of wine barrels is expected to remain positive during the forecast period. Manufacturers are focusing on increasing the production of wine barrel for ensuring proper order and supply across the globe. This has headed to increase in petition of wine barrels.
Growing Consumers' Preference for Low Alcoholic Drinks
According to Ireland Brewing Trade body, low and non-alcoholic drinks such as M&S Kendermann's Merlot, and Rawsons Retreat Cabernet sales are thriving in European countries like France, Ireland, Poland, the U.K., and the Netherlands, supporting the wine barrel market growth in the region. Low alcoholic drinks offer unique and high quality tastes with lesser amount of alcohol content, in the range of 0.5 to 2.0%. In the U.S., around 52% of adults who drink alcohol are either going for low alcoholic drinks or have tried to reduce their alcohol intake.
Low alcoholic beverages are gaining traction in Asia Pacific, majorly owing to their low calorie content, occasional suitability, and the fact that health concern consumers are increasing rapidly. Besides this, through advertisements and media publications, people are becoming aware of the health and adverse effects caused by drinking strong alcoholic drinks regularly.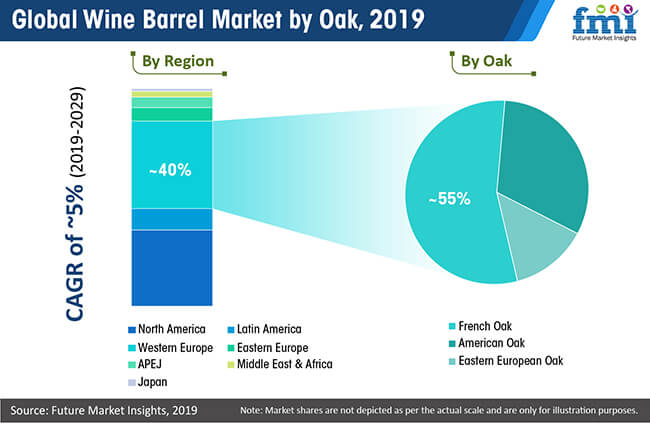 Accessibility of Alternatives of Oak Wine Barrel
Oak wine barrel alternatives such as oak staves, blocks, chips, and powders are becoming more prevalent among newly developing wineries. Wineries are adopting several practices that includes the used barrels with their interior shaved or re-toasted or using the same used barrel for more extended period. Oak alternatives are more convenient to use which helps in adding textures during fermentation process. Adoption of expensive French oak wine barrel is practically unaffordable for small-sized wineries.
Considering the consumers' inclination towards less 'oaky' wines, manufacturers are also aging their wines using alternatives like cubes, chips and powder tannins. Barrel substitutes are cheaper than wine barrel because less skilled labors are required. In addition, they are generally made of staves, which are rejected during wine barrel manufacturing. Therefore, oak barrel alternatives are making wine affordable, which is hindering wine barrel market growth.
WINE BARREL MARKET STRUCTURE ANALYSIS
Independent Stave Company, Tonnellerie Radoux USA Inc., Seguin Moreau Napa Cooperage, Inc., Nadalié USA, Billon Cooperage, The Barrel Mill, StaVin Inc., Tonnellery of Adour, A. P. John Cooperage, Canton Cooperage, LLC, World Cooperage, Premier Wine Cask, Inc., and Kelvin Cooperage are prominent manufacturers of wine barrel, globally.
Industry analysts expect the demand for premium wines to increase 8-10% per annum, which will boost the growth of the wine barrel market.
Adoption of stainless steel wine barrel and consumers' attraction towards aging wine are vital trends in the global wine barrel market.
World's Most Profilic Intelligence Engine
Get Access To The World's Largest Market Research Database.
Sign Up Now
Wine Barrel Market: Segmentation
The global wine barrel market is segmented in detail to cover every aspects of the market and present a complete market intelligence approach to readers.
Oak
French Oak
American Oak
Eastern European Oak
Toast Level
Light Toast
Medium Toast
Medium Plus Toast
Heavy Toast
Capacity
Barrique
Hogshead
Puncheon
Others
Region
North America
Latin America
Western Europe
Eastern Europe
Asia Pacific Excluding Japan
Middle East and Africa
Japan
Need specific information?
Our Clients