Aerial Work Platform Market Outlook & Key Findings
Aerial work platform market is likely to exhibit growth over 4.2% during the forecast period ( 2020-2030)
Machine use index has risen by 15%-17% in quarter two of 2020, showcasing strong recovery of industrial and construction equipment in the COVID-19 crisis
Europe accounted for 23% of market share in 2020. Currently, Europe is witnessing double digit utilization rates of aerial work platforms
In North America and Europe, aerial work platforms with lesser height dimensions are seeing higher utilization for general repairs and maintenance
Aerial Work Platform Market Size and Analysis
The aerial work platform market is set for strong revival amidst the COVID-19 crisis with a sharp uptake across Europe which saw its disease curve flattening. Analysts at Future Market Insights opine that the market is forecast to witness steady single digit growth on the back of accelerated construction activity and investments in research and development.
Many stakeholders are now hedging their bets on the high growth of utilities infrastructure, especially the proliferation of 5G. Even before the pandemic, the market was moving away from traditional hubs of Europe and Americas; in the post COVID-19 era, China, South Korea, Japan, and India are likely to become more lucrative for aerial work platform manufacturers.
Aerial Work Platform Sales: Rental Imports Scale up by 25%
Growth within the aerial work platform market is characterized by leasing and renting of access equipment such as articulated boom lifts, scissor lifts and boom lifts.
Construction companies are leveraging this trend as a cost-effective strategy to supplement their existing fleet of lifts or to handle short-term projects. Buoyed by the rampant demand for rented aerial work platforms, small, medium and large scale companies are relying extensively on imports. For instance:
Haulotte, a major French aerial work platform manufacturer has developed financing solutions for construction companies. These include operating lease and finance lease for renting aerial work platforms
NESCO, a utility equipment rental company maintains one of its largest rental fleets in North America and also provides services for fast diagnosis and repair
Ashtead, a rental company with its networks in US, UK and Canada is providing rental services of aerial work platforms aimed at a range of applications such as positioning, dredging and cutting
The last five years saw imports scaling up by at least 25% from the year 2013. While emerging countries such as India are hotbeds for opportunities in the rental space, poor legislation with regard to worker safety continues to be an impediment with regard to growth of rentals in these countries.
Major construction companies in these countries are leasing elevated work platforms on account of lower rental rates with better prospects for financial and after sales solutions.
Aerial Work Platform Consumption Pattern – Boom Lifts to Capture More Than Half of Market Value
According to the latest analysis by Future Market Insights, boom lifts will remain highly sought-after during the forecast period and will account for more than half of the market value. Amongst these, the utilization of electric boom trucks will gain impetus on back of their high suitability in operations requiring excessive movement.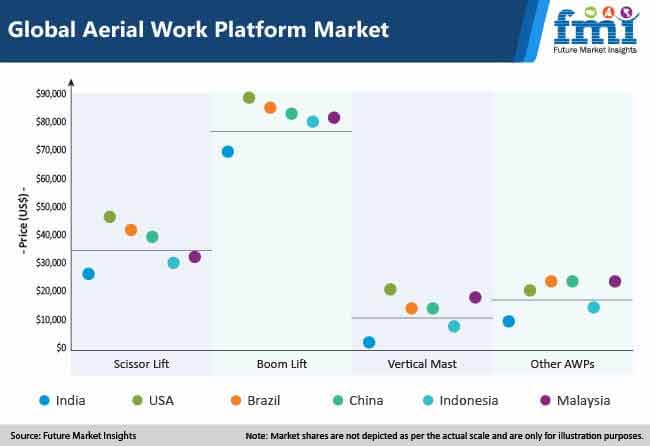 Scissor lifts on the other hand are unidirectional in movement and the ones suited for rough terrain offer a maximum of 60 feet elevation. With frequent maintenance, scissor lifts are relatively cost-intensive. Vis-a vis boom lifts, scissor lifts are seeing a lower uptake as capital and operational costs for these lifts is more. Thus they are witnessing higher adoption in the rental landscape
Under the ambit of construction activity, cherry pickers are soaring on popularity on back of their multi-directional usage, thus making them ideal for repair and maintenance work at construction sites
Aerial Work Platform Market Trends to Renew Emphasis on Safety and Autonomy
Advancements in telematics, aerial technology innovations, and new safety standards are governing the aerial work platform market landscape.
From the safety perspective, anti-entrapment systems are gaining rapid traction on compact lifts and equipment. These are specifically used in the construction sector where risk is highest.
Remote access and diagnostic systems for aerial work platforms are majorly upping the efficiency and troubleshooting quotients of OEMs. Discreet tasks are also being made more autonomous in order to enhance productivity.
Many stakeholders are exploring the online option for putting out their boom aerial lifts and scissor lifts along with a free subscription. With a paucity of service techs, customers can access all the relevant information with regard to the rental company online or through telematics thus helping rental companies save on maintenance requests.
Manufacturers Investing in Electric Drive and Efficient Battery Technology to Increase their Market Share
Manufacturers of scissor lifts are keenly exploiting the benefits of electric drive in lieu of hydrostatic drive which is set to deliver marked improvements in terms of duty cycles.
Conventionally, hydraulic drives utilized a lot of time in pumping fluids to the hydraulic drive motors. With the introduction of electric drive, efficiency levels can go up by 65%, a significant spike from the erstwhile 30%.
For instance: Dana Incorporated, an American player in the automotive industry has accelerated its hybrid and electrically powered construction in its aerial work platforms. It has introduced electric drivetrain solutions into its engines.
Wringing out more duty cycles from smaller battery packs are slowly translating to greater efficiency, longer run time for the aerial work platform and significantly lower costs.
Cost savings accrued from small battery packs have been as much as $250. For instance JLG Industries, Inc an American designer and manufacturer of access equipment is supplying 3.66M to 18.29M scissor lifts and boom lifts which have smaller battery sets having longer run-time and higher productivity. To add to these manufacturers are also making boom lifts and scissor lifts with part elimination, lighter alloys and downsizing of hydraulic reservoirs.
Aerial Work Platform: Regional Analysis
India and China will continue to be the most lucrative markets for aerial work platforms. The India aerial work platform market has steadily shown hefty annual growth rates, with growth pegged at 8% in 2020.
In SEA and Pacific countries, state and private steel producers, airports and building maintenance companies are rapidly migrating from their manual and regular maintenance practices and using aerial work platforms against the backdrop of infrastructure modernization. For instance:
Genie, a Terex Corporation brand, with its presence in South East Asia, provides an array of aerial equipment such as trail mounted boom lifts, rough terrain scissor lifts and vertical mast lifts
Similarly, Manlift operates in a large number of countries extending from Middle East to South East Asia and is primarily focused on the aerial work platform rental market
The European Aerial Work Platform market, accounted for nearly one-third of the global aerial work platform sales in 2019.
Both Europe and North America are generating high demand for aerial work platforms on back of high equipment renewal in these regions. More stringent legislations with regard to worker safety and high labor costs have made North America and Europe early adopters of aerial work platforms. With greater penetration rates, the market is more mature.
Aerial Work Platform Market Manufacturers
The aerial work platform market place is governed by Tier 1 and Tier 2 players owing to their strong presence across diverse regions and proclivity of rental companies towards inclusion of branded products in their fleet.
Some of the leading market players with a global stronghold are Terex Corporation, Linamar Corporation, JLG Industries, Inc., Haulotte Group, Toyota Industries Corporation (Aichi), J C Bamford Excavators Ltd., Oshkosh Corporation, Tadano Limited, Palfinger Ag, Zhejiang Dingli Machinery Co., Ltd, Manitou Group and IMER International SpA
Most of the manufacturers are focusing on price reduction strategies in the current pandemic whilst focusing on quality, strength and high durability of their products.
For instance, Skyjack, an offshoot of Linamar Corporation, launched a brand new range of scissor lifts designed especially for rough terrain. These boast of better working heights and larger platform spaces.
Skyjack has also launched the ELEVATE telematics solution which enables scissor lifts to directly respond to commands given over the phone or a mobile phone network and perform tasks independent of lifting, driving and steering.
Similarly Genie® booms, a product of Terex Corporation are leading the way in hybrid technology which allows it to run on any fuel; this also offers the flexibility of offshore disposal with minimal stipulations. It also has the maximum capacity in terms of poundage, making it ideal for heavy-duty industrial operations.
Whilst Terex clocked net sales of US$1 Bn in Q3 of 2019, the ongoing pandemic has softened the environment for construction and industrial activity thus declining the demand for aerial work platforms and putting pressure on sales.
Linamar Corporation is also extending ramped-up production support to ventilator companies and streamlining its supply chain operations in a bid to expedite delivery of critical PPE.
Aerial Work Platform Market – What does the Future Hold?
The long-term outlook on aerial work platform market remains bullish, with FMI's analysis estimating revenues to grow at 5% consistently. Scissor lifts and boom lifts will remain the top-sellers across categories.
North America holds a lot of optimism for the aerial work platform market. With viral trajectory shifting from US, market players are aggressive in their pursuit in capturing value within this region.
Presently, companies are focusing on partnering with strategic distributor dealerships for businesses in the rental space. Distributors would help to support the market in various regions. Post pandemic, the learning curve will be much steeper for rental companies. Market demand for light-weight and durable aerial work platforms will increase.
Advancements in sensor technology will lead to better solutions towards worker safety as these solutions help to optimize work environment.
Market Taxonomy
The global aerial work platform market is segmented in detail to cover every aspect of the market and present a complete market intelligence approach to the reader.
By Product Type
Scissor Lift
Boom Lift

Telescopic
Articulating
Trailer Mounted
Self-Propelled

Vertical Mast

Double Mast AWP
Single Mast AWP

Push Around AWP
By Ownership
Rental Service Providers
End Use Industries

Construction
Entertainment
Commercial
Manufacturing
Others (Public Administration, Agriculture, etc.)
By Region
North America
Latin America
Europe
South Asia
East Asia
Oceania
MEA
Need specific information?