Scissor Lifts Market Overview (2021-2031)
[192 Pages Report] Global scissor lifts market to grow at 3.5% CAGR through 2031.Scissor lift is an access equipment which falls under the category of aerial work platforms and is used for safe and efficient elevated material handling across various industries.
Global scissor lifts market is undergoing a massive transformation with shift from the mature and saturated markets such as North America and Western Europe to the emerging economies such as China, ASEAN, and other South East Asia & Pacific countries. A key factor supporting this expansion is the surging construction activities across developing countries.
In its new study, ESOMAR-certified market research and consulting firm Future Market Insights (FMI) offers insights into key factors fuelling the demand for scissor lifts. The report tracks the global sales of scissor lifts in 20+ high-growth markets, along with analyzing the impact COVID-19 has had on the end-use industry in general, and scissor lifts in particular.
Don't pay for what you don't need
Customize your report by selecting specific countries or regions and save 30%!
What Attractive is Future Outlook for Scissor Lifts Market in Comparison to Historical Pattern?
Lack of efficient government regulations along with high pricing and continued availability of traditional methods have remained the key concerns for manufacturers of scissor lift. Nonetheless, the market is undergoing a massive transformation as a result of companies shifting their focus away from mature markets to developing countries.
With rental companies playing a pivotal role in the scissor lifts market, developing countries are expected to emerge as lucrative pockets for business expansion. FMI in its study have found the market to have expanded at 2.3% CAGR between 2016 and 2019.
Manufacturers are continuously focusing on enhancing product efficiency and incorporating new environmental-conscious technologies. Along with this, the companies are fine-tuning their expansion strategies to stay relevant amid increasing competition. Besides demand from building and construction sector, application in repair activities will remain a key focus for scissor lifts market players.
With rise in infrastructural projects and economic development in Middle East & Africa, access equipment such as scissor lifts are gaining more traction. With growing acceptance and maturity of scissor lifts market, safety features start playing a vital role. As there are only a limited number of manufacturers in the MEA, established players are expanding their sales network in the region to further augment the growth. FMI expects global scissor lifts market to grow at 3.5% CAGR through 2030.
How is AWP Adoption Influencing Scissor Lifts Demand?
Working at heights is often integral for success of a construction or maintenance project. However aerial access operations could result in mishaps when there is a lack of training or proper equipment. Scissor lifts are often the preferred equipment for accessing massive heights without fear of any hassle or mishap. Scissor lifts are identified as safe and reliable aerial work platforms for workers.
The Occupational Safety and Health Administration (OSHA) has implemented standards that employers are required to maintain to protect workers against any possibilities of hazard associated with scissor lifts. In fact several kinds of scissor lifts are already covered under OSHA's scaffolding standard. This is expected to bode well for overall growth of the scissor lifts market.
Why is there Concentration in Emerging Countries among Scissor Lifts Manufacturers?
Several manufacturers have begun concentrating on future advanced economies, such as ASEAN. In 2013, Mantall launched its products in ASEAN, including the established Singapore scissor lifts market and the fledging Thailand, Vietnam and Cambodia.
Regional companies have partnered with key players in the established market to enhance production of scissor lifts and other AWP products for domestic purposes. For instance in China, Beijing Jincheng Heavy Industry (JCHI) is set to produce AIRO lifts. Airo has production facilities and sales offices in France, Spain and Brazil. The idea is to have a sales network for both companies throughout Asia Pacific and Europe.
How are Safety Standards Impacting Global Scissor Lift Sales?
After the restructuring of the aerial work platforms market in late 2001, greater attention was paid to safety regulations to move away from risky rope access and other conventional methods, such as scaffolding. In saturated markets, such as North America and Western Europe, technologically advanced equipment are mostly preferred for any job. Thus, OSHA and other associations have developed several standards, which are promoting the growth of the scissor lifts market.
Japan puts great impetus on safety standards and due to the presence of a large number of OEMs in the country, it requires a large number of AWPs for a wide variety of applications. The largest market by far for scissor lifts remains North America, with Western European countries closely following up.
In the U.S., the new ANSI (American National Standards Institute) standards are set to be introduced in 2018, following the identical CSA standards adopted in Canada. Subsequently, forming a new relationship between safety and productivity in the access market will represent a new era across the region. Subsequently, safety standards play a crucial role in the growth of scissor lifts market.
Get the data you need at a Fraction of the cost
Personalize your report by choosing insights you need
and save 40%!
Scissor Lifts Market Country-wise Insights
How Big is the Opportunity in US?
FMI has projected the U.S. to remain one of the most lucrative markets throughout the course of the forecast period. The U.S. is home to nearly half of the overall fleet size of scissor lifts. With huge demand for replacement and growth expected, the US is a market with tense competition both technologically and commercially for AWP brands. More than 55% of the total scissor lifts with platform height between 30' and 50' are sold in North America.
Growth of the scissor lifts market is supported by ANSII regulations in the U.S. The U.S. market is estimated to witness strong growth during the forecast period as a result of updates being made in the ANSII regulations. ANSI standards are driving innovation in scissor lift machines. In US, mini-scissors are gaining traction in commercial places as they can be used in place where ladders above 6 feet in height are used.
Favorable policies, coupled with high per capita spending, has created a conducive environment for the growth of scissor lifts market in the U.S. Also the presence of leading players such as JLG Industries, Inc., Terex Corporation, Linamar Corporation, and Snorkel is supporting growth in the U.S. Strategies undertaken by these companies include product launches and expansion plans, which will continue aiding overall expansion in the U.S.
China's Scissor Lifts Demand Will Continue to Rise Significantly
The competition in China is soaring up as many manufacturers in China have set up their own production facilities over the last two years. These include some of the prominent players in the country, including Sany Palfinger, XCMG and LGMG. Significant growth in China is expected despite the lack of regulations, a situation that seems will remain unchanged in near future.
Growing demand for scissor lifts has encouraged manufacturers to improve their production capacity. For instance, XCMG has increased its production capacity by 600 units a month which is 100 times higher than last years. The companies are poised to take advantage of the current situation and develop strong relationship with rental companies. Consequently, rental companies will witness most lucrative opportunities in the scissor lifts market in near future.
Launch of numerous products with varying platform height will support future growth in China. China has more than 150 rental companies and henceforth, will demand a large number of scissor lifts.
Robust Infrastructure to Enable Steady Growth in U.K.
The rental scissors lift market is well-established in U.K. The country has been identified as an economic catalyst among Western European countries and it is expected to remain at the forefront of the market.
Furthermore, the rental market is steadily growing as end-users seek to benefit from higher machine utilization and focus on their core businesses. The strong consciousness amid consumers across UK, coupled with the government safety regulations and growing access industry, will be among the key factors fueling the pace of the scissor lifts sales in country.
Advancements, such as supply of electric and hybrid lifts will expedite their utilization across indoor as well as outdoor applications in the country. Regulations in UK for scissor lifts utilization will support the development of scissor lifts. The country also has robust infrastructure and is home to prominent manufacturers. The demand for scissor lifts from the commercial sector will outpace the demand from the manufacturing sector in the country.
Sales in India Tied Closely to Price and Environmental Friendly Product
Though the demand is rising from several emerging countries, India is likely to gain traction in the scissor lifts market over coming years. Key manufacturers are poised to gain competitive-edge by delivering cost-effective and environment-friendly product. The country's increasing construction activities will considerably support this growth.
According to the National Investment Promotion & Facilitation Agency called Invest India, the construction market of India is likely to emerge as the third largest one by 2025. Increasing investment in construction activities and infrastructural development is seen as a key factor enabling growth in India.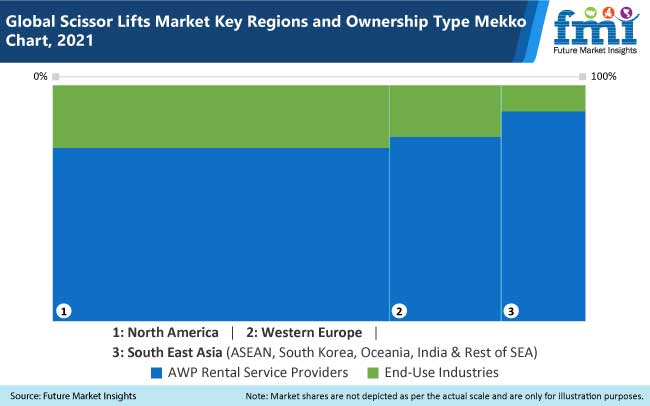 Increasing Adoption of Construction Equipment on Renting Basis Fuelling Scissor Lifts Demand in Brazil
Impetus to construction sector by Brazil's government will create growth opportunities for the market. In 2017, the government of Brazil launched an infrastructure concession program aimed at developing the country's power transmission lines, railway, country's port, roads, and sanitation. Besides this, programs such as Plano Decenal de Expansao de Energia 2026 and Minha Casa Minha Vida (MCMV), supporting infrastructural development in the country, will create opportunities for scissor lift sales.
There is an increasing adoption of construction equipment on renting basis with no big payments which helps in supporting small and average companies by providing the opportunity to purchase the equipment on provisional terms. This will help the AWP Rental Service Providers to increase their presence in the Brazilian scissor lifts market.
What is Supporting Scissor Lift Sales in Germany?
Germany will remain one of the key markets for scissor lifts in Europe. The consistently rising demand from the nation's construction sector is a chief growth enabler. According to the Federal Statistics Office, Destatis, the construction industry turnover improved by over 2% in October 2020 and the trend is expected to continue through the forecast period, creating attracting opportunities for scissor lift market.
Scissor Lifts Market Category-wise Insights
What's the Market Share of 30' - 50' Platform Height Segment?
The 30' - 50' platform height segment will continue accounting for largest global share among platform height through the forecast period. According to FMI, the segment is expected to hold around 44% of the market, in terms of platform height, by the end of 2031.
This is due to its growing demand in emerging nations, coupled with increasing consumer awareness for safety. Further, hybrid and bi-energy scissor lifts are anticipated to witness substantial growth. More than 50% of the scissor lifts with platform height 30' - 50' will be sold in North America.
Why AWP Rental Service Providers Hold 81% Share?
Accounting for over 81% of the overall share through the forecast period, AWP Rental Service Providers continue to account for bulk of demand. A large amount of dust and other particles are generated during steel production and other manufacturing activities. These get accumulated on the roof of the plants, thereby leading to the requirement for regular cleaning plants by placing operators on AWPs. Moreover, rental companies are renting various types of AWPs to such industrial plants.
Encouraged by the wide array of benefits of AWPs, companies related to maintenance activities have been procuring a large number of AWP units over the years. Also, the plants have been buying equipment of their own for long-term advantages. The hybrid AWP is being increasingly developed as a cost-effective and environmentally-friendly choice. However, hybrid scissor lifts are still a nice product and are less likely to be dominant in rental fleets over diesel-powered scissor lifts.
Competitive Landscape
Companies operating in the scissor lifts market are shifting focus to developing countries to capitalize on growth opportunities in ASEAN, China, India, and Russia, and other countries. Besides this, they have been focusing on improving their offerings to gain better traction. For instance, Oshkosh Corporation modified its ES (electric scissor) and RT (rough terrain) scissor lift lines in 2015. Furthermore in the same year, the company launched 53-foot rough-terrain scissor lift.
Several companies that specialize in low-weight machines are focusing on innovations to improve safety with the inclusion of several innovative features, such as crush-protection sustainable involuntary operation prevention systems, sensitive hybrid power systems, etc. For instance, Palfinger AG developed a new control unit for self-propelled scissor lift platforms for the Chinese market. These lifts improved safety considerably.
Some of the leading companies operating in the market are:
Terex Corporation (Genie)
JLG Industries, Inc.
Linamar Corporation (Skyjack)
Snorkel International
Haulotte Group
Zhejiang Dingli Machinery Co, Ltd.
Aichi Corporation
Manitou BF
Hunan Sinoboom Heavy Industry Co., Ltd.
*The list is not exhaustive, and only for representational purposes. Full competitive intelligence with SWOT analysis available in the report.
Scope of the Report
Attribute
Details
Forecast Period
2021-2031
Historical Data Available for
2016-2020
Market Analysis
USD Million for value and Units for Volume
Key Regions Covered
North America, Latin America, Western Europe, Eastern Europe, China, Japan, SEA, MEA
Key Countries Covered
US, Canada, Germany, U.K., France, Italy, Spain, Nordic, Poland, Russia, China, Japan, South Korea, India, ASEAN, GCC Countries, Turkey, Northern Africa, South Africa
Key Segments Covered
Platform Height, Ownership, and Region
Key Companies Profiled

Terex Corporation (Genie)
JLG Industries, Inc.
Linamar Corporation (Skyjack)
Snorkel International
Haulotte Group
Zhejiang Dingli Machinery Co, Ltd.
Aichi Corporation
Manitou BF
Hunan Sinoboom Heavy Industry Co., Ltd.

Report Coverage
Market Forecast, brand share analysis, competition intelligence, DROT analysis, Market Dynamics and Challenges, Strategic Growth Initiatives
Customization & Pricing
Available upon Request
Scissor Lifts Market Key Segments
Platform Height
Up to 30'
30' - 50'
More than 50'
Ownership
AWP Rental Service Providers
End-Use Industries

Construction
Entertainment
Commercial
Manufacturing
Others
Region
North America
Latin America
Western Europe
Eastern Europe
China
Japan
SEA
MEA
Frequently Asked Questions
The U.S. currently leads the global market for scissor lifts. Sales in the U.S. will account for over 40% of total demand registered in the global market for scissor lift throughout the forecast period.
Platform height of 30' - 50' is highly sought-after in the market. The demand for 30' - 50' platform height is expected to remain high in the near future, especially due to its rising demand from emerging nations.
AWP Rental Service Providers will continue to remain the leading choice among end-users. Replacement of ladders and scaffolding by AWP is expected to contribute to significant market growth. With huge demand for replacement and growth expected, the US is a market with tense competition both technologically and commercially for AWP brands.
Some of the leading companies offering Scissor Lifts are Terex Corporation (Genie), JLG Industries, Inc., Linamar Corporation (Skyjack), Snorkel International, Haulotte Group, and among others.