An Incisive, In-depth Analysis on the Scissor Lifts Market
This study offers a comprehensive, 360 degree analysis on the Scissor Lifts market, bringing to fore insights that can help stakeholders identify the opportunities as well as challenges. It tracks the global Scissor Lifts market across key regions, and offers in-depth commentary and accurate quantitative insights. The study also includes incisive competitive landscape analysis, and provides key recommendations to market players on winning imperatives and successful strategies.
COVID -19 : Impact Analysis
Request the coronavirus impact analysis across industries and markets
Request Covid -19 Impact
As rental companies are playing an increasingly important role in the global scissor lifts market, developing countries are expected to gain a major thrust in upcoming years. As per recent research, technological advancements resulted in the emergence and growing popularity of hybrid and electric lifts are believed to be responsible to expedite their adoption across an expanding base – in indoor as well as outdoor applications. Substantial incremental growth opportunities will be created for key manufacturers by the flourishing material handling equipment market.
The US$ 2.87 Bn global market for scissor lifts will possibly expand at a CAGR of 3.9% to reach US$ 4.2 Bn by the end of 2028 end.
With increasing demand for technological products for maintenance and other bulk material handling activities, the market for scissor lifts is anticipated to register 1.5X growth over the assessment period. Increasing awareness in Europe and US, in addition to safety regulations set by governments, is presumed to accelerate the growth of scissor lifts market in near future. Governmental norms standardized for scissor lifts are likely to augment the rate of deployment of scissor lifts by various end-use sectors in upcoming years.
Developed Countries Slated to Witness Decline, Developing Economies Poised for Robust Growth
North America currently holds more than 50% share of the global revenues, and throughout the forecast period, North America is anticipated to retain unprecedented dominance, followed by Europe. North America, despite being the largest regional market, will witness sluggish growth over the assessment period. Western Europe, which is the second largest market currently, is forecast for poor growth prospects as per the report.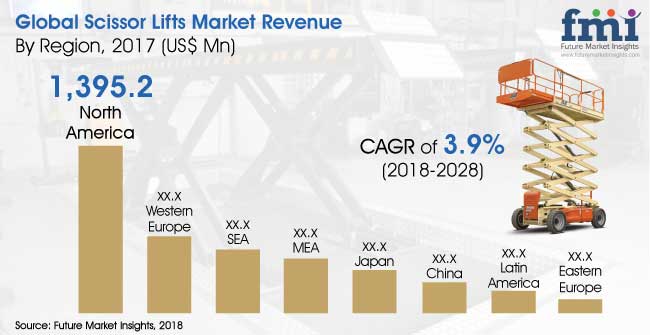 Emerging economies, including South East Asia Pacific, Latin America, and Middle East and Africa are projected for substantial growth over the forecast period prominently attributed to exploding population and the resulting pressure on carrier infrastructure in telecom in these regions. While SEAP has been identified to be the most opportunistic regional market for scissor lifts market, China is foreseen to be the fastest growing one at over 9% CAGR over 2018-2028. The US$ 169 Mn Chinese market will reportedly cross US$ 400 Mn by the end of 2028. China and SEAP are expected to collectively gain a significantly major growth opportunity.
MEA is currently witnessing immense development in the infrastructure industry, which is pushing the demand for access equipment, including scissor lifts. Following increasing adoption and maturity of the scissor lifts market, the safety features take a front seat, which will reportedly stimulate innovation to eventually fuel the market growth. Presence of a limited number of manufacturers within the MEA market compels the already established companies to focus on enhancing their sales network within the region and thereby push the market growth in next few years. Major opportunities exist in the African region and Latin America is believed to be one among the most prominently growing regional market for scissor lifts, owing to rapidly progressing infrastructural development in Brazil and Mexico.
Rental Service Providers Continue to Fuel Market Growth
By ownership, aerial work platform rental service providers are expected to win over the end-use industries segment. While the former is believed to attain a value in excess of US$ 3 Bn by the end of 2028, the latter is foreseen to reach beyond US$ 7 Bn over 2018-2028. Among various end-use industries, commercial and construction will reportedly be the top performing segments, as per the insights offered by the report.
The comprehensive research report titled "Scissor Lifts Market: Global Industry Analysis and Opportunity Assessment, 2018–2028," supports the reader by assisting in chalking key strategies with a view to maintain the correct rhythm with the changing market scenarios in the present timeline as well as in near future. The in-depth research report on scissor lifts market delivers value by providing relevant market insights that can give a clear market direction to achieve strategic advantage in the future.
Extensive Research Methodology to Add Value to Insights
Secondary research is carried out extensively in the initial phase of the research process. This research helps the analysts to sketch a rough figure of the overall market and get an understanding of the market scenario covering all the angles of the market. Additionally, an extensive primary research is carried out and opinions from the key industry experts, market observers, etc. are obtained.
The data obtained from these three arms is triangulated to obtain single data point as well as maximum accuracy. The data so gathered also undergoes re-evaluation during the primary interviews, wherein each data point is cross checked several times, and re-validated data is obtained which is near to 100 percent accuracy. This research process enhances the credibility of the researched material which enables the reader to make decisions form the actionable insights given in the study.
Thorough Analysis of Multiple Factors Associated with Market
The research report in global scissor lifts market focuses on the major trends, restraints, opportunities, threats, challenges, growth drivers, etc., across important geographies included in the global market for scissor lifts. It presents an unbiased view of the entire market by putting forth a realistic picture considering all angles including end user and competition across the globe. It becomes imperative to present the statistical data in the research report in a logical format to understand the pulse flowing through the market.
Moreover, deep diving in the segments involved along with following a strong data mining process enables to sketch the possible future market direction and a complete scenario of the global scissor lifts market with valuable insights and expert opinions can deliver need based solutions. The research on the global scissor lifts market is carried out keeping a predefined purpose having lucidity about the market, and involves appropriate statistical data based on a clear market definition.
Detailed Profiling of Key Market Players
A dedicated chapter on competitive landscape focusing on key players in scissor lifts is included in this research report. It uncovers major facets of the competition such as product portfolio analysis, pricing strategies, marketing strategies, promotion tactics, expansion plans, geographical spread, recent developments and innovations, mergers and acquisitions, key strategies, revenue, market shares, key personnel, other key financials etc. The companies included in this section are those which have enormous hold on the market and studying their tactics can definitely help the upcoming players to move up the ladder uncovering their milestones.
Market Segmentation at a Glance
By Platform Height

By End-use Industry

By Region

Up to 30'

30' – 50'

More than 50'

AWP Rental Service Providers

End Use Industries

Construction

Entertainment

Commercial

Manufacturing

Others (Public Administration, Mining, Agriculture etc.)

North America

Latin America

Western Europe

Eastern Europe

China

Japan

South East Asia & Pacific (SEAP)

Middle East & Africa (MEA)
Harish Tiwari
Global Head - Business Development
Akshay Godge
Client Partner - Global Business Development
CASE STUDIES
See how our work makes an impact.
At FMI, we design strategies that are adaptive, impactful, and implementable.