Aluminum Extrusions Market By Product Type (Automotive chassis, Profile for Poles, Profile for Bridges), End Use (Aerospace, Building & construction, Railways & Seaways) & Region - Forecast to 2019 - 2029
Aluminum Extrusions Market - Analysis, Outlook, Growth, Trends, Forecasts
March 2019

REP-GB-5463

232 pages
Aluminum Extrusions Market - Key Research Findings
Global aluminum extrusions market size in 2018 – Nearly US$ 100 Mn
The aluminum extrusions market will observe around 4.5% CAGR over 2019-2029.
Most prominent end-user industry of the aluminum extrusions - Building & construction

Accounting for around 60% of the global aluminum extrusions consumption, building & construction will remain the most prominent end-use industry in aluminum extrusions market.
Machinery & equipment manufacturing and automotive industries also register significant consumption of aluminum extrusions.

Most attractive regional market for aluminum extrusions - China

The evolving manufacturing sector in the country and the rising per capita GDP have resulted into demand for world-class infrastructure in the country.
The building & construction industry to primarily propel the aluminum extrusions market in China.

APEC (Asia Pacific excluding China) holds high growth potential for the aluminum extrusions market.

The motor vehicle production in India and Thailand is growing at a significant pace along with the increasing usage of aluminum extrusions per vehicle. This has resulted in lucrative opportunities in the aluminum extrusions market of APEC.
As weight reduction of a motor vehicle is always desirable in order to improve its fuel efficiency without compromising with the strength of the vehicle, high-performance vehicles prefer maximum use of aluminum extrusions due to their light weight and structural strength.

The building & construction industry in Europe and North America to grow in terms of aluminum extrusions consumption.

Desirable physical properties of aluminum such as lightweight, structural strength, water resistivity, eco-friendliness, and others, have made the usage of aluminum extrusion as a prominent material in building & construction.
Heat resistance of aluminum makes aluminum extrusions desirable for the construction of energy efficient buildings in terms of maintaining internal temperature and reducing the requirement of energy in heat-exchangers for maintaining the temperature.
Furthermore, various surface finish techniques such as anodizing, coating, chemical polishing, and others add to the aesthetics of aluminum extrusions, making them suitable for interior designing.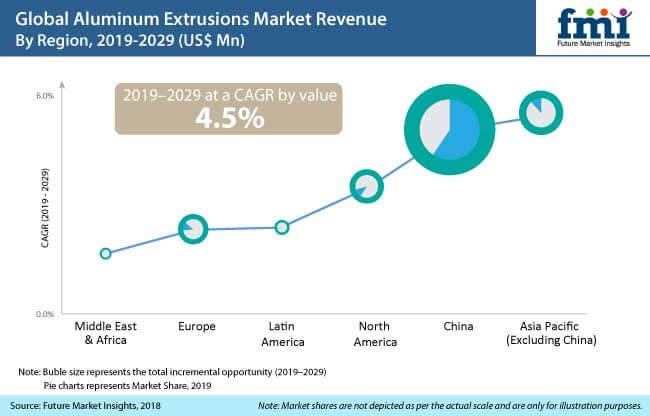 Top 3 Factors Shaping the Aluminum Extrusions Market
Increasing preference for aluminum over steel owing to superior performance of former

Aluminum is a lightweight metal, with around 1/3rd of the weight of steel or copper. However, its strength-to-weight ratio is high, which makes aluminum extrusions suitable for the construction industry.

Aluminum is around 43 times stronger than wood, and if properly treated or alloyed, it can be stronger than some steel grades as well. The ultimate tensile strength of aluminum material can reach up to 90,000 psi (pounds per square inch) or even more. Thus, the manufacturing sector is taking efforts to replace steel with aluminum.

Sustainability: Around 73% of the aluminum ever produced is still in use

The global manufacturing sector is gradually advancing towards a non-plastic world owing to the adverse effects of oil-based plastic materials on nature. Aluminum is one of the prominent sustainable materials and the most abundant metal on the earth's crust.

Although steel is the most widely used alloy across the globe, the aluminum market has significantly high potential. Extremely long life of aluminum has resulted in the fact that 73% of the aluminum produced after 1886 is still in use today. Also, aluminum scrap can be completely recycled into new aluminum extrusions.

Volatile aluminum prices expected to be a setback for the market growth

Prices of aluminum extrusions are heavily dependent on the procurement price of aluminum ores. As majority of the aluminum extrusion firms have in-house foundries for the production of billets, the fluctuating prices of aluminum commodities impact both, the margins of aluminum extrusion manufacturers, and the price at which the end-consumer buys.
Aluminum Extrusions Market Structure Analysis
FMI has divided the global aluminum extrusions market landscape into three tiers. Each Tier-1 player holds an individual market share of 2% or more in the global aluminum extrusions market, each Tier-2 market player holds a market share between 1% and 2%, and each Tier-3 market player holds market share below 1%.
Tier-1 players include Hydro Extrusions, Hindalco Industries, China Zhongwang Holdings Limited, Constellium N.V., and few others.
All Tier-1 players together hold a consolidated market share of around 35% to 40% of the global aluminum extrusions market, while both Tier-2 and Tier-3 players hold around 30% to 35% share of the global aluminum extrusions market.
The aluminum extrusions market is highly fragmented in the Asia Pacific region with around 400 market players operating only in China and 200 market players operating only in India.
The aluminum extrusions market is relatively less fragmented in North America and Europe regions with Tier-1 and Tier-2 players holding 3/4th of the market in each geography.
World's Most Profilic Intelligence Engine
Get Access To The World's Largest Market Research Database.
Sign Up Now
Key Segment
By Product Type
Automotive chassis
Profile for Poles
Profile for Bridges
Profile for Rail Track
Door & Window profiles
Curtain Walls
Profile for Heat Exchangers
Machinery Components
Others
By End-user Industry
Aerospace
Building & construction
Railways & Seaways
Energy
Defense
Others
By Region
North America
Latin America
Europe
East Asia
South Asia
Oceania
Middle East and Africa (MEA)
Need specific information?
Our Clients