Aluminum Cans of 201-450 ml to Stay in Demand
With beverage industry behemoths such as Coca-Cola and PepsiCo preparing to roll out water packaged in aluminum, market players are ramping up the production of aluminum cans of a wide range of capacities. Owing to advantages such as lightweight and easy to transport and store, 201-450 ml aluminum cans continue to witness relatively high demand, amid the rise of 'on-the-go' culture and growing popularity of ready-to-drink (RTD) beverages.
Manufacturers are also focusing on higher range of capacities including 700-1000ml and more than 1000ml to capitalize on rapidly growing demand from paints & lubricants and personal care & cosmetics industries.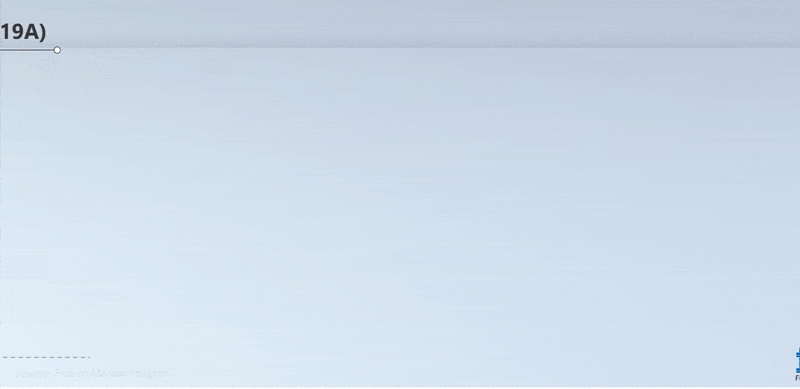 Europe to Lead the First Wave of Growth
Europe will continue to offer greater opportunities for companies active in the manufacturing of aluminum cans, due to growing stringency of environmental regulations along with approval of EU parliament to ban single-use plastics by 2021. Recent aversion of consumers towards plastic has also been evident in North America and Asian countries, which in turn, is potentially raising the demand for aluminum cans.
A growing number of eco-conscious consumers in North America, and significant growth of the F&B industry in East Asia are expected to work to advantage of market players. Further, sleek-style aluminum cans are growing in popularity in Southeast Asia, thereby grabbing huge attention of market players.
Manufacturers Prioritize Lightweight Cans and Alternative Coatings
Metal packaging means less plastic waste in the ocean. However, it comes with its own eco-price. In addition to putting greater emphasis on recycled aluminum, manufacturers are focusing on substituting bisphenol-A (BPA) with low- or zero-chemical coatings to overcome threats pose by the former chemical and to reap most environmental rewards of using the metal.
Light-weighting is also emerging as key trend in beverage packaging that not only fulfill demand for convenience but help packaging manufacturers and brand owners to reduce their environmental footprint and overall costs.
How Growth will Unfold
Highly influenced by 'recyclability' quotient, demand for aluminum cans continues to move on an upward swing. These cans are taking the beverage industry by storm, which can be recycled indefinitely without losing any properties during the process as compared to most food-grade plastics which are downcycled.
Adoption of aluminum cans in beverage industry accounts for 80% of the total market value. However, the aluminum fad isn't just taking over the drinks section. The use of 100% recycled aluminum cans in paints & lubricants and personal care & cosmetics are expected to set promising precedent.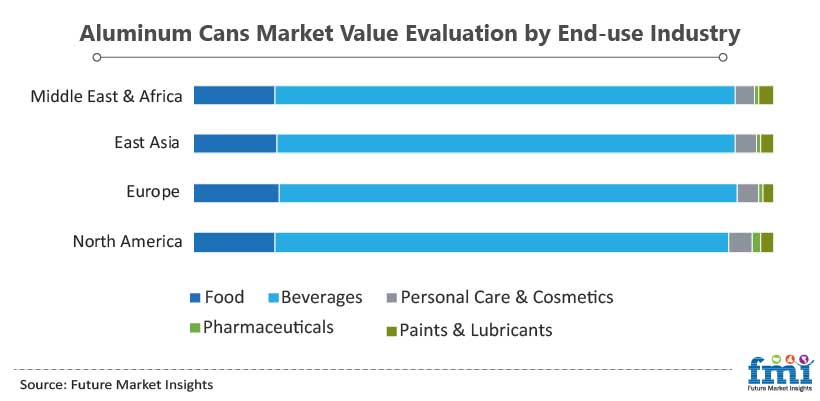 FREQUENTLY ASKED QUESTIONS ABOUT GLOBAL ALUMINUM CANS MARKET
What are the key factors shaping the dynamics of aluminium cans market?
Brand-owners are using aluminium cans to achieve product differentiation, and enhance the point-of-sale appeal. These cans are available in unique shapes, finishes, and features, which drastically improves the shelf visibility of the product. On the back of these factors, the demand for aluminium cans is expected to increase across the globe.
Which end-use industries hold high growth prospects for manufacturers?
The beverage industry is estimated to account for the lion's share in the global aluminium cans market and remain the most lucrative segment throughout the forecast period. Moreover, the beverage segment is expected to generate an impressive incremental opportunity in the next five years, as these cans are suitable for 'grab-on –the-go' consumption.
What is the intensity of competition in the aluminium cans market?
The global aluminium cans market has been characterized as a consolidated market, with the top three players, Crown Holdings Inc., Ball Corporation, and Ardagh Group S.A accounting for nearly 40% of the global market share.
Which region is expected to lead in terms of global sales of aluminium cans?
In terms of market growth, the South Asia aluminium cans market is projected to be at the forefront, through 2029. This can be attributed to the rising adoption of on-the-go consumption habits. Consumers opt for packaged beverages, especially in emerging countries such as India, Malaysia, and Thailand. This is attributed to increasing disposable incomes, fast-paced lifestyles, and easy access to retail outlets.
Which aluminium cans will provide the most remunerative growth opportunities in the next five years?
2-piece aluminium cans are projected to offer the most promising growth prospects throughout the forecast period. These cans are light-weight and easy to open, which makes them appropriate for beverage applications. On back of these factors, this segment is projected to expand by 1.3x its current value in the next five years.
ALUMINUM CANS MARKET TAXONOMY
The global aluminium cans market is segmented in detail to cover every aspect of the market and present complete market intelligence to readers.
Product
1-piece Cans
2-piece Cans
3-piece Cans
Capacity
Up to 200ml
201-450ml
451-700ml
700-1000ml
More than 1000ml
End-use Industry
Food

Fruits & Vegetables
Ready-to-eat
Meat, Poultry, & Seafood
Pet Food
Bakery & Confectionery
Others

Beverages
Personal Care & Cosmetics
Pharmaceuticals
Paints & Lubricants
Region
North America
Latin America
Europe
South Asia
East Asia
Oceania
MEA
Need specific information?
Talk Show:
The Rise of Intelligent Packaging
Personalized, Connected and Sustainable
November 18, 2021
11:00-11:45 AM PST (USA & Canada)
This is a LIVE session