Introduction
Glass holds some of the most remarkable characteristics as a raw material, and bottles made out of it are identified for their predominant use as containers in the packaging industry. Glass bottles continue to appease customers for being durable, aesthetically pleasing and hygienic. From a manufacturing standpoint, their impermeable and malleable features have translated into million-dollar cost-savings. According to Future Market Insights, the demand for glass bottles will remain steady throughout the globe during the forecast period, 2017-2022.
Being a competent packaging commodity, glass bottle will also witness a rise in its application across other industrial verticals. By the end of 2022, the global market for glass bottles is anticipated to reach a value of over US$ 71 billion. Over the next five years, production and demand for glass bottles will remain concentred in the Asia-Pacific excluding Japan (APEJ) region.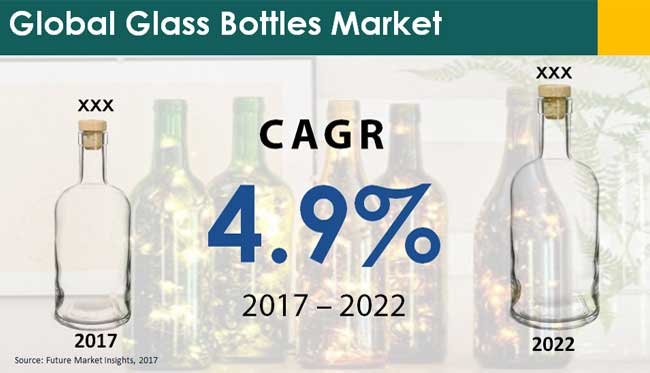 Moulded Glass Bottles will account for 90% of Global Revenues in 2017
The report has analysed the global glass bottles market on the basis of manufacturing. In 2017, around 93 percent of revenues procured in the global glass bottles market are anticipated to be accounted by bottles manufactured with moulded glass. Over the forecast period, the sales of moulded glass bottles are pegged to outpace the sales of tubular glass bottles. The categorically high demand for moulded manufacturing will be factored by advantages of such manufacturing processes in packaging end-uses of glass bottles.
Moulding processes have advanced to an extent where the bottles being manufactured exhibit high strength, increased thermal and mechanical durability, and lowered risk of splits. Tubular manufacturing, on the other hand, is anticipated to lose traction in the global glass bottles market over the forecast period. By 2022-end, less than US$ 5 billion worth of glass bottles being sold globally will be manufactured through tubular processing.
Application of Glass Bottles in Ready-to-Drink Beverage Packaging to gain traction
The report also projects that application of glass bottles in packaging of ready-to-drink beverages will gain steadfast traction through 2022. During the forecast period, ready-to-drink glass bottles will register impressive revenue growth at an estimated 7.7% CAGR. In contrast to the rising application of glass bottles in ready-to-drink beverage packaging, the report expects that application glass bottles will showcase moderate application in packaging of beers, carbonated drinks and wine.
Towards the end of the forecast period, application of glass bottles in food packaging will register a sluggish growth. While beers will contribute for largest share on global market revenues, pharmaceutical applications are anticipated to create an incremental opportunity of nearly US$ 750 million between 2017 and 2022. Meanwhile, cosmetic applications of glass bottles will witness robust growth in terms of revenues. By the end of 2022, glass bottles worth nearly US$ 2.5 billion will be used for packaging of cosmetics.
Key Manufacturers of Glass Bottles
The APEJ region will be widely observed lucrative for production of glass bottles. Ample availability of resources, easy procurement of sand and silica, and low labour wages have collectively instrumented the predominant presence of leading glass bottle manufacturers in this region. Companies namely, Central Glass Co., Ltd., Owens-Illinois, Inc., Consol Glass (Pty) Ltd., Frigo Glass Jebel Ali Fzco, Hng Float Glass Limited, Vidrala SA, Vitro SAB de CV, AGI Glasspack Limited, Ardagh Group SA, and BA Vidro, S.A. have been profiled in the report as key players in the global market for glass bottles.
A majority of these manufacturers will be focusing on enhancing bottle designs and handling features. The overall competition landscape in the global glass bottles market will be highly engaged in combating the rising adoption of plastic bottles in the packaging industry.
Market Taxonomy
The taxonomy of the global glass bottles market has been precisely illustrated in the table below:
Region
North America
Latin America
Europe
Japan
APEJ
MEA
Manufacturing Process
Application Type
Beer
Wine
Other Alcoholic Beverages
Food
Carbonated Soft Drinks
Ready to Drink
Pharmaceutical
Cosmetics
Other Applications
Need specific information?