Glassine Paper Market By Material Type(Bleached, Unbleached), Application(Cups & Wrappers, Soap Wrapping, Flower Wrapping), End Use(Food, Pharmaceutical, Personal Care), & Region – Forecast 2021 - 2031
Glassine Paper Market - Analysis, Outlook, Growth, Trends, Forecasts
September 2021

REP-GB-5113

241 pages
Glassine Paper Market Snapshot
[241 pages] The global glassine paper market is projected to witness positive growth in 2021, with worldwide revenues up by 3.2% year over year. A new market analysis by Future Market Insights (FMI) estimates the glassine paper revenues to nearly double between 2021 and 2031, reaching US$ 4.7 Bn in 2031, exhibiting a steady 5.0% CAGR.
The global consumption of glassine paper is expected to grow just over 1.8 Mn Tonnes by the end of 2021. Demand for unbleached glassine paper is forecast to increase at 3.3% between 2020 and 2021, estimated the combined glassine paper markets consumption year-over-year growth of 2.7% in 2021, opines FMI.
Key Points Covered in the Report
Market Estimates and Forecast 2015-2031
Key Drivers and Restraints Impacting Market Growth
Segment-wise, Country-wise, and Region-wise Analysis
Competition Mapping and Benchmarking
Market Share Analysis
Key Product Innovations and Regulatory Climate
COVID-19 Impact on Glassine Paper Market and How to Navigate
Recommendation on Key Winning Strategies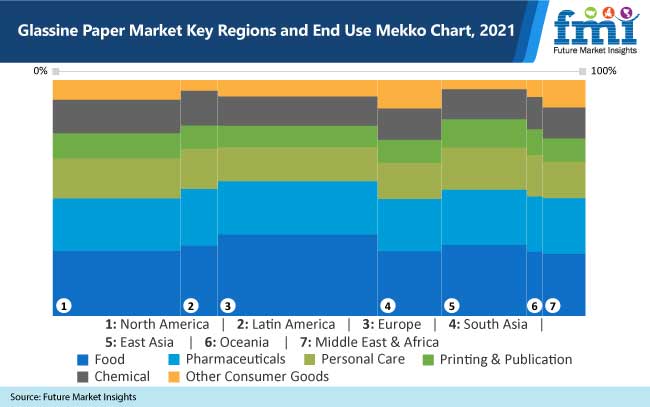 2015-2020 Glassine Paper Market Outlook Compared to 2021-2031 Forecast
Demand for glassine paper is projected to accelerate at 5.0% in 2021-2031, as compared to 3.6% in 2015-2020. Growth in glassine paper market can be attributed to improvement of paper material, changing dynamics in the paper printing and coating industry and evolution of e-commerce in recent years.
Increasing adoption of glassine paper for packaging in bakery, confectionery, and ready to eat food industries is identified as a chief factor propelling sales of glassine paper.
The COVID-19 outbreak has negatively impacted sales of glassine paper in 2021. However, an uptick in demand from the pharmaceutical and healthcare industries is on cards as improvements in supply chain starts gaining ground.
Glassine paper is used widely for wrapping and protecting medical accessories and specimens. The material properties and transparency of glassine paper allows smooth transmission of products and helps to view contents inside the bags and envelopes.
Owing to these factors, the global consumption of glassine paper is projected to reach 2,914 Mn Tonnes by 2031.
Subtle Improvements in Glassine Paper to Create Lucrative Opportunities
Laminated glassine paper comprises sheets of glassine paper bonded together by a laminating composition of resins or waxes. Glassine paper was initially laminated with wax, including amorphous wax, a combination of wax with resins, and resin esters.
However, resins tend to lower the moisture-proofing of laminated glassine paper. Hence, a more stabilized resin-like polymerized or hydrogenated resin was used to improve the quality of glassine paper.
Improvements in glassine laminated paper over recent years are characterized by a combination of desirable properties such as moisture and vapor-proofing, high strength, and stabilized ageing properties. It also eliminates odor, which is necessary in food packaging, and offers great folding qualities, giving it an edge in the packaging industry.
Why do OPP Films and Glassine Paper make a Profitable Duo?
The heat-set oriented polypropylene (OPP) films are gaining wide acceptance as a laminating substrate when combined with heat sealing glassine papers. The OPP film significantly provides strength, moisture barrier, and high surface gloss to the lamination.
The glassine paper contributes to lower coefficient of friction (COF) and allows OPP films to be heat sealed easily. This COF provides excellent machinability on automatic bag-forming machinery used in the snack food and candy industries.
Today, this combination of properties and materials is driving the adoption of glassine paper in new packaging applications, and the trend is anticipated to prevail during the assessment period.
What is the Impact of COVID-19 on the Glassine Paper Market?
COVID-19 has significantly affected the food and pharmaceutical market with variations in consumer consumption patterns and lockdown restrictions, resulting in decelerated sales of glassine paper.
However, the U.S. Food and Drug Administration (FDA) has formulated flexible laws in the country to avoid supply chain shortages. Manufacturers can use existing labels for food products without any major changes due to health hazards in the country.
This will not only help in an even flow of labels but also help label manufacturers to maintain pricing. Owing to these regulations, applications of glassine paper in labels is expected to rise in the upcoming years.
The pandemic has disrupted the flow of workforce and logistic supply due to lockdowns imposed in many countries. Import-export was negatively affected in 2020 due to gaps in the transport chain. However, recovery of the global glassine paper market is on card, with a 3.2% year-over-year growth projection between 2020 and 2021.
Country-Wise Insights
How Will the Glassine Paper Market Expand Across the U.S.?
The U.S. is home to a multi-billion-dollar printing and publishing industry which is expected to boost sales of glassine paper in coming years. According to The Association of American Publishers (AAP), over 1.8 Bn print books were sold by U.S. publishers in 2018.
Glassine paper is used for wrapping, preserving, and binding books, magazines, and other items. It can also be used as interleaving paper in the print and publication industry. Moreover, increasing demand for vintage books and an increasing number of readers in the country will positively shape the demand outlook for glassine paper in the forthcoming years.
FMI projects the North American glassine paper market to total US$ 969.6 Mn in 2031, exhibiting a modest 3.5% CAGR during the forecast period.
Why Germany is Considered a Lucrative Glassine Paper Market?
Germany is estimated to account for 20.0% of the total glassine paper market share in Europe by 2031, finds FMI.
Rapid adoption of technology in glassine paper manufacturing in Germany, coupled with a robust machine & equipment industry are estimated to bode well for the market.
High power machinery, a wide range of electrical equipment, and the availability of skilled and experienced labor force will continue bolstering sales of glassine paper in Germany through 2031.
What is the Growth Scenario of Glassine Paper Market in China?
The paper and pulp industry in China generated a revenue of US$ 202 Bn, with a gross profit of US$ 13 Bn, and a 21.2% of year-on-year growth in 2020 despite the unprecedented pandemic. This is expected to augment glassine paper production and sales in China.
The demand for Chinese made glassine paper is high in the global market due to comparatively low product costs and high material finish. Hence, China is anticipated to emerge as an attractive market during the forecast period.
How Will Glassine Paper Sales Fare Across India?
Sales of glassine paper in India are projected to grow at a robust 8.0% CAGR, accounting for 44.1% of the South Asia glassine paper market share by 2031. The presence of various small-scale suppliers and producers will continue bolstering sales in the forthcoming years.
In addition to this, increasing demand from European and American countries is positively shaping the demand outlook in the Indian glassine paper market. Low labor costs, along with an abundant supply of raw materials will create lucrative opportunities for facility expansion in the country.
Why is Demand for Glassine Paper Rising in Japan?
According to Japan Paper Association, the value of manufactured goods shipments in the pulp, paper and paper products industry in Japan was valued at US$ 68.9 Bn in 2018. This is indicative of bright growth prospects in the Japanese glassine paper market.
The Japanese government is also encouraging paper production and packaging industries to promote ecological development and reduce wastage, which in turn will boost sustainable production and sales of glassine paper.
Leading companies such as Oji Holdings and Nippon Paper Industries Co., Ltd in Japan are choosing sustainable processes for glassine paper production. These developments are facilitating expansions and developments in the glassine paper market.
As per FMI, the Japan glassine paper market is forecast to grow at a healthy 6.6% CAGRthrough 2031.
Category-wise Insights
Food Segment to Hold the Maximum Market Share
Food segment is forecast to hold nearly 27% of the total market value share throughout the assessment period. Glassine paper is widely preferred for wrapping, packing, and storing food items such as baked goods, confectionary, ready-to-eat meals, and snacks.
Demand for Bleached Glassine Paper to Remain High, Followed by Unbleached Glassine Paper
Based on product type, bleached glassine paper is expected to hold almost 66% of the value market share in the year 2021. However, unbleached glassine paper is expected to accelerate at a 5.7% CAGR in 2021-2031.
Shifting focus towards unbleached paper can be attributed to harmful effects of excess bleach and chlorine in bleached glassine paper production. The unbleached glassine paper segment is projected to account for 36.5% of the total sales in 2031.
Applications of Glassine Paper in Soap Wrapping to Continue Rising
The soap wrapping segment is projected to account for 12.1% of the total sales during the assessment period.
Glassine paper can be used as bags, labels, and wrappers for soap packaging. Some of the luxury soap brands are utilizing glassine paper for naked packaging of soap and shampoo bars, resulting in increasing sales of glassine paper. It could be used as a primary or a secondary packaging, based on brand's packaging approach.
Competitive Landscape
Companies operating in glassine paper market are investing in new product development, market expansion, and technological advancements to improve their value share in the market.
In July 2021, Lecta S.A.has introduced glassine release liner papers to cater to the growing demand from the industrial sector.
In April 2021, the Ahlstrom-Munksjo Oyj announced a deal with Soteria Battery Innovation Group in an Industrial Consortium dedicated to the energy storage business.
Report Scope
Attribute

Details

Forecast Period

2021-2031

Historical Data Available for

2015-2020

Market Analysis

US$ Million for Value, 000' Tonnes for Volume

Key Regions Covered

North America, Latin America, Europe, East Asia, South Asia, Oceania, and the Middle East & Africa

Key Countries Covered

US, Canada, Brazil, Mexico, Argentina, Germany, Italy, France, U.K., Spain, BENELUX, Russia, Nordic, Poland, India, Thailand, Indonesia, Malaysia, China, Japan, South Korea, Australia, New Zealand, GCC Countries, Turkey, Northern Africa, South Africa.

Key Segments Covered

Material Type, Application, End Use, and Region

Key Companies Profiled

Sappi Limited
Nippon Paper Industries Co. Ltd
Shandong Chenming Paper Holdings Ltd.
Glassine Canada Inc.
Cartiere Ermolli S.P.A.
Guilin Qifeng Paper Co., Ltd.
Henan Jianghe Paper Co., Ltd.
Spoton Coatings Private Limited
Kamakshi Lamipack Private Limited
Patidar Corporation
Singhvi Foils.
Sumika-kakoushi Co., Ltd.
Fujian Naoshan Paper Industry Group Co., Ltd.
GRÜNPERGA Papier GmbH
Pudumjee Paper Products Ltd.
Nordic Paper AS
KRPA Paper, Inc.
Metsä Tissue
Riverside Paper Co.
Savvy Packaging Pvt. Inc.
UPM-Kymmene Oyj
Fibril Tex Pvt. Ltd.
S.P. Enterprises
Karani Papers
LINTEC Corp
Aaradhya Disposal Industries Pvt. Ltd.

Report Coverage

Market Forecast, Company Share Analysis, Competition Intelligence, DROT Analysis, Market Dynamics and Challenges, and Strategic Growth Initiatives

Customization & Pricing

Available upon Request
World's Most Profilic Intelligence Engine
Get Access To The World's Largest Market Research Database.
Sign Up Now
Glassine Paper Market by Category
By Material Type:
By Application:
Cups & Wrappers
Soap Wrapping
Flower Wrapping
Binding Paper
Tapes & Labels
Envelopes
Other Applications (Interleaving Paper, etc.)
By End Use:
Food

Bakery & Confectionery
Ready to Eat Meals
Others (Snacks, etc.)

Pharmaceutical
Personal Care
Printing & Publication
Chemical
Other Consumer Goods
By Region:
North America
Latin America
Europe
South Asia
East Asia
Oceania
Middle East and Africa
Key Questions Answered in the Report
What is the current valuation of the glassine paper market?
The current valuation of the glassine paper market is US$ 2.9 Bn in 2021.
Which is the primary application of glassine paper?
The cups and wrappers segment is expected to hold 27.5% of the value market share in 2021.
Who is the leading end user in the glassine paper market?
The food segment is expected to hold 30.1% in the market value share market in 2021.
Which region is expected to exhibit the highest demand for glassine paper?
South Asia is expected to accelerate with a CAGR of ~7.4% during the forecast period.
What is the maximum growth rate achieved by unbleached glassine paper?
Unbleached glassine paper is expected to register a peak YOY growth of ~6.8% in 2030-2031.
Which of the food sub segments are expected to attract maximum incremental opportunity in glassine paper market?
Ready to eat meals are expected to attract an incremental opportunity of US$ 184.1 Mn from 2021-2031.
What is the volume forecast CAGR for the global glassine paper market?
The volume forecast CAGR is ~4.6% for the global glassine paper.
Which is most lucrative glassine paper market?
The U.S. is the most lucrative country for glassine paper market with a market value reaching US$ 691.3 Mn by 2031.
How much will glassine paper sales total in China?
China is expected to attract an incremental opportunity of US$ 108.6 Mn during 2021-2031.
Need specific information?
Our Clients