Key Insights
The market for anti-ageing products and services is gaining traction, driven by early adoption of anti-ageing products by customers aged 20 years and above. The quest to remain beautiful and stop the clock of ageing is dependent on lifestyle choices. Growing influx of reconstructive procedures and minimally invasive aesthetic procedures is fuelling the adoption of such anti-ageing products and services globally. In 2017, about 55% of the surgeons treated anti-ageing patients who wanted to look better. This reflecting a marked increase of 13% from 2016. This anti-ageing treatment trend was most prominent in patients aged between 20 and 30 years. Thus, the anti-ageing market is expected to witness significant revenue growth over the forecast period.
Increasing incidences of skin cancer leading to GROWING demand for anti-ageing reconstructive procedures
Significant rise in global demand for anti-ageing products, services and procedures is directly related to growing prevalence of skin cancer among women. American Society of Plastic Surgeons noted that every one in five American women is at a risk of developing skin cancer, rising steadily over the last three decades. Most skin cancers, such as basal cell carcinoma and squamous cell carcinoma, develop on the face and can be quite disfiguring. This is fueling the demand for adequate anti-ageing reconstructive procedures. In the anti-ageing sector, nose is the primary affected area, followed by cheeks, ears and forehead. In these anti-ageing treatments, mostly invasive or minimally invasive procedures are applied to bring minimum change/create damage.
Cellulite treatments gaining adoption; leading to demand for qualified personnel to address challenges in the anti-ageing market
Cellulite reduction is one of the most popularly adopted anti-ageing procedures, both in the U.S. and Europe. Statistics available in ASPS and IASPS reveal anti-ageing cellulite reduction treatment was largely observed in patients aged between 35 and 50 years, followed by anti-ageing patients aged 51-64 years. Cellulite is a common problem, which has affected more than 90% female population. Growing inclination among the population to maintain youth and beauty is an important factor responsible for the development of new and safe anti-ageing & anti-cellulite treatment devices.
This has led to "devices segment" revenue growth in the anti-ageing market across the globe. Technological developments and USFDA regulations have also been a major driver for the growing trust of people in various anti-ageing products, devices and services. Other anti-ageing non-surgical fat reduction procedures gaining traction in adoption are CoolSculpting, Vaser Shape and Liposonix. These anti-ageing procedures accounted for close to 50,000 procedures in 2017 in the U.S.
Non-surgical anti-ageing procedures gaining wider adoption over invasive treatments globally in the anti-ageing market
Non-surgical and minimally invasive anti-ageing treatments are gaining wider adoption despite being costlier in certain cases as compared to invasive procedures. The ISAPS statistics reveal that globally highest number of non-surgical anti-ageing procedures were adopted by the U.S., followed by Brazil, Japan, Italy, Turkey, India and Mexico, respectively, in descending order of number of anti-ageing procedures. Top non-surgical anti-ageing procedures adopted include photo-rejuvenation, chemical peel, microdermabrasion, dermabrasion, & skin tightening
Safety and efficacy are primary concerns of customers when it comes to adoption of topical anti-ageing products globally
Topical anti-ageing products are some of the most common anti-ageing products that are witnessing high adoption. However, their safety and efficacy profile are either less documented or not documented at all. Lack of scientific and empirical evidence on efficacy profiles of anti-ageing products deters interest in customers. These anti-ageing products are generally available over the counter and at very low prices – the prime reason for adoption of these anti-ageing products by a wider population group.
Note: For detailed analysis on all the key market factors, request a sample.
Competitive Landscape
FMI report provides detailed information about growth parameters in the anti-ageing market with the help of a detailed competitive environment. The market study provides comprehensive data on important stakeholders in the anti-ageing market, including Allergan, Inc., Beiersdorf, AG, L'Oreal, SA, Coty, Inc., Cynosure, Inc., Personal Microderm (PMD) (Age Sciences, Inc.), Lumenis, Ltd., Solta Medical, Inc., Nestle, etc. The anti-ageing report also provides data on each manufacturer's revenue share, winning strategies and latest developments in the anti-ageing market.
The anti-ageing market is witnessing high traction, in terms of inorganic growth,- viz. establishing wholly-owned local subsidiaries. For example, Galderma, one of the leading players, acquired by Nestle, will operate as the pharmaceutical arm of Nestle Skin Health S.A. Furthermore, in September 2018, Nestle announced that it will reinforce Nestle Skin Health with the acquisition of the Canadian firm, Valeant Pharmaceuticals International, and will commercialise several key anti-ageing aesthetic dermatology products in the U.S. and Canada for US$ 1.4 Bn in cash.
These key anti-ageing products include Restylane, Perlane and Emervel,- used for corrective facial aesthetic treatments; Dysport - an aesthetic dermatology treatment; and Sculptra – another unique treatment for rejuvenation purposes. The U.S. and Canada markets together represent over 50% of the fast-growing medical aesthetics market around the world. Galderma has been authorized to commercialise the anti-ageing products included in this transaction in markets other than the U.S. and Canada.
Note: For full coverage of the competitive landscape, get in touch with our experts.
Definition
This Anti-ageing market report details the use of products, devices and procedures used to deter the appearance of old age or ageing. The anti-ageing market consists of topical creams, devices used in minimally invasive procedures and procedures that require surgery. The anti-ageing market is expected to register significant growth over the next few years.
Growth can mainly be attributed to the rapidly ageing and affluent baby boomer population and increasing beauty and health awareness among generation X and Y. Ideally, baby boomers are considered to be the major supporters of the global anti-ageing market because of ageing population and high disposable income to spend on anti-ageing products and procedures.
About the Report
The market study on anti-ageing market, recently published by FMI, provides comprehensive information about the most important market dynamics that will prove instrumental in the growth of the anti-ageing market during 2018-2028. Market players can find the most accurate quantitative and qualitative information about growth parameters of the anti-ageing market in the report, which will help them develop data-driven business strategies in the coming future. The report encompasses detailed procedure volumes and surveys conducted by pivotal dermatology associations.
Segmentation
For the better understanding of readers, this FMI report provides salient information about the anti-ageing market in the most comprehensive manner. The anti-ageing market has been segmented according to geographical regions, product type, application type and distribution channel to analyze the segment-wise growth of the market. Based on geographical region, the anti-ageing market has been segmented into seven regions – North America, Latin America, Western Europe, Eastern Europe, China, Japan, Asia-Pacific Excluding China and Japan (APECJ), and the Middle East & Africa (MEA).
The anti-ageing market is segmented by product types into Creams, Moisturizers, Retinols, Dermal Fillers, Botulinum Toxin, chemical peels, cellulite treatment, non-surgical fat reduction and others. The market has been segmented by application into Anti-Pigmentation Therapy, Anti-Cellulite Treatment, Anti-Wrinkle Treatment, Acne Management, Scar Treatment and Others. By distribution channel, the market has been segmented into dermatology clinics, hospitals, pharmacies, drugstores, rejuvenation centers and others.
Additional Questions Answered
Readers can find detailed information about important factors augmenting the growth of the anti-ageing market & factors likely to hamper growth of anti-ageing market during the forecast period. Additionally, the report also contains valuable information about anti-ageing market players with answers to critical questions, such as
Which types of products account for the maximum demand among customers adopting anti-ageing treatments?
Why is the sales of anti-ageing products highest in North America?
Which regulations in various regional segments are influencing strategies of players in anti-ageing market?
Why is APEJ attracting most of the leading manufacturers of anti-ageing products?
Research Methodology
The process of market research followed at FMI commences with extensive secondary research of the anti-ageing market. Analysts obtained industry-validated, historic and current data about the demand and sales of anti-ageing products and procedures adopted across the globe. The comprehensive secondary research was followed by primary research. Detailed information about the anti-ageing market was obtained, in terms of value (US$ million) and number of procedures. Based on thorough secondary and primary research of growth parameters of the anti-ageing market, analysts came up with the most precise forecast on how the anti-ageing market will grow during the forecast period.
Note: Request methodology.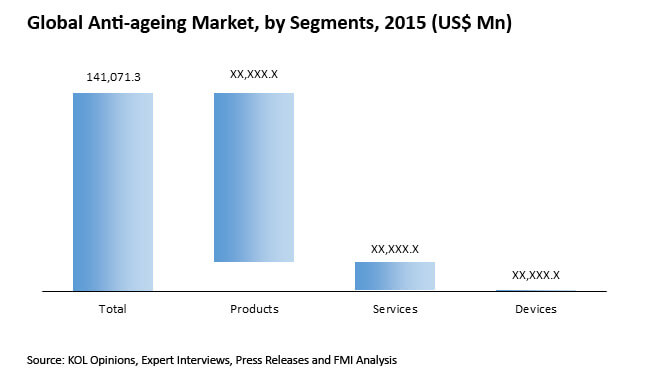 Key Segment
By Application
Anti-Pigmentation Therapy
Anti-Cellulite Treatment
Anti-Wrinkle Treatment
Acne Management
Scar Treatment
Others
By Product Type
Creams
Moisturizers
Retinols
Dermal Fillers
Botulinum Toxin
Chemical Peels
Cellulite Treatment
Non-Surgical Fat Reduction
Others
By Distribution Channel
Dermatology Clinics
Hospitals, Pharmacies, Drugstores
Rejuvenation Centers
Others
By Region
North America
Latin America
Western Europe
Eastern Europe
China
Japan
Asia-Pacific Excluding Japan (APEJ)
Middle East & Africa (MEA)
Need specific information?