Asia Pacific Flexible Glass Market By Applications (smartphones, tablets, curved TV, building mounted displays, wearables) & Region Forecast to 2014 - 2020
Flexible Glass Market - Analysis, Outlook, Growth, Trends, Forecasts
December 2014

REP-GB--60

73 pages
Asia Pacific Flexible Glass Market Overview
Asia Pacific flexible glass market is projected to reach US$612.7million by 2020 at an estimated CAGR of 36.5% during the forecast period. Flexible glass is one of the emerging materials for commercial applications such as flexible displays, paper displays and roll-able solar panels. Its unique property to be easily rolled or folded allows electronics component manufacturer to utilize it in variety of applications.
Display industry is one of the largest consumerof flexible glass across Asia Pacific region. Glass manufacturers have developed flexible glass, for making it suitable for use in display and solar PV applications.
Application Overview
On the basis of applications, the market is segmented intodisplay and solar photovoltaic. Display segment is further divided intosmartphones tablets, curved TV, building mounted displays and wearables. Display application altogethercontributed around 78.3% of market revenues in 2014.
Smartphones & tablets application is identified as the largest revenue generating segment in display applications whereas curved TV segment is identified as the fastest growing market segment during the forecast period expanding at CAGR of 37.1%. Though, wearable segment as of 2013, accounted for miniscule share in the market, it is projected to grow at healthy CAGR of 25.2% during the forecast period.
Country Overview
As of 2014, Japan dominated the market and accounted for around 39.6% of the total Asia Pacific market, followed by South Korea. Japan flexible glass market is projected to reach US$227.9 Mn by 2020. In 2014, South Korea and China were other major contributors to the totalmarket;these countriescollectively accounted around 50%share in Asia Pacific flexible glass market. Though, rest of Asia Pacific region accounted for miniscule share in the total market, it is expected to register highest CAGR of 39.0% during the forecast period.
Drivers and Trends
Flexible glass has potential to be used in smartphones & tablet displays. Rapidly growing smartphones & tablets market is predominantly driving the market for flexible glass. Factors such as need of flexibility threshold in the display and growing R&D investments in flexible glass by key glass manufacturers are likely to drive the development in Asia Pacific flexible glass market.
In addition, development of Roll-to-Roll process has enabled easy manufacturing of flexible PV and flexible OLED displays. Advancements in manufacturing technologies are also anticipated to drive the growth in Asia Pacific flexible glass market.
Future Opportunities
Flexible glass is also likely to find applications such as 2.5D and 3D semiconductor packaging. The report provides comprehensive overview of the cost analysis to replace silicone interposer with flexible glass. Further, the report also forecasts an appropriate price of flexible glass to replace plastic substrates with flexible glass in flexible OLED display applications.
The report profiles the key strategies and financial outlook of Corning Inc., Asahi Glass Co., Ltd., Nippon Electric Glass Co., Ltd., and Schott AG. The market is highly consolidated with the existence of giant glass manufacturers along with joint ventures with leading display manufacturers.The report also analyses future market strategies of flexible glass manufacturers to sustain the competition.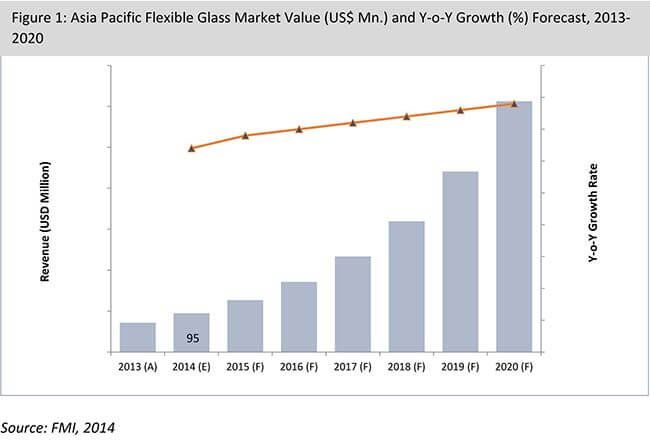 World's Most Profilic Intelligence Engine
Get Access To The World's Largest Market Research Database.
Sign Up Now
Key Segments Covered
?Smartphone & tablets, curved TV, building mounted displays and wearables
Flexible Glass Application in Solar PV
Key Geographies Covered
Asia Pacific countries such as Japan, South Korea, China and others
Need specific information?
Our Clients