About the Report
Hydrofluoric acid is used extensively in the chemical industry to manufacture fluorine compounds such as fluorides, fluorocarbons, and fluoropolymers. Hydrofluorocarbons (HFCs), and hydrofluoro-olefins (HFOs) are in turn used in many major types of refrigerants used around the world.
Hydrofluoric acid is also used in the production of aluminum fluoride, which is key to the manufacture of aluminum products. The increasing use of aluminum across major end-use industries, including packaging and automotive, and the resultant importance to the global economy will play a major role in the developments of the hydrofluoric acid market.
In its new study, ESOMAR-certified market research and consulting firm Future Market Insights (FMI) offers insights about key factors driving demand for hydrofluoric acid. The report tracks the global sales of hydrofluoric acid in 20+ high-growth markets, along with analyzing the impact COVID-19 has had on the global economy, the fluorides and metals industry in general, and its associated effects on hydrofluoric acid production in particular.
How Does Historical Data Compare with the Future Outlook of the Hydrofluoric Acid Market?
Hydrofluoric acid market has expanded at a fairly sluggish rate during the historical period of analysis between 2016-2020. Anhydrous hydrofluoric acid accounted for the major market share of market and is anticipated to continue holding the lead over forecast period. However, the demand for aqueous hydrofluoric acid is projected to increase relatively faster over the forecast period.
Hydrofluoric acid is also one of the prominent ingredients added to electrolytic cells during aluminum production, which is gaining attention owing to the implementation of stringent regulations on the production of light-weight vehicles creating significant opportunities for growth.
According to FMI's analysis, hydrofluoric acid sales are projected to grow at a 2.9% CAGR between 2021 and 2031. The material is increasingly used in the production of fluorochemicals. However, stringent regulations imposed to restrict global warming might pose a serious challenge to the market over the forecast period. Regardless, the increasing use in steel pickling and metal treatment for the removal of unwanted layers, will continue to drive consumption.
There has also been rise in demand for high-grade, ultra-pure, electronic grade hydrofluoric acid in the semiconductor industry. Other applications of hydrofluoric acid include uranium fuel production, herbicides, pharmaceuticals, ceramics and glass etching industries, which will contribute to market developments.
How are Metal and Glass Treatment Applications Impacting Sales?
As the coronavirus pandemic continues to subside through 2021, the global metals industry has been witnessing a steady recovery, with significant impetus from China. Hydrofluoric acid is commonly used in the pickling process within the steel industry. Therefore, recovery in the steel industry will create opportunities for sales in the hydrofluoric acid market.
In the steel industry, hydrofluoric acid is used to remove unwanted layers of metals including stains and impurities, while providing the needed finish to end products. Hydrofluoric acid also finds roles in separating metals from their ores.
Additionally, increasing use of hydrofluoric acid is witnessed in other niche applications, including flux agents for refining and metal extraction processes and for creating protective material before coatings.
In the glass industry, the hydrofluoric acid solution is used along with sulfuric acid to dissolve silica raw materials while finishing and shine end product. With growth in metal treatment and glass industry, demand for liquefied hydrogen fluoride will remain strong for the foreseeable future.
For instance, SCHOTT has unveiled applications of hydrofluoric acid for extending the life of temperature resistant, electrochemically stable lithium-ion batteries while preserving their capacity with HF absorbent glass powder to prevent corrosion damage on cells.
Why Are Manufacturers Focusing on Alternative Technologies?
Fluorspar, the primary raw material source for hydrofluoric acid production is a cause of concern for manufacturers around the globe. This can be attributed to the fact that more than half of the global reserves of fluorspar occurs, within China, and access is restricted to international manufacturers owing to regulations by the Chinese government.
Considering the existing state of fluorspar supply, manufacturers are focusing on the development of alternative technologies for the production of hydrofluoric acid. One such method is the production of hydrofluoric using fluorosilicic acid. This is a byproduct a reaction between sulfuric acid and phosphate rock. Fluorosilicic acid is being viewed as a potential commercially viable source of fluorine raw materials as compared to fluorspar.
Currently, the number of manufacturers that use this technology for the production of hydrofluoric acid range from 4-6 and are majorly based in China. However, a number of manufacturers are expected to adapt to the technology over the forecast period. The major advantage of this method is the significant reduction in production costs, resulting in noteworthy rise in profit margins.
Additionally, alternatives such as acidspar and metspar are gaining attention owing to natural reserves in Mexico, Vietnam, South Africa, Mexico, and Mongolia, which will aid in reducing the gap between supply and demand in the market.
Will Stringent Government Regulations affect the Market of Hydrofluoric Acid?
The use of hydrofluoric acid as an intermediate material for the production of fluorocarbons and fluoropolymers displays high potential for revenue generation. This includes the manufacture of CFCs, HCFCs, HFCs, and HFO, amongst others. This in turn, is driven by demand in refrigeration and air conditioning products.
However, the use of fluorochemicals has been a cause of major concern due to its role in ozone depletion and the high global warming potential of fluorochemicals. CFCs have been banned in most countries owing to these factors restricting demand. In recent years, HCFCs have gained traction as they are relatively less harmful to the ozone, but the material still has significant global warming potential.
HFCs are also being increasingly used owing to their chlorine free characteristics. There has been an expected increase in the use of HFOs over the forecast period. Moreover, there are stringent regulations regarding production and use of such chemicals. US EPA (Environmental Protection Agency) and many other regulatory bodies across the globe and especially in EU (European Union) regulate the production and use of such chemicals, thereby posing serious challenges for the manufacturers.
The US Court and country's Environmental Protection Agency (EPA) in 2015 banned a series of fluorochemicals (R404a, R134a, R407C, R410A) which is expected to have global impact during the forecast period.
In addition, the health hazards posed by direct exposure to hydrofluoric acid on health has resulted in a number of strict workplace regulations associated with storage, handling and disposal that will restrain long-term growth.
Country-wise Insights
Why is China Dominant in the Hydrofluoric Acid Market?
China is projected to hold major share in the global supply and demand of hydrofluoric acid on the back of large fluorspar raw material reserves, at more the 50% of the global volumes in the country. Moreover, Chinese players have been at an added advantage by government restrictions on the exports of fluorspar thereby putting pressure on the other regional and global suppliers.
According to a World Bank report, China led hydrofluoric acid exports in 2019 at 262,750 tons at a valuation of US$403,724090. China is likely to remain a major power owing to sustained efforts from the fluorinated fine chemical industry, with anhydrous hydrofluoric acid being widely used in civil, industrial, and national defense production industries. Anhydrous hydrofluoric acid in particular will account for a large share of revenue in the country, through the forecast period.
What Factors Impact Sales in the U.S. Hydrofluoric Acid Market?
The U.S. is one of the leading regional consumers of hydrofluoric acid. However, the demand for hydrofluoric acid for the production of fluorochemicals in the country is anticipated to be impacted by the implementation of stringent government regulations.
The US Environmental Protection Agency (EPA) regulates the production and use of associated chemicals, thereby, posing substantial challenges for manufacturers. For instance, the US Court and country's Environmental Protection Agency (EPA) in 2015 banned a series of fluorochemicals (R404a, R134a, R407C, R410A). Such policies might curb the sales in the hydrofluoric market.
As per the World Bank report, the United States accounted for 19,948.6 tons of hydrofluoric acid exports in 2019. Furthermore, approximately 70% of the country's aluminum supply comes from imports, which is a major influencer in the global demand for hydrofluoric acid.
How will Hydrofluoric Acid Manufacturers Fare in Germany?
Sales of anhydrous hydrofluoric acid holds the major share of the market in Germany and is anticipated to grow at the rate higher than the average of the overall market. The largest market in Europe for the commodity, the country accounted for more than 51,538 tons of exports in 2019.
Fluorochemical production applications hold dominance in the country, accounting for more than two third of the total market followed by other niches such as steel picking and metal treatment segments respectively. The market share for fluorochemicals in Germany is anticipated to decline owing to increasingly strict regulations related to halogen refrigerants. Leading contributors to production in Germany include Dohna, Bad Wimpfen, Stulln, Leverkusen, and Seelze.
What is the Market Forecast for India?
India's hydrofluoric acid market is anticipated to be driven by the rise in aluminum production in the country. According to NITI Aayog, Aluminum Consumption in India at 2.5 kg per capita is much below the global average of 11kg per capita. Even at low consumption levels, aluminum accounts for 2% of manufacturing GDP. This figure is likely to keep increasing for the foreseeable future as consumption rates rise. This trend is critical for India's industrial vision of achieving 25% of GDP from manufacturing by 2022.
Prominent manufacturers in the country include Tanfac Industries Ltd., Navin Fluorine International Ltd., and SKF Limited among others. Majority of fluorspar raw material required for the production of hydrofluoric acid in the country is imported from China. The hydrofluoric acid market in India is expected to grow at steady rate during the forecast period.
Category-wise Insights
What are the Commercial Prospects of Anhydrous Hydrofluoric Acid?
Anhydrous grades of hydrofluoric acid are projected to hold the lead in terms of market share throughout the forecast period. This can be largely attributed to the widening use of the material for the production of various fluorochemical products, where hydrofluoric acid is used as an intermediate or feedstock material.
Strong growth in demand for fluorochemicals in air conditioning and refrigeration systems and niche applications for the production of fluoropolymers such as Teflon and materials for cables & wire insulation and cookware, are expected to help in sustained demand through the assessment period.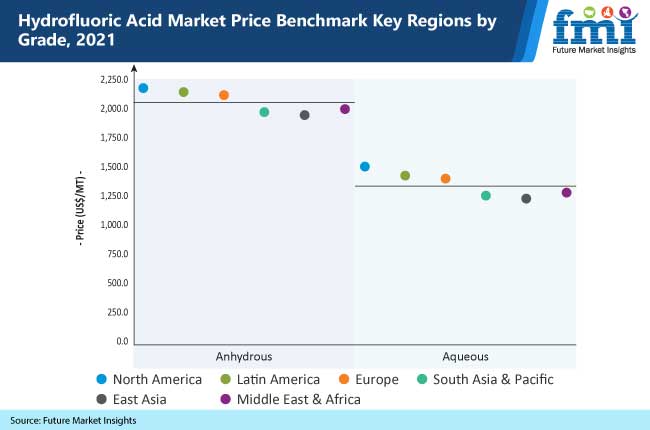 How Do Fluorochemical Applications Support Revenue Generation?
The fluorochemicals segment is anticipated to account for more than 50% of the overall demand in the market. Hydrofluoric acid is considered an important raw material for the production of fluorochemicals including Hydrochlorofluorocarbons (HCFCs), hydrofluorocarbon (HFCs) and more, which are extensively used in air conditioning and refrigeration applications.
On the other hand, the segment is projected to lose ground in the coming decade owing to the stringent regulations for fluorochemical usage, which has been identified as a major cause for ozone depletion and global warming. As a result, relatively slower growth is projected for latter half of the forecast period.
Hydrofluoric Acid Market - Competitive Landscape
The global hydrofluoric acid market is moderately consolidated, with large-scale players holding major market share. Efforts towards product research and development to explore potential new applications keeping in mind the constraints of increasingly strict environment regulations are among key strategies adopted by companies to gain a competitive edge.
In April 2021, EcoGraf announced the acquisition of a contract for a battery anode materials facility for the production of spherical graphite, outside of China with an environmentally safer option to conventional hydrofluoric acid purification processes.
Renascor Resources is investigating green finance options for its Siviour Battery Anode Material Project in South Australia, to produce materials for electric vehicle manufacturing facilities through vertical integration strategies.
In February 2021, Samsung Electronics revealed the development of a new system aimed to aid in the reuse of high-concentration liquefied hydrogen fluoride cleaning solutions for applications on semiconductor production lines.
Some of the leading companies operating in the market are:
Gulf Fluor
Solvay SA
Buss ChemTech AG
Sinochem International Corp.
Tanfac Industries ltd.
Fubao Group
Merck KGaA
SRF Limited
Stella Chemifa Corporation
Morita Chemical Industries Co. Ltd.
Soulbrain Co., ltd.
*The list is not exhaustive, and only for representational purposes. Full competitive intelligence with SWOT analysis available in the report.
Hydrofluoric Acid Market- Report Scope
Attribute

Details

Forecast Period

2021-2031

Historical Data Available for

2016-2020

Market Analysis

USD Million for Value and Tons for Volume

Key Regions Covered

North America, Latin America, Europe, East Asia, South Asia & Pacific, Middle East & Africa

Key Countries Covered

US, Canada, Germany, U.K., France, Italy, Spain, Russia, China, Japan, South Korea, India, ASEAN, Oceania, GCC Countries, Turkey, Northern Africa, South Africa

Key Segments Covered

By Product Type, By Application, By End-Use

Key Companies Profiled

Gulf Fluor
Laxness AG
Solvay SA
Honeywell International
Buss ChemTech AG
Sinochem International Corp.
Tanfac Industries Ltd.
Fubao Group
Navin Fluorine International Limited
Merck KGaA
SRF Limited
Gujarat Fluorochemicals Ltd.
Formosa Daikin Advanced Chemicals Co. Ltd. (indicative list)

Report Coverage

Market Overview, Key Market Trends, COVID-19's Impact, Demand Analysis, Market Background, Segmental Analysis, Regional Profiling, Market Structure Analysis and Competition Analysis

Customization & Pricing
Key Questions Answered in the Report
Which is the most lucrative regional market for hydrofluoric acid?

East Asia, is expected to remain dominant in the global hydrofluoric acid market in the coming decade. Within the region, China is expected to account for maximum sales.

Which is the top-selling grade of hydrofluoric acid?

Anhydrous hydrofluoric acid is expected to remain the the top-selling grade type in the hydrofluoric acid market. This grade has a very high level of purity and plays a crucial role as a building block for most of the organic and inorganic fluorine compounds.

Which are some of the leading companies producing hydrofluoric acid?

Some of the leading manufacturers of Hydrofluoric Acid are Gulf Fluor, Lanxess AG, Solvay SA, Honeywell International, and Sinochem International Corp. among others.
Hydrofluoric Acid Market by category
Grade
Application
Fluorochemicals
Steel Pickling and Metal Treatment
Petroleum Catalyst
Glass Etching
Electronics & Semiconductor
Others
Region
North America
Latin America
Europe
East Asia
South Asia & Pacific
Middle East & Africa
Need specific information?