Key Growth Influencers - Asia Pacific Functional Food Ingredients Market
Widening Expanse of Preventive Healthcare

The digestive system is responsible for the absorption of vitamins and minerals from food and nutritional supplements. Therefore, maintaining the health of the digestive system plays a significant role in ensuring optimum nutrient intake, and in preventing deficiencies. Furthermore, immune cells are also concentrated in the gut region, and the presence of healthy microbiota is necessary for the body.

Medical and nutritionist practitioners are recommending a targeted set of bacterial strains, which results in high demand for probiotic supplements, and therefore, is anticipated to boost the growth of functional food ingredients market in the forecast period.

WHO predicts that by 2020, over 65 million people will have dementia. The prevalence of other neurodegenerative brain diseases such as Alzheimer's will also rise. Pressure to produce successful treatments is growing, but has proved unsuccessful so far. Scientists are increasingly looking for food products to slow down disease progression and to treat symptoms.

Growth of High-Protein and Organic Trends

Japanese manufacturers are trying to make their products more nutritious, following the ongoing high-protein trend in the food and beverage industry. Consumer awareness regarding healthier ways for weight management, anti-aging, and other health-related issues through the intake of naturally-sourced protein is enabling many producers to offer protein-fortified products with health benefits in this market. This trend has also been an extensive driver for the growth of functional food ingredients across the globe.

The increased demand for organic and naturally-sourced ingredients also drives the growth of the market. Rising adoption of flexitarian diets and increasing awareness of ethical impact of food choices are expected to drive demand for functional food ingredients. Moreover, innovations in cheese snacks such as usage of multi whole-grain flour as the base for producing chips and extruded snacks is expanding the consumer base through inclusion of the health-conscious demographic.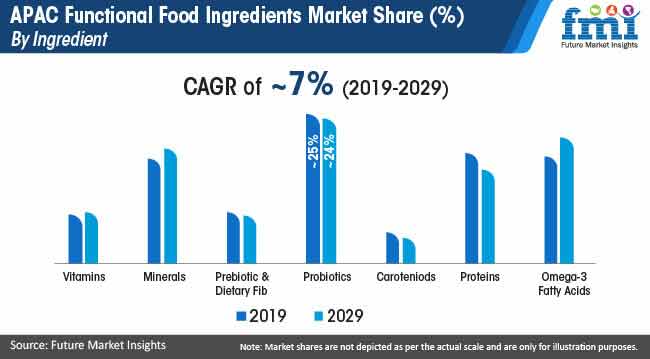 Wellness to Remain Lucrative for Manufacturers

Products targeting demographics with specific ailments are expected to increase through new product launches. Some key players have already introduced their products into particular wellness segments, such as diabetes-friendly, digestion enhancement, cognitive enhancement, and others.

This trend is expected to gain reliable traction over the forecast period in the rapidly growing functional food ingredients market. It is also anticipated to enable manufacturers to gain substantial brand equity.
Functional Food Ingredients Market Structure Analysis
The functional food ingredients market is a fragmented market, and key players hold small shares in the market. This is a result of the different types of functional food ingredients manufactured by separate manufacturers. However, key players in the functional food ingredients market have a wide global presence.
Established players in the APAC functional food ingredients market are expanding their production facilities, and are focusing on product innovation, which creates an intensely competitive landscape.
Functional Food Ingredients Market: Segmentation
Ingredient Type
Vitamins
Minerals
Prebiotic & Dietary Fibers
Probiotics
Carotenoids
Proteins
Omega-3 Fatty Acids
Application
Beverages
Dairy and Dairy-based Products
Bakery and Confectionary
Country
China
India
Japan
ASEAN
Australia and New Zealand
South Korea
Rest of APAC
Need specific information?
Talk Show:
The Rise of Intelligent Packaging
Personalized, Connected and Sustainable
November 18, 2021
11:00-11:45 AM PST (USA & Canada)
This is a LIVE session