This Bag In Drum market study offers a comprehensive analysis of the business models, key strategies, and respective market shares of some of the most prominent players in this landscape. Along with an in-depth commentary on the key influencing factors, market statistics in terms of revenues, segment-wise data, region-wise data, and country-wise data are offered in the full study. This study is one of the most comprehensive documentation that captures all the facets of the evolving Bag In Drum market.
Global bag in drum market: Introduction & Significance
Bag in drum is used for reliable packaging of food preparation, concentrates and foodstuffs. Bag in drum consist of the reusable conical steel drum and an aseptic liner bag. The packaging of various pharmaceutical and food & beverage products are gaining the significant importance among the various packaging manufacturers. Due to rise in population, the demand for food and beverage products among the consumer is increasingly rapidly. Apart from the growing demand for adequately packaged food products from the Asian emerging economies, developed countries in the western part of the world are also expected to sustain a consistent demand in the global bag in drum market. Packaging manufacturers are focusing on the less pre- package costs for the manufacturers are the key areas to be noticed by the packaging companies. This is anticipated to boost the sale of the global bag in drum market as a preferred mode of the packaging by various packaging manufacturers.
Market Growth Analysis
Disclaimer: This data is only a representation. Actual data may vary and will be available in the report.
COVID -19 : Impact Analysis
Request the coronavirus imapact analysis across industries and markets
Request Covid -19 Impact
Global bag in drum market: Market Dynamics
Bag in drum market growth has been propelled by the consumer awareness regarding health and hygiene, growing disposable incomes resulting in the inclination of the consumers towards premium products. Manufacturers of bag in drum market are especially focused on the geographical expansion through the opening of the manufacturing locations coupled with developing innovative solutions such as changeable liner bags and aseptic liner bags. In addition bag in containers are high priced, leading to the adoption of the bag in drum packaging in various industries primarily in few potential markets across the Asia Pacific and Middle East and Africa (MEA). Due to its cost
Global bag in drum market: Significance
The benefit of using conical steel drum includes a steamable butterfly valve which can be fitted in the existing filling lines withstanding steam serialization condition.Growth in the demand of the bag in drum is expected to grow steadily for several reasons. Increase in demand for the food & beverage industry is one of the major factor driving the growth of the global bag in drum market. By using bag in drum large quantity of products can be transferred from one place to another. Bag in drum is used in various end-use industries such as food & beverage industry, industrial liquid products, household products and others.
Exhibit-1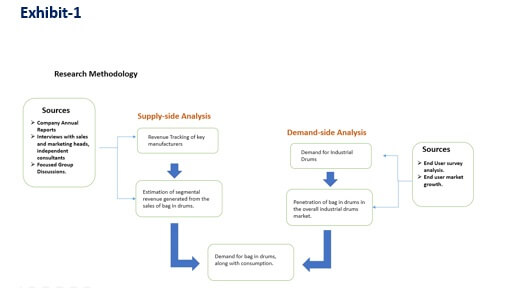 Global bag in drum market: Key players
Some of the key vendors that currently operate in the bag in drum market and partitions market across the globe are as follows:
Capricorn Food Products India Ltd.
Ruijin Xinchen Technology Co., Ltd.
The report is a compilation of first-hand information, qualitative and quantitative assessment by industry analysts, inputs from industry experts and industry participants across the value chain. The report provides in-depth analysis of parent market trends, macroeconomic indicators and governing factors along with market attractiveness as per segments. The report also maps the qualitative impact of various market factors on market segments and geographies.
Unique Requirements? Customize this Report
Customize by Region, Country, Application, Product, & other segments
Integrate our Insights with your Existing Data
Determine the scope of the study to suit your requirements
Gain Insights on Key Bag In Drum Market Impacting Forces
Know the Winning Strategies of Market Leaders
Get Deep-Dive Analysis on Each Segment
Identify the Sources that will Drive Top-Line Revenue
Global bag in drum market: Segmentation
On the basis of material, the global bag in drum market has been segmented as:
Plastic
HDPE
LDPE
PP
PET
Metal
Others
On the basis of capacity, the global bag in drum market has been segmented as:
Plastic
HDPE
LDPE
PP
PET
Metal
Others
On the basis of end-user industry, the global bag in drum market has been segmented as:
Food & Beverage Industry
Industrial Liquid Products
Household Products
Others
On the basis of region, the global bag in drum market has been segmented as:
North America
Latin America
Asia Pacific excluding Japan (APEJ)
Western Europe
Eastern Europe
Middle East & Africa (MEA)
Japan
Report Highlights:
A detailed overview of parent market
Changing market dynamics in the industry
In-depth market segmentation
Historical, current, and projected market size regarding volume and value
Recent industry trends and developments
Competitive landscape
Strategies for key players and products offered
Potential and niche segments, geographical regions exhibiting promising growth
A neutral perspective on market performance
Must-have information for market players to sustain and enhance their market footprint
Frequently Asked Questions
---
Why choose FMI?
With a global presence and a trusted partner to several Fortune 500 firms, FMI covers 1 billion+ data points to build a diversified portfolio for market benchmarking
Market Reports researched and peer reviewed by industry experts from across the globe
We follow a multi-dimensional method of analysis monitoring a three-layer data validation process
In addition to demand-side market assessment, our data triangulation methodology involves supply-side research
Primary research includes mandatory field interviews with stakeholders involved
Customizing reports according to client specification is also our forte
What will you discover from Bag In Drum Market report?
The current and future market size, covering each aspect and nuanced trends across key national and geographic markets
An overview of the market report, providing an imperative visual of the varied market subdivisions and overall forecast statistics in terms of value and volume
Extensive database and key dynamics elevating the market with varied verticals associated
Underlying Bag In Drum Market forces that are compelling consumers or businesses to purchase the product
How novel technologies and consumer-centric innovations will create new value-adding opportunities for companies active in the Bag In Drum Market
What will be environment and regulatory impacts on the market over the next decade
Which framework has been used to develop the Bag In Drum Market report?
Investment Feasibility Matrix - It shows returns on investment, level of competition, success rate of investment, and potential risks associated with the market. The analysis shows that the competition is high in the established market, while the returns for short-term investment are also taken into consideration
Relative Maturity Mapping – The relative maturity is measured according to three growth phases (growth, maturity, decline)
Relative PLC (Product Life Cycle) – Analysis of the emergence of prominent players and competitive test prices which are driving factors behind every market. (expected market behavior, observed market behavior, expected market performance, observed market performance)
Akshay Godge
Client Partner - Global Business Development