An Incisive, In-depth Analysis on the Bag In Tube Packaging Market
This study offers a comprehensive, 360 degree analysis on the Bag In Tube Packaging market, bringing to fore insights that can help stakeholders identify the opportunities as well as challenges. It tracks the global Bag In Tube Packaging market across key regions, and offers in-depth commentary and accurate quantitative insights. The study also includes incisive competitive landscape analysis, and provides key recommendations to market players on winning imperatives and successful strategies.
Bag-In-Tube is helping wine businesses achieve brand differentiation in Western Europe
Western Europe has a long history to tell about its wine culture. The wine industry in Western Europe is highly competitive. Although over the years the distribution & marketing channels have evolved and got saturated, now wine businesses are struggling to differentiate their products. Almost all the wine chains have similar product mix and product offerings. Packaging is the next differentiating strategy followed by wine businesses. Bag-In-Tube helped wine business to drive & improve their sales. Bag-in-Tube provides enhanced shelf-appeal, due to its 360' printability. Easy to carry handle helps to lift more weight packages. Its spigot or tap helps to pour the wine smoothly and efficiently in controlled manner.
Growing share of online retail & home shopping in Western Europe is contributing to the growth of the global bag-in-tube market
Home shopping is the recent trend in bag-in-tube Packaging market. The trend of buying wines at homes has steadily increased in past two to three years. The distribution channels such as home shopping & online retail gained considerable market share. Bag-in-Tube provides extended shelf-life of six to eight weeks. It provides high oxygen barrier and protection from dust, moisture and other contaminations. Consumers are buying from anywhere, anytime from any manufacturer, local or international. Although online retailing & home shopping in wine industry has seen strong growth, it is geographically restricted to only Western Europe region, mainly in the countries like U.K., France, and Italy.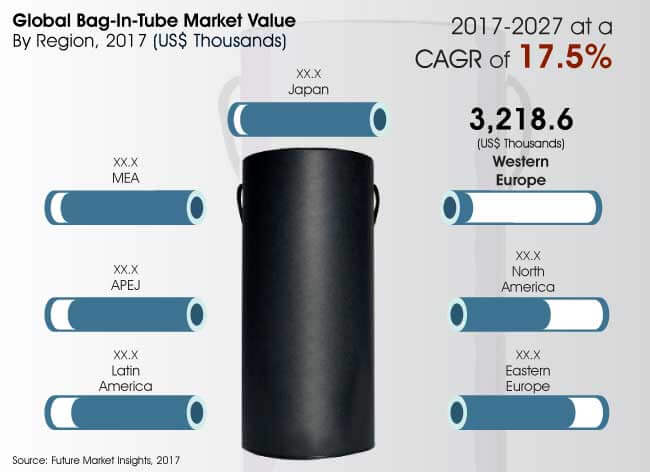 Competition from bag-in-box and other packaging formats hampers the growth of the global bag-in-tube market
Bag-in-Tube format is facing tough competition from bag-in-box and other packaging formats for wine, olive oil and dry fruits & nuts. Bag-in-Box has more or less similar features as bag-in-tube, but it is already made it to almost all the shelves of wine stores with considerable market share. Although bag-in-tube has some distinctive features, it faces the competition from bag-in-box. The two formats just vary in product shapes. As of now the end uses of bag-in-tube are very limited. Bag-in-tube is very much used in wine industry and olive oil industry. Bag-in-box is used in packaging wine, olive oil, detergents, fruit juices, spirits, whiskey, water and dry fruits.
With more than 20% revenue share, U.K. leads the bag-in-tube market in Western Europe region
U.K. Bag-In-Tube Market is estimated to represent an incremental $ opportunity of more than US$ 2,400 thousand. In terms of CAGR, market is anticipated to grow at a CAGR of 16.0%, by value, with peak Y-o-Y of 16.5%. The U.K. bag-in-tube market expected to witness 5.16x growth by value and 3.14x growth by volume.
The Western Europe bag-in-tube market is valued at more than US$ 3,200 Thousands, in 2017, and is estimated to be valued at more than US$ 14,600 Thousands, by the end of 2027. The Western Europe bag-in-tube market is expected to grow 5.19x by current value, over forecasted period. Although Western Europe is gradually losing out the market shares to APEJ, Japan, Eastern Europe, Latin America and MEA, it is expected to grow at healthy growth rates. This is due to the increased R&D investments and demand for efficient, lightweight packaging for high-end wine, spirits, and vegetable oils.
Future Market Insights in its newly published report, "Bag-in-Tube Market: Global Industry Analysis (2012-2016) and Opportunity Assessment (2017-2027)," provides forecast and analysis of the bag-in-tube market on the global and regional levels. Through an extensive research, our analysts have studied how the different market dynamics are likely to impact the current and future scenario of the global bag-in-tube market, thereby providing useful insights to market players to plan their differentiating strategies, capable of evolving with the changing market landscape. We have analysed the key trends, drivers, restraints and opportunities while studying this report. Impact analysis of key growth drivers and restraints based on the weighted average model are included in the report to better equip and arm clients with crystal-clear and decision-making insights. This report provides historical data of 2012-2016 along with forecast from 2017 to 2027 in terms of revenue (US$ Thousands) and volume (Thousand unites). The report also includes macroeconomic indicators along with an outlook on packaging consumption across the globe. The report also comprises the study of current issues with end users and opportunities for bag-in-tube manufacturers. It also includes detailed pricing analysis by bag-in-tubes and value chain analysis.
The report has indicated the segment wise definition of the market along with its overall scenario in the assessment period. The publication focuses on to identify opportunities in the market and present updates and insights, pertaining to the various segments of the global bag-in-tube market. Weighted average prices in US$/units have been considered for bag-in-tube to arrive at market size numbers. While researching this report, market splits have been deduced from a survey and primary research. The prices of bag-in-tubes have been tracked at wholesaler level after conversion through trade websites and primary interviews.
Our unique style of describing this report
In order to provide a comprehensive view of the market, we have included detailed competitiveness analysis and company players with unique selling propositions. The dashboard provides the detailed comparison of bag-in-tube manufacturers on parameters such as operating margin, unique selling propositions, collective market share, and geographic concentration. The study encompasses market attractiveness analysis of various segments of the global bag-in-tube market.
The report has included the consumption of bag-in-tube and the revenue generated from sales of bag-in-tubes in all regions and important countries in these regions. Growth in per capita food consumption, GDP growth, retail industry growth, global consumer flexible packaging, packaging films demand, top 10 companies growth have been closely referred to arrive at market forecast. Market splits by packaging type and preference of bag-in-tube packed products per packaging type have been deduced from survey and primary research. For instance, the market shares may not arrive to the total due to rounding off. Apart from value chain analysis, profitability margins, cost influencing factors, pricing trends and factors influencing the sales of construction aggregates have also included in the report.
Market Segmentation
Bag Material Type

By End Use

By Capacity

By Region

Wine

Spirit

Olive Oil

Fruit Juices

Others (Dry fruits, Cashew Nuts, etc.)

Less than 1000 ml

1000 to 2000 ml

2001 to 3000 ml

More than 3000 ml

Western Europe

North America

Eastern Europe

Latin America

APEJ

MEA

Japan
Research Methodology
A number of primary and secondary sources were consulted during the course of the study. Secondary sources include Factiva, World Bank, Packaging Digest, and Hoover's. Companies' annual reports and publications were also examined while researching this market. The Market numbers have been estimated based on average consumption and weighted average pricing of bag-in-tube by tube type and the revenue is derived through regional pricing trends. Market size and forecast for each segment have been provided in the context of global and regional markets. The bag-in-tube market has been analysed based on expected demand. Prices considered for the calculation of revenue are average regional prices obtained through primary quotes from numerous regional bag-in-tube manufacturers, suppliers, and distributors.
All key end users have been considered and potential applications have been estimated on the basis of secondary sources and feedback from primary respondents. Regional demand patterns have been considered while estimating the market for various end users of bag-in-tube in different regions. Top-down approach has been used to estimate the bag-in-tube market by regions. Market numbers for segments have been derived using the bottom-up approach, which is cumulative of each region's demand. The company-level market share has been derived on the basis of revenues reported by key manufacturers. The market has been forecast based on constant currency rates.
Bag In Tube Packaging Market Reports - Table of Contents
Akshay Godge
Client Partner - Global Business Development
CASE STUDIES
See how our work makes an impact.
At FMI, we design strategies that are adaptive, impactful, and implementable.