Global BB Cream Market: From the current market size of around US$ 2.5 billion, the BB cream market is expected to reach the valuation of over US$ 5.5 billion by the end of 2027. The revenue growth has been anticipated at a robust 9% CAGR over 2018-2027.
BB cream is an abbreviation of 'blemish balm' or 'beauty balm,' which is a combination of products such as a primer, SPF, foundation, moisturizer, and concealer. BB creams help even out the skin tone, smoothen fine lines & imperfections, boost glow, provide 24-hour hydration, and SPF protection. The natural naked finish and product simplicity of BB creams has attracted a large percentage of the female population worldwide.
BB cream is an all-in-one cream that provides protection, coverage, and hydration. BB cream has gained popularity among females worldwide. The popularity of BB cream has spread to South Asia, mainly in Korea. Apart from its benefits, the fact that it helps reduce the time required to apply make-up has attracted a large number of women.
Following South Asia, the popularity of BB cream spread to the US. Since the past couple of years, BB cream has been holding a strong position in the cosmetic and makeup industry in the U.S.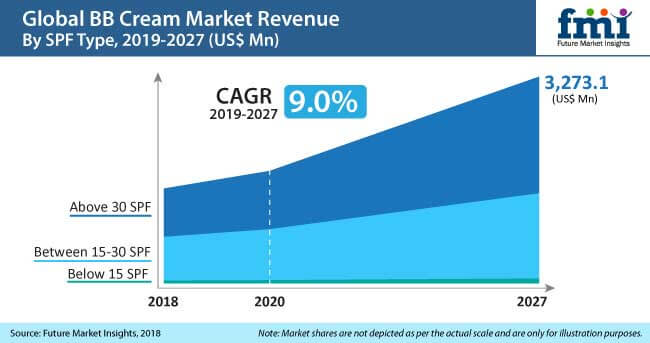 Popularity of BB creams made its headway from Germany to the rest of the world
BB cream was first developed in Germany in 1967 by German dermatologist Christine Schrammek. Initially, BB cream was developed as an anti-inflammatory agent to help heal and conceal the redness of the skin resulting from the irritation caused by peel treatments. In the mid '80s, BB cream was first introduced in Asia and became very popular among the female population.
Since then, its popularity spread to Korea and Japan, where it was recognised as the newest trend among females. In the past decade, the popularity of BB cream spread over to North America and Europe and gained a strong hold in cosmetics, makeup and beauty market.
BB cream has maintained a strong position around the world. Increasing disposable income and growth in beauty consciousness has generated demand for high-quality and innovative skincare and beauty products such as BB creams. The rising demand for BB creams was primarily witnessed among the working-class population, which does not have the time to spend on an elaborate make-up routine.
Moreover, BB creams were introduced to target the young population that wants to hide pimples as well as uneven skin tones. Furthermore, BB creams targeted young mothers who do not have much time to spend too much time on make-up, but want to look good.
Owing to the above-mentioned factors, BB cream is not only popular among women, but also among men due to increasing consciousness among the latter about their physical appearance, owing to which they spend a considerable amount of time and money to look good.
This trend was first observed in Korea, following which it spread to the rest of the world. Some of the major factors driving the growth of the BB cream market include increasing consumer inclination towards beauty, increasing disposable income, and the growing demand for less time-consuming solutions. This has boosted the demand for multi-functional products such as BB creams.
Increasing spending on lifestyle products and rising awareness about availability of a variety of beauty products propelling the demand for BB cream
The growing popularity of BB creams has been witnessed since their inception. The rising demand for BB creams is also influenced by growth in the middle- and upper-class families, which is not only boosting their popularity in the market, but also creating competition among market players. Nowadays, players are introducing innovative BB creams to boost their customer base.
The demand for BB creams is increasing owing to rise in disposable income, increasing consumer inclination towards beauty products, and the demand for products that reduce the time required for complex make-up procedures.
Moreover, growing awareness about organic products, as well as the demand for the same, has led to the introduction of natural & organic cosmetic and makeup products. Innovations are resulting in the creation of products that are more eco-friendly, and companies are offering natural products to satisfy the consumer demand for the same.
Competitive Landscape: BB cream market players introducing innovative products to sustain in the intense competition against multinational companies
The global BB cream market is primarily characterized by the presence of a large number of regional and multinational companies. The detailed profiles of companies are also included in global BB cream market report to evaluate their strategies, key product offerings, and recent developments.
Some of the key players profiled in the global BB cream market study include L'Oreal S.A., The Estee Lauder Companies Inc., Shiseido Company Limited, Unilever, Christian Dior SE, Revlon, Inc., Coty Inc., Avon Products Inc., Missha US Inc., The Clorox Company, L'Occitane International S.A., AmorePacific Corporation, Stila Styles LLC, Tarte Inc., Lancome SA, Groupe Marcelle, Bobbi Brown Professional Cosmetics Inc., Physicians Formula Holdings Inc., Clinique Laboratories LLC, Dr. Jart., Shiseido Company Limited, Unilever, Christian Dior SE, Revlon, Inc., Coty, Inc., Avon Products, Inc., and Missha US Inc.
Key Segment
Based on skin type
dry
normal
oily
combination
sensitive
Based on end user
Based on SPF type
below 15 SPF
between 15-30 SPF
above 30 SPF
Based on sales channel
direct selling
specialty outlets
supermarkets/hypermarkets
convenience stores
beauty stores
e-retailers
others
Based on regions
North America
Latin America
Europe
Asia Pacific excluding Japan
Japan
Middle East and Africa (MEA)
Need specific information?