An Incisive, In-depth Analysis on the Rubber Tracks For Defense And Security Market
This study offers a comprehensive, 360 degree analysis on the Rubber Tracks For Defense And Security market, bringing to fore insights that can help stakeholders identify the opportunities as well as challenges. It tracks the global Rubber Tracks For Defense And Security market across key regions, and offers in-depth commentary and accurate quantitative insights. The study also includes incisive competitive landscape analysis, and provides key recommendations to market players on winning imperatives and successful strategies.
The US$ 98.4 Mn global tracks for defense and security market will cross US$ 100 Mn by 2020 end and move up to US$ 144.5 Mn by the end of 2027. The market is estimated to witness gradual over the assessment period 2017-2027 at a CAGR of 3.9%, in terms of value. Rubber pricing volatility has been spotted as a primary factor restricting the growth of market since the recent past.
While rubber pin tracks will dominate by product type, APC is expected to lead by vehicle type, followed by tanks. A majority of companies are observed to focus on heavy-load vehicles, as adoption of rubber tracks has been higher by heavy-load vehicle manufacturers. By region, EMEA and North America are identified to be the key rubber tracks markets for security and defense sectors. China and SEAP will sustain steady growth over the next decade.
IFV/AIFV to Register Highest Growth by Vehicle Type due to Growing Adoption by Armies
Tanks are predominantly considered as the key components of modern armies, which are supported by ground attack or airborne surveillance. This US$ 32, 609 thousand segment is anticipated to thrive at a declining CAGR of 3.8% through to 2027, whereas APC segment that was valuated at US$ 38,912.7 thousand in 2017 will reportedly expand at a 3.9% CAGR over 2017-2027. APC is one of the many types of armored vehicle and is specifically designed for the transportation of infantry to the actual battlefield. Currently, APC segment holds the maximum revenue share of the market i.e. over 39%, followed by tanks segment that has over 33% share of the market value.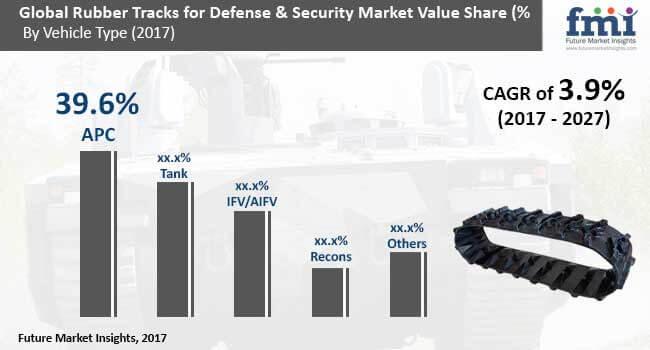 The IFV rapidly gained popularity worldwide on account of rapid adoption by armies owing to rise in demand for vehicles with high firepower that are less expensive and easier to maintain than tanks. Attributed to low maintenance and economic pricing, this segment is foreseen to witness a relatively higher CAGR value of 4.4% over the forecast period, reaching from US$ US$ 20,675.1 thousand attained in 2017 to over US$ 31,000 thousand by 2027 end in terms of value. Recons are small vehicles with lesser payload, the other vehicle types segment includes engineering vehicle, amphibious vehicle, and self-propelled artillery and utility vehicle. Both of these segments are presumed to experience negligible growth over the next decade.
Key Players to Focus on Heavy-load Vehicles
A few of the companies leading the global market for rubber tracks include Soucy International Inc., Ocean Rubber Factory LLC, COECA SA, William Cook Holding Limited (Cook Defense Systems), LS Mtron Ltd., and GMT Rubber and Metal Technic Ltd. While key players are currently competing on the basis of improved efficiency, enhanced lifespan, reduced operational costs, and curtailed weight, some of them are concentrating on signing long-term contracts with end-use industries. In order to maintain a competitive edge, several companies are adopting product innovation strategies. Moreover, some of the players are providing advanced training to their workmen so as to operate and maintain better and more efficiently.
Decent expansion of defense sector is likely to prove beneficial in terms of low maintenance costs. One of the manufacturers indicates the role of governments in the growth of rubber tracks market. Increasing investments by governments in military and defense sector will possibly provide a thrust to demand for military vehicles such as APC, tanks, and IFV – eventually supporting the growth of rubber tracks market. Soucy International Inc. seems to capture the maximum revenue share of the global market for rubber tracks, whereas Camso, which is one of its competitors, is striving to enter the military vehicle market for rubber band. Many companies are also providing free rubber band tracks to OEMs for promotion through demonstration.
Growing intrusion and conflict among nations from foreign states and terrorist groups have compelled various nation to increase military spending to safeguard the borders. These factors has led to an increased demand for military vehicles around the world. The existing vehicle fleet in terms of active and reserve prototype are expected to offer growth opportunities for use of rubber based tracks which also includes repair and replacement in addition to new installments. Future Market Insights recently conducted a research study on the global rubber tracks market for defense and security sector, which indicates slow growth of the market over the next decade. According to the report, significant opportunities exist for key players in the rubber track market across the globe through investment in technology. The US and Russian defense industries are currently advancing at a high pace.
Report Offerings
The report offers in-depth insights on the overall market conditions during a 10-year period 2017-2027. It begins with an executive summary that includes market size, share, historic and estimated performance, and taxonomy outline. The next part encloses market definition and introduction, and market background along with supply chain analysis, followed by macroeconomic and forecast factors. The later parts of the report elaborate on pricing analysis, drivers, restraints, opportunities, and trends impacting the performance of the global market for rubber tracks for defense and security. The report then provides forecast analysis based on segmentation and regional classification, which is followed by a final section of competition analysis conducted through extensive key player profiling.
Global Rubber Tracks for Defense & Security Market Taxonomy
| Product type | Vehicle type | Vehicle payload | Region |
| --- | --- | --- | --- |
| | | | |
| | | | |
| | | | |
| | | | |
| | | | |
| | | | |
| | | | |
| | | | |
| | | | South East Asia & Pacific |
Research Methodology for Market Size Estimation
Country-wise defense vehicle production rate has been initially considered to fine the total annual production of vehicle. The global figures have been determined by consolidation of individual regional market size estimated. For Each region the vehicle nos. have been classified into ongoing production rolled out from manufacturing facility as well as existing vehicles on road till date. The existing defense Vehicle Fleet is segmented into Active Fleet (in Use) and Reserve Fleet, in which the estimated market size is solely based upon active fleet type. The reserve fleet has not been considered since this segment is only applicable in case of actual war emergency situation where the actual no. of vehicles would differ and depend upon the circumstances employed.
Existing Active Fleet and the annual production is further sub divided into vehicle with rubber band track, rubber pin track and steel track. Among which Rubber pin track is considered to fine the market of rubber pin type which is further segmented to single pin and double pin type. Total Number of vehicle which include fleet as well as production has been multiplied by average number of track pad/rubber band track which a specific type of vehicle is fitted as per standard configurations practiced by defense vehicle manufacturers. The total number of track pad and Rubber band Track is multiplied with Weighted Average Prices to find the country wise value. The weighted average price has been determined after receiving sales quotation from manufacturers, suppliers amongst the designated regions in the report. Country-wise value of each regional segment is added to find the global value of the rubber tracks for defense and security market.
COVID -19 : Impact Analysis
Request the coronavirus impact analysis across industries and markets
Request Covid -19 Impact
CASE STUDIES
See how our work makes an impact.
At FMI, we design strategies that are adaptive, impactful, and implementable.