Biopharmaceutical Contract Manufacturing Market to Exhibit CAGR of Nearly 10%
Pharmaceutical incumbents tend to outsource biologics production due to limited accessibility to sources for formulating the final dose of medicines. Governments across the globe are heavily investing in the life science research sphere as part of their preventative healthcare strategy. Moreover, they are mapping out a certain portion of their biopharmaceutical spending for the domestic production of biologics. Exhibiting a dexterous CAGR of 9.8%, the biopharmaceutical contract manufacturing market is set to surpass the US$ 10 Bn mark in 2024. As per the FMI report, global revenue of the biopharmaceutical contract manufacturing market will surge 3X during 2019-2029.
Frequently Asked Questions about Biopharmaceutical Contract Manufacturing Market
How will the biopharmaceutical contract manufacturing market fare in the future?
Demand for biopharmaceutical contract manufacturing is poised to increase at a staggering CAGR of 10% over the forecast period. An increase in the focus on better and safer transportation and rise in the demand for pallets from food and transportation industries are expected to surge market growth.
Will the high capital investment of biologics manufacturing units affect the future trajectory of the market?
Yes, due to the involvement of high capital investment in the establishment of biologics manufacturing units, biopharmaceutical players are focusing on outsourcing bio-manufacturing. This has elevated the demand for CMOs in the biopharmaceutical contract manufacturing market space.
Which application area holds potential growth opportunities for players?
Demand from commercial biologics contract manufacturing holds the largest market share. The presence of a large number of FDA-approved biologics in the market is majorly driven due to the massive success of biopharmaceutical contract manufacturing.
What is the degree of competition in the biopharmaceutical contract manufacturing market?
Companies in the biopharmaceutical contract manufacturing market are making strategies of acquisition and collaborations to expand their business. Some of the companies are even involved in inorganic growth strategies, cross-selling, and encouraging longer-term relationships through increasingly comprehensive offerings.
Which region is at the forefront of the demand for biopharmaceutical contract manufacturing?
North America is poised to be the leading biopharmaceutical contract manufacturing market over the next decade. However, the reactor capacities of companies in the market are expected to move slightly from North America to Asia, due to rapid expansion in China, Singapore, and Korea, and government incentives and tax advantages, over the forecast period. 
Mammalian-based Platform Accounts for 70% Share
Owing to their greater efficiency versus microbial-based cell culture, mammalian-based platforms such as Chinese hamster ovary (CHO) continue to remain a better choice for the production of biopharmaceuticals. With its adoption rate growing robustly, the revenue share of mammalian-based cell culture will follow an upward trajectory during the opportune time. By 2027, the application of mammalian-based platforms is likely to register over US$ 10 Bn in value. Moreover, demand growth of microbial-based platforms is expected to decline in the near future, due to high risks of cell contamination in micro-environment culture vessels.
North America in Vanguard, APEJ to Exhibit Market Attractiveness
Accounting for a collective share of around 60%, the biopharmaceutical contract manufacturing markets in North America and Western Europe are currently capturing significant portions of investments. While these developed regional markets are defining manufacturers' bottom lines, accelerated adoption of biopharmaceutical contract manufacturing in Asia Pacific (Excluding Japan) is resulting in realignment of strategies. Cheaper manufacturing costs in this developing region are attracting various multinational biopharma companies for further R&D projects in biologic drugs.
Local Biologics Production to Set High Hopes
The current status of biologics development is influencing governments in developed and developing countries to significantly invest in advanced healthcare infrastructure. This is auguring well for the biopharmaceutical industry in these regions, which is further boosting the growth of the biopharmaceutical contract manufacturing market. The Government of Brazil, in a bid to improve overall biologics capacity, especially biosimilars and follow on biologics, has carved out a significant share of its healthcare expenditure for the local production of biologics. This increasing focus on enhancing domestic capacity would be an attention-grabbing factor for biopharmaceutical contract manufacturing organizations.
High preference for mammalian-based
Microbial-based to see promising demand growth
Surging demand for monoclonal antibodies
Recombinant proteins to gain rapid traction
Commercial application holds nearly 80% share
Adoption for clinical purposes to remain healthy
Oncology remains preferred therapeutic area
Preference for autoimmune diseases to rise rapidly
How Growth will Unfold
By capturing nearly half of the total market revenue, monoclonal antibodies (MaB) will continue to engage market players through 2029. The benefits of high specificity and clinical efficiency in treating chronic diseases, including cancer and other autoimmune diseases, are boosting the popularity of MaBs in the biopharmaceutical space. Although their exorbitant production costs are limiting their applicability in treating a broad array of infectious diseases, their use in laboratory and clinical settings is creating room for further novel and cost-efficient innovation such as plantibodies.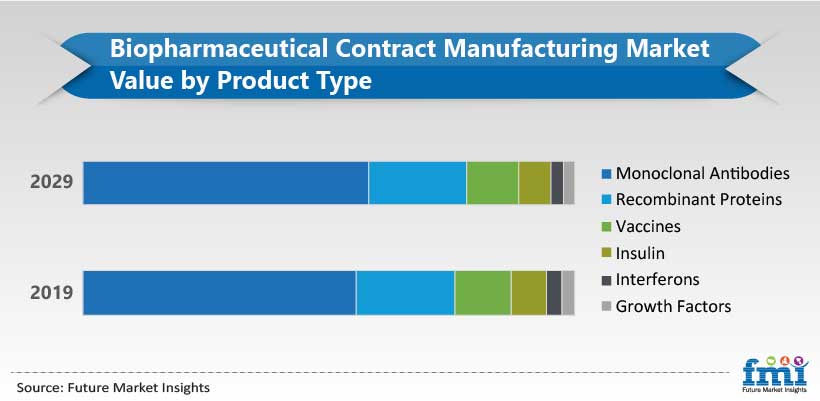 * This data is only a representation. Actual data may vary and will be available in report.
Click Here To Know How The Growth Will Unfold
Custom Market Research Services
FMI offers custom market research services that help clients to get information on their business scenario required where syndicated solutions are not enough.
Overview
Biopharmaceutical Contract Manufacturing Market Analysis 2019-2029
A recent market study published by Future Market Insights (FMI) on the biopharmaceutical contract manufacturing market offers global industry analysis for 2014-2018 and opportunity assessment for 2019-2029. The report consists of a comprehensive assessment of the most important market dynamics. On conducting thorough research on the historical as well as current growth parameters of the biopharmaceutical contract manufacturing market, growth prospects of the market are obtained with maximum precision. The report features unique and salient factors that may make a huge impact on the development of the biopharmaceutical contract manufacturing market during the forecast period. It can help market players modify their manufacturing and marketing strategies to envisage maximum growth in the biopharmaceutical contract manufacturing market in the coming years. The report provides detailed information about the current and future growth prospects of the biopharmaceutical contract manufacturing market in the most comprehensive way for better understanding of readers.
Biopharmaceutical Contract Manufacturing Market Taxonomy
FMI's study on the biopharmaceutical contract manufacturing market offers information divided into five important segments - platform, product type, application, therapeutic area, and region. This report offers comprehensive data and information about the important market dynamics and growth parameters associated with these categories.
Platform
Mammalian-based
Microbial-based
Product Type
Monoclonal Antibodies
Recombinant Proteins
Vaccines
Insulin
Interferons
Growth Factors
Others
Therapeutic Area
Autoimmune Disease
Oncology
Metabolic Disease
Opthalmology
Cardiovascular Disease
Infectious Disease
Neurology
Respiratory Disorder
Others
Region
North America
Latin America
Western Europe
Eastern Europe
APEJ
JAPAN
Middle East and Africa
How the research was conducted?
Primary Research
C - Level Executives
Marketing Directors
Product Managers
Business Development Officers
Production Managers
Procurement Heads
Sales Executives
Distributors
Traders
Raw Material Suppliers
Industry Experts
End Users
Current Market Dynamics and Challenges
Yesteryear Trends
Market Characteristics
Market Performance and Growth Quadrants
Competition Structure and Market Structure
Strategic Growth Initiatives
Near-term and Long-term Market Growth Prospects
Market Segment Splits and Authenticity
Opinions on Market Projections and Validity of Assumptions
Secondary Research
Industry Publications

World Health Organizations (WHO)
National Institute of Health (NIH)

Factiva
Company Press Releases
Annual Reports and Investor Presentations
Research Papers
Government Websites and Publications
Company Websites
Morningstar
Primary Interview Splits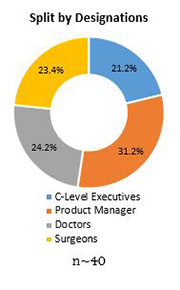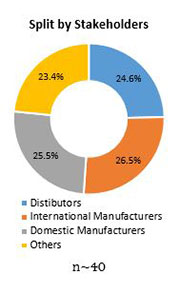 To Learn More About our Comprehensive Perspective on Biopharmaceutical Contract Manufacturing Market,
Get in touch
COVID -19 : Impact Analysis
Request the coronavirus impact analysis across industries and markets
Request Covid -19 Impact
CASE STUDIES
See how our work makes an impact.
At FMI, we design strategies that are adaptive, impactful, and implementable.