Breast pump Market Outlook & Key Findings
Global breast pump market expected to grow at approximately 4% through 2030
Increasing women healthcare programs spreading awareness and creating significant demand for breast pumps
Social media proving to be an effective platform for customer engagement
Breast-feeding initiatives taken by organizations like the UNICEF at the global level a key growth driver
Breast Pump Market: Awareness is the Key
Since the last few years, the percentage of working women in workplaces across the globe has been declining (46.2% in 2019 as compared to 50.9% in 1990 as per "Catalyst").
In several developed countries, maternity leave does not range more than 20 weeks. Doctors usually mandate breast-feeding for 6 months, which leaves the women stranded amidst motherhood and job.
As such, job takes a backseat with women being on a sabbatical for a year (as mammary glands produce milk for atleast a year). This certainly calls for an alternative to breast-feeding. In other words, milk could be pumped out from the breasts and stored in the bottle so that it could be administered to the child when the mother is away.
Technology has made a beeline to every vertical; and childcare is no exception. Breast pumps are the gift of advanced medical technology. A sense of self-awareness has started percolating the lactating mothers regarding their usage as a golden mean between childcare and career. This factor is expected to witness a major upswing pertaining to breast pump market in the upcoming period.
Breast pump Market Analysis: Technology Driving the Way
Open system breast pumps hold the largest market share as compared to closed system ones due to simplicity in cleaning and maintaining. However, considering the Covid-19 pandemic, closed system breast pumps are expected to take over as they result in less contamination due to no leakage of milk into the pump.
Electric breast pumps are also catching up. Being BPA-free, they ascertain a good level of safety for the child. They stand out in terms of two-phase expression technology that does pump in more milk in less time. The ergonomic handle enables easy usage.
Of late, one such breast pump was launched by Ameda. It is known as "Ameda Mya Joy" that facilitates powerful and safe pumping in a portable design.
Social Media Reviews: An Effective Platform for Spreading Awareness About Breast Pumps
Social media platforms like Instagram, YouTube, Facebook have turned out to be a hub for mothers for accessing information regarding breast pumps. "Spectra Baby USA – Pumping Mom Support" is one such group on Facebook with over 18K followers. The other one is "Exclusively Pumping Mamas – Education & Support Group" with 34K+ followers. YouTube has "Mom Com India" to educate about breast pumps.
Mothers are also opting for professional lactation consultants to get a fair idea about usage of breast pumps. Plus, supporting campaigns are being run by global players to fuel the demand for breast pumps.
One such campaign was announced by Medela in late 2019. "Freestyle Flex" was the highlight of the campaign. It is aimed at extracting 11% more milk. The other advantage is linking to MyMedela app, which would let mothers track each and every pumping session, involving 12K+ mums, and access tips from experts. In all, social media presence is expected to give an impetus to the breast pumps market in the forecast period.
Engorgement Condition to Drive the Breast Pump Industry
Engorgement implies swelling and pain in the breast due to improper suction of milk by the child. This is a common scenario for the few days after childbirth. Breast pumps help over here. They can remove the excessive milk to get away with engorgement. This is one of the key factors expected to drive the market in the forecast period.
On these grounds, Willow, in Jan 2020, came up with its first-ever in-bra wearable breast pump that makes way for smart suction in addition to novel sensitivity setting that claims to yield 20% more milk.
Breast Pump Sales through Online Channels Creating Opportunities
Covid-19 crisis has increased the demand for online sales. Platforms like Amazon, Flipkart, Babysworld, MeeMee, Firstcry are providing a variety of breast pumps to choose from.
Though breast pumps are available over the counter as well; people abstain from venturing out fearing infection. Plus, mother as well as the child happen to be in sensitive state as far as health is concerned; especially when it's a lactating mother. So, online sales will contribute for the largest market share short-term as well as in the long run as people will prefer being safe.
Declining Birth Rates and Fertility-Related Issues: Key Challenges to Breast Pump Industry
Declining birth rates in the developed economies is a major factor acting as a hindrance to market growth. The U.S. recorded the lowest birth rate in 2018 since the year 1986 (and 2% decrease as compared to 2017).
In Europe, Spain, Italy, Greece, and Portugal are amongst the top 10 countries having the least fertility rate. Hectic lifestyle, late marriages (resulting in high-risk pregnancy followed by problems with lactation), reduced fertility, ailments like uterus cancer are the other factors hampering the market in the developed countries.
On the other hand, low and middle-income economies like India, Columbia, Mexico, and Africa face hesitation on the count of social acceptance of breast pumps. Firstly, the rate of awareness is low. Secondly, women refrain from visiting the lactation specialist regarding lactation-related problems.
Breast Pump Market: Region-wise Analysis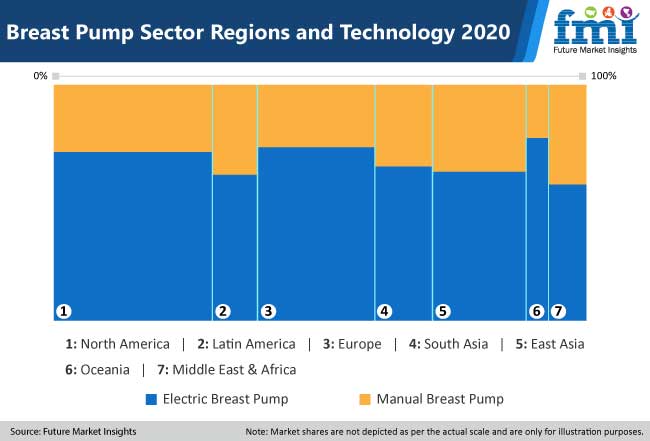 North America holds the largest market share due to rise in awareness amongst women. Europe comes in second. This could be attributed to breastfeeding initiative taken by UNICEF all over the UK.
In 2017, the rate of breastfeeding rose to 43% (It was 32% in 2010). This initiative comes with encouraging the use of breast pumps to prevent engorgement as well as make things simpler for working women.
Asia Pacific is witnessing improvement in healthcare infrastructure followed by Latin America. As such, the breast pumps market in these two regions is expected to witness the fastest CAGR in the forecast period.
Electric pumps are looked upon as the future of breast pumps market. Companies do provide electric breast pumps on rent as well. This can help women who need pumping occasionally.
Some of the well-known brands include Isis iQ Duo Breast Pump from Philips and Purely Yours Ultra Breast Pump from Ameda. Portability is another factor to be looked into. Electric Swing Breast Pumps from Medela and Platinum electric Breast Pump from Ameda are amongst the portable pumps. Double electric breast pump is also made available by certain companies to serve twin babies.
Leading Players in Breast Pump Market
The global breast pump market comes across as a consolidated one. Inorganic as well as organic growth strategies are being followed by players to strengthen their foothold.
For instance, in Oct 2017, uGrow was launched as an infant-tracking app. Recently, Elvie has also come up with a silent wearable breast pump.
Some of the key players in the breast pump market are,
Americas
Newell Brands
Ameda Inc.
Hygeia Health
Bailey Medical
Europe
Koninklijke Philips N.V.
Medela LLC
Mayborn Group Ltd.
Asia Pacific
Pigeon Corporation
Linco Baby Merchandise Works Co., Ltd.
*The list is not exhaustive, and only for representational purposes. Full competitive intelligence with SWOT analysis available in the report
Breast Pump Market: The Way Forward
Breast pump market registers prominent growth opportunities, with FMI's analysis estimating revenues to grow at approximately 4% consistently. The outbreak of Covid-19 has shifted the focus to online sales and the status quo will continue to be the same in the next few months.
In the long run, the players are looking forward to come up with more technologically advanced electric breast pumps. The existing pumps are reported to be noisy. However, with use of water suction pumps, the mechanical noise would get reduced. Likewise, players will have to devise more compact and handy breast pumps so that they can offer flexibility while handling.
World's Most Profilic Intelligence Engine
Get Access To The World's Largest Market Research Database. Ngage with a revolutionary intelligence engine that scale and pricing that flexes as per your needs
Sign Up Now
Breast Pump Market: Segmentation
The global breast pump is segmented in detail to cover every aspect of the market and present a complete market intelligence approach to the reader.
Product Type
Closed System Breast Pumps
Open System Breast Pumps
Technology
Electric Breast Pumps

Single Electric Breast Pumps
Double Electric Breast Pumps

Manual Breast Pumps
End User
Homecare Settings
Healthcare Facilities
Regions
North America
Latin America
Europe
South Asia
East Asia
Oceania
Middle East & Africa (MEA)
Need specific information?