Global Canned Seafood Market Records over 6% CAGR to Surpass US$29.4 Bn in 2019
The global canned seafood market is projected to reach US$ 71.5 Bn by the end of 2029. The market was valued at US$ 29.4 Bn in 2019. Future Market Insights (FMI) finds that the global market will rise at a CAGR of 6.3% between 2019 and 2029. Regionally, North America and Europe have emerged as most lucrative markets for canned seafood. However during the forecast period, Asia Pacific will exhibit more lucrative growth opportunities.
In terms of product, the market can be classified into caviar, mackerel, salmon, sardines, tuna and others. Of these, canned tuna emerged as a leading segment in the global market. On account of its superior properties, canned tuna has become a favourite among consumers. In addition to this, tuna is a rick source of omega 3 fatty acids. As a result of increasing health consciousness, the demand in this product category is likely to increase.
Key Factors Driving the Market
Rising Demand for Ready-to-eat Food Boosts Sales Opportunities
At a time when the demand for seafood is consistently rising, canned seafood has emerged as a favourite of consumers. In the last few years its sales has considerably risen stoked by the demand for ready-to-eat food. The canned seafood market is also gaining from the strengthening distribution network.
In order to reach a more dispersed demography, manufacturers are focusing on expanding their distribution efforts, which is expected to bode well for the overall market. Spurred by this, consumers now have better access to a variety of canned seafood including tuna, sardine, salmon, mackerel, caviar and others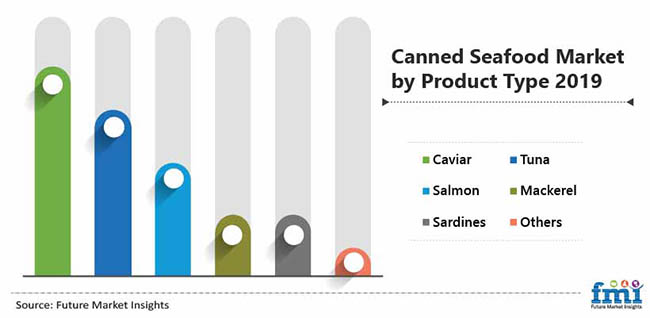 Asia Pacific Emerges as Highly Lucrative Market for Canned Seafood
The canned seafood market records high sales in the U.S. Seafood is a common inclusion in menu across restaurants and eateries in the country. The country exhibits a considerably high demand for exotic foods, which is expected to boost the canned seafood market in the U.S. During the course of the report's forecast period, Asia Pacific is expected to show increasing adoption of the product.
Furthermore, the consistently rising demand for ready-to-eat meals across emerging nations will drive the market in Asia Pacific. The regional market will also benefit from the presence of some of the leading companies.
Rising Awareness about Health Benefits offered by Canned Food will Stoke Growth Opportunities
The rising awareness among consumers about health benefits of canned seafood will drive the market. In addition to this, the market will benefit from their increasing disposable incomes and consequent willingness to spend on food products with higher nutritive value without compromising on taste.
In addition to this, the demand for conspicuous and exotic food items is on the rise as a result of rising purchase power of consumers. Spurred by this, the canned seafood market will welcome impressive growth opportunities. Changing consumer preference, as they increasingly focus on healthier and tastier food will therefore emerge as chief growth driver.
FREQUENTLY ASKED QUESTIONS ABOUT CANNED SEAFOOD MARKET
What drives the canned seafood market?
The rising demand for nutritive and exotic food creates growth opportunities for canned seafood market. In addition to this, the rising awareness about health benefits of seafood will encourage sales in the market
Which factors put market players at risk?
Canned seafood market is dependent on climatic conditions. Untoward weather conditions may act as a major road block. In addition to this, the fear of contamination haunts canned seafood manufacturers.
Which region will lead the global sales of canned seafood?
While North America and Europe will remain key markets, Asia Pacific is expected to offer higher growth opportunities to the market. The presence of some of the leading players will back the market growth in the region. In addition, the canned seafood market in Asia Pacific will gain impetus from rising disposable income of consumers.
Which product segment is likely to witness highest growth?
In terms of product, canned tuna has emerged as a widely consumed product. Superior health benefits of tuna will support the growth of the segment
Which segment based on distribution channel will record the highest growth?
In terms of distribution channel, the segment comprising retailers and independent dealers is expected to rise at a robust pace.
Market Segmentation
By Product Type
Caviar
Mackerel
Salmon
Sardines
Tuna
Others
By Distribution Channel
Hypermarkets/Supermarkets
Convenience Stores
Independent Grocery Stores
Specialty Stores
Online Retail
Region
North America
Latin America
Europe
APEJ
Japan
Oceania
Middle East & Africa
Need specific information?