Innovative Cardiac Reader Systems - Identifying the Preliminary CVD Risks
In the wake of alarming prevalence rate of cardiovascular diseases (CVDs), it has become imperative for the makers of cardiac reader systems to engineer devices that deliver on-the-spot, accurate diagnosis. The FMI study indicates cardiac markers experiencing impressive consumption within the drug development sector, particularly targeting better management of CVD progression, which is shaping adoption of cardiac reader systems landscape.
Cardiac Reader System Market - Key Research Findings
Cardiac reader system market size registered in 2018 – Nearly US$ 1,400 Mn.
The cardiac reader system market is expected to observe a CAGR of More than 5% over 2019-2027.
The WHO's recent statistical data underscores the alarming prevalence of obesity, potentially increasing susceptibility to acquire cardiovascular diseases.
More than 17 million people die every year due to CVDs, which is estimated to be 31% of all deaths across the globe.

Around 1.9 billion adults are suffering from excess weight, of which over 65% are obese. This survey highlights that around 13% of the adult population worldwide, is suffering from obesity.
North America will remain the high-growth regional market for cardiac reader systems.
North America's market for cardiac reader system will be spearheaded by the US owing to the presence of a large number of hospitals and diagnostic centres.
Europe will remain a significant market for cardiac reader systems manufacturers.
In Europe, Germany and France are among the prominent countries with a large number of clinics and hospitals.
The significant boost in sales of Chemiluminiscenece Immunoassay Analyzers (CLIA) is expected to boost the market for cardiac reader system.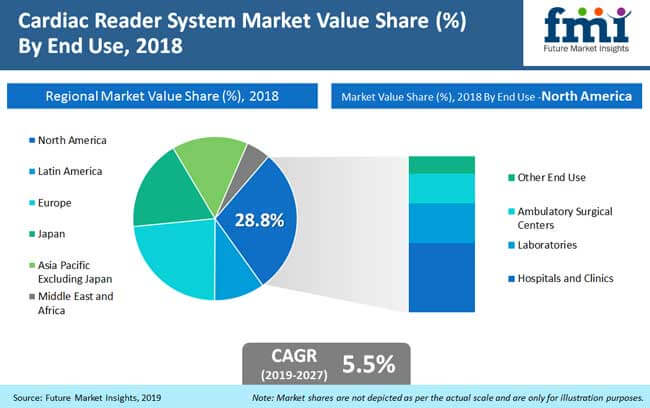 Top 3 Factors Shaping the Cardiac Reader System Market
High prevalence of CVDs to uplift demand for cardiac reader systems
The prevalence of CVDs is rising and the occurrence of heart failure is rapidly becoming a commonplace cause of death, recently. The current patient pool of cardiovascular diseases roughly equates 26 million, globally. In the US alone, the occurrence of myocardial infraction is around 3.3% and the incidence of angina pectoris is around 4.5%, which is estimated to rise over coming years. The subsequent rise in the rate of early detection is estimated to boost the sales of cardiac reader systems in the global market.
Expanding geriatric patient population to drive adoption of cardiac reader systems
The geriatric population across the globe is expanding and according to the National Institutes of Health (NIH), about 8.5% of the global population was aged 65 years and above in 2016. By the end of 2050, this percentage is estimated to grow to about 17%. While aging people have been at a higher risk of acquiring CVDs such as myocardial infarction, heart failure, and angina pectoris, it is highly likely that the expansion of geriatric population will provide a direct impetus to the demand for cardiac reader systems.
Obesity to boost cardiac reader system sales
With each sixth person being overweight, obesity has become a global health challenge since the past few decades. As per WHO's findings, the global number of overweight people has doubled since the last two decades. The World Health Organization has also projected that 1.9 billion adults are suffering from excess weight. This survey also expects that about 13% of the world's geriatric population is suffering from excess weight, which is another factor contributing to cardiac reader system sales.
Cardiac Reader System Market Structure Analysis
The global cardiac reader system market represents a consolidated competition landscape, wherein the Tier 1 companies hold a revenue share of more than 75%.

Some of the top companies in the cardiac reader system market include Beckman Coulter Inc., Abbott Laboratories, F. Hoffmann-La Roche Ltd., and Siemens AG among others, a majority of which are focusing on the markets in Middle East, Africa, and Asia Pacific.

Technical improvements in cardiac reader systems will be a prominent developmental strategy of competing vendors in the market.
The Market to Expand 1.5X between 2019 and 2027
The soaring need for faster patient triaging in cases of pre-hospital and emergency care is translating into the ascending sales of cardiac reader systems. The continued inadequacy of cardiac markers to be used in suspected stroke management will remain the key factor upraising the demand for R&D of innovative markers and cardiac reader systems.
Asian Countries – The Hotbed of Opportunities
With a strong base of globally leading manufacturers, further assisted by frequent FDA approvals, cardiac reader system sales will continue to be the highest in developed regions. Characterized by the ever-high awareness about the risk factors and timely diagnosis of CVDs, the North American market has been at the vanguard of the global cardiac reader system landscape.
Banking on the notable specificity and sensitivity than a majority of conventional biomarkers, troponin will remain the preferred type of marker.
Creatine-kinase (CK) accounts for a sizeable share of over 1/4th of the market revenues.
Myoglobin cardiac markers, with considerably high sensitivity, are also gaining ground.
Enzyme immunoassay analyzers witnessing steady adoption
Chemiluminescence immunoassay analyzers poised to see healthy demand growth
Magnetic immuno-chromatographic assay analyzers hold nearly 1/5th of market value share, slated for robust growth in adoption
How Growth will Unfold
While hospitals and clinics have been spearheading the end use category of cardiac reader system landscape, they continue to account for more than 2/5th of overall sales. Research however prompts relatively higher sales opportunities arising in ambulatory surgical centers and diagnostic laboratories. Rapidly improving levels of awareness about cardiac conditions and the associated risk factors is directing a gradual shift toward diagnostic laboratories, which are relatively easily accessible. Constant rise in the emergency use cases is abeting high adoption at ambulatory surgical centers.
Hospitals and clinics | Diagnostic laboratories | Ambulatory surgical centers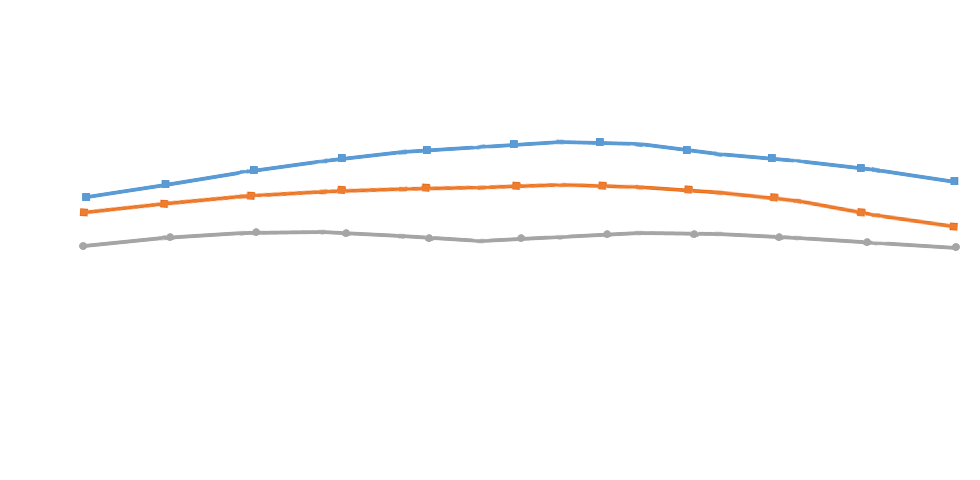 * This data is only a representation. Actual data may vary and will be available in report.
Click Here To Know How The Growth Will Unfold
Custom Market Research Services
FMI offers custom market research services that help clients to get information on their business scenario required where syndicated solutions are not enough.
Overview
Cardiac Reader System Market: Global Industry Analysis 2013-2018 & Opportunity Assessment 2019-2027
A recent market study published by FMI "Cardiac Reader System Market: Global Industry Analysis 2013-2018 & Forecast 2019-2027" offers a comprehensive assessment of the most important market dynamics. After conducting thorough research on the historic as well as current growth parameters of the Cardiac Reader System market, the growth prospects of the market are obtained with maximum precision.
Cardiac Reader System Market Taxonomy
The global Cardiac Reader System market is segmented in detail to cover every aspect of the market and present a complete market intelligence approach to the reader.
Modularity Type
Benchtop Analyzers
Compact Analyzers
Product Type
Enzyme Immunoassay Analyzers
Chemiluminiscenece Immunoassay Analyzers
Magnetic Immuno-Chromatographic Assay Analyzers
Immuno-Fluorescence Analyzers
Marker Type
Troponin
Creatine Kinase
Myoglobin
Others
End Use
Hospitals and Clinics/li>
Laboratories
Ambulatory Surgical Centers
Other End Use
Region
North America
Latin America
Europe
Japan
APEJ
MEA
How the research was conducted?
Primary Research
Primary research interviews with Key opinion leaders and other participants were conducted for data collection and validation of the below information:
Prevalence of rare heart problems
Adoption of Cardiac Reader System as a mode of assessment
Adoption of Cardiac Reader System in application areas
Average Selling Price (US$) and market growth
Key developments
Key trends and opportunities
Region-wise dynamics
Market share information
Key brands
Competition & Key Vendor Strategies
Secondary Research
American Hospital Association
Centers for Medicare & Medicaid Services
European Association of Hospital Pharmacists
Asian Pacific Society of Cardiology
World Health Organization
European Hospital and Health Care Federation
Chinese Hospital association
Australian Healthcare and Hospitals Association
Ontario Hospital Association
Russian Gastroenterological Association
American Clinical Laboratory Association
Ontario Association of Medical Laboratories
American Council of Independent Laboratories
Primary Interview Splits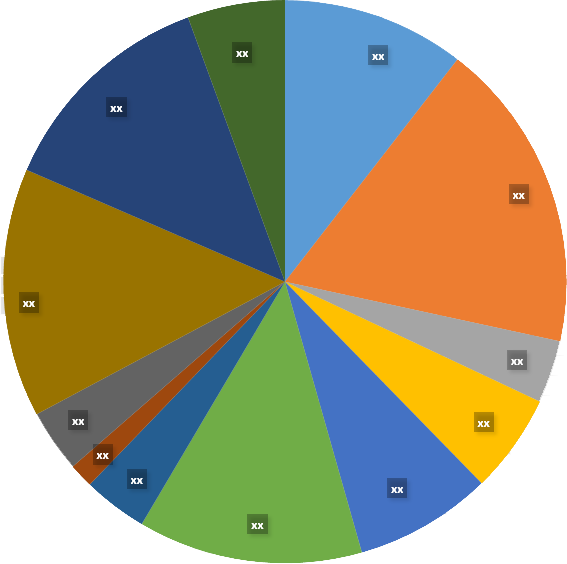 To Learn More About our Comprehensive Perspective on Cardiac Reader System Market,
Get in touch
COVID -19 : Impact Analysis
Request the coronavirus impact analysis across industries and markets
Request Covid -19 Impact
CASE STUDIES
See how our work makes an impact.
At FMI, we design strategies that are adaptive, impactful, and implementable.