Technological advancements vital in the cardiac surgery devices market
Cardiac surgery devices are manufactured according to the needs of the patients as well as the cardiologists. As surgical methods are becoming more advanced, cardiac surgery devices have become the showpiece of innovation in the operation theatre. Key stakeholders in the cardiac surgery devices market are introducing newer products to try and retain or even increase their market share.
For e.g. – Medtronic has launched its minimally invasive cardiac surgery products in the U.S. through an exclusive distribution agreement with Miami Instruments LLC. Technology will continue to underpin advancements in the global cardiac surgery devices market in the coming decade.
Data management systems integrated into heart lung machine systems
Rapid evolution in electronic data collection during cardiac surgery is anticipated to influence companies in the cardiac surgery devices market to manufacture novel products in the near future. Several data management systems have been developed that facilitate seamless data integration from the heart lung machine.
The company LivaNova offers a DMS charting system that automatically records all events and values of the C5, S5, and SIII heart-lung machines along with other devices such as blood gas analysers, patient monitors, cerebral oximetry devices, and ACT meters.
Minimally invasive surgeries popular in the cardiac surgery devices market
Greater occurrence of coronary heart diseases has heightened the focus on minimally invasive surgical procedures. Heart disease is one of the most common and widespread global diseases and can be typically traced to obese patients. Over the last decade, minimally invasive cardiothoracic surgery has surged in popularity mainly because of the numerous benefits of this procedure such as reduced surgical trauma and decreased pain in the surgical area.
With the refinement of transthoracic echocardiography, development of specialised robotic technology and surgical instruments, and perfusion technique innovations, cardiac surgery has been given the requisite tools required to perform minimally invasive surgery.
Reusable and robust stabilising arms witnessing increased adoption
Surgical stabilisation products offer retraction, positioners, and stabilisers during a number of surgical procedures where a human hand is normally needed and they provide exceptional stability and grip during off pump cardiac surgery. For e.g. – Medtronic offers Urchin Heart and Starfish2 Positioners that hold the heart in a manner allowing the surgeon to easily access the blocked vessels needing bypass graft.
In addition, the Octopus Tissue Stabilizer minimises motion of a small area of the heart while the rest continues to beat normally. Thus, the surgeon can perform CABG surgery without using the heart-lung machine or stopping the heart. The reusable stabilising arm enhances the cost effectiveness and stability of the procedure, thereby boosting the prospects of the cardiac surgery devices market.
North America larger than Western Europe and APEJ combined
North America dominates the global cardiac surgery devices market as it is larger than both Western Europe and APEJ combined with an estimated value of over half a billion dollars in 2017. It is expected to retain its commanding position in the global cardiac surgery devices market as it is on track to record a CAGR of 4.1%, reaching a market valuation of just under US$ 830 Mn by the end of the forecast period.
MEA is expected to witness the highest value CAGR among all regions (4.9%); however, the region is anticipated to remain the least attractive market in the global cardiac surgery devices market in terms of revenue, recording a market attractiveness index of 0.5 over the forecast period.
The cardiac surgery devices market in North America is expected to witness flourishing growth owing to increasing demand for cardiac surgery devices by hospitals and ambulatory surgery centres in U.S and Canada.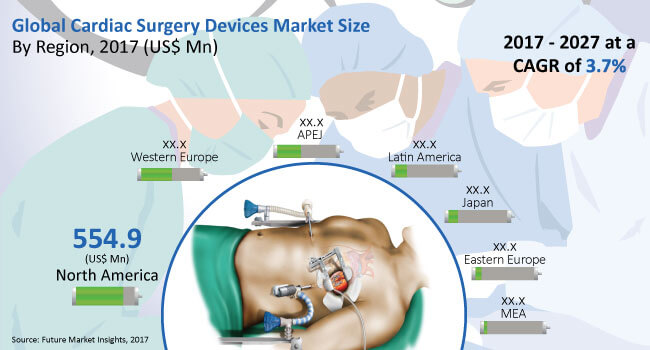 Medical tourism to benefit the cardiac surgery devices market
Medical tourism has become quite popular amongst patients afflicted with cardiovascular ailments as it allows high quality care to be provided immediately in a cost-effective manner. This is especially prominent in the developed regions of Europe and North America from where patients travel to places such as Thailand and India to avail of medical tourism.
The APAC region is the preferred destination for medical tourists as a coronary artery bypass procedure can be almost 80% cheaper in this region than in places such as the U.S. and Europe. In India, the average cost of the procedure is approx. US$ 9000, which is substantially lower than the US$ 120,000 it costs in the U.S.
Cardiac Surgery Devices Market Taxonomy
Product
Heart Lung Machine
Breathing Heart Surgery Systems
Catheters

Ablation Catheter
Drainage Catheter

Perfusion Disposables

Oxygenators
Centrifugal Pumps
Cardioplegia Delivery System
End User
Hospitals
Ambulatory Surgical Centres
Procedure
Coronary Artery Bypass Grafting

On pump CABG
Off pump CABG

Minimally Invasive Surgery
Region
North America
Latin America
Western Europe
Eastern Europe
APEJ
Japan
MEA
Need specific information?