Chlorine Disinfectant Market to Click US$ 3 Bn in 2023
Alerted by notable decline in fresh water resources, governments worldwide are enacting stringent regulations regarding treatment of dischargeable water and enhancing its reusability in the process. Moreover, they are shifting their focus towards improving municipal water facilities in both, urban and rural spaces. Moving on, the recent coronavirus (COVID-19) transmission has raised an implication for the healthcare sector to ensure optimal condition of healthcare centers, and medical equipment in order to prevent hospital-acquired infections (HAI). Driven by these themes, the global value of chlorine disinfectant market will surpass US$ 3 Bn in 2023, following a promising growth curve.
Key Highlights
The global chlorine disinfectant market will exceed its US$ 3 Bn mark in 2023.
The market is expected to grow at a healthy CAGR over the forecast period (2020-2030), majorly propelled by rising need to enhance water facilities in urban and rural areas.
Solid/granular chlorine disinfectants continue to attract significant investments of stakeholders; liquid form to ensure stable returns.
Market players stay focused on industrial wastewater applications for meaningful returns; textile bleaching applications to offer white spaces.  
East Asia would remain in the vanguard of chlorine disinfectant market; North America to offer potential growth avenues.
KEY FACTORS SHAPING CHLORINE DISINFECTANT MARKET
Depleting Fresh Water Resources & Increasing Emphasis on Water Treatment
Over the last few decades, rapidly declining fresh water resources due to misuse of water has increased the already severe water stress across the globe. To avoid exuberating and to overcome such a situation, governments across the globe are implementing stringent regulations regarding treatment of dischargeable water and increasing its reusability in the process. Furthermore, governments are highly focused on improving municipal water facilities in urban and rural areas. Such developments for industrial and domestic/ municipal water treatment are expected to create high demand for water & wastewater treatment chemicals such as chlorine disinfectants over the forecast period.
Distinct Advantages of Chlorine as a Disinfectant
Chlorine is one the most widely used disinfectant. It is widely applicable and effective for the elimination of pathogenic microorganisms. Chlorine can be easily applied, measured, and controlled. It is fairly persistent and comparatively cheap. Use of chlorine disinfectants for several applications offer multiple advantages as follows-
Chlorine disinfectant is effective and reliable against a wide spectrum of pathogens present in water or any other surface.
Flexible dosing allows significant control over disinfection as wastewater characteristics vary from time to time.
The chlorine residual that remains in the discharged wastewater can harmful even after preliminary treatment and also offers a measure of effectiveness.
Chlorine can eliminate noxious odors while disinfecting.
Increasing Demand from Hospital Facilities
Increasing emphasis on cleanliness in hospitals is boosting the demand for chlorine disinfectants. Chlorine disinfectant is used for applications in hospitals such as:
Cleaning and disinfecting work surfaces and equipment in medical laboratories
Preventing bacterial contamination of patients burns and wounds
Disinfecting kidney dialysis machines
Infections are a substantial threat in hospitals and chlorine-based disinfectants disinfect work surfaces and medical equipment, thereby prevent the spread of contagious diseases. Chlorine plays a significant role by make sure that hospitals have safe water for bathing, drinking, and other patient needs. Hospital cafeterias and kitchens depend on chlorine's disinfectant powers to eliminate hazardous food-borne bacteria such as E. coli, and Salmonella on food preparation surfaces.
The Impact of Current COVID-19 Pandemic
Notable upsurge in caseloads of coronavirus (COVID-19) is resulting in increased hospital stays – around a couple of weeks. As such, governments across the globe are mandating application of chlorine disinfectants on surfaces, medical equipment, and laboratories. As the survival time of the virus varies with temperature, humidity, and type of surface, cleaning frequently touched surfaces is an imperative for healthcare staff.
East Asia's Primacy in Global Market
The market in East Asia is significantly diverse in terms of customer base, innovations, geopolitical conditions, as well as the regulatory scenario. The GDP of this region is expected to witness significant growth in the foreseeable future, and this is expected to propel growth of the chlorine disinfectant market. The chlorine disinfectant market in East Asia region including China, India, and Indonesia is expected to gain traction in the foreseeable future, attributable to the growing industrial activities and urbanization in this region.
Chlorine Disinfectant Market Structure Analysis
Collaborations and acquisition of niche players is one of the key strategies followed by the leading Chlorine Disinfectant manufacturers in the market
3M Company, Procter and Gamble, Reckitt Benckiser, Clorox Company, Ecolab, Hind Pharma, Chemtex Specialty Ltd., Nyco Products Company, Delux Chemicals, VWR International, ACHLOR Chemical Ltd. and others, are the largest and most experienced in the global Chlorine Disinfectant market.
High market concentration ratio suggests that there is an intense ongoing competition in the global Chlorine Disinfectant market. Thus, market competitors are deploying cost-effective solutions in order to maintain or enhance their market shares.
Report Metric

Details

Base Year

2019

Historical Period

2015-2019

Forecast Period

2020-2030

Market Value in 2019

US$ 2.4 Bn

Segments Covered

Form, Application

Regions Covered

North America, Latin America, Europe, South Asia and Pacific, East Asia, and Middle East and Africa

Key Companies

Akzo Nobel N.V (Nouryon Holding, Merck KGaA, ADEKA CORPORATION, ALLIED HIGH TECH PRODUCTS, INC, Nissan Chemical Corporation, The Dow Chemical Company, Cabot Corporation, Evonik Industries AG, FUSO CHEMICAL CO. LTD, W. R. Grace & Co.-Conn, NYACOL® Nano Technologies Inc, REMET, Ecolab Inc, Chemiewerk Bad Köstritz GmbH, Guangdong Well-Silicasol Co. Ltd, Qingdao Haiyang Chemical Co. Ltd., Jinan Yinfeng Silicon Products Co. Ltd, Sterling Chemicals, and Makall Group

Growth Drivers

Gradual decline in freshwater sources
Increasing need to treat dischargeable water and improve its reusability
High adoption in healthcare settings to avoid hospital-acquired infections (HAI)
Industrial Wastewater to Attract Greater Attention of Stakeholders
Market players continue to target industrial wastewater, wherein chlorine disinfectants are utilized either in elemental form (chlorine gas) or in compounds - liquid sodium hypochlorite solution or solid calcium hypochlorite. By 2029, application of chlorine disinfectant in industrial wastewater applications will translate to over US$ 2 Bn. Chlorine disinfectants are also finding use in textile bleaching, as they are significantly effective at whitening fabrics and provide germicidal activity at usage concentrations. This study further states that, manufacturers will also glean relevant returns from swimming pool water applications. 
Market Players to Firm their Grip on East Asia
East Asia will remain the epicenter of growth opportunities in chlorine disinfectant market, owing to top-line growth of industry-adjacent sectors such as water treatment, and healthcare. Driven by rising cases of nosocomial infections, governments in countries - China, and India - are substantially spending in healthcare infrastructure. Going forward, North America's chlorine disinfectant is registering rapid CAGR, and is expected to value around US$ 1 Bn in 2030. The market growth is primarily attributable to uptight regulations for surface disinfectants to prevent HAIs. 
Unfolding Potential Avenues in Healthcare Industry
Maintaining optimum hygiene and preventing disease contagion are paramount aspects in healthcare settings, which leverage chlorine disinfectants for several applications - cleaning and disinfecting workplaces and equipment in medical laboratories, avoiding bacterial contamination of patients' injuries, and disinfecting kidney dialysis equipment. In addition, chlorine disinfectants ensure safe water for drinking, bathing, and other patients' necessities. Hospital cafeterias and kitchens rely on chlorine disinfectants in order to eliminate hazardous food-borne bacteria such as E. coli, and Salmonella on food preparation surfaces.
Solid/ granular form stays in-demand
Liquid form to see stable growth
Industrial wastewater remains primary application area
Increasing application scope in swimming pool water
How Growth will Unfold
Capturing about 60% of total market stack, solid/granular chlorine disinfectants continue to attract huge stakeholders' investments. FMI underlines that, the number will increase at a healthy pace through 2030. Liquid chlorine disinfectants are also generating significant total returns to shareholders, and will hit the billion-mark during the latter half of forecast period. End-use industries are leveraging an even combination of both, solid and liquid chlorine disinfectants, to complement the effectiveness of disinfection in various applications. Market players must, thus, target these two forms of chlorine disinfectants to sustain their competitiveness.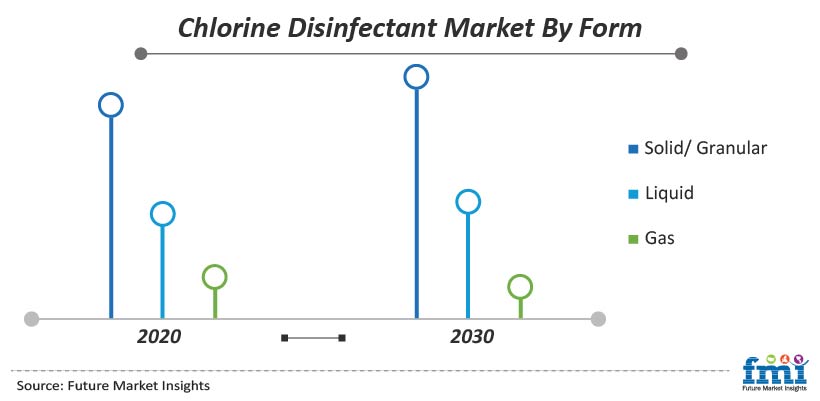 * This data is only a representation. Actual data may vary and will be available in report.
Click Here To Know How The Growth Will Unfold
Custom Market Research Services
FMI offers custom market research services that help clients to get information on their business scenario required where syndicated solutions are not enough.
Overview
A recent market study published by FMI on the chlorine disinfectant market includes global industry analysis 2015-2019 & opportunity assessment for 2020-2030, and delivers a comprehensive assessment of the most important market dynamics. After conducting a thorough research on historic as well as current growth parameters of the chlorine disinfectant market, the growth prospects of the market are obtained with maximum precision.
Chlorine Disinfectant Market Taxonomy
The global chlorine disinfectant market is segmented in detail to cover every aspect of the market and present a complete market intelligence approach to the reader.
By Form
Solid/Granular
Liquid
Gas
By Application
Drinking water
Swimming pool water
Industrial Wastewater
Textile bleaching
Hospital
Others
By Region
North America
Latin America
Europe
East Asia
South Asia
Oceania
Middle East & Africa
How the research was conducted?
Primary Research
C - Level Executives
Marketing Directors
Product Managers
Business Development Officers
Production Managers
Procurement Heads
Sales Executives
Distributors
Traders
Raw Material Suppliers
Industry Experts
End Users
Current market dynamics and challenges
Yesteryear trends
Market characteristics
Market performance and growth quadrants
Competition structure and market structure
Strategic growth initiatives
Near-term and long-term market growth prospects
Market segment splits and authenticity
Opinions on market projections and validity of assumptions
Secondary Research
Industry Publications
Industry Associations
Factiva
Company Press Releases
Annual Reports and Investor Presentations
Research Papers
Government Websites and Publications
Trade Websites
Primary Interview Splits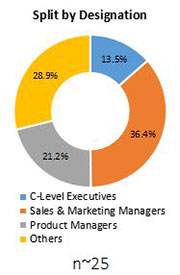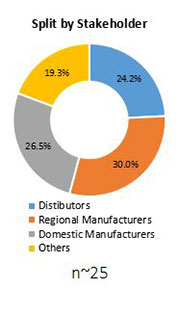 To Learn More About our Comprehensive Perspective on Chlorine Disinfectant Market,
Get in touch
COVID -19 : Impact Analysis
Request the coronavirus impact analysis across industries and markets
Request Covid -19 Impact
CASE STUDIES
See how our work makes an impact.
At FMI, we design strategies that are adaptive, impactful, and implementable.