Industrial Wastewater to Attract Greater Attention of Stakeholders
Market players continue to target industrial wastewater, wherein chlorine disinfectants are utilized either in elemental form (chlorine gas) or in compounds - liquid sodium hypochlorite solution or solid calcium hypochlorite. By 2029, application of chlorine disinfectant in industrial wastewater applications will translate to over US$ 2 Bn. Chlorine disinfectants are also finding use in textile bleaching, as they are significantly effective at whitening fabrics and provide germicidal activity at usage concentrations. This study further states that, manufacturers will also glean relevant returns from swimming pool water applications.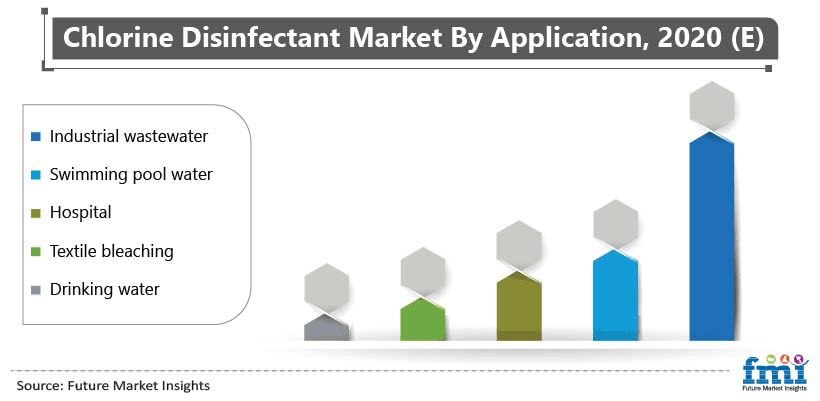 Market Players to Firm their Grip on East Asia
East Asia will remain the epicenter of growth opportunities in chlorine disinfectant market, owing to top-line growth of industry-adjacent sectors such as water treatment, and healthcare. Driven by rising cases of nosocomial infections, governments in countries - China, and India - are substantially spending in healthcare infrastructure. Going forward, North America's chlorine disinfectant is registering rapid CAGR, and is expected to value around US$ 1 Bn in 2030. The market growth is primarily attributable to uptight regulations for surface disinfectants to prevent HAIs.
Unfolding Potential Avenues in Healthcare Industry
Maintaining optimum hygiene and preventing disease contagion are paramount aspects in healthcare settings, which leverage chlorine disinfectants for several applications - cleaning and disinfecting workplaces and equipment in medical laboratories, avoiding bacterial contamination of patients' injuries, and disinfecting kidney dialysis equipment. In addition, chlorine disinfectants ensure safe water for drinking, bathing, and other patients' necessities.
Hospital cafeterias and kitchens rely on chlorine disinfectants in order to eliminate hazardous food-borne bacteria such as E. coli, and Salmonella on food preparation surfaces.
How Growth will Unfold
Capturing about 60% of total market stack, solid/granular chlorine disinfectants continue to attract huge stakeholders' investments. FMI underlines that, the number will increase at a healthy pace through 2030. Liquid chlorine disinfectants are also generating significant total returns to shareholders, and will hit the billion-mark during the latter half of forecast period. End-use industries are leveraging an even combination of both, solid and liquid chlorine disinfectants, to complement the effectiveness of disinfection in various applications. Market players must, thus, target these two forms of chlorine disinfectants to sustain their competitiveness.
>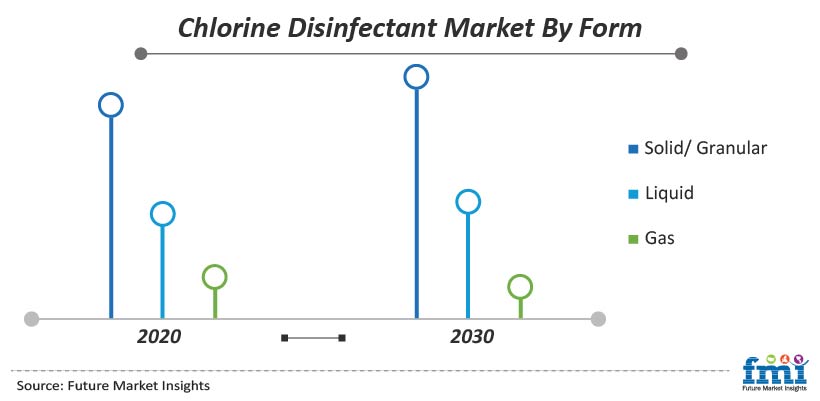 World's Most Profilic Intelligence Engine
Get Access To The World's Largest Market Research Database. Ngage with a revolutionary intelligence engine that scale and pricing that flexes as per your needs
Sign Up Now
CHLORINE DISINFECTANT MARKET TAXONOMY
The global chlorine disinfectant market is segmented in detail to cover every aspect of the market and present a complete market intelligence approach to the reader.
By Form
Solid/Granular
Liquid
Gas
By Application
Drinking water
Swimming pool water
Industrial Wastewater
Textile bleaching
Hospital
Others
By Region
North America
Latin America
Europe
East Asia
South Asia
Oceania
Middle East & Africa
Need specific information?