Hospital Disinfectant Products & Services Market to Hit US$ 30 Bn Mark in 2020
Minimally invasive surgical procedures are becoming an integral component in the healthcare sector in an effort to ensure better clinical outcomes. However, extensive use of medical equipment is raising concerns about various nosocomial infections occurring after treatment. As governments and other agencies are playing a helping hand in promoting preventative healthcare for infection control, the worldwide market value of hospital disinfectant products & services will surpass US$ 30 Bn in 2020. This FMI study projects a promising growth trail of the global hospital disinfectant products & services, during 2019 - 2029, with revenues expected to surge nearly double.
Frequently asked questions about global hospital disinfectant products & services market
What are future prospects of the hospital disinfectant product & services market?
The global market for hospital disinfectant products & services is poised for a robust growth outlook over the period of projection, 2019 - 2029. While the global market value is projected to reach US$ 30 Bn in 2020, more than 7% CAGR is expected through 2029.
How will the hospital disinfectant product & services market be critical in the future?
Hospital disinfectants plays a crucial role in preventing hospital associated infections (HAIs). The substantial increase in number of deaths due to HAIs is increasing the demand for hospital disinfectant product and services market.
Which hospital disinfectant product & services will have the largest sales growth in the next five years?
Liquid disinfectants are estimated to account larger market share among all disinfectant types used in hospitals. The ease of use and affordability of liquid disinfectants are major factors contributing to higher sales of it.
Where does the maximum opportunity reside for hospital disinfectant product & services?
Hospital disinfectant products find its major use for skincare purposes as skin is the largest organ of the body and the most viable for infection transfer. Skin cleansers and hand sanitizers are estimated to account major share in skincare application.
Which region is expected to lead global sales of hospital disinfectant product & services?
Europe region is anticipated to forefront of the global Hospital Disinfectant Product & Services market, with sales projected to grow at a CAGR of 6% during the predefined timeframe.
Which companies are investing significantly in the development of innovative products?
Investors continue to remain bullish in industry behemoths such as Becton, Dickinson and Company, Colgate-Palmolive Company, S. C. Johnson & Son, Inc., and Kimberly-Clark Corporation, bringing innovative products into the marketplace. It is pertinent to note that a large number of new players are also vying for a pie of this lucrative market.
Liquid Hospital Disinfectant Accounts for Higher Market Share
Capturing nearly 2/5th of total market revenues, liquid hospital disinfectants will remain the preferred product type among healthcare professionals throughout the forecast period. In 2019, liquid hospital disinfectants worth around US$12 Bn were sold and the figure is likely to grow at a moderate pace in the near future. Manufacturers are also targeting devices and sprays & foams, with the former registering rapid demand growth over other product types.
Developing Regional Markets Reflect White Spaces
Hospital-associated infections (HAI) such as bloodstream infection (BSI), ventilator-associated pneumonia (VAP), and urinary tract infection (UTI) are the most common adversaries in the healthcare delivery, worldwide. The hospital disinfectant products & services market in both, developed and developing regions, would be bolstered by conducive regulatory environment, and rising healthcare expenditure. While Europe continues to carve out a bigger slice of the market through 2029, the developed region is likely to lose some of its share to the developing regions. Spearheaded by China and India respectively, surging adoption rate of hospital disinfectant products & services in East and South Asia is offering lucrative growth potentials to manufacturers.
Manufacturers Embracing Green Trend
Existing hospital disinfectants comprise of liquid chemicals such as aldehydes, alcohols, and ammonia compounds, which when disposed of, adversely affect the groundwater and soil profile. Additionally, this may result in the onset of respiratory, and central nervous system (CNS) diseases. In response to the situation, manufacturers must focus on the development of eco-friendly and natural ingredient base hospital disinfectant products to curb the health hazards and pollution risk of the disinfectant chemicals.
Liquids remain the highly preferred product
Devices to see increasing demand growth
High usage in surface cleaners
Increasing adoption in skincare
How Growth will Unfold
Surface cleaners have been the conventional application area of hospital disinfectant products & services and currently accounts for around 45% of total sales. Under the application category, adoption will remain prominent in floor and toilet cleaners. While these applications continue to attract huge attention of manufacturers, emergence of skin care products industry across developing regions are also reflecting wide avenues of growth. With a collective revenue of around US$ 5 Bn, use of hospital disinfectant products & services in skin cleansers and hand sanitizers would further contribute to their global presence.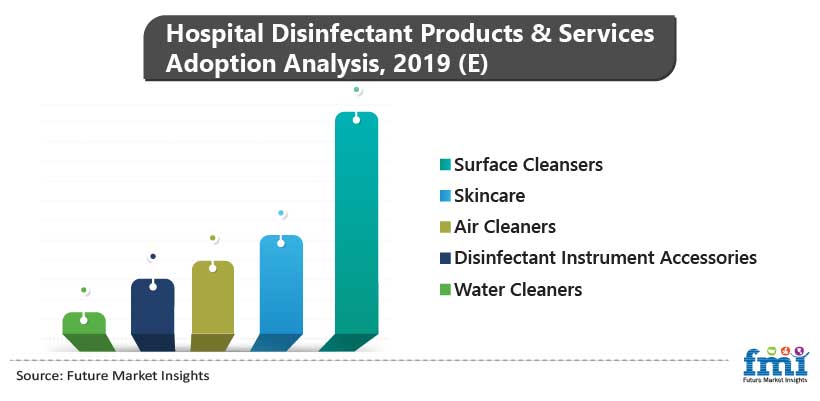 * This data is only a representation. Actual data may vary and will be available in report.
Click Here To Know How The Growth Will Unfold
Custom Market Research Services
FMI offers custom market research services that help clients to get information on their business scenario required where syndicated solutions are not enough.
Overview
Hospital Disinfectant Products & Services Market Analysis 2019-2029
A new market study published by FMI, "Hospital Disinfectant Products & Services Market: Global Industry Analysis 2014-2018 and Opportunity Assessment 2019-2029", offers a broad assessment of the most significant market dynamics. After conducting in-depth research on the historic as well as current growth factors of the hospital disinfectant products & services market, growth prospects of the market have been obtained with maximum precision.
Hospital Disinfectant Products & Services Market Taxonomy
The global hospital disinfectant products & services market is segmented in detail to cover every aspect of the market and present a complete market intelligence approach to readers.
Type
Products

Liquid
Gel & Lotions
Spray & Foam
Wipes
Devices
Other Types

Services
Application
Skincare

Skin Cleansers
Hand Sanitizers
Surgical Scrubs
Skin Conditioners
Other Skincare

Surface Cleansers

Toilet Cleansers
Floor Cleansers
Surface Sanitizers
Instrument Decontaminant Solution

Surveillance Providers

Antimicrobial Stewardship
Infection Prevention
Other Surveillance Providers

Disinfectant Instrument Accessories

Hand Sanitizer Dispensers
UV Disinfectant
Fogger Disinfectant
Air Purifier
Water Sterilizer
Other Accessories

Water Cleaners

Water Disinfectant Solution
Water Disinfectant Products

Air Cleaners

Air Neutralizers
Air Fresheners
Region
North America
Latin America
Europe
South Asia
East Asia
Oceania
Middle East and Africa
How the research was conducted?
Primary Research
C - Level Executives
Marketing Directors
Sales Heads
Production Managers
Distributors Heads
Sales Executives
Product Manufacturers
Distributors
Traders
Industry Experts
End Users
Current Market Dynamics and Challenges
Market Characteristics
Market Performance and Growth Quadrants
Competition Structure and Market Structure
Strategic Growth Initiatives
Near-term and long-term market growth prospects
Market Segment Splits and Authenticity
Opinions on market projections and validity of assumptions
Secondary Research
International Associations and Publications
Centers for Disease Control and Prevention (CDC)
American Animal Hospital Association (AAHA)
World Health Organization (WHO)
Company Press Releases
Annual Reports and Investor Presentations
Research Papers
Government Websites and Publications
Trade Websites
Primary Interview Splits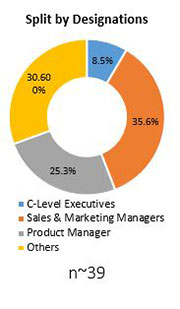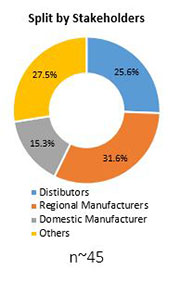 To Learn More About our Comprehensive Perspective on Hospital Disinfectant Products & Services Market,
Get in touch
COVID -19 : Impact Analysis
Request the coronavirus impact analysis across industries and markets
Request Covid -19 Impact
CASE STUDIES
See how our work makes an impact.
At FMI, we design strategies that are adaptive, impactful, and implementable.