Hospital Capacity Management Solutions Market Outlook & Key Findings
Global hospital capacity management solutions market expected to grow at 5% CAGR through 2030
RTLS (Real time locating system) preferred capacity management solution among end users
Cloud-Based hospital capacity management solutions gaining adoption
Manufacturers focusing on the introduction of integrated hospital capacity management solutions to have multiple solutions in one go
North America and Europe collectively account for more than half of the hospital capacity management solutions market and would continue to do so during the forecast period
Hospital Capacity Management Solutions Market Analysis: Higher Adoption of Real Time Locating System (RTLS)
Investment in RTLS (Real Time Location System) is growing among end-users. According to FMI's estimate, nearly 30% of all spending on hospital capacity management solutions market can be attributed to real time location systems.
Regulatory enforcement of RTLS across the entire healthcare vertical is driving this market share. Another factor fueling the market includes an increasing use of RTLS system-based crisis response & emergency management in healthcare. Through this feature, patients' assets can be easily tracked.
Plus, initiatives by the governments all across are expected to boost the hospital capacity management solutions market in the forecast period.
Integrated Solutions Investments on the Rise
The integrated solutions account for maximum market share and are expected to hold the flag high in the forecast period as well as they attribute to the following:
An integrated solution keeps the entire healthcare arm on the same page. The basic advantage is that one need not dig through numerous mails when required in any context.
Streamlined and Prioritized workflows
There are several subsidiary solutions running inside the primary solution. Synchronization helps in giving proper output. For instance – EMR (Electronic Medical Record) could be the primary solution; with patients' case history as the secondary one.
These multi-module solutions are expected to drive the hospital capacity management solutions market.
Cloud-based Hospital Capacity Management Solutions to Catalyze the Market
Cloud-based solutions account for the largest share of the global hospital capacity management solutions market. EMR gets maintained through cloud-based solutions. They include bedside monitors, MRI scanners, and others.
The ongoing pandemic has increased the demand for point-of-care access to the medical records. This digitization is expected to upscale the demand for cloud-based solutions in the near future.
One such cloud-based solution is MedStar HIS. It ensures of operational efficiency and also helps the hospitals in decision-making. On similar grounds, Infosys' hospital capacity management solutions track the capacity levels for the hospital and forecasts the level for the next 4, 8, 12, 24, and 72 hours.
They also send alert messages with respect to shortage of resources much before interrupting patient STP (Straight-Through-Processes). As such, hospitals could make informed decisions in the optimization of hospital assets' usage.
On Jun 18 2020, 5 exclusive health systems presented studies on implementation of eGlycemic Management System (eGMS) at the time of 2020 DTS (Diabetes technology Society) Virtual Hospital Poster Session. eGMS has been devised by Glytec, the sole player providing insulin management software.
Hospital Capacity Management Solutions: Adoption Amidst COVID-19 Pandemic
The outbreak of Covid-19 has resulted into growing adoption for hospital capacity management solutions. The patients' records maintained herein help in administering the course of treatment, especially if they test positive for Covid-19.
Besides, wireless access to this data helps in taking precautionary measures in sensitive areas. The other advantages include patient discharge management, patient flow optimization, supply chain management, and bed capacity management.
High Cost of Hospital Capacity Solutions: A Key Challenge
Hospital capacity management solutions have gained popularity in the developed countries. However, adoption of these services in developing regions continues to be low.
Plus, poor healthcare infrastructure herein is posing a challenge to the adoption of hospital capacity management solutions. Some of hospital management software's include MocDoc, Insta, Attune, eHospital, and ITDose Infosystem.
Hospital Capacity Management Solutions Market: Region-wise Analysis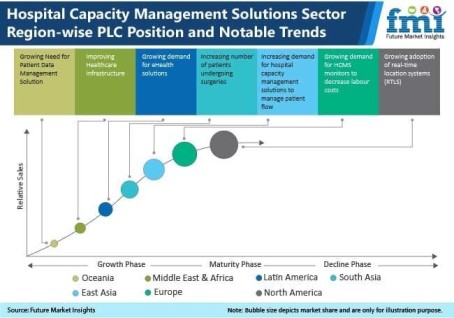 North America and Europe continue to be the most lucrative markets for hospital capacity management solutions due to growing adoption of e-health solutions, and increasing demand for reducing patients' waiting time and labor cost.
Markets in East Asia, Latin America, South Asia, and Middle East & Africa are in the growth phase due to an increasing usage of ICT (information communication technology) in healthcare sector.
Leading Players in Hospital Capacity Management Solutions Market
Several manufacturers are looking to make an entry to the hospital capacity management solutions market with introduction of digitization and integrated solutions. Some of the key players in the hospital capacity management solutions market are:
Americas
Cerner Corporation
Epic Systems Corporation
TeleTracking Technologies, Inc.
Sonitor Technologies, Inc.
STANLEY Healthcare
Allscripts
McKesson Corporation
Europe
Arcomed AG
Koninklijke Philips N.V.
Asia Pacific
JVS Group
Infosys Limited
Neusoft Corporation
INFINITT Healthcare Co. Ltd.
*The list is not exhaustive, and only for representational purposes. Full competitive intelligence with SWOT analysis available in the report
Hospital Capacity Management Solutions Market: The Way Forward
Hospital capacity management solutions market promises prominent opportunities for growth, with FMI's analysis estimating the market to grow at over 5% Y-o-Y in 2020.
The Covid-19 pandemic has generated a strong demand in 2020 as there is an utmost need of maintaining hospital workflow and patient data. Remote access to patients is also asked for. These solutions would be needed in future as well; as administration of any line of treatment will need checking the patient's medical history beforehand.
Hospital capacity management solutions market players are emphasizing on the introduction of cloud-based and integrated hospital capacity management solutions. Key players are into collaborations and partnerships with software companies for introducing more effective solutions. Increasing number of people undergoing surgeries, higher occupancy of the hospital beds are the factors expected to drive the market in the forecast period.
Hospital Capacity Management Solutions Market: Segmentation
The global hospital capacity management solutions is segmented in detail to cover every aspect of the market and present a complete market intelligence approach to the reader.
Product Type
Workflow Management Solutions
Asset Management Solutions
Bed Management Solutions
Quality Patient Care Solutions
Real Time Locating System (RTLS)
Event Driven Solutions

Online Registration Solutions
Attendance Management Tools
Event Driven Patient Tracking
Others
Application
Standalone Solutions
Integrated Solutions
Delivery Mode
Regions
North America
Latin America
Europe
South Asia
East Asia
Oceania
Middle East & Africa (MEA)
Need specific information?