About the Report
Increasing number of infections due to contamination and developments in disinfectants are key factors driving the surface disinfectants market. Surface disinfectants are chemicals that are intended to kill or destroy microorganisms seen on inert surfaces. It is utilized to decrease or eliminate the presence of pathogenic microorganisms.
Rising occurrences of hospital acquired infections have been fuelling the demand for surface disinfectants across the medical care industry. Sales are expected to increase rapidly in response to the increasing demand from emergency clinics. The recent outbreak of COVID-19 also fuelled the demand for surface disinfectant both across households and healthcare institutions as focus towards regularly disinfecting surfaces is considerably high.
In its new study, ESOMAR-certified market research and consulting firm Future Market Insights (FMI) offers insights about key factors driving demand for surface disinfectants. The report tracks the global sales of surface disinfectants in 20+ high-growth markets, along with analysing the impact COVID-19 had on the pharmaceuticals industry in general, and surface disinfectants in particular.
Historical Trends Positive, But Future Outlook Even Brighter for Surface Disinfectants Market
The increasing focus on hygiene to prevent infectious diseases from spreading has propelled growth of the surface disinfectants market. The U.S. has emerged as a key market for surface disinfectants in the world. As indicated by the U.S. Department of Health and Human Services, in every 20 diseases, one in the U.S. is Hospital Acquired Infections (HAI). Rise in occurrence of different HAIs will drive the sales of sanitizers universally. According to FMI's analysis, surface disinfectants sales have grown from 2.3% in 2016 to 7.0% in 2020. FMI expects global surface disinfectants demand to grow at 8.8% CAGR through 2020.
What is the Impact of Increasing incidences of Hospital Acquired Infections?
The increasing incidence of hospital acquired infections and the rising occurrences of chronic disorders are expected to propel the market growth. Rising geriatric population and the prevalence of chronic illnesses such as blood pressure, obesity, diabetes and heart disorders have been fuelling the demand for surface disinfectants in health care facilities and hospitals.
As per the Centers for Disease Control (CDC), HAIs cause about 1.7 million infections and 99,000 related deaths every year in America. Out of these, surgical site infections account 22%, urinary tract infections share for about 32%, blood stream infections around 14% and lung infections about 15% every year. Rising cases of HAIs will compel both patients and healthcare providers to focus more on disinfection, thus aiding growth.
Will Increasing Per Capita Expenditure Drive Surface Disinfectants Sales?
Increasing investment in better medical care will fuel sales of surface disinfectants among emergency clinics and family purchasers. With the novel coronavirus tightening its noose around the world, the interest for cleanliness and disinfectant items are on the rise. Additionally, per capita consumption of medical care has consistently increased following the COVID-19 outbreak, in turn driving surface disinfectant sales.
Global healthcare spending accounts for over 10% of the global gross domestic product (GDP) and is likely to remain same till midterm forecast. Per capita healthcare spending is projected to witness high growth in Middle East and Asian countries over developed regions. Before corona pandemic, developed regions such as North America and Europe were set to register sluggish growth rate during the forecast period. However, currently North America and Europe being the most effected regions will register accelerated growth rate till midterm forecast.
How will Surging Demand for Water Management Chemicals Drive Surface Disinfectant Sales?
Increasing emphasis on the improvement of quality of water supply by various government is driving the consumption of water management chemicals, including disinfectants. Owing to increasing demand for fresh water and increasing awareness about negative impacts of untreated water across the world, the market will find a conducive environment for expansion.
Further, increasing focus on research and development (R&D) initiatives will play a significant role in shaping the overall growth of water treatment market in forthcoming years. Water disinfection being the key purification step in water treatment, will result in high demand for surface disinfectant.
Worsening conditions in countries such as Egypt where per capita share of potable water is shrinking every year will increase wastewater reuse projects and initiatives, creating additional demand for surface disinfectant during the forecast period.
What Is the Impact Of COVID-19 Crisis On Global Surface Disinfectants Market?
The COVID-19 pandemic had a limited influence on the surface disinfectants market. The outbreak is expected to create growth prospects for the surface disinfectants market. The COVID-19 pandemic has spread in 160 nations and is probably going to affect a few economies through supply disturbances. In addition, lockdowns across a few nations are increasing the general interest in surface disinfectants because of panic buying among consumers.
On the other hand, the industry is confronted with manufacturing and supply chain problems, such as supplying goods to end consumers on time and catering to an unequal demand for the sector's products and services.
Despite the difficult situation, economies are steadily recovering from the effect. Commercial activities have begun at a slow and steady pace as supply and distribution networks recover. Due to this pandemic, sales of surface disinfectants items across the globe have shown remarkable rise of more than 200% in 2020.
Country-wise Insights
How big is the Opportunity for Surface Disinfectants Market in the U.S.?
North America is predicted to remain one of the most attractive markets during the forecast period, according to Future Market Insights. The United States' high healthcare spending is one of the main factors supporting the market growth. Overall healthcare spending grew at a faster rate of about 4.6 percent in 2019 than overall economic growth of 4.0 percent in the United States calculated by Gross Domestic Product (GDP), according to CMS' Office of the Actuary estimates.
The interest for surface disinfectants is expected to rise, which is attributable to concerns regarding spread of various diseases and infections, particularly during the COVID-19. Moreover the practices such as the utilization of personal protective equipment and ensuring hand sanitizing, floor disinfecting, and social distancing have become crucial for the purchasers. Broadened support from the government for keeping the climate clean has additionally rose up the utilization of surface disinfectants towards end users.
What is Driving Surface Disinfectant Sales in Germany?
The rising cases of chronic ailments are pushing the surface disinfectants sakes in Germany. The Robert Koch Institute (RKI), a German research institute and government organization collects track records and assessments data in the event of disease outbreaks in Germany. The results obtained are printed on the Epidemiological Yearbook of the Notifiable Infectious Diseases. The new data gives the evidence of more than 50 infections in Germany for the hour of 2016.
The data shows rising cases of chronic infections including, but not confined to: illness, meningococcal meningitis, leprosy, typhus, measles, HIV/AIDS malaria, whooping cough, syphilis and tuberculosis. The focus on health and hygiene is therefore considerably high, which makes Germany a lucrative market for surface disinfectant.
How are Government Initiatives Boosting Surface Disinfectants market in India?
Government initiatives aimed at providing quality and affordable medical services will support development of India's biopharma and also surface disinfectants market. Rising cases of chronic diseases like lung diseases, cancer, diabetes and others in India are fuelling the demand for surface disinfectants.
Additionally, expanding patient pool because of increase in population, emergence of new infections, and changes in lifestyle are boosting interest for biopharmaceuticals and requirement for disinfectants due to rise in medical procedures conducted every year in the country.
What is the Impact of COVID-19 pandemic on China's on Surface Disinfectants Demand?
Sales of disinfection items soared in China amid COVID-19 pandemic. Since the outbreak, individuals have become much aware about the advantages of appropriate cleanliness and home hygiene, and accordingly more opportunity is anticipated for suppliers and producer of such items, industry experts said.
Disease transmission specialists say COVID-19 has been chiefly communicated through sneezed or coughed drops, or when individuals contacted infected surfaces and afterward contacted their mouth, eyes or nose. Specialists additionally said the infection cannot live after having contact with sanitizers containing alcohol more than 75%. They have hence settled on rehashed decisions for more cautious individual and family hygiene. This has created increased demand for surface disinfectants in China.
Category-wise Insights
What's the Market Share of High-Level Disinfectants?
The high level disinfectants segment is expected to hold the leading share, accounting for more than half of the market. Majorly, alcohols among the high level disinfectants segment accounted for the largest market share in 2020 and is projected to grow at a rapid rate during the forecast period.
Isopropyl alcohol and ethyl alcohol are being widely used as sanitizers in a wide range of healthcare operations for quite a long time. Recent studies have found that ethanol controls protein synthesis in E Coli microbes through direct consequences for RNA polymerase and ribosomes. About 60%–70% alcohol solutions have in-vitro viability against the various coronaviruses, Ebola virus, and murine norovirus.
Why are Liquid Surface Disinfectants Preferred More?
The liquids segment among all forms segment is expected to contribute maximum revenue share in the global surface disinfectants market. In terms of revenue, the liquids segment is estimated to account for 56.5% share in 2021.
Liquids have more uses as surface disinfectants used in medical clinics every day. Increasing use of these surface disinfectants for cleaning restroom surfaces, and for maintaining home care hygiene will drive sales in the liquid segment.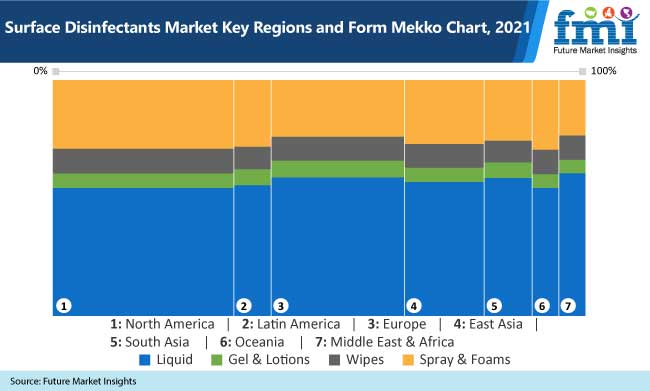 Who is the Leading End User of Surface Disinfectants?
The hospitals segments is estimated to hold more than one third of the share of the market among end users. Hospitals witness increasing footfall of patients suffering from various ailments. Patients are often accompanied by their families and hospitals have the responsibility to ensure proper disinfection to prevent risk of any infection.
Moreover, healthcare providers are exposed to various germs on a day-to-day basis. Disinfection is therefore considered of paramount importance for ascertaining a hygienic environment where germs cannot breed. Disinfection also is considered imperative for improved patient care. These factors are fuelling the demand for surface disinfectants in hospitals.
Competitive Landscape
Companies operating in the market are aiming at the manufacture of sustainable products that offer greater safety and efficiency while reducing waste, energy consumption, and environmental impacts.
For an instance, in 2021, P&G launched Microban 24, the new disinfectant brand in the UK, the product range offers unrivalled protection against bacteria in homes, not only initially killing 99.9% of bacteria and select viruses, including COVID-19 virus and flu virus, but continuing to kill bacteria for up to 24 hours, even after multiple touches.
Some of them are focusing on acquisitions to strengthen their market presence.
For an instance, in 2019, Ecolab Inc., acquired the business of privately held Chemstar Corporation, a U.S.-based supplier of food safety and cleaning and sanitizing solutions focused on the grocery and food retail markets.
In 2020, GOJO is continuing to take significant steps to expand its capacity to meet exponential increases in demand for PURELL® sanitizer, soap, wipes, and surface spray by new manufacturing operations in Maple Heights and Navarre, Ohio
Some of the leading companies operating in the market are:
Clariant International
DuPont
Ecolab
Lonza Group
Procter & Gamble
The Clorox Company
Steris Plc.
Paul Hartmann AG
Diversey, Inc.
Metrex Research, LLC
Whiteley Corporation
Medline Industries, Inc.
Gojo Industries, Inc.
Pharmax Limited
Arkema
Microban
Stepan Company
Thor Group
*The list is not exhaustive, and only for representational purposes. Full competitive intelligence with SWOT analysis available in the report.
Scope of Report
Attribute

Details

Forecast Period

2021-2031

Historical Data Available for

2016-2020

Market Analysis

USD Million for Value

Key Regions Covered

North America, Latin America, Europe, East Asia, South Asia, Oceania, and the Middle East & Africa

Key Countries Covered

US, Canada, Germany, U.K., France, Italy, Spain, Russia, China, Japan, South Korea, India, Thailand, Malaysia, Indonesia, Australia, New Zealand, GCC Countries, Turkey, Northern Africa, and South Africa

Key Segments Covered

Product Type, Form, End User, Region

Key Companies Profiled

3M Company
BASF SE
Clariant International
DuPont
Ecolab
LANXESS AG
Lonza Group
Reckitt Benckiser Group PLC
Procter & Gamble
The Clorox Company
Steris Plc.
Cantel Medical Corporation
Paul Hartmann AG
Diversey, Inc.
Carrollclean
Metrex Research, LLC
Whiteley Corporation
Medline Industries, Inc.
Gojo Industries, Inc.
Pharmax Limited
Arkema
Microban
Solvay SA
Stepan Company
Thor Group

Report Coverage

Market Forecast, Company Share Analysis, Competition Intelligence, DROT Analysis, Market Dynamics and Challenges, and Strategic Growth Initiatives

Customization & Pricing
Key Questions Answered in Report
Which is the most lucrative market for surface disinfectants?

North America has emerged as the leading market for surface disinfectants. The U.S. currently spearheads the sales in North America.

Which is the top-selling type of surface disinfectant?

High-Level surface disinfectants is expected to emerge as the most lucrative products, as they offer a wide range of use against various viruses.

Which are some of the leading companies offering surface disinfectants?

Some of the leading companies in this landscape are Procter & Gamble, BASF SE, Evonik Industries AG, 3M Compan, Lonza Group AG, and others.

Which is the preferred form for surface disinfectants?

Surface disinfectants are primarily preferred in liquid form.

Who is the leading end user of surface disinfectants?

Hospitals are expected to dominate the market for surface disinfectants as the leading end user.
Surface Disinfectants Market by Category
By Product Type
High-level Disinfectants

Glutaraldehyde
Formaldehyde
Ortho-phthalaldehyde (OPA)
Hydrogen Peroxide
Peracetic Acid
Chlorine Dioxide
Alcohol +QAC
Others

Low Level Disinfectants

Phenols
Quaternary Ammonium Compounds (QACS)
Hydrogen peroxide + peracetic acid
Bleach
Others

Intermediate Level Disinfectants

Iodophors
Sodium Hypochlorite
Others
By Form
Liquid Surface Disinfectants
Gel & Lotions Surface Disinfectants
Wipes Surface Disinfectants
Spray & Foams Surface Disinfectants
By End User
Hospitals
Dental Dental Clinics
Ambulatory Surgical Centers
Diagnostic Laboratories
Reference Laboratories
Rehabilitation Centers
Long Term Care Centers
Critical Care Centers
Pharmaceutical & Biotechnology Companies
Academics and Research Institutes
By Region
North America
Latin America
Europe
South Asia
East Asia
Oceania
MEA
Need specific information?
Talk Show:
The Rise of Intelligent Packaging
Personalized, Connected and Sustainable
November 18, 2021
11:00-11:45 AM PST (USA & Canada)
This is a LIVE session