Surface Protection Films Market Outlook (2022-2030)
[220 Pages Report] Global sales of surface protection films are valued at around US$ 1.5 Bn in 2022. Over the 2022 to 2030 projection period, the global surface protection films market is projected to register 5.7%CAGR and reach a valuation of US$ 2.3 Bn by the end of 2030.
| | |
| --- | --- |
| Attribute | Details |
| Surface Protection Films Market Size (2022) | US$ 1.5 Billion |
| Sales Forecast (2030) | US$ 2.3 Billion |
| Global Market Growth Rate (2022 to 2030) | 5.7% CAGR |
| Share of Top 5 Surface Protection Film Manufacturers | 50% |
Surface protection film consumption currently accounts for 1.2%share of the global packaging films market.
Don't pay for what you don't need
Customize your report by selecting specific countries or regions and save 30%!
How The Market Progressed Till June 2022?
| | |
| --- | --- |
| Particulars | Details |
| H1 2021 | 5.8% |
| H1 2022 Projected | 6.0% |
| H1 2022 Expected | 5.9% |
| BPS Change - H1, 2022 (O) – H1, 2022 (P) | (-) 10 ↓ |
| BPS Change – H1, 2022 (O) – H1, 2021 | (+) 10 ↑ |
Future Market Insights predict a comparison and review analysis for the dynamics of the surface protection films market, which is principally subjected to an array of industry factors along with a few definite influences regarding several toxic chemicals that are used to make surface protection films which can hamper the market growth.
Adding extra features like self-healing to assure simple peeling without leaving any residue on the product surface is one of the most recent market innovations. In February 2022, Polifilm Protection acquired long-standing distribution partner PRO DIS GMBH.
The market for surface protection films is expected to rise by 10 basis share points (BPS) in H1-2022 (O) against comparison with H1-2021, according to an FMI analysis. However, when comparing the H1-2022 projected and H1-2022 outlook period, a decline in BPS change by 10 BPS has been noticed.
The key reason for the same is, these films are broadly used to avoid abrasion and scratching to the products when being manufactured or transported through logistics and improve the life span of the product. Despite these prospects, the rise in popularity of electronic gadgets among consumers is estimated to fuel the surface protection film market growth positively.
Demand Analysis Of Surface Protection Films From 2014 To 2021 Vs Market Projections For 2022 To 2030
"Rising Preference for Protective Packaging Driving Market Growth"
From 2014 to 2021, the global surface protection films market expanded at a CAGR of 4.8%.
Surface protection films are designed to safeguard surfaces from scratches and dust particles. They protect against damage, transportation, moisture, and excessive rust. They extend the life of objects and are used to give a cost-effective way to protect expensive items. These films are unaffected by environmental factors such as chemical components.
A polymer-based substrate layer is covered with an adhesive layer in the development of protective packaging films. They are readily peeled away following finishing operations, ensuring surface quality without leaving any residue or blemishes after the film has been removed. According to needs, protective packaging films can be sliced, slit, packed, or rolled.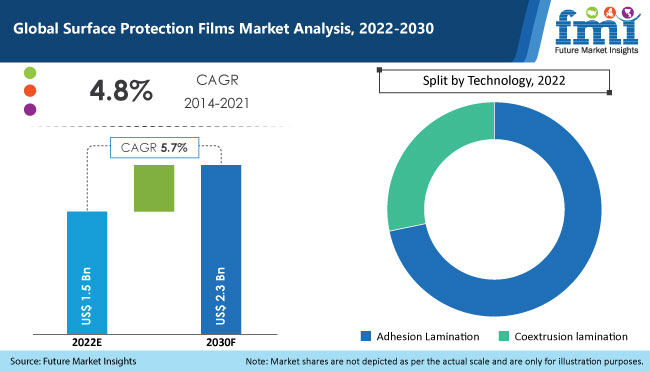 Surface protection film demand will witness healthy growth with expansion in the construction industry as a key driver throughout the assessment period. Recently invented and developed surface protection films also protect against high temperatures and fire helping in the extension of a product lifespan.
Thus, due to the factors mentioned above, the global surface protection films market is projected to expand at a 5.7% CAGR across the 2022 to 2030 assessment period.
Which Factors Are Expected To Drive Market Growth Over The Decade?
"Rising Adoption of Advanced Surface Protection Films to Boost Market Expansion"
More individuals are discovering new technologies such as smartphones and tablets, where advanced surface protection films are commonly utilized, thanks to an increase in digital literacy.
Consumer electronics are becoming more popular, there is a growing middle-class population around the world, e-commerce is becoming more popular, and technical advances and internet and smartphone penetration are increasing, all of which are contributing to the market growth.
Further, advancement in technologies such as foldable displays and 8K resolution is driving the requirement for innovative and advanced surface protection films that meet increasing performance and quality prerequisites.
For instance,
Pregis acquired Italy-based Soprad (So.Pr.Ad.) SRL, a global supplier of temporary protective films. The acquisition will help the companies share best practices and boost their production capacity to support future market requirements. Going forward, Soprad's products would be promoted under PolyMask a Pregis' brand, which is further likely to strengthen its offerings to an expanding global market.
Tredegar Surface Protection, a leading producer of surface protection films, recently commissioned an advanced production line for manufacturing innovative surface protection films.
What Are Challenging Factors Faced By Surface Protection Film Manufacturers?
"Harmful Chemicals Used in Protection Films Hampering Market Growth"
Chemicals used in the creation of protection films are toxic, and if they come into touch with the human body, they can impair people's health. This works as a limiting element for the market expansion over the forecast period.
Which Region Is Expected To Lead The Global Market For Surface Protection Films?
"Rising Initiatives for Infrastructure Development Driving Demand for Multi-Surface Protection Films in Europe"
Presence of numerous manufacturers in the region as well as growing construction projects is fueling the consumption of multi-surface protection films.
Given the uptick in vehicle manufacturing and upper development in the consumer electronics industry, market participants are also focusing their attention on Europe. Development activities have increased significantly as a result of rising focus on infrastructure growth in numerous industries, particularly in Europe.
Get the data you need at a Fraction of the cost
Personalize your report by choosing insights you need
and save 40%!
Country-Wise Analysis
Will the U.S. Surface Protection Films Market Exhibit Steady Growth?
"Growing Interior Design Activities to Boost Demand for Paint Protection Films"
Growing disposable income, combined with rising popularity in renovating homes, has fueled expenditures in interior design services, these factors driving demand for paint protection films in the U.S.
Because of large target consumers and an established economy, the United States is expected to contribute significantly to the growth of the global surface protection films market.
Why is Demand for Surface Protection Films Surging in China?
"Expansion of Automotive Sector to Fuel Sales of Stretch Wrap Films"
The China surface protection films market = is expected to be a prominent market during the forecast period. The automotive sector is one of the key contributors to GDP and employment in China.
Rising industrialization and urbanization, growing middle-class population, and rising consumer spending are driving demand for stretch wrap films. Therefore the surface protection films market has huge opportunities for growth in China.
Category-Wise Insights
Which is the Dominant Technology Type in Used Surface Protection Films?
"Adhesion Lamination Continues to Gain Prominence Owing to Superior Compatibility"
Adhesion lamination technology is expected to account for 71.7% of the global surface protection films market in 2022. The market for surface protection films is dominated by adhesion lamination.
One sheet substance is covered with adhesive and bonded to another during the adhesion lamination process. Because of its superior compatibility with a variety of substrates, including glass, metals, and plastics, as well as easier manufacturing procedures, this type of technology is the most often utilized.
There are many various technologies, viscosities, and solids contents offered in laminating adhesives. The primary goal of these adhesives is to increase the bond's peel strength.
Which End-use Industry Will Emerge as Key Market Contributor?
"High Demand from Construction & Interiors Industry to Provide Exceptional Surface Protection to Augment Market Growth"
Surface protection films are predominantly used in the construction and interiors industry to provide temporary protection to hard surface flooring, synthetic carpets, and also guard against construction debris and damage.
The construction and interiors industry has exhibited healthy growth over last few years, and this is expected to continue in the foreseeable future. Growing number of infrastructure development programs such as urban expansion programs and rural housing schemes across emerging countries are anticipated to play a pivotal role in increasing demand for surface protection films.
Furthermore, demand for surface protection films is projected to rise in the future owing to their consistent use for carpet and floor protection in commercial and residential painting applications.
COVID-19 Impact On Surface Protection Film Sales
COVID-19 had a negative impact on the packaging films market. As a result, prices have risen and volumes have declined. Surface protection film industries suffered as a result of the lockdowns and limitations on import and export activities.
Numerous companies are now offering antivirus protective films in the fight against COVID-19. Increased public awareness regarding hygiene has boosted the requirement for germ-killing films to battle against the pandemic, and this is providing new business prospects to market players and incumbents.
Competitive Landscape
Prominent manufacturers of surface protection films are focusing on product development to reinforce their market positions. These manufacturers are innovating their product lines and offering innovative products with additional features to cater to a wider array of applications.
For instance,
Dow Corning's has manufactured silicone-enabled protective film solutions, specially designed for the growing electronic devices industry. The company has added desirable features such as low adhesion, low migration silicone PSAs, and high-performance silicone hard coating. These features are deemed suitable for modern touchscreen display panels, which have quickly gained market share.
Nitto Denko Corporation's surface protection films are specifically designed for laser processing LASERGUARD series, with emphasis on features such as no chlorine-based gas emissions during laser machining, smoother finishing, with no need for film peeling-off work, which used to be a requirement before processing in conventional protective films.
Surface Protection Films Industry Report Scope
Attribute
Details
Forecast Period
2022-2030
Historical Data Available for
2014-2021
Market Analysis
Value in US$ Million, Volume in Units
Key Regions Covered

North America
Latin America
Europe
East Asia
South Asia & Pacific
Middle East & Africa (MEA)

Key Countries Covered

USA
Canada
Mexico
Brazil
Mexico
Argentina
Germany
Italy
France
UK
Nordic
Spain
Japan
China
India
Malaysia
Thailand
Australia
GCC Countries
South Africa
Turkey

Key Market Segments Covered

Thickness
Technology
Material
Colour
Application
Industry
Region

Key Companies Profiled

Chargeurs S.A
Nitto Denko Corp
Tredegar Corporation
Polifilm GmbH
Bischof + Klein SE & Co. KG
DUNMORE Corporation
Grafix Plastics
Surface Armor LLC
LAMIN-X Protective Films
Pelloplast OY
MacDermid Autotype Ltd
DUTE Industrial Group

Pricing
Available upon Request
Key Segments Of Surface Protection Films Industry Survey
Surface Protection Films Market By Thickness :
Up to 25 Micron Surface Protection Films
25-50 Micron Surface Protection Films
50-100 Micron Surface Protection Films
100-150 Micron Surface Protection Films
Above 150 Micron Surface Protection Films
Surface Protection Films Market By Technology :
Adhesion Lamination

Dry Bond Lamination
Wet Bond Lamination
Energy Curable Adhesive Lamination
Hot Melt Seal Coating
Solventless Lamination
Others

Coextrusion Lamination
Surface Protection Films Market By Material :
PE Surface Protection Films
PET Surface Protection Films
PP Surface Protection Films
PU Surface Protection Films
PVC Surface Protection Films
Others
Surface Protection Films Market By Colour :
Transparent Surface Protection Films
Translucent Surface Protection Films
Coloured/Tinted Surface Protection Films
Opaque Surface Protection Films
Surface Protection Films Market By Application :
Metal Sheets
Glass & Mirrors
Prepainted Surfaces
Plastic Sheets
PVC Profiles
Furniture Surfaces
Carpet Protection
Others
Surface Protection Films Market By Industry :
Construction & Interiors
Electrical & Electronics
Automotive
Industrial
Healthcare
Others
Surface Protection Films Market By Region :
North America Surface Protection Films Market
Latin America Surface Protection Films Market
Europe Surface Protection Films Market
East Asia Surface Protection Films Market
South Asia & Pacific Surface Protection Films Market
Middle East & Africa (MEA) Surface Protection Films Market
Frequently Asked Questions
As of 2022, the global surface protection films market is likely to reach US$ 1.5 Bn.
Adhesion lamination is estimated to hold 71.7% share in the global market.
The ability to provide chemical, UV, and abrasion resistance to several industrial and non-industrial applications is broadening the adoption of surface protection films.
Chargeurs S.A, Nitto Denko Corp, Tredegar Corporation, Polifilm GmbH, and Bischof + Klein SE & Co. KG are key suppliers of surface protection films.
The global surface protection films market is projected to register a CAGR of 5.7% during 2022-2030.