Surface Water Sports Equipment Market By Product Type (Paddle Sports Equipment, Ski Sports Equipment, Board Sports Equipment), Consumer Orientation (Adults, Kids), Sales Channel (Wholesalers/ Distributors, Hypermarkets/ Supermarkets, Exclusive Stores), Price Range (Mass, Premium) & Region - Forecast to 2020-2030
Surface Water Sports Equipment Market - Analysis, Outlook, Growth, Trends, Forecasts
July 2020

REP-GB-12175

200 pages
Key Research Findings
Future Market Insights (FMI) sees balanced long term growth on the cards for the surface water sports equipment market. After a temporary period of snag, it is expected to recover its growth rate, albeit gradually once the ongoing pandemic passes
Americas and Europe reigned as lucrative markets for water sports equipment. In the coming years (post 2025) demand from Asia is expected to surge significantly
Artificial sporting experiences are getting increasingly popular, subsequently opening a new demography for the market
Advent of the artificial intelligence (AI) in water sports sector will create lucrative growth opportunities for water sports equipment market
Higher Sales of Surface Water Sports Equipment Likely as Water Sports Get Increasingly Popular
Water sports have become increasingly popular around the world. Consumers have developed an appetite for adventure activities, and surface water sports is gradually rising in popularity. Their rising interest in water sports has fuelled demand for various kinds of equipment such as oar, hand bailer, punt, T-top, canoe livery, diving equipment, float tube, boat livery, ski life jackets, wakeboards & accessories, kneeboards, snorkeling gears among others.
Surface water sports have become a lucrative business opportunity especially for local vendors in coastal areas. To cater to consumers' appetite for more interest sports some of the leading businesses are pushing innovations. Upward trend in investment is indicative of players' interest towards expanding their scope for business.
FMI projects the trend to gather steam especially since consumers are exhibiting higher willingness to spend on sports and leisure. Activities such as surfing and snowboarding are hugely popular in the West. In the last couple of years the trend has travelled eastward to capitalize on existing opportunities.
While increasing willingness among consumers to spend on sports activities will keep supporting growth, the surface water equipment market is not immune to challenges. Risk factors involved with water sports remain key restriction.
Innovations in Water Sports Equipment Intended to Trigger Consumer Interest
The surface water sports equipment market caters to a niche category. Followers of water sports are rising, but gradually. In order to trigger interest and reach a wider base of consumers, market players are focusing on innovations.
As a result, the market boasts an impressive frequency of innovations and technological advancements. From the advent of AI to electric vehicles, the surface water sports market is expanding. This trend will continue, as an increasing number of customers show interest for an active lifestyle.
The influence of western media cannot be overlooked. Television shows broadcasting various sports activities will spur sales opportunities for the market. As a result the demand for various kinds of water sports enablers is rising.
This has led to several innovations in the market. For instance the launch of electric surfboard is celebrated by water sports enthusiasts around the world. It allowed them to bomb against waves in the opposite direction contrary to a traditional surfer.
The idea behind the innovation was simple – to let people enjoy surfing without having to depend on wave or the necessity of paddling. Electric surfboarding is not the only innovating creating buzz in the market.
The launch of Zapata Flyboard took high-tech water sports a few notches higher. Enthusiasts regard it as one of the most futuristic-looking technologies in water sports. A water propulsion system propels the Flyboard onto the air, bestowing anybody daring to ride it with the ability to dive up to 8 feet underwater or fly up to 49 feet in the air.
Such innovations are making consumers more interested towards water sports. Subsequently they are expected to drive the surface water sports equipment market.
A West Inclined Surface Water Sports Equipment Market
Regionally, North America is forecast to account for the leading share in the surface water sports equipment market. Rising interest showed by people in the region towards outdoor and water sports activities will aid the expansion of the market in North America.
Various championships and water sports events are hosted in North America and Europe, which have encouraged customers to increase their participation in water sports. As a result both regions witness a higher demand for water sports equipment.
In East and South Asia and the Middle East & Africa (MEA) the market will gain from the rising tourism business. As represented in the chart below North America, Europe, and East Asia are considered highly lucrative markets for surface water sports equipment hence these regions exhibit a higher degree of competitiveness.
Meanwhile, Europe and South Asia Pacific markets are likely to exhibit better consistency in demand. According to FMI, North America, East Asia, and South Asia will show higher degree of overall attractiveness.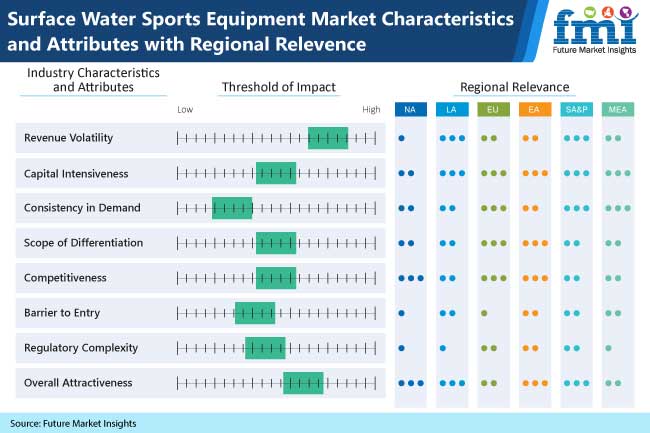 Market Players are Building Affordable and Light-weight Equipment to Gain Competitive Edge
Some of the leading manufacturers are focusing on entry-level and affordable versions of equipment. This category has proven extremely attractive for new players looking to establish a stronger footprint on the market.
For instance, a relatively new company called Saxdor has launched affordable and entry-level boats. Sporting a length of 20 feet, these scooters promise to deliver pocket-fr5iendly fun on water. They are designed to suit water sports as well as for enjoying a casual beach visit.
The market has several other products in various categories. For instance some of the companies have launched more affordably priced inflatable white water kayaks with easy to paddle and other impressive characteristics.
Other start-ups are innovating systems to offer better support during water sport activities for improved yet safer experience. Bixpy, a San Diego based startup for instance has created a jet propulsion system that is suitable across a wide spectrum of water sports. This system can be used by standup paddle boarders, divers, kayakers, and other sports enthusiasts.
Affordable innovations by smaller companies will give a big push to the market. These will help the market penetrate deeper into the water sports industry. Such efforts by smaller and new companies will spell growth in the market through the course of the report's forecast period.
Demand for AI-powered Surface Water Sports Equipment Poised to Surge in Near Future
Like other sports, the advent of artificial intelligence is disrupting the water sports industry. Equipment specially designed to support immersive visual reality sports are enjoying spotlight at the moment.
Virtual sporting experiences are powered by the Internet of Things (IoT), besides which they require smart sensors, gamification, and custom equipment. Using virtual reality gears sports enthusiasts can compete against other participants at the same time eliminate the risks involved in authentic water sports.
Seeing this as a lucrative area to capitalize on, some of the leading manufacturers are investing in AI-powered surface water sports equipment. The demand for more immersive and interactive experience is rising in response to the development of internet facilities.
Consequently, the demand for advanced models supporting 5G technology is rising. FMI believes this trend to pick pace as consumers look for safer ways of enjoying the adrenaline rush often associated with water sports. Spurred by these dynamic changes, the surface water sports market will exhibit impressive growth between 2020 and 2030.
Leading Suppliers in Surface Water Sports Equipment Market
Companies operating in the surface water sports equipment market have currently hit a snag. The travel and tourism industry is potentially the worst hit by the unprecedented COVID-19 outbreak. As a result, negative impacts are felt on the sale of surface water equipment market.
With an increasing number of consumers staying indoors and travel industry yet to reopen, the demand for water sports has significantly plummeted.
Nonetheless, FMI expects the market to recover once the coronavirus passes. Market players are likely to focus on innovations and product launches to gain competitive edge. Some of the leading companies operating in the market are:
Paddle Surf
AIRE
Naish International
Rave Sports
O'Brien, BIC Sports
Aqua Marine
Belassi
BomBoard
Starboard
Solstice Sports
Surftech
Johnson Outdoors.
Surface Water Sports Equipment Market – The Way Forward
Latest travel figures suggest that an increasing number of holidaymakers are expecting more than simply sipping onto Pina coladas during their beach holidays. The rising focus on health and fitness, supported by their desire to stay active is fuelling the demand for water sports and adventure activities.
Whether it for pushing their limits of fitness, the lure of trying something new, or simply chasing a break from stresses of a hectic lifestyle, an increasing number of people are swapping lounging below the sun to more active pursuits.
The launch of various tech-powered sea gadgets is propelling this trend. These innovations are offering people unique exploits over the choices of standard beach activities. With that, the demand for surface water sport is rising and so is the sales of innovation equipment to aid a next-level adrenaline-fuelled beach holiday.
Despite recent snag witnessed as people prefer staying indoors due to COVID-19 outbreak, the market is expected to recover. With governments easing lockdown and people returning to normal course of living, the demand for water sports activities is expected to surge especially after the pandemic passes.
World's Most Profilic Intelligence Engine
Get Access To The World's Largest Market Research Database.
Sign Up Now
Key Segment
Product Type
Paddle Sports Equipment
Ski Sports Equipment
Board Sports Equipment
Consumer Orientation
Sales Channel
Wholesalers/ Distributors
Hypermarkets/ Supermarkets
Exclusive Stores
Multi-brand Stores
Franchise Sports Chain Outlets
Independent Sports Outlets
Online Retailers
End User
Beginner
Intermediate
Professional
Price Range
Region
North America
Europe
Middle East and Africa
East Asia
South Asia
Oceania
Latin America
Need specific information?
Our Clients