An Incisive, In-depth Analysis on the Chromatography Resin Market
This study offers a comprehensive, 360 degree analysis on the Chromatography Resin market, bringing to fore insights that can help stakeholders identify the opportunities as well as challenges. It tracks the global Chromatography Resin market across key regions, and offers in-depth commentary and accurate quantitative insights. The study also includes incisive competitive landscape analysis, and provides key recommendations to market players on winning imperatives and successful strategies.
Top five key players accounted for more than 70% revenue share of the global chromatography resin market in 2016
While other players in the global chromatography resin market have contributed around US$ 200 Mn, the top five players in the market such as Bio-Rad Laboratories, Inc., GE Healthcare, Tosoh Corporation, Merck KGaA, and Thermo Fisher Scientific Inc. hold more than 70% of the revenue share with a contribution of more than US$ 500 Mn in the global chromatography resin market in 2016. The remaining players contributed approximately 30% revenue share to the global chromatography resin market in 2016. Currently, more than 60% revenue contribution comes from Tier 1 players, while Tier 2 players contribute more than 10% and Tier 3 players contribute about 25%. The U.S. based GE Healthcare alone has contributed more than 40% revenue share followed by other key players in the global chromatography resin market.
Stringent rules and regulations accompanied by available alternatives to chromatography are hampering revenue growth of the technology segment in the global chromatography market
Stringent rules and regulations laid down by the U.S. Food and Drug Administration and the European Commission for new products such as chromatography columns and resins for diagnostics and analysis purposes may hinder the growth of the technology segment of the global chromatography resin market. Besides, the regulations laid down by the regional authorities for the use of chromatography technologies may also restrain the growth of the overall market during the period of assessment.
Cost is another limiting factor. Higher selling price of resins is anticipated to restrict market growth to a great extent. Column chromatography is usually regarded as a major cost driver. Besides, for the fixed costs, the column membranes that are used for protein purification swallow a large proportion of the costs. This factor is likely to hamper the growth of the chromatography resin market during the forecast period.
Repeated use of chromatography is another reason which is obstructing the growth of the by technology segment over the projected period. For the low-cost manufacturing of bio pharmaceuticals in the developing countries, several tactics are followed to reduce the costs such as repeated use of chromatography column resins during the purification process often stretching their use for more than 100–200 cycles which in turn affects the overall by technology segment. Further, many industries use a smaller protein A column instead of using a large protein A column and multiple cycles are performed for the single batch of mABs. This also affects the segment.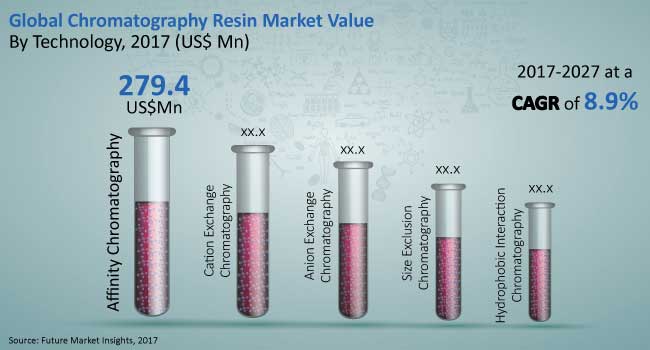 Increasing production of monoclonal antibody through affinity chromatography is expected to fuel market growth
The affinity chromatography segment by technology dominated the global chromatography resin market in revenue terms in 2016 and the trend is projected to continue throughout the forecast period. The affinity chromatography segment is anticipated to be the most lucrative among all technologies, with a market attractiveness index of 1.9, the growth is primarily driven due to the increase in demand for biologics production. Projected to reach a market valuation in excess of US$ 650 Mn by the end of 2027 from an estimated US$ 279 Mn in 2017, the affinity chromatography segment is slated to witness a substantial CAGR of 9.3% in terms of value during the period 2017-2027.
The new publication of Future Market Insights titled "Chromatography Resin Market: Global Industry Analysis 2012 – 2016 and Opportunity Assessment 2017 – 2027" focuses on key player strategies that include giving importance to new product launches and reducing the costs of resins in order to gain maximum market share. Acquisitions, mergers and strategic collaborations play a vital role in the growth of the chromatography resin market. After studying the market in detail, our analysts have observed that market players are focussing on efficiently meeting the requirements of various end users while ensuring adequate supply of the required products. Acquisitions, mergers, geographic expansion and new product launches are the key strategies adopted by manufacturers and integrators for technology transfer and to increase the consumer base in different geographies. For instance, KANEKA entered into a supply agreement with Pall Corporation for the sale of KANEKA KanCapA Protein A chromatography resin.
While studying the various regional markets, our research indicates that APEJ is likely to be the most lucrative market for chromatography resin followed by MEA and North America. The bio-pharmaceuticals companies end user segment in APEJ is expected to witness comparatively high growth due to increasing number of biopharmaceutical companies focussing on the development and commercial manufacturing of bio-similar drugs in the region and improvement in the quality control systems in the industry. We have also focussed on the various segments of the global chromatography resin market and have noticed that by technology type, affinity chromatography segment is expected to witness a significant rise in revenue share over the forecast period, owing to the efficiencies of the bioprocess and the robustness of biopharmaceutical manufacturing processes.
Porter's Five Forces analysis makes this report exclusive
Currently, there are a limited number of manufacturers operating in the global chromatography resin market. Manufacturers are focussing on high-end, advanced, cost-effective manufacturing of chromatography resin to cater to the demand of end users. Moreover, new technologies with better properties can alter chromatography resin for research and diagnostics purposes. Buyer's power is explained well in Porter's Five Forces analysis. According to this analysis, most of the resin products are supplied through the tender processes to biopharmaceutical companies and this leads to price competition and negotiation. Competition with established players and new players with more technologically advanced products will limit the entrance of new local manufacturers.
Report Description
The global chromatography resin market report begins with the definition, relevance and impact of forecast factors used to estimate the global chromatography resin market value. This is followed by an overview of market dynamics of the global chromatography resin market, which includes Future Market Insights' analysis of key trends, drivers, restraints and opportunities influencing the development of the global chromatography resin market. Impact analysis of key growth drivers and restraints based on the weighted average model has been included at a regional level in the global market report after detailed analysis of individual regions to better equip readers with meaningful insights on ongoing developments in the global chromatography resin market.
Market Segmentation
Product Type

Technology

End User

Region

Affinity Chromatography

Anion Exchange Chromatography

Cation Exchange Chromatography

Size Exclusion

Hydrophobic Interaction

Biopharmaceutical Companies

Clinical Research Organizations

Academic Institutes

North America

Latin America

Western Europe

Eastern Europe

APEJ

Japan

MEA
Research Methodology
In-depth secondary research is used to arrive at the overall market size, top industry players, top products and industry associations. In order to conduct expert and industry interviews, Future Market Insights has formulated a detailed discussion guide. To make this report an exclusive one, a list of industry players including manufacturers, distributors, retailers and industry experts has been developed. Our analysts have conducted extensive interviews with industry experts, key players and other stakeholders to acquire a clear picture of the global chromatography resin market. Data acquired through primary and secondary research is validated using the triangulation method and further scrutinised using advanced tools to acquire pertinent insights into the global chromatography resin market.
COVID -19 : Impact Analysis
Request the coronavirus impact analysis across industries and markets
Request Covid -19 Impact
CASE STUDIES
See how our work makes an impact.
At FMI, we design strategies that are adaptive, impactful, and implementable.