Compression Therapy Market Outlook & Key Findings
Compression therapy market is expected to witness a CAGR of 5.4% through 2030
Growing incidences of venous ulcers and the other vein diseases to be key growth drivers
Static compression therapy continues to remain lucrative
North America accounts for almost 50% of the revenues, led by the US
Covid-19 to stall the market temporarily, but recovery expected in 2021
Market Snapshot
Vein disorders like lymphedema, deep vein thrombosis, leg ulcers, varicose veins, blood clots have been on a substantial rise since the last few years. As per the NCBI, close to 50% of the global population is affected by chronic vein abnormalities.
Bandages and stockings are amongst the most commonly used compression therapy products. Besides, compression works wonders in orthopaedic surgeries for alleviating pain, reducing swelling, and facilitating speedy functional recovery.
The benefits mentioned above hold the responsibility of high penetration of compression therapy products in managing musculoskeletal injuries post-operative orthopaedic procedures.
Compression garments also find their presence in sports medicines these days. Also, compression therapy is being used at a large scale for preventing swelling and inflammation following a trauma or an injury.
The other applications include enabling blood circulation and preventing fluids' coagulation in the tissue space, thereby fostering mental health.
Additionally, intraoperative sequential compression device systems are being used especially when prolonged laparoscopic surgery comes into picture. The basic objective is that of countering altered venous blood return through lower extremities and resultant cardiac depression due to pneumoperitoneum.
Sequential compression has been reported to generate results within a couple of hours every single day in comparison with the other alternatives taking 12-48 hours for obtaining the same result.
Compression Therapy Market Trends
The compression therapy market players are into the expansion mode to sustain their foothold. These measures are likely to take the market at greater strides in the forecast period (2020-2030).
For instance –
AIROS, in May 2020, launched its US FDA-approved updated AIROS 6 Sequential Compression Therapy device and Arm Plus garments to be used for treating lymphedema in chest, shoulder, arm, and back
Paul Hartmann, recently came up with VivanoTec Y-Connector to be used in NPWT (Negative Pressure Wound Therapy)
3M's Coban 2 Layer Compression System has been designed for reducing application variability regarding consistency in compression
Sigvaris AG, in Apr 2018, launched an updated version of SAMSON stockings made up of skin-friendly cotton that keep away from moisture
Huntleigh, in the year 2017, tabled "Lymphassist", the homecare alternating compression system to facilitate self-management on the part of Lymphodema
Regional Analysis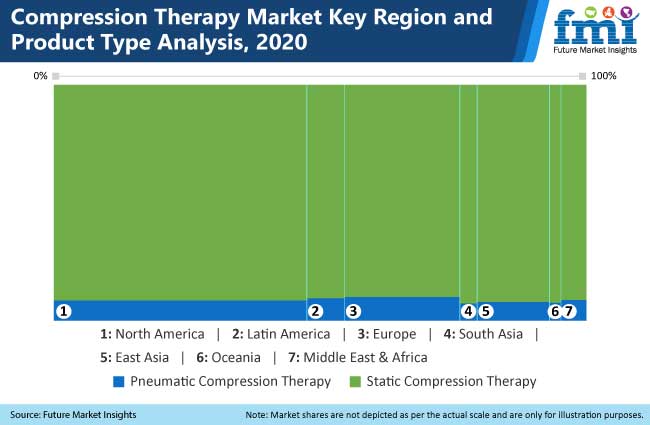 North America compression therapy market continues to be the most lucrative. This could be attributed to increase in the feasible reimbursement scenario along with growing number of sports and orthopaedic injuries.
Europe compression therapy market is the second largest, more so due to the fact that as per the NCBI, the western countries reported the highest number of chronic venous disorders (1-17% in males and 15-40% in females).
Asia-Pacific is expected to grow at the fastest rate during the forecast period (2020-2030). India and China are home to the highest number of diabetic patients as per the International Diabetes Federation (IDF). Static compression therapy is also being administered widely, and is expected to create substantial opportunities for market players during the assessment period.
Key Players in Compression Therapy Market
Paul Hartmann AG, Sigvaris AG, Cardinal Health Inc., and 3M Health Care Ltd are among the leading compression therapy market players. These players are emphasizing on improving their regional and global presence by acquisitions and joint ventures.
For instance –
In Oct 2019, 3M acquired Acelity, Inc. to expand its reach with regards to effective and safe solutions for improving healthcare economics and clinical outcomes
In Jun 2017, Cardinal Health announced acquiring Deep Vein Thrombosis – "Patient Care and Nutritional Insufficiency" business of Medtronic for US$ 6.1 Bn
In Apr 2017, SCA acquired BSN Medical to help the former expand its TENA brand
The Way Forward
The research report on compression therapy market by FMI states that the market will grow at 6% CAGR through 2030. Increase in the number of orthopaedic ailments along with injuries related to sports are expected to drive the market in the upcoming period. Though Covid-19 has slowed down the market for the time being, it is expected to pick up pace from the year 2021.
Innovations will be the key for the market players going forward. Besides, strategic acquisitions and/or partnerships will help the players stand in a good stead in the forecast period.
Key Segment
Product Type
Pneumatic Compression Therapy
Non-Segmented Pneumatic Compression Pumps
Pneumatic Compression Sleeves
Lower Pneumatic Compression Sleeves
Upper Pneumatic Compression Sleeves
Segmented Pneumatic Compression Pumps
Segmented Pneumatic Compression Pumps with Calibrated Gradient
Segmented Pneumatic Compression Pumps without Gradient
Static Compression Therapy
Anti-Embolism Stockings
Compression Bandages
Compression Garments
Lower Compression Garments
Upper Compression Garments
Indication
Chronic Ulcers
Venous Leg Ulcers
Diabetic Foot Ulcers
Pressure Ulcers
Non-Healing Surgical Wounds
Traumatic Wounds
Burn Cases
Distribution Channel
Institutional Sales
Hospitals
Clinics
Ambulatory Surgical Centers
Nursing Facilities
Retail Sales
Hospital Pharmacy
Retail Pharmacy
Online Sales
Region
North America
Latin America
Europe
East Asia
South Asia
Oceania
MEA
Need specific information?
Talk Show:
The Rise of Intelligent Packaging
Personalized, Connected and Sustainable
November 18, 2021
11:00-11:45 AM PST (USA & Canada)
This is a LIVE session