Computer Keyboards Market By Type (Basic Keyboard, Ergonomic Keyboard), Switch Keyboard (Membrane Keyboard, Mechanical Switch Keyboard), Size (Standard Size Keyboard, Laptop Size Keyboard, Thumb Size Keyboard, Numeric Keyboard), Application (Corporate, Personal, Gaming) & Region - Forecast to 2015 - 2025
Computer Keyboards Market - Analysis, Outlook, Growth, Trends, Forecasts
January 2016

REP-GB-269

298 pages
Introduction
An ergonomic keyboard is designed to minimize muscle strain and other related problems resulting from extended usage. Ergonomic keyboards allow the wrists and hands to rest and move naturally while keyboarding. Despite the fact that ergonomic keyboards do not necessarily eliminate complex cases of repetitive stress injuries (RSIs) and carpal tunnel syndrome, they do however offer some degree of relief to people with moderate levels of such problems.
There is no specific definition or a precise design for an ergonomic keyboard. Usually, these keyboards either have contoured designs, adjustable slopes, or are split in half allowing the user to type at a different angle than the typical straight keyboard. Other keyboards in this category come with a rounded base or a uniquely designed wrist rest.
Computer Keyboards Market Dynamics
Ergonomic computer keyboards are becoming popular with consumers who use them for significant amounts of data entry or other tasks involving keyboarding such as gaming. Typing for long periods causes wrist pain and other muscular stress related problems that can lead to carpal tunnel syndrome if not managed immediately.
Increasing demand for improved devices for performing repetitive tasks at workplaces is driving growth of the ergonomic computer keyboards market. Several large enterprises provide ergonomic devices and furniture to their workers (office chairs, desks, monitor stands, keyboards, and other items) to build a healthy workplace and enhance productivity.
Computer Keyboards Market Value and Forecast
The global computer keyboards market was valued at US$ 4,780.5 Mn in 2014 and is expected to expand at a CAGR of 2.3% during the forecast period (2015–2025). Emergence of high quality products at low price points is a major factor propelling market growth.
Computer Keyboards Market Analysis, by Type
The global computer keyboards market is classified on the basis of type as basic and ergonomic keyboards. The ergonomic keyboards segment was valued US$ 493.1 Mn in 2014 and is anticipated to register a CAGR of 10.5% during the forecast period. Presently, the basic keyboards segment dominates the global computer keyboards market. However, with growing popularity of ergonomic keyboards, the basic segment is expected to lose significant market share during the forecast period.
Computer Keyboards Market Analysis, by Region
North America leads the market for ergonomic keyboards in terms of value, however, in terms of unit shipment Asia Pacific excluding Japan accounts for the largest share of the total computer keyboards market. Around five million people suffer from carpal tunnel syndrome in the U.S. each year, as per research conducted by the U.S. Department of Labor, Occupational Safety and Health Administration.
In order to curb such cases, North America is adopting ergonomic keyboards to facilitate improved muscular support and movement. In order to leverage this opportunity, original equipment manufacturers (OEMs) in this region offer ergonomic keyboards in various shapes and sizes, further propelling market growth.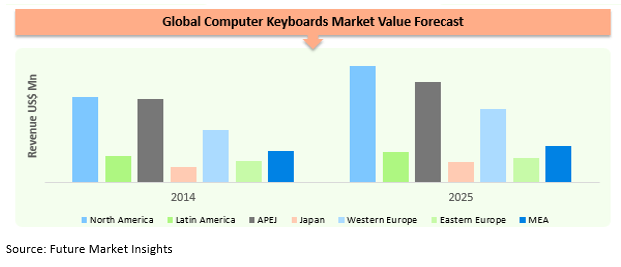 Asia Pacific (excluding Japan) is anticipated to register substantial growth during the forecast period. This is primarily due to increase in the number of multinational companies such as Tata Group, Intel Corporation, Global Sources, Induchem AG, and HubSpot, Inc. establishing offices and in Asia Pacific. In addition, decreasing prices of ergonomic keyboards owing to robust competition from regional manufactures is further contributing to market growth in this region.
Computer Keyboards Market Key Players
Key players of the computer keyboards market include Microsoft Corporation, Logitech International SA, Kinesis Corporation, Gold Touch Enterprises Inc., Adesso Inc., Fellowes Inc., Posturite Ltd., Datadesk Technologies, Fentek Industries, Inc., and Shenzhen V4 Electronics Co. Ltd.
World's Most Profilic Intelligence Engine
Get Access To The World's Largest Market Research Database.
Sign Up Now
Key Segments
By Type
Basic Keyboard
Ergonomic Keyboard
By Switch Keyboard
Membrane Keyboard

Dome-Switch Keyboard
Scissor-Switch Keyboard
Capacitive Keyboard

Mechanical Switch Keyboard
By Size
Standard Size Keyboard
Laptop Size Keyboard
Thumb Size Keyboard
Numeric Keyboard
By Application
Corporate
Personal
Gaming
Region
North America
Latin America
Europe
East Asia
South Asia Pacific
Middle East & Africa
Need specific information?
Our Clients