Introduction
The global container liner market is estimated to be valued at US$ 821.6 Mn in 2019 and is anticipated to grow at a CAGR of 5.0%, to reach a market size of US$ 1,216.4 Mn by the end of the forecast period.
Container liners are used as a protective layer over containers, which stops the goods from dampness and humidity. Container Liners are types of bulk container packaging formats specifically manufactured for transiting bulk cargo by using a Container. Container liner helps in minimize container cleaning and replacement (reducing waste) and prevent product contamination. Container liner are often custom manufactured in various designs, with some featuring an anti-static composition.
Container liners eliminate the need for cleaning of containers every time
Container liner are used in the storage and transit of paints, dyes, inks, food & beverages products and others. Container liner have reduced the cleaning of the container as the whole material gets removed by removing the liner from the container. Usage of container liner increases the usability of the containers.
In addition there is no need for cleaning of container before loading of goods due to usage of container liner; which helps in reduction of time for cleaning. Furthermore, container liner offer several benefits such as easy retrieval of goods stored, reusability and cost efficiency, leading to their wide applicability across the globe.
Container liners facilitate reduction in product wastage and provide barrier from moisture and high temperature
Container liner not only keep the contents of container clean but also facilitate easy retrieval of materials completely. The container liner preserve the products from contamination and helps in easy transportation. The bulk material stored in it can be easily removed by removing the container liner.
The container liner provides barrier protection to the materials from moisture and also reduces the materials from being wasted at the time of removal. Various types of container liner can be used as per needs. The container liner are lighter in weight as compared to other protective packaging application for easy retrieval of materials. Container liner can withstand temperature up to 175 degree Fahrenheit.
Increasing manufacturing output fuelling demand for container liner
The Europe and North America economy is mostly fuelled by the manufacturing industries. As the manufacturing industries are growing, so the manufacturing output of the industries is also increasing. Furthermore, according to Baltic and International Maritime Council (BIMCO) container shipping is growing at a Y-O-Y of 4.1% in 2018 as compared to 3.3% in 2017.
Increasing manufacturing output is rising the demand of the container liner used for transportation and storage solutions of the products. Consequently, container liner are gaining traction mainly for container shipping purposes and the ease of loading and unloading provided by them.
Reusability of container liner driving market growth
Container liner used in bulk material transportation are flexible packaging materials and can be reused in a closed loop system. A closed loop system is a process in which container liner are cleaned and prepared to be reused for the same application for which a container liner was originally designed. In a closed loop system, container liner manufacturer, customers and end-users all cooperate to reuse the container liner.
To safely reuse container liner, dust needs to be removed from them. The normal life of container liner are generally five to eight years and some of them are reusable. There is growing adoption of container liner reuse because they are economic and easy to carry without taking much space while they are empty.
By region, Asia Pacific and Middle East & Africa region is expected to be the utmost attractive market for the global container liner market in 2019 and is estimated to witness a combine market share of 37.7% of the container liner market, by the end of 2027. Furthermore, Europe and Japan container liner market is expected to be the least attractive market while North America and Latin America container liner market to have a moderate attractiveness.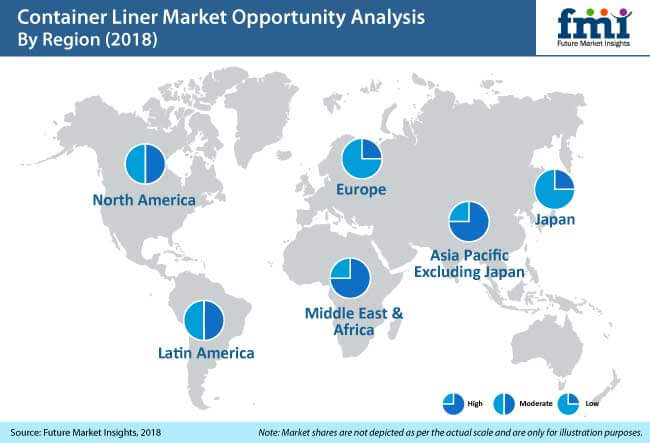 Key Developments in the Global Container Liner Market
Manufacturers are looking for expansion of their manufacturing facility

In March 2016, Emmbi Industries Ltd launched a clean room facility for manufacturing FIBCs and container liners for food and pharmaceutical end-markets in compliance with USFDA (United States Food and Drug Administration).

Expansion by increasing production capacity of existing container liner manufacturing facility

In 2016, Lc Packaging International B.V. increased its production capacity of its FIBC and container liner production plant in South Africa.
Competitive Landscape
Key players which have been profiled in the report on the global container liner market include – Greif, Inc., Thrace Plastics Holding and Commercial S.A., Bemis Company, Inc., Lc Packaging International B.V., Berry Global, Inc., United Bags, Inc., Display Pack, Inc., CDF Corporation, CorrPak Bulk Packaging Systems, LLC., Bulk Corp International, Emmbi Company, Ozerden Plastik Sanayi ve Ticaret AS, Nier Systems Inc., Composite Containers Llc, and Rishi FIBC Solutions PVT. Ltd.
Key Segments Covered in the Container Liner Market
By Material Type
Polypropylene (PP)
Poly vinyl chloride (PVC)
Polyethylene (PE)
Metalized Films
Others (PS, etc.)
By Capacity
By Product Type
End Fill
Open Top
Top Fill
Wide Access
By End Use
Agriculture
Chemical
Building & Construction
Mining
Food & Beverages
Pharmaceuticals
Key Regions Covered in the Container Liner Market
North America
Latin America

Brazil
Mexico
Rest of Latin America

Europe

Germany
U.K.
Spain
France
Italy
Rest Of Europe

Asia Pacific Excluding Japan (APEJ)

China
India
ASEAN Countries
Australia & NZ
Rest of APEJ

Middle East & Africa (MEA)

GCC Countries
South Africa
Israel
Rest of MEA

Japan
Need specific information?