Crane Market to Cross US$ 50 Bn Valuation in 2026
The industrial sector is finding itself on the edge of unparalleled transformation. In an effort to catalyze growth and boost economic development, governments all over the world are scaling up capital allocation in every industrial facet. Moreover, shifting market dynamics and stiffening competition is compelling industry executives to create distinctive capabilities and continue exploring opportunities in order to serve end users and make meaningful progress. As these activities sweep the business landscape, the global crane market will surpass US$ 50 Bn during latter stage of the forecast period (2019-2029).
Frequently Asked Questions about Crane Market
How will the global crane market fare in the future?
Cranes plays a pivotal role in the development of infrastructure, and are an essential part of various operations. With the flourishing industrial sector, including mining, manufacturing, construction, utilities, and oil & gas, the demand for cranes is expected to increase all across the globe during the forecast period.
Will rental cranes affect the sales of new cranes in the global market?
Major restraints in the sales of cranes is the growing trend of rental equipment. It has been observed that, a majority of end users are turning towards used loader cranes, as new loader cranes are costly and require high maintenance. Moreover, strong demand for used cranes against low-cost China-based cranes has been observed in India, Vietnam, and the Middle East & Africa (MEA), primarily due to the lack of monetary resources to invest in new cranes.
Which product type holds potential growth opportunities for market players?
The tower cranes segment is projected to lead the global crane market in terms of value, followed by the all-terrain cranes segment. In terms of growth rate, the tower cranes segment is expected to expand at a CAGR of nearly 5%. Demand drivers, going forward, are mining operations, urban infrastructure, irrigation, and road construction, which will influence the crane market.
What is the degree of competition in the crane market?
The competition is intensifying as regional players are targeting construction contracts and are concentrating on manufacturing energy-efficient cranes in order to meet safety standards laid down by governments. Currently, developing economies will offer strong opportunity for manufacturers and suppliers. Key players hold major revenue share in the global crane market.
Which region will lead the global sales of cranes?
China and APEC will remain in the frontline of the crane market. Rising investments in infrastructure projects such as roads, airports, waterways, ports, irrigation, pipelines, railways, and urban infrastructure in these regions are boosting the growth of the crane market.
Manufacturers Stay Focused on Tower Cranes
Tower cranes are suitable in high-structure construction works, as they are able to lift heavy loads safely and efficiently. Moreover, they exhibit excellent stability and are functional in complex lifting operations. This study reveals that, shareholders would glean over US$ 20 Bn from tower cranes towards the end of the mentioned timeframe. Rough terrain cranes (RTCs) and all terrain cranes (ATCs) are also gaining traction, as they are considered ideal for uneven and rocky terrains.
Rapid Growth of Industry-adjacent Sectors Fuels Market Growth in APAC
Procuring nearly half of total market revenue, Asia Pacific (APAC) continues to reflect value-creation prospects in the global crane market. Represented by China, top-line growth of various sectors such as construction, mining, and automotive is creating a conducive environment to drive market value in the region. Market players are focusing on strategic collaborations and investments at scale to boost sales growth and expand their aperture. Furthermore, the crane market in APAC is likely to reach around US$ 30 Bn by 2029.
Internet of Things (IoT) - Onramp to Bigger Margins
Market players must develop comprehensive strategies to integrate technology into conventional cranes for capturing the value at stake. Internet of Things (IoT) helps in upending maintenance and repair expenses by enabling the equipment to self-detect the necessary faults for repair. The technology is primarily shifting towards artificial intelligence (AI) and big data analytics, with prime focus on reducing human intervention. Mobile crane manufacturers are aggressively moving towards the integration of technology with machine control circuits, and leveraging a two-way communication system in a bid to alert operators in case of faults or emergencies during operation.
Tower cranes account for higher demand
ATCs to see stable adoption
Construction industry remains key application area
Moderate application in mining sector
High demand for cranes with capacity up to 10 MT
Demand for 50 to 250 MT capacity cranes to surge
Stiff boom cranes stay sought-after
Knuckle boom/ telescopic boom cranes to witness sales decline
How Growth will Unfold
Crane manufacturers will devote significant capital to the construction industry, owing to investment upheaval in civil infrastructure development across commercial and residential sectors, especially in developing regions. The mining industry has been undergoing a resurgence, primarily attributable to the surging demand for minerals such as coal to cater to increasing electricity demand. This, in turn, is fueling the adoption of cranes in remote mining operations. Increasing scope of application in general engineering is further broadening growth and profitability avenues.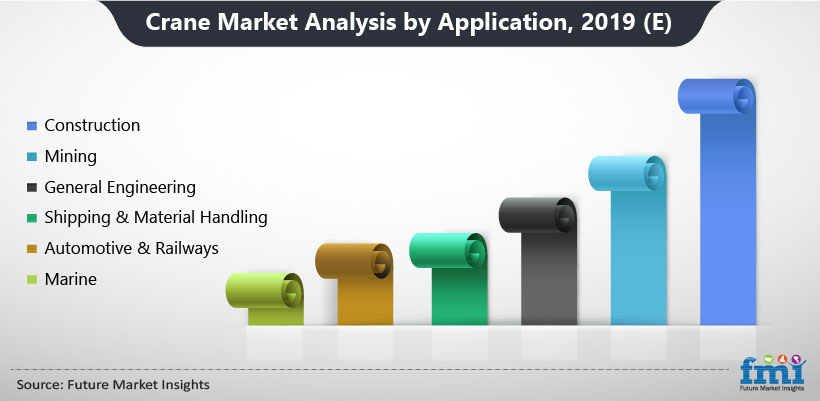 * This data is only a representation. Actual data may vary and will be available in report.
Click Here To Know How The Growth Will Unfold
Custom Market Research Services
FMI offers custom market research services that help clients to get information on their business scenario required where syndicated solutions are not enough.
Overview
Crane Market Analysis 2019-2029
A recent market study published by FMI on the global crane market offers a comprehensive assessment of the most important market dynamics. After conducting thorough research on the historic as well as current growth parameters of the global crane market, the growth prospects of the market are obtained with maximum precision.
Crane Market Taxonomy
The global crane market is segmented in detail to cover every aspect of the market, and present a complete market intelligence approach in front of the reader.
Type
Rough Terrain Cranes (RTCs)
All Terrain Cranes (ATCs)
Truck Cranes
Mobile Harbors
Off-shore Ship Cranes
Loader Cranes
Railroad Cranes
Crawler Cranes
Tower Cranes
Others
Application
Aerospace and Defense
Automotive & Railways
Heavy Engineering
General Engineering
Mining
Construction
Marine
Shipping & Material Handling
Energy (Power & Gas)
Region
North America
Latin America
Europe
APEC
China
MEA
Capacity
Up to 5 MT
5 to 50 MT
50 to 250 MT
250 to 500 MT
500 to 1,500 MT
1,500 to 3,000 MT
Design
Stiff Boom
Knuckle Boom/Telescopic Boom
How the research was conducted?
Primary Research
Primary research interview with key opinion leaders and other participants were conducted for data collection and validation of the below information:
Hardware

Sales Head
R&D Head
Procurement Head

Channel Partners
Global Crane System Solution Providers
Regional Global Crane system Distributors
Average Selling Price (US$) of Global Crane system and Market Growth
Key Developments in the Global Crane
Global Crane Market Trends and Opportunities
Regional wise Dynamics
Market Share Information
Key Brands
Competition & Key Vendor Strategies
Secondary Research
Published Financial Data: Quarterly financial statements, 10-K & 10-Q filings, annual reports, Factiva, Morning Star, Zawya etc., along with company websites and other published financial sources including local newspapers, magazines to determine company wise earnings
Corporate Communication: Corporate press release specification sheet, price list, catalogs, and financial disclosures provided sales, products and product related information
Published Trade Data: Publication from trade organizations, associations, and governments, along with ITC trade database and regional / local paid databases
Other Data Sources: Article from target industry experts, and industry stakeholders, press information and data released by exhibitions conducted by associations etc
Primary Interview Splits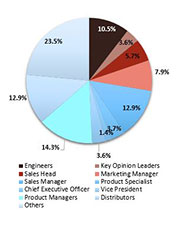 To Learn More About our Comprehensive Perspective on Crane Market,
Get in touch
COVID -19 : Impact Analysis
Request the coronavirus impact analysis across industries and markets
Request Covid -19 Impact
CASE STUDIES
See how our work makes an impact.
At FMI, we design strategies that are adaptive, impactful, and implementable.