Cyber Security in Robotics Market - Key Research Findings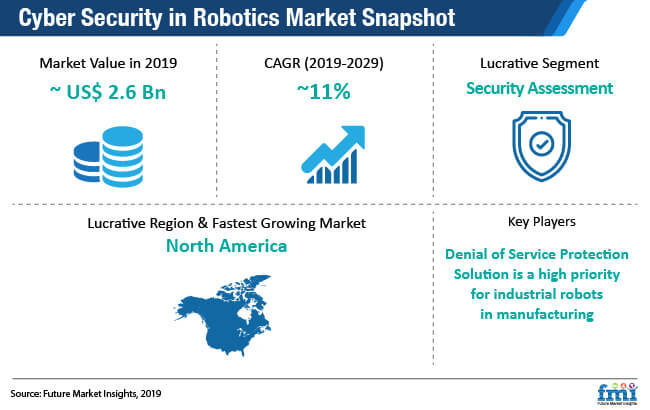 The global cyber security in robotics market size in 2018 was valued ~US$ 2.4 Bn.
The cyber security in robotics market is expected to grow at a CAGR of ~11% during the forecast period of 2019-2029.
Increasing demand for security solutions such as authentication solutions, and denial of service protection solutions and encryption solution – due to cyber-attacks such as robot denial of service attack, Man-in-the-Middle attack, spoofing, phishing attack, and brute force attack – are factors that have been driving the sales of cyber security in robotics.
North America is a prominent region for the cyber security in robotics market, which accounted for ~45% share in 2018. It is also likely to offer greater opportunities for the market players, as enterprises in the region are heavily investing in robotics security to improve the productivity.
Japan is among the prominent markets for cyber security in robotics, as adoption of robots is increasing in healthcare and defence sectors for increasing productivity and increasing the need for better robot security. To secure robots from cyber-attacks, companies are investing heavily in robotic security solutions such as authentication, encryption, denial of service protection, and secured communication.
Key Factors Shaping the Cyber Security in Robotics market
Increasing Incidences of Cyber Attacks
The usage of robots is increasing in manufacturing, military, medical, and automated vehicle markets. As robots are prone to cyber-attacks at hardware, firmware/OS, and application level, there is an immediate need to create cyber security solutions.
Cyber-attacks on different types of robots such as ransomware attacks on industrial robot that block access to data and entire production system and Man-in-the-Middle attack on medical robot, due to which the unauthorized entity takes control of the medical robot, are increasing. The impact of these attacks results in loss of revenue, data and human safety. Due to these factors the demand for cyber security solutions such as authentication solutions and denial of service protection solutions is expected to increase at a rapid pace.
Escalating Demand for Drone Security in Defence and Aerospace Industries
The military industry is increasingly using drones for surveillance and combat missions. However, cyber-attacks such as Man-in-the-Middle attack, GPS Spoofing, and brute force attack are increasing on drones, due to which unauthorized entities can access the data and take control of the drone.
Advanced technologies are being used to encrypt all communications and prevent drones from all kinds of cyber threats. Thereby, this is enhancing the importance of cyber security solutions for authentication, encryption, and secure communication in the defence and aerospace industries.
Adoption of Security Solutions for Eldercare Robots
The eldercare robots are used for assistance. These robots perform household tasks, providing mobility assistance and home maintenance. Eldercare robots can communicate health status with the physician, distribute scheduled medication, and notify emergency personnel when assistance is needed. Cyber security solutions are garnering significant traction for the eldercare robots, as the possibility of an attack can cause harm to users or lead to loss of sensitive information.
Opportunities Abound in North America
Cyber security in robotics service providers are focusing on expanding their business in North America, as the rising use of robots in various sectors, thereby raising the potential of security issues and cyber threats.
Moreover, increasing demand for industrial IOT in North America is likely to bolster the growth of the cyber security in robotics market. Security solution providers of industrial IOT are launching next-generation security platforms, which is expected to aid organizations in securing the networks against cyber threats, and enable safe adoption of cloud services.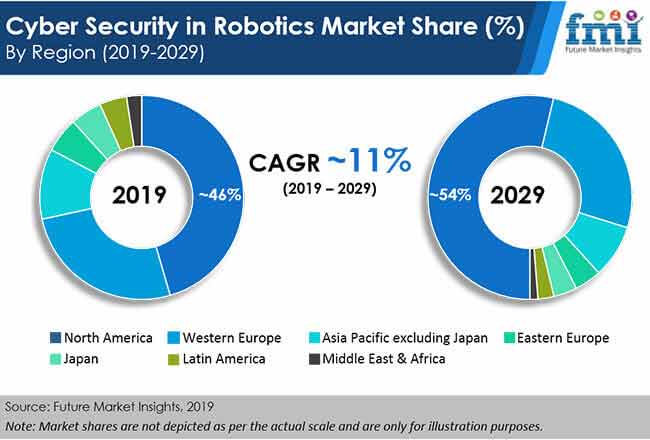 Cyber Security in Robotics Market Structure Analysis
The global cyber security in robotics market is fragmented in size, which remains a key factor for its dynamic competitive nature.
The global cyber security in robotics market serves the competition landscape, where majority of key players maintain their strategic focus on mergers, acquisitions, partnership, takeover, product development, and target strong global footprint.
In order to enhance their expertise and capabilities, key stakeholders in the cyber security in robotics market are focusing on M&A activities, in addition to conducting awareness and certification programs.

In August 2019, McAfee acquired NanoSec, which is a multi-cloud, zero trust application and security platform. This acquisition will enable the organization to improve governance and compliance and to reduce the risk of the cloud deployment.
In Feb 2019, TÜV Rheinland, introduced a new personnel certification program to address the demand for cyber security expertise in the complex and challenging industrial security sector and operational technology (OT).

Tier-1 companies hold ~45% share of the cyber security in robotics market. Vendors such as McAfee, TUV Rheinland, Symantec, and Akamai Technologies are among the largest and most experienced in the industry, and have a significant regional coverage across the globe.
Leveraging AI, Machine Learning, and Natural Language Processing to Avoid Unauthorized Access
Artificial Intelligence (AI) combined with Natural Language Processing (NLP) enables robots to inspect past information and recognizes earlier risks and respective trends, thereby simplifying future planning and decision making. The existing hints drive the robots to check for suspicious behavior by isolating authorized network activities from the unauthorized ones.
AI aids in scaling down network activity with the help of data and information acquired from several expert monitoring systems, allowing robotics cyber security experts to channelize the focus on areas requiring proactive and reliable intelligent strategic decisions that counter-attack threats at sweeping rate.
Machine learning (ML) offers helpful methods of recognizing and decreasing the threat of system or network violations. Machine learning utilizes analytical methods and algorithms that repetitively ingrain from data, automatically creating and bettering models without further programming.
The process serves potential applications in cyber security in robotics, such as enabling automated and predictive cyber capabilities where an intelligent software agent identifies active intrusions and perform the essential changes to counter them.
Using behavioral analytics to create baseline markers of normal user behavior, natural language processing (NLP) develops an outline for authorized users. Further, NLP checks for anomalous events while constantly ingraining and interrupting from new behavior patterns, thereby avoiding exposure of data.
Adding a Layer of Security with Robotic Process Automation
Robotic process automation (RPA) is garnering prevalence in cyber security in robotics. Organizations across the globe are banking on RPA to reduce exposure to threats by decreasing the detection and responding time to unusual behavior.
Robotic process automation, through bots, provide sturdy security shield from malicious viruses or intrusions, enhancing error reduction and productivity of employees. The RPA bots are able to train fellow bots the learning curve required to perform specific tasks, and deliver security sans the need for downtime.
RPA bots straightforwardly employ General Data Protection Regulation (GDPR) without disturbing the flow of information. In the event of emergency shutdown, the bots create back-up copies of key procedures. The bots are able to retrieve stored data from distant location. Further, robotic process automation exhibits the ability of storing a limited amount of data actions within a log, permitting for a more complete audit trail.
Access security is quintessential in a bid to protect crucial aspects of organizations from accidental human errors or intruder attacks. As such, software robots grant permission to certain members with specified credentials to gain access to confidential information within the system. The RAP-enabled bots complement encryption to ensure greater security regarding data consumption, avoiding suspicious break-in from external surroundings.
Robotic process automation minimizes stress on workers by automating monotonous tasks, enabling employees to target the focus on duties carrying greater importance. Further, RPA drives employees in firms to deploy security controls in nick of time post discovering abnormalities.
Increasing Dependence of Robotics for Various Purposes in North America and Europe
Upsurge in robotic automation practices in manufacturing bracket of North America and Western Europe is driving the attention of market players. Enterprises are displaying huge traction for cyber security in robotics to sustain industrial productivity. Germany and the US are employing drones and robotics in mining, and defense applications to access hard-to-reach sites. As a consequence, cyber security in robotics becomes preeminent to avoid the wrathful eyes of cyber attackers.
Tapping White Spaces in Diverse Applications – Key Tenet to Define Stakeholders' Tactics
Cyber security solution providers are penetrating into the defense sectors of developed countries citing increased adoption of robots and drones in border security to get rid of cyber-attacks - GPS Spoofing, and brute force attack. Robots are making forays into the medical space, propelling the demand for cyber security solutions to avoid man in the middle attack on medical robot, thereby ensuring safe surgeries of patients.
Cloud is least cost-efficient medium to host AI development and production – a factor influencing market players, such as McAfee to perform acquisition of NanoSec, a multi-cloud, zero-trust application and security platform. McAfee acquired NanoSec in order to allow the organization to improve governance and compliance.
How Growth Will Unfold
The trend of cyber security in the robotics field is in its nascent stage, yet robot makers are beginning to understand the susceptibility created by connected robots and automation equipment during operations. Hackers and crackers have proved to be successful in breaking into the traditional methods of cyber security in robotics, bolstering the demand for deep IIoT (Industrial IoT) architecture to tackle the attacks.
AI and ML are set to disrupt the cyber security in robotics space, recreating jobs for skilled technicians. Artificial Intelligence significantly depends on algorithms of chunks of available information majorly entered by humans. As such, human intelligence is essential in discovering the scope of risks before AI solutions dives in to detect cyber criminals and curb threats.
Further, with countries across the globe employing robots for diverse applications, particularly industrial robots, the degree of vulnerability increases. Cyber security in robotics driven by new-age technologies is set to remain the answer to such potential risks.
Key Segments
By Solution
Authentication
Secure Communication
Encryption
Denial of Service Protection
Risk & Vulnerability Management
By Services
Security Testing
Upgradation & Patch Management
Security Assessment
By Type
Industrial Robot
Medical Robot
Collaborative Robot
Defense Robot
Others
By Region
North America
Latin America
Western Europe
Eastern Europe
Asia Pacific
Excluding Japan
Japan
Middle East & Africa
Need specific information?