Diamond Core Drilling Market - Key Research Findings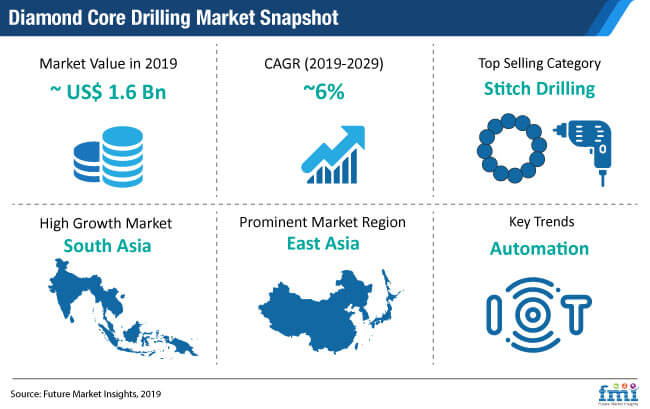 The global diamond core drilling market size is forecast to reach ~US$ 1.6 Bn in 2019.
The diamond core drilling market is estimated to grow at a CAGR of ~6% during the forecast period of 2019-2029.
Significant growth of the construction industry is projected to increase the demand for diamond core drilling at the global level.
Collectively, Europe, East Asia, and South Asia, are expected to account for more than half of the value share in the global diamond core drilling market during the forecast period.

In East Asia, China is expected to have substantial growth, owing to the increasing demand from the construction industry and is anticipated to continue to be a prominent regional market for diamond core drilling.

The rising demand for automation in industries to make easy and accurate operations is expected to boost to the global diamond core drilling market.

For instance, manufacturers are developing cutting edge diamond core drilling machines with digital control panels to provide fast and accurate working on job site.
Key Factors Shaping the Diamond Core Drilling Market
Growing Mineral Production Rate Expected to Support the Market Growth
The growing global mineral production in the market is projected to support the growth of mining equipment in the global market. According to World Mining Data report, the global mineral production rose to ~17.2 Bn metric tons in 2017 from ~16.9 Bn metric tons in 2016.
Additionally, in terms of volume, the top 15 mineral production countries hold around 80.9% share in the global mineral production. China is a prominent mineral producer of 31 different commodities in the world and holds around 23.9% share in the global mineral production.
Moreover, the growing demand for materials such as diamond, uranium, zinc, gold, lead, coal, tin, copper, braze alloys, nickel and nickel alloys, is expected to boost the growth of underground mining, and relatively drive the growth of the diamond core drilling market during the forecast period.
Growth in the Construction Industry Expected to Boost the Diamond Core Drilling Market
Rising population is indirectly shaping the construction industry across the globe. The new ongoing construction building requires renovations in the construction industry, which is expected to increase the demand for diamond core drilling in the upcoming years. Governments are focusing on the rising spending on infrastructure and there are government-proposed policies and plans to connect rural areas to urban areas.
To accomplish this, government is outlaying significant money to make concrete roads. To check the road quality, some contractors are using diamond core drilling to take the sample and project the life of the road. The aforementioned factor is expected to increase the sales of the diamond core drilling in the near future.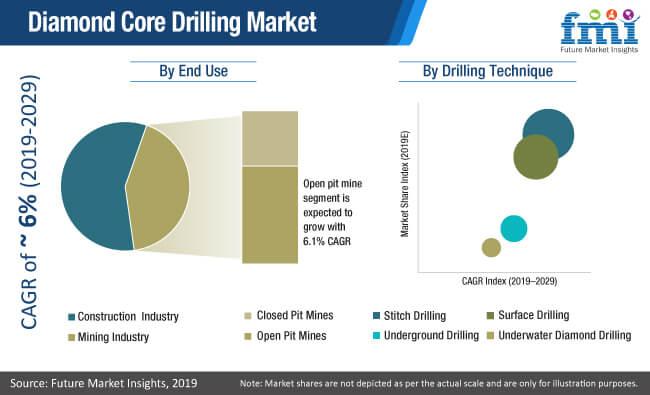 Diamond Core Drilling Market Structure Analysis
The global diamond core drilling market represents a consolidated competition landscape, where a majority of key players maintain their strategic focus on the acquisitions and product launches, and developing new technologies in the market.

In February 2018, Hilti Corporation completed strategic partnership with Fieldwire, to leverage digital and hardware technology, driving the productivity on construction sites.
In January 2018, Atlas Copco completed the acquisition of assets with South African manufacturer and distributor of drilling consumables for mining exploration namely Renegade Drilling Supplies Proprietary Ltd.

Manufacturers of diamond core drilling are currently focusing on launching new diamond range products.

In October 2018, MASSENZA Drilling Rigs Srl manufactured fully automatic and radio remote controlled new MI12 drilling rig with infrared security barrier.
In March 2017, Hilti Corporation launched 60 new products, including diamond core drilling bits to boost its sales growth.

Prominent manufacturers of diamond core drilling are also focusing on launching customized products for diverse application.

In October 2018, MASSENZA Drilling Rigs Srl delivered a new customized drilling rig MI8 machine in Eastern Europe with the reverse-circulation system.

For a strong traction in target markets, despite of the expensive rate of diamond core drilling motors that restricts small-scale industries from purchasing motors, companies are focusing on the mass marketing strategy and bulk manufacturing capacity, which increases its adoption, providing notable sales in the market.
Diamond Core Drilling Market - Steady Growth Despite Limited Applications
The advent of diamond core drilling machines is no lesser than a revolution, especially for the construction industry, which has been through an era of chisels and hammers that consumed a large number of resources. The 'high cost' deterrent of diamond core drilling machines, their bounded application territories in the construction and mining industries, and yet the landscape is projected to evince an above-average growth during 2019-2029.
Unsurprisingly, an upsurge in the mineral production rate has a pivotal role to play in the fortification of the sales. An increase - albeit a steady one - in the demand for minerals, including diamond, gold, zinc, lead, and uranium, will continue to unearth the true potential of the diamond core drilling market.
However, with huge cost benefits offered by the reused diamond core drilling machines, high investment in a brand-new machine seems like a no-brainer to end users. The effects of such sparks are levying high impact on the sales of diamond core drilling machines, especially in cost-sensitive developing countries.
Adoption of Handheld Vs. Rig-operated Machines - Ergonomics have a Pivotal Role to Play
Over the last few decades, governments of numerous countries have been advocating that industrialists take ample workplace safety measures, in the best interest of their workers and equipment, which applies to even construction and mining industries. The legislation of stringent regulatory protocols for underground diamond core drilling machines has led to the underway shift from handheld machines to rig-operated machines.
However, beside the workplace safety norms, end-use industries are being conscious about the ergonomics of rig-operated machines, which is leading to a massive uptake in their adoption. In addition, the ideology of 'high-quality over cost-efficiency' is also being instrumental to this shift. However, volume sales of handheld machines are projected to outgrow that of rig-operated machines', given the substantially low per-unit price.
A Game-changing Scenario to Focus on
A striking aspect of the diamond core drilling market to look for, will be the reshuffling of the regional rank of North America and East Asia, in 2019, given the high adoption of drilling machines in the construction industry, in China, Japan, and South Korea. However, South Asia is projected to upkeep its leading stance, considering the presence of economically crucial mineral reserves and an impressive stride of the construction industry in the region.
Automation and Customization - Two Keys to Unlock a Fructuous Future
With stringent regulations at play that require manufacturers to adopt sophisticated controls, at the cost of process complexity, remotely-operated diamond core drilling machines with safety interlocking functionalities and automatic shutdown modes are gaining significance as the preferred operating method. In addition, programmable diamond core drilling machines simplify the electronic circuitry, meaning, manufacturers can achieve reduced size, weight, and per-unit cost.
As the number of supply partnerships increases among the end-use players and diamond core drilling machine manufacturers, trends of custom-development over standard development will continue to gain importance in the industry. The end-use industries put forward their specific product requirements, along with the dimensions, vary of those produced in uniform batches, to ensure utmost precision and better outcomes.
How Growth Will Unfold
In the consolidated landscape, wherein the potential of leading players - Hilti Corporation, Robert Bosch GmbH, and Boart Longyear - plays instrumental to the movement of the entire industry, stringent quality and workforce safety protocols create an entry barrier for new players. The profitability of existing market players hinges on their flexibility to step up with the evolutionary landscape.
A shift to customized process, away from standard manufacturing process will remain imminent for manufacturers. Manufacturers can leverage inorganic growth strategy to gain exposure in the overseas territories. Since high prices of diamond core drilling machines may impact the performance of market players, devising a cost-competitive strategy in the developing countries by squeezing the profit margins can help achieve payback opportunities, along with a consolidated position in the long run.
Key Segment
By Operation Type
By Drilling Technique
Stitch Drilling
Underwater Diamond Drilling
Surface Drilling
Underground Drilling
By Drilling Type
Rotary Drilling
Wireline Drilling
By End Use
Construction Industry
Mining Industry

Open Pit Mines
Closed Pit Mines
By Region
North America
Latin America
Europe
South Asia
East Asia
Oceania
Middle East and Africa
Emerging Country
Need specific information?