Manufacturers Reaping Substantial Value from Kraft Paper
Preferred for their cost-effective and eco-friendly attributes, kraft paper continues to be the material of choice in the paper core market. Consumption will reach around US$ 1 Bn by 2029. Under this material, market players are wagering their investments in the manufacturing virgin kraft paper. Paperboard, on the other hand, is also witnessing gradual increase in adoption. Although both, kraft paper and paperboard, will exhibit an identical growth rate, the former will generate greater total returns to shareholders (TRS).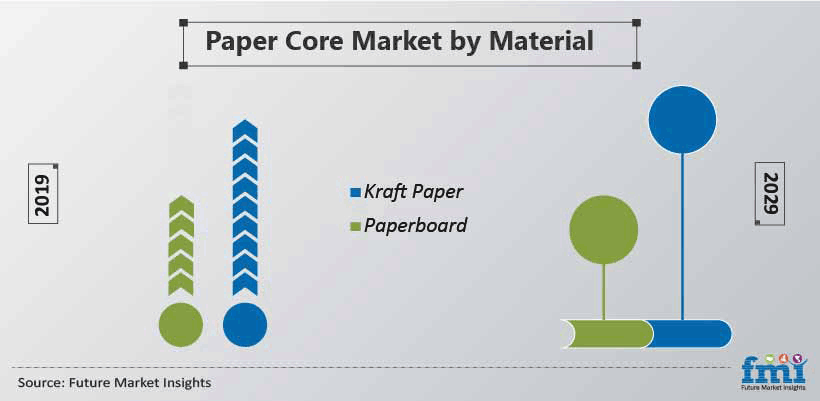 Asia - Lynchpin of Value-capture Opportunities
Asia's paper core market will maintain its primacy, with governments taking important steps to drive sustainability. Thailand has imposed a countrywide ban on single-use plastics, while China has banned the import of plastics waste. FMI finds that, over 70% of packaging material in the textile & yarn industry is derived from paper and paperboard substrates. This surging demand for paper-based packaging products is also echoing in Latin America. Paper core market players must thus reevaluate their capital management to pursue new revenue streams.
Stakeholders Turn their Sights to RFID Technology
Leading manufacturers are equipping conventional paper cores with advanced features such as radio-frequency identification (RFID) technology, to optimize their supply chain management. Paul & Co., for instance, offers RFID-enabled paper cores, which allows the company to identify its inventory in real-time through the processing, storage, and transportation chain.
These RFID tags help the company track the paper cores throughout its business operations. Further, these tags are highly recyclable and reusable. Manufacturers incorporating RFID tags in paper cores can substantially reduce the risk of product losses during production, warehousing, and transit.
How Growth will Unfold
Industry executives are under constant pressure to seek substrates that help achieve cost-efficiency and regulatory compliance. Paper & polyester and textile industries have been aggressively moving towards sustainable alternatives, and, as such, would carve out a significant chunk of stakeholders' investments over the next decade. Moreover, these end-use industries are expecting an increasing scale of customization. Consequently, manufacturers are placing greater emphasis on customized paper cores to lock in customers through better products.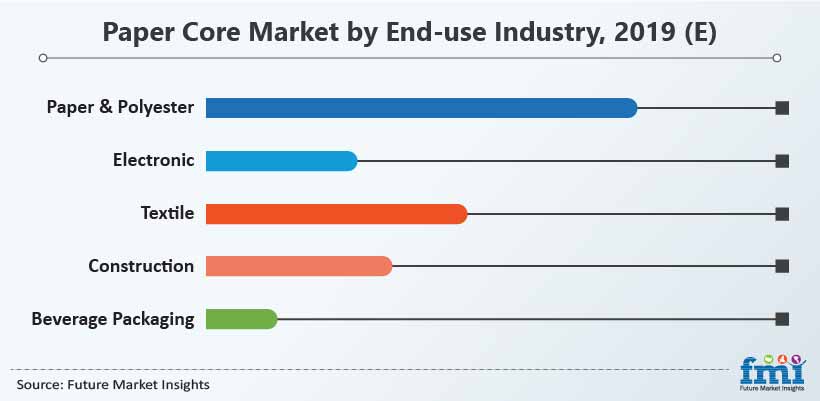 PAPER CORE MARKET TAXONOMY
The global paper core market is segmented in detail to cover every aspect of the market and present a complete market intelligence approach to the readers.
Material
Kraft Paper

Virgin Board
Recycled Board

Paperboard

Virgin Board
Recycled Board
Diameter
23 mm- 76 mm
77mm-152 mm
153 mm-229 mm
230 mm & above
Application
Winding & Re-winding
Decoration & Specialty
Hygiene & Tissue Paper
Printing & Coating
End-use Industry
Paper & Polyester
Electronics
Textiles
Construction
Beverage Packaging
Region
North America
Latin America
Europe
South Asia
East Asia
Oceania
MEA
Need specific information?