About the Report
DNA polymerase plays key roles in diagnostics applications including PCR tests, owing to superior efficacy in synthesizing new strands of DNA. DNA polymerase is key to making use of PCR technologies for biological applications. Over the past decade significant progress has been achieved in terms of processivity, specificity, fidelity, and thermostability.
Hot start and high-fidelity DNA polymerase technologies are some of the new advances that are rapidly gaining ground in the industry. Innovations in colony screening assays, next-generation sequencing, and Sanger sequencing enable high levels of accuracy, previously inaccessible in the field.
ESOMAR-certified market analysis and consulting company Future Market Insights (FMI) delivers insights into key factors driving the DNA polymerase market in its latest report. Furthermore, an evaluation of the effect of the COVID-19 pandemic on the DNA polymerase market in general, and an analysis of sales in 20+ high-growth markets and end-use industries in has been provided in the report.
How is Historical Performance Comparing to the Future Outlook?
Efforts by governments driving investment into research and development and increased levels of healthcare spending are expected to fuel the demand for DNA polymerase applications. Regulators such as the Food and Drugs Organization (FDA) are emphasizing on the use of molecular diagnostics technology leveraging the expiry of drug patents and the development of generic biologics with lower interference in bioprocessing, driving demand between 2016 and 2020.
Tech innovations and strategic collaborations by leading market players will positively influence the market. Developed countries have actively take to DNA polymerase assays and these regional markets have exhibited steady growth.
However, emerging economies continue to lag behind primarily owing to the lack of awareness and reduced GDP and healthcare spending in the region. Further, the high costs of research and use of such tests has majorly impacted the growth prospects of the market. The COVID-19 crisis has impacted research activities in addition to disrupting supply chain affecting market growth, albeit for a short duration of time. Future Market Insights has projected the market to progress at a promising CAGR of over 6% through 2031.
How are the Wide-Ranging Functions of DNA Polymerases Influencing Growth?
According to a report in US National Library of Medicine, protein to protein interactions is a key part of DNA polymerase applications and regulation. Structural studies conducted on DNA polymerases along with protein partners are providing major insights on how polymerase catalytic subunits are interacting with its accessory subunits, while other protein factors are proving important to the varied DNA transactions.
Given the large number and complexity of DNA transactions dependent on DNA polymerase activity, it is not surprising that cells in various organisms comprise multiple specialized DNA polymerases, most of which have been discovered only in recent years.
Growing awareness about the role of DNA polymerase in DNA replication, DSB repair, mitochondrial replication & repair, ICL repair somatic hypermutation, and more on the basis of prototype enzyme families are expected to play major roles in future developments of the industry.
How are PCR Test Applications Supporting Developments?
Rapidly increasing use of DNA polymerases in molecular diagnostics and point-of-care kits is expected to influence the adoption of DNA polymerases. Increasing applications of DNA polymerases in the field of epigenetics research, along with the increasing investments in life sciences is also expected to bolster revenue growth in the global market.
The distinct characteristics of every DNA polymerase type may account for a potential development of reagents. As a result, efforts to explore new DNA polymerase variants has been one of the major focuses of researchers in this field. Thermostable DNA polymerases are especially finding key roles in terms of PCR-related methodologies in molecular biology.
Furthermore, new protein engineering techniques are being used to generate artificial or mutant DNA polymerases many of which are developed to be suitable for industry specific purposes among the several kinds of DNA manipulation procedures. This will remain a key driving factor for the DNA polymerase market through the assessment period.
What are the Key Challenges Facing DNA Polymerase Market Players?
With major investments into biopharmaceuticals continuing, the demand for DNA polymerase is expected to rise in the coming decade. However, players in the industry are also likely to face challenges to operations through the assessment period.
The high cost of reagents and availability of relatively affordable alternative techniques are projected to limit market growth through the forecast period. In addition, lack of adequate capital, infrastructure, and skilled professionals in the field are also challenges to market players. Furthermore, applications in DNA polymerase are fairly new. As a result, a lack of awareness is also a restraining factor influencing the market.
Country-wise Insights
Why is the U.S. DNA Polymerase Market Holding the Lead?
As per the FMI report, the United States is likely to hold the lead in the global DNA polymerase market through the assessment period. Easy access to capital and investments into cutting edge healthcare infrastructure generates lucrative opportunities for growth in the U.S. market.
In addition, the United States is also home to a large number of contract manufacturing organizations and bioprocess organizations, which will support market expansion in the long term. Also, investments towards the development of generic biologics following expiry of patented drugs will contribute to growth in the country.
What is the Contribution of the U.K. Market to Global Growth?
The United Kingdom has emerged as a lucrative market for DNA polymerase manufacturers. Expansion of healthcare infrastructure and the availability of skilled professionals are driving factors. The growth of the massive biopharmaceutical and pharmaceutical sectors in the country, and associated government initiatives support growth.
Investments and collaborations for research including the National Health Service, players from the pharmaceutical companies, and academic & research institutes for experimental medicine and genetics will create a favorable environment for DNA polymerase market players.
How is the Chinese DNA Polymerase Market Set to Fare?
The DNA polymerase market in China is fairly new. However, growth in the country is expected to be strong in the near future, driven by major investments being made into healthcare infrastructure expansion.
While lack of awareness will remain a concern, the presence of numerous contract research organizations within China associated with biopharmaceuticals, coupled with the migration of drug production facilities by international manufacturers are likely to contribute to positive prospects of growth for the market in China through 2031.
Why are Driving Factors Affecting the Japanese Market?
As per a World Bank report, the spending on Japan in Healthcare account for nearly 11% of its GDP in 2019. A rising focus in the country on advanced healthcare technologies and the growth in contract development and manufacturing will find traction.
Globalization of the contract manufacturing sector in Japan in addition to strategic acquisitions and collaborations in terms of biologics products will pave the way for faster expansion of the DNA polymerase market within the country.
Category-wise Insights
What are the Prospects of Prokaryotic DNA Polymerase?
DNA polymerase can be broadly classified into prokaryotic and eukaryotic variants. Prokaryotic DNA polymerase is projected to hold a larger market share through the forecast period, owing to applications in diagnostic processes, including PCR tests.
However, eukaryotic DNA polymerase is expected to display fast growth as well owing to recent, major investments into genome research and potential applications outside of conventional uses in the healthcare sector. Also, the introduction of high-fidelity DNA polymerase will prove beneficial to growth.
What End Use Drives Revenue Generation in the DNA Polymerase Market?
DNA polymerase finds roles with a number of end users including hospitals, molecular diagnostics companies, biopharmaceutical companies, diagnostic laboratories, and academic & research institutes. Of these, molecular diagnostics companies will account for a relatively larger market share.
The growing use of PCR based technologies and investments towards distribution agreements, especially since the onset of the pandemic are key factors driving demand. Further, academic and research institutes account for faster growth, owing to potential applications apart from healthcare, creating lucrative opportunities.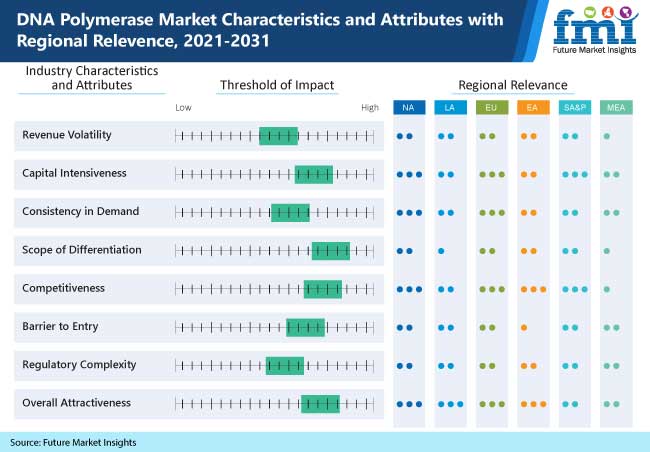 DNA Polymerase Market - Competitive Landscape
The global DNA polymerase market is largely consolidated, with leading biopharmaceutical companies holding on to major market share. Major players in the industry are focusing increasingly on product research and launch, exploring new applications in line with national and international regulatory standards.
In April 2021, BTIG joined hands with SVB Leerink to initiate coverage for Olink focused on DNA polymerase research in the field of protein research and proteomics, with the objective of expansion on molecular testing.
Biocartis Group NV announced the submission of its US FDA 510(k) application for its Idylla™ MSI Test for invitro diagnostics for the identification of colorectal cancer and microsatellite instability, for differentiation from Lynch syndrome.
In March 2021, Stanford Synchrotron Radiation Lightsource in collaboration with Linac Coherent Light Source to conduct structural biology experimentation with new x-ray methods with a focus on biologics research.
Future Market Insights has also analyzed the following players in the DNA polymerase market in its detailed report:
Thermo Fisher Scientific Inc.
Agilent Technologies Inc.
F. Hoffmann-La Roche AG
Merck KGaA
Qiagen N.V.
Takara Bio Inc.
Genescript
Illumina Inc.
New England Biolabs Inc.
Bioline
Promega Corporation
*This list is indicative - full details about the DNA polymerase market players are available upon request.
DNA Polymerase Market - Report Scope
Attribute

Details

Forecast Period

2021-2031

Historical Data Available for

2016-2020

Market Analysis

USD Million for Value

Key Regions Covered

North America, Latin America, Western Europe, Eastern Europe, Japan, Asia Pacific Excluding Japan, and Middle East & Africa

Key Countries Covered

US, Canada, Brazil, Mexico, Argentina, Chile, Peru, Germany, U.K., France, Italy, Spain, BENELUX, Nordic, Russia, Poland, CIS Countries, China, Japan, South Korea, India, ASEAN, Australia, GCC Countries, Turkey, Israel, and South Africa

Key Segments Covered

Product Type, End Use, and Region

Key Companies Profiled

Thermo Fisher Scientific Inc.
Hoffmann-La Roche AG
Merck KGaA
Qiagen N.V.
Agilent Technologies Inc.
Takara Bio Inc.
Genescript, Illumina Inc.
New England Biolabs, Inc.
Bioline, Promega Corporation (indicative list)

Report Coverage

Market Overview, Key Market Trends, COVID-19's Impact, Demand Analysis, Market Background, Segmental Analysis, Regional Profiling, Market Structure Analysis and Competition Analysis

Customization & Pricing
Key questions answered in the report
How will the DNA polymerase market expand through 2031?

According to Future Market Insights (FMI), the global DNA polymerase market is projected to gain stimulus from investments into the generic biologics sectors, expanding steadily at a CAGR of over 6% through 2031.

Which is the dominant DNA polymerase market?

North America is currently the leading regional market for DNA polymerase, accounting for major market share through the end of the assessment period. Growth in this region is largely attributed to major investments in drug development and patent expirations in the United States.

How is COVID-19 impacting the DNA polymerase growth projections?

The COVID-19 pandemic has had a substantial impact on the prospects of DNA polymerase applications in the short term. Investments into research on the covid-19 virus and the demand for vaccines has boosted the potential use of DNA polymerase in the biopharmaceutical sector. Moreover, the increased demand for public health services during the crisis has generated lucrative opportunities.

Which are the prominent DNA polymerase market players?

Prominent DNA polymerase market players include
Key Segments
Product Type
Prokaryotic DNA polymerase
Eukaryotic DNA polymerase
End Use
Molecular diagnostics companies
Diagnostic laboratories
Academic and research institutes
Biopharmaceutical companies
Hospitals
Region
North America (U.S. & Canada)
Latin America (Mexico, Brazil, Argentina, Chile, Peru, & Rest of LATAM)
Western Europe (Germany, U.K., France, Italy, Spain, BENELUX, Nordic, & Rest of W. Europe)
Eastern Europe (Russia, Poland, CIS Countries and Rest of E. Europe)
Middle East and Africa (GCC Countries, Turkey, South Africa, Israel, & Rest of MEA)
Japan
Asia Pacific excluding Japan (China, India, ASEAN, South Korea, Australia, & Rest of APEJ)
Need specific information?
Talk Show:
The Rise of Intelligent Packaging
Personalized, Connected and Sustainable
November 18, 2021
11:00-11:45 AM PST (USA & Canada)
This is a LIVE session