Increased Spending on Biopharmaceutical Research and Development
There has been a shift from investment in research and development activities in life sciences and biotechnology in Asia Pacific. Contract research organizations operating in the region are working on various generic biologics development. Upcoming patent expiration of branded pharmaceuticals and success in ongoing clinical trial activities are booting the commercial use of molecular-based techniques.
Additionally, government authorities are taking initiatives to reduce drugs cost, which has provided ground-breaking support for the growth of the domestic biotechnology and pharmaceutical market. Government authorities are offering tax benefits for R&D activities, increased budgets and funding, creating public and private conglomerates and attracting foreign direct investments.
Availability of Alternate Technologies with Low DNA Requirement
Techniques such as PCR require nucleic acids in sufficient quantity and purity for processing using various applications. Various techniques have been recently developed that are able to detect ultra-low quantities of DNA with minimal processing, and are also able to process short nucleotide sequences such as microRNA.
Scientists at the Seoul National University in South Korea published results in 2017 from experiments using gold nanoparticles covered with DNA sequences that bind to, and detect the DNA of interest using dark-field microscopy. Such innovative methods bypass the need for DNA amplification and thus the requirement of DNA polymerase.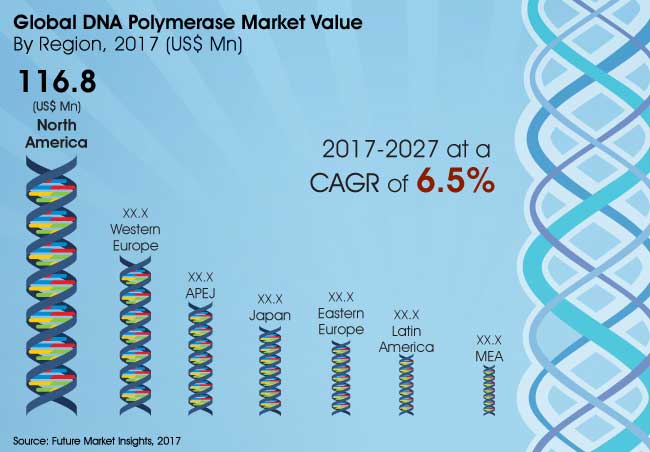 Emergence of E-commerce-based Distribution Channels
Certain products are currently ordered online or via eProcurement while some requests need assistance from the sales and product teams. Customers using DNA polymerase and associated reagents and tools tend to be highly educated, content-driven and adopt new technology leading to a shift in the way they procure these products. Depending on the market strategy of vendors in this market and their willingness to invest, they have the opportunity to increase their revenue and gain market share from distributors.
Development of DNA Polymerase to be Used in Multiple Applications
Manufacturers of DNA polymerase have developed several products that have the ability to be used in both research applications as well as for clinical diagnostics. Most of the commercially available polymerase are either suitable for PCR amplification (research use) or isothermal amplification (point-of-care clinical diagnostics use), not both. These DNA polymerase are typically mutant versions of traditional Taq DNA polymerase that combine the thermostability of Taq with strand displacement activity of other enzymes, which are critical in isothermal techniques
In-house Development of DNA Polymerases
Several end-use segments prefer to develop DNA polymerase in-house due to certain protocols and specifications, as a result of which the commercial sales of DNA polymerase to these users are limited. Additional reasons to produce DNA polymerase in-house could be due to cost constraints, ease of manufacturing and limited requirements, as well as non-availability of specific features in commercially sold DNA polymerase required for the study being carried out. As various key players seek to expand their product portfolio by incorporating different features such as hot-start, it is likely that specific requirements can be met through commercially available DNA polymerase.
Competitive Landscape
The competition section highlights the profiles of leading companies operating in the DNA polymerase market based on their company market shares, key product offerings, channel strategies, marketing initiatives, product reach and competition dashboard. Examples of some of the key players profiled in the report are Thermo Fisher Scientific Inc., Agilent Technologies Inc., F. Hoffmann-La Roche AG, Merck KGaA, Qiagen N.V., Takara Bio Inc., Genescript, Illumina Inc., New England Biolabs, Inc., and Bioline & Promega Corporation.
Point-of-care molecular diagnostic in clinical, forensics and food industries has spurred the demand for reliable and accurate testing technique. Manufacturers of POCT testing devices are primary focusing on launching easy-to-use PCR and sequencing platform for rapid detection. In 2015, the FDA granted the first CLIA waiver to Alere for its influenza nucleic acid-based test, followed by Roche for its cobas systems. Several hospitals and clinics are likely to adopt point-of-care molecular diagnostics based on PCR technologies, especially considering their high sensitivity to seasonal influenza strains.
Consolidations activities, such as sales and service agreements, collaborations, rising research and development activities, new product launches, joint ventures, partnerships, patent transfers and mergers & acquisitions among the global and regional players are a characteristic phenomenon of the overall competition in the PCR equipment and reagents market. Many global players have set up new manufacturing facilities and distribution agreements in countries such as Brazil and Mexico to increase their product reach.
Request Information on Competitive Landscape
Definition
The DNA polymerases are enzymes that are responsible for creating new copies of DNA in the form of nucleotides, which are building blocks of DNA. DNA polymerase duplicates all of its DNA strands and the cell passes one copy of each strand to its daughter cell. DNA polymerase is used to create an extra copy of DNA each time the cell divides making less than one mistake in a billion bases. DNA polymerase is used to "proofread" the original DNA strand so that the misplaced base are corrected. There are two types of DNA polymerase, namely Prokaryotic DNA Polymerase and Eukaryotic DNA Polymerase.
About the Report
FMI conducted a research study on DNA polymerase market for the forecast period of 2017 to 2027. The report offers a comprehensive evaluation of the business opportunities prevailing in the DNA polymerase market along with insights on the competition strategies, consumer adoption. The report also covers comprehensive attributes of multi-application DNA polymerase and pricing analysis, company penetration and market competition. The report elaborates on the macro factors influencing the DNA polymerase market.
Additional Questions Answered
Some of the additional questions addressed in the report for DNA polymerase market-
What is role of regulatory authority and service providers in market?
What is the revenue potential of DNA polymerase across pharmaceutical research and diagnostic applications?
How DNA polymerase market is gaining momentum in Asia region?
Who are the key competitors and what are their portfolios in DNA polymerase market?
What is the price point for DNA polymerase manufacturers in developed countries?
Research Methodology
The report on DNA polymerase market has been carefully compiled post a rigorous primary research (including interviews, surveys, in-person interactions, and viewpoints of seasoned analysts) and secondary research (including verified paid sources, authentic trade journals, and resourceful databases). The report on DNA polymerase market also embodies an overall qualitative and quantitative assessment by scrutinizing data points garnered from market participants of DNA polymerase market.
The research study on DNA polymerase market also includes top trends and macro as well as micro economic factors shaping the DNA polymerase market. With this approach, the report on DNA polymerase market anticipates the industry attractiveness of every major segment over the forecast timespan.
Segmentation
Based on product type, the DNA polymerase market is segmented into
Prokaryotic DNA Polymerase
Eukaryotic DNA Polymerase.
The end-use segment of the report covers
Molecular Diagnostics Companies
Diagnostic Laboratories
Academic and Research Institutes
Biopharmaceutical Companies
Hospitals.
The DNA polymerase market has been analysed across regions of
North America
Eastern Europe
Western Europe
Latin America
Asia Pacific Excluding Japan
Japan
Middle East and Africa.
Need specific information?