Polypropylene Remains Sought-after over Other Materials
Polypropylene (PP) will maintain its lead in the dunnage trays market, accounting for one-fourth share of total revenues. Influenced by its umpteen mechanical properties as well as economical pricing, manufacturers of dunnage trays continue to prefer this plastic over other counterparts. Moreover, materials such as thermoplastic polyurethane (TPU), and butadiene styrene (ABS) are offering multiple avenues of growth and profitability to players active in the dunnage trays market.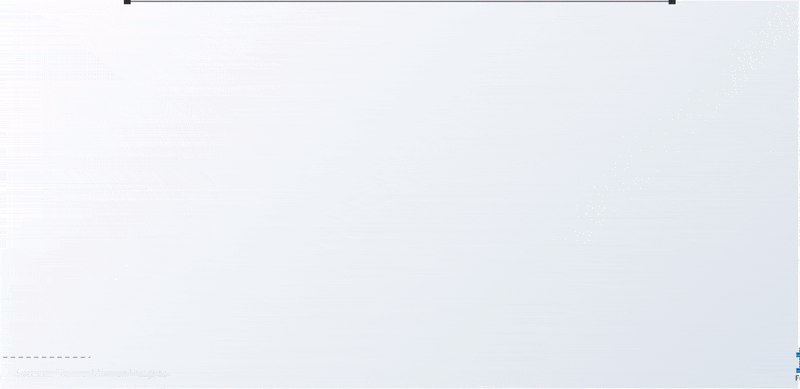 Tapping White Spaces in Developing Regional Markets
Europe remains at the forefront in dunnage trays market, and around 2/5th of European market is accounted by the demand from autonomous vehicles sector. However, there are strong indications of Asia outperforming European market in the following years.
With surge in merchandise sales across developing economies of Asia and Africa, dunnage tray manufacturers are eying opportunities to establish their bases in China, India, Vietnam, Philippines, Taiwan, and South African countries. Particularly led by China and India, wide availability of raw materials and economical cost benefit of these economies would reflect a wealth of investment opportunities for key stakeholders in the dunnage trays market.
Growth in Cross-border Trade Provides Impetus to Market
Inter-oceanic trade is emerging as a mainstream trend in market, bolstering the global demand for dunnage trays. The aforementioned factors significantly increase export across different trades, placing safety and protection of products at prominence, further creating white spaces of growth for dunnage trays. Besides safety, customizations according to production particulars like dimensions and quality, are also serving the market players with better return of investments.
How Growth will Unfold
Rapid tech-enabled transformation as well as enhanced production capacity are offering plethora of opportunities for dunnage tray manufacturers. As the automobile sector captures a leading revenue share, manufacturers are targeting this end-use category.
Market players are also channelizing their investment towards the manufacturing & warehousing sector on grounds of rising demand for logistics and packaging, driven by swift progressions in global trade. In addition to this, market players are placing their stakes in the healthcare & pharmaceutical industry, owing to increasing use of fragile components that demand for safe storage and transportation.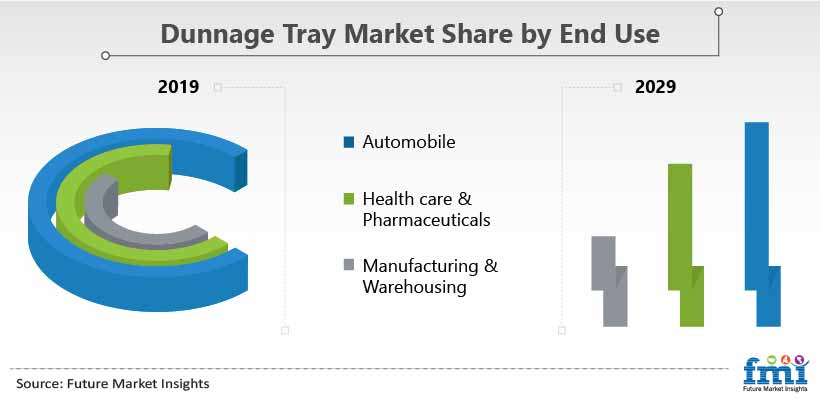 FREQUENTLY ASKED QUESTIONS ABOUT GLOBAL DUNNAGE TRAYS MARKET
What are future predictions for the dunnage tray market?
The dunnage tray market is projected to witness remarkable growth in the next ten years, with market value increasing from US$ 1.7 Bn in 2018 to reach US$ 2.7 Bn by 2029.
What is the anticipated market growth rate, overview, and analysis by material type of dunnage tray market in 2024?
The global dunnage tray market is anticipated to register a CAGR of 4.3%, and the Polypropylene (PP) segment is anticipated to account for 1/4th of the global market by material type. This is attributable to the wide use of this material, which assists in retaining the freshness of food products, in food packaging and related industries.
How will the dunnage tray market be crucial in the future?
Prominent tray manufacturers are focusing more on customized dunnage tray offerings over conventional dunnage trays, on account of the demand for customized dunnage trays that has increased rapidly in the recent past. Increasing adoption of automation is anticipated to boost the demand for recyclable dunnage trays, attributable to the suitability of such dunnage trays for loading fragile cargo.
Which end-use industries hold potential growth opportunities for manufacturers in the dunnage tray market.
Automotive, followed by food & beverage and healthcare & pharmaceuticals, accounts for the highest demand for dunnage trays. The consistent demand for dunnage trays from these industries for safe transit of packaged cargo and reduced incidences of loss provides gratifying opportunities to manufacturers in the dunnage tray market to reinforce their positions and shares.
How are automation technologies in the automotive industry contributing to market growth?
Prominent automotive manufacturers are adopting robotics & automation technologies in their assembly lines to enhance efficiency and ensure the standard of their products. The increasing usage of automation in industries leads to a rise in demand for customized dunnage trays, which are more suitable, and reduce risk of damage to parts. This factor is anticipated to considerably drive the growth of the dunnage tray market in the foreseeable future.
Who are the leading players in the dunnage tray market?
The dunnage tray market is fragmented. FMI has identified Sonoco Products Company, Menasha Corporation, DS Smith Plc, Trienda Holdings L.L.C., Dordan Manufacturing Company, and Sinclair & Rush, Inc. as the leading players.
Which region is estimated to lead the global dunnage tray market in terms of sales?
In terms of sales and market growth, the East Asia region is projected to remain at the forefront throughout the forecast period. The dunnage tray market in this region is projected to register a steady CAGR of 6.6% during the forecast period of 2019-2029.
DUNNAGE TRAYS MARKET TAXONOMY
The global dunnage tray market is segmented in detail to cover every aspect of the market and present a complete market intelligence approach to readers.
Material Type
Polypropylene (PP)
Polyvinyl chloride (PVC)
Thermoplastic polyurethanes (TPU)
Acrylonitrile butadiene styrene (ABS)
High-density polyethylene (HDPE)
End-use Industry
Electrical & Electronics
Healthcare & Pharmaceuticals
Automobile
Food & Beverage
Agriculture
Shipping & Logistics
Manufacturing & Warehousing
Region
North America
Latin America
Europe
MEA
South Asia
East Asia
Oceania
Need specific information?