Bulk Emulsion Explosives Capture 3/5th of Revenue Share
Bulk emulsion explosives continue to account for major share of manufacturers' bottom lines, attributing to relatively high performance, large power, bump resistance, and small colloid viscosity gradient coefficient. Moreover, bulk emulsion explosives are rapidly replacing packaged explosives, due to additional benefits over the latter in underground mining and in optimization of drilling blasting, and downstream operations. Recycled oil emulsion explosives, on the other hand, are expected to witness slower adoption, as the use of recycled oil in an emulsion formulation can cause increased viscosity and emulsion destabilization, leading to handling problems.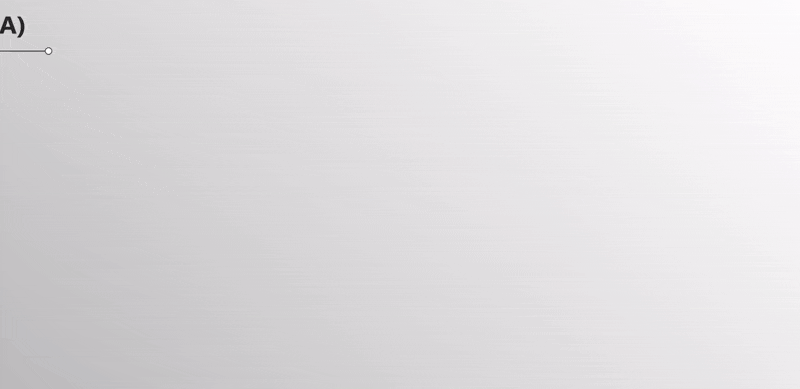 Latin America Emerges as the Most Promising Market
North America continues to remain at the forefront of the global emulsion explosives market. However, manufacturers are setting their eyes on opportunities in Latin America's market, which is set to maintain the highest growth rates over the next decade. Strong presence of the world's largest reserves of copper, lithium, silver, and other precious metals in Latin America is attracting huge investments from international mining firms. The result is expected to lead to increased demand for emulsion explosives. Emergence of Latin America as the important destination for development and manufacturing of mining equipment is further resulting in realignment of manufacturers' strategies.
Advanced Technologies Set to Align with 'Sustainable Mining' Trends
As a consequence of growing stringency of environmental regulations, mining companies are constantly looking for ways to improve their own sustainable working practices. Considering the impact of exponentially increasing number of mines choosing to blast rock with emulsion explosives on the environment, various companies are targeted towards leveraging new technologies to achieve their sustainable goals. This factor played an important role in Normet's - underground mining and tunneling company - decision to introduce a groundbreaking battery-based charging process for emulsion explosives. Innovations have also been forthcoming for non-toxic, hydrogen peroxide-based emulsion explosives which could present safer and eco-friendlier alternatives.
How Growth will Unfold
In 2019, emulsion explosives worth over US$ 1.7 Bn were used in mining. Adoption in underground mining continues to influence the growth strategies, accounting for nearly 50% of total share, while manufacturers are focusing on capitalizing on other areas of application, such as blasting of hard rock, air blasting, and general blasting. Additionally, growing application in quarrying is expected to result in increased market share, owing to unprecedented rise in number of construction sites for rail and road tunnels, dams for hydroelectric and storage power plants across the globe.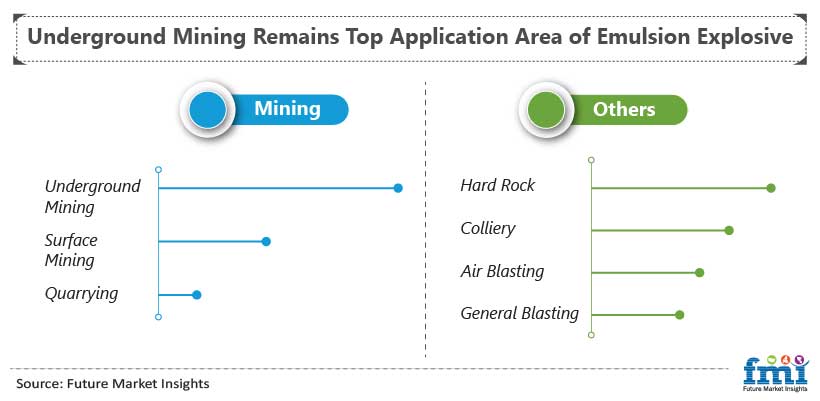 FREQUENTLY ASKED QUESTIONS ABOUT EMULSION EXPLOSIVE MARKET
What was the global market value of emulsion explosives in the year 2018?
The total sales in the global emulsion explosive market were US$ 2 Bn in 2018 owing to the rapid rise in the infrastructural activities along with economic growth and increasing preference for industrial explosives in mining and construction activities.
Which are the factors contributing to the increase in sales of emulsion explosive?
Governments of the developing economies are targeting on tapping rich mineral resources through mining and quarrying along with governments' stringent regulations on using and storing industrial explosives are predominantly affecting the market growth.
Which application is expected to drive the growth of emulsion explosive market?
The mining industry is expected to grow at a healthy rate over the forecast period due to the exploration of new mines and increasing mining activities in various regions. Underground mining accounts for a significant share in the consumption of emulsion explosives.
How is the growing demand for bulk emulsion catapulting the need for emulsion explosives?
In underground mining application, bulk emulsion systems are rapidly opening avenues by replacing the packaged explosives due to additional benefits it offers in underground operations. Owing to this, growing demand for bulk emulsion is augmenting the emulsion explosive market sales.
Which factor is impacting the growth of North American market for emulsion explosives?
North America is projected to dominate the global emulsion explosive market due to the growing adoption of conventional sources of electricity such as hydroelectric power plants. Increasing construction of hydroelectric power plants requires the use of explosives to blast the rocks in the surroundings of water resource which is driving the growth of North America's emulsion explosive market growth.
EMULSION EXPLOSIVE MARKET TAXONOMY
The global emulsion explosives market is segmented to cover every aspect of the market and present complete market intelligence to the reader.
Product
Bulk Emulsion
Cartridge Emulsion
Recycled Oil Emulsion
Application
Mining

Surface Mining
Underground Mining
Quarrying

Others

Hard Rock
Air Blasting
Colliery
Maritime Blasting/Seismic
General Blasting
Tunneling
Region
North America
Latin America
Europe
South Asia
East Asia
Oceania
Middle East and Africa
Need specific information?