Expansion Valves Market to Reach US$ 15 Bn in 2030
At-scale introduction of sustainability-centered initiatives is influencing end-use industries across the world to plug into eco-friendly approaches with their existing business models. The automotive industry, in particular, is at the frontline of this trend, as it is under constant pressure to achieve fuel efficiency. Several governmental and non-governmental agencies, worldwide, are offering rebates to refrigeration system and equipment manufacturers for the integration of energy-efficient and green manufacturing techniques. Combined, these factors are boding well for the expansion valves market, which will register over US$ 15 Bn revenue by 2030.
Expansion Valves Market: Key Insights
The global expansion valves market surpassed US$ 10 Bn in 2019.
Rising infrastructural development projects in commercial and residential spaces would be the chief growth driver.
Manufactures continue to eye the automotive industry for lucrative prospects.
Thermal expansion valves (TXV) would be a key value contributor; electronic expansion valves (EXV) to garner rapid traction.
East Asia would represent the most lucrative opportunities; market in South Asia to accelerate.
KEY FACTORS SHAPING EXPANSION VALVES MARKET
High Demand for Electric Vehicles to Improve Expansion Valves Growth Prospects
The automotive industry has been a major end-use industry for players in the expansion valves market. Though thermal expansion valves have proven to be the preferred choice among OEMs, electronic expansion valves are gaining significant traction in the global market. This shift of preference is mainly observed in electric vehicles. Norway, China, Sweden, Iceland, Germany, the United States, and Japan have been at the forefront in deploying maximum number of electrical vehicles. Regional governments have also been playing a major role in the transition of the automotive industry, from conventional-fuelled vehicles to battery-powered vehicles, in turn, creating opportunities for the global expansion valves market. China produced 43% of the global electric vehicles in FY 2016, while Norway accounted for 29% of the market share, and was followed by the Netherlands, which held 6.4% share of the global electric vehicle market.
Rebates for Energy-efficient Products & Practices to Boost Sales of Expansion Valves
Various governmental and non-governmental organizations across the globe offer rebates to refrigeration systems and equipment manufacturers for the integration of energy-efficient and green manufacturing techniques such as low GWP expansion valves. Energy Star, Environmental Protection Agency, U.S. (EPA), and the Department of Energy, U.S. (DOE) voluntary program, support businesses and individuals with rebates, and help in protecting the environment by setting high energy efficiency norms for refrigeration equipment. These norms are widely accepted in Canada, Australia, Japan, and New Zealand. European Commission - the European Union's executive body- has laid down the minimum energy performance (MEP) criteria for refrigeration systems and equipment manufacturers. These government initiatives related to energy efficiency are further expected to boost the demand for expansion valves for both, the first fit and retrofit segment, in the global expansion valves market.
Expansion of Cold Storage Capacity to Propel Market Growth
Over the last decade, there has been a significant expansion of retail stores and cold chain capacities. Many countries across the globe, especially China and India, are strengthening their cold chain infrastructure with the aim to reduce food wastage and meet growing consumer demand. Capacity expansion is especially being done on refrigerators and chillers that are used to store chilled and frozen products. According to the Global Cold Chain Alliance, in India, refrigerated warehouse capacity doubled from 2008 to 2014. Thus, the exponential growth of cold chain capacities is expected to drive the demand for sub-components such as expansion valves in the coming years.
East Asia Expansion Valves Market to Maintain its Supremacy throughout Forecast Period
Both, in terms of volume sales and value, East Asia led the global expansion valves market, and is estimated to continue to do so over the projected period as well. In the global expansion valves market, India, China, and Thailand have been estimated as emerging countries presenting a wider market opportunity.
The global COVID-19 pandemic has put a majority of manufacturing and related activities on temporary downtime in China, where the outbreak originated. As the number of caseloads continue to surge, all industrial trade activities have been discontinued due to self-isolation regulations, resulting is labour shortages. The manufacturing industry is at the front line, due to suspension of all ongoing projects and contracts. After the containment of the COVID-19 pandemic, the expansion valves market would witness a shift of manufacturing facilities from China to other Asia Pacific (APAC) countries such as India.
Expansion Valves Market: Structure Analysis
Increasing spending on research & development for the launch of technological enhanced expansion valves is one of the primary strategies of tier-1 players in the global expansion valves market.
The Danfoss Group, Sanhua, Fujikoki Corporation, Parker-Hannifin Corporation, and Emerson Electric Co. are prominent players with maximum tenure in the global expansion valves market.
The global expansion valves market is estimated to be fragmented, owing to the presence of a large number of regional and in-house manufacturers. The expansion valves market is majorly driven by regulatory standards.
Report Metrics

Details

Base Year

2019

Historical Period

2015-2019

Forecast Period

2020-2030

Market Value in 2019

US$ 10.1 Bn

Segments Covered

Product Type, Application, Installation, End Use, Material, Refrigerant, Working Pressure, and Region

Regions Covered

North America, Latin America, Europe, South Asia, East Asia, Oceania, and the Middle East and Africa

Key Companies

Emerson Electric Co., Sanhua, Fujikoki Corporation, OTTO EGELHOF GmbH & Co. KG, Castel S.r.l., TGK CO. LTD., Keihin, CAREL INDUSTRIES S.p.A., Danfoss Group, and Parker-Hannifin Corporation.

Growth Drivers

Upsurge in infrastructural development projects
Expanding on-road electric vehicle (EV) fleet
Increasing sales of refrigerators and chillers
Thermal Expansion Valves (TXV) to Fade Gradually
Thermal expansion valves (TXV) have been the conventional adjustable orifice throttling equipment in commercial refrigeration systems and air conditioning systems, globally. However, they will substantially lose their value share to electronic expansion valves (EXV), owing to better superheat control of the latter over a wide load range. While TXVs are highly preferable among OEMs, swelling production and sales of electric vehicles (EVs) are widening the application radar of EXVs. FMI further highlights that, EXVs would showcase a CAGR over twice that of TXVs over the following decade.
Market Players View Asia as Target Region
China is the manufacturing hub of the global automotive industry. Drastic transition toward EVs to meet fuel efficiency norms is triggering demand for expansion valves in East Asia. This study reveals that, the expansion valves market in the region would reach around US$ 6 Bn in 2030. This theme is also echoing in South Asia, especially in India, where the government has mandated the production and adoption of BS-6 compliant vehicles to achieve energy efficiency. Further, India leads the pack in cold storage capacities, thus, driving notable attention of expansion valve manufacturers.
Cold Storage Capacity Expansion Critical in Shaping Revenue Growth
Countries such as India, the U.S., and China have been reinforcing their cold chain facilities over the past decade, in order to curb food wastage in tandem with meeting ever-growing consumer demand. At present, refrigerators and chillers are gathering center stage in cold storage capacity expansion, as they are leveraged for the storage of frozen items. This current surge would continue to persist, offering a conducive ground for expansion valve manufacturers in the near term.
Thermal expansion valves (TXV) hold leading revenue share
Electronic expansion valves (EXV) to show rapid CAGR
Surging application in air conditioning
Usage in refrigeration to decline gradually
High installation rates in automotive industry
Application in commercial buildings on rise
R410A refrigerant stays in-demand
R407C refrigerant to falter markedly
How Growth will Unfold
R410A refrigerants continue to garner greater preference among other refrigerants in the expansion valves market, as they are non-flammable and exhibit zero ozone depletion potential (ODP). In the U.S., these refrigerants are becoming the standard gas in almost all residential air conditioners. By 2030, R410A refrigerants would be the sole refrigerant to register over US$ 2 Bn revenue. However, R410A refrigerants significantly contribute to global warming - global warming potential (GWP) value of 2088. Considering the imperative to achieve sustainability, manufacturers are turning to R290 refrigerants, as this is a low GWP refrigerant.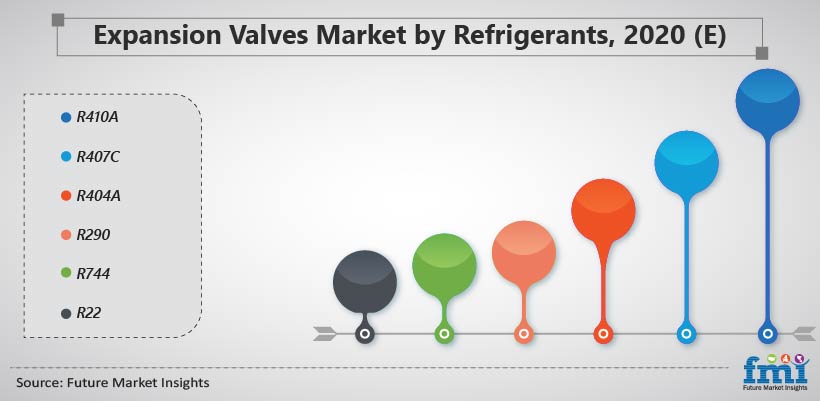 * This data is only a representation. Actual data may vary and will be available in report.
Click Here To Know How The Growth Will Unfold
Custom Market Research Services
FMI offers custom market research services that help clients to get information on their business scenario required where syndicated solutions are not enough.
Overview
A recent market study published by FMI on the expansion valves market includes global industry analysis of 2015-2019 and opportunity assessment for 2020-2030, and delivers a comprehensive assessment of the most important market dynamics. Our analysts have conducted thorough research on the historical as well as current growth parameters of the market to obtain the growth prospects with maximum precision.
Expansion Valves Market Taxonomy
Product Type
Thermal Expansion Valves (TXV)
Electronic Expansion Valves (EXV)
Application
Air Conditioning
Refrigeration
End Use
Automotive
Industrial Facilities
Commercial Buildings
Retail Outlets and Warehousing
Residential
Material
Stainless Steel
Copper
Brass
Others
Refrigerant
R410A
R407C
R404A
R134A
R290
R744
R22
CO2
Glycol Water
R1234YF
Working Pressure
Up to 30 Bar
30 to 50 Bar
50 to 200 Bar
Region
North America
Latin America
Europe
South Asia
East Asia
Oceania
MEA
How the research was conducted?
Primary Research
C - Level Executives
Marketing Directors
Product Managers
Engineers
Business Development Officers
Production Managers
Procurement Heads
Sales Executives
Distributors
Traders
Raw Material Suppliers
Industry Experts
End Users
Current market dynamics and challenges
Yesteryear trends
Market characteristics
Market performance and growth quadrants
Competition structure and market structure
Strategic growth initiatives
Near-term and long-term market growth prospects
Market segment splits and authenticity
Opinions on market projections and validity of assumptions
Secondary Research
Industry Publications
Industry Associations

OICA
International Trade Association

Factiva
Company Press Releases
Annual Reports and Investor Presentations
Research Papers
Government Websites and Publications
Trade Websites
Primary Interview Splits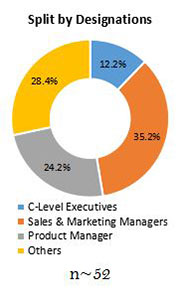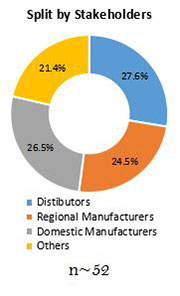 To Learn More About our Comprehensive Perspective on Expansion Valves Market,
Get in touch
COVID -19 : Impact Analysis
Request the coronavirus impact analysis across industries and markets
Request Covid -19 Impact
CASE STUDIES
See how our work makes an impact.
At FMI, we design strategies that are adaptive, impactful, and implementable.