FTIR Gas Analyzer Market By Portability (Portable, Rack Mount), End Use (Automotive, Chemical, Agriculture), Equipment (High Concentration Range (up to ppm level), Low Concentration Level (ppb and ppm level)) & Region Forecast to 2019 - 2029
FTIR Gas Analyzer Market - Analysis, Outlook, Growth, Trends, Forecasts
October 2019

REP-GB-9858

270 pages
FTIR Gas Analyzer Market - Key Research Findings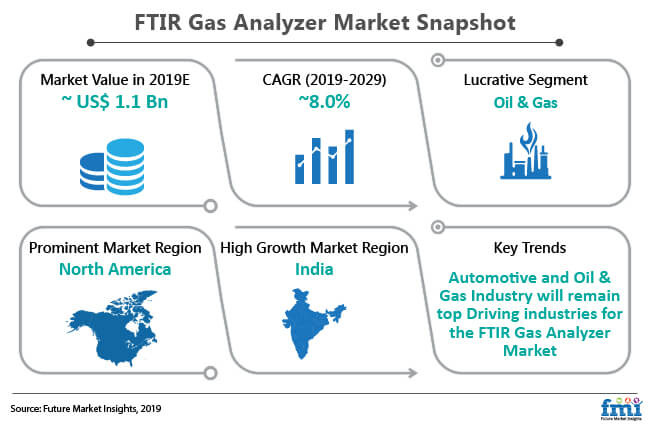 The global FTIR gas analyzer market size is estimated to be valued at ~US$ 1 Bn in 2019.
The FTIR gas analyzer market is estimated to grow at a CAGR of ~8.0% during the forecast period, 2019-2029.
Expanding automotive and chemical industries are majorly boosting the growth of the FTIR gas analyzer market.
Collectively, North America and Europe are expected to account for ~45% of the revenue share in the FTIR gas analyzer industry by the end of 2029.

Rapid growth in oil & gas and automotive industries in North America is fuelling the FTIR gas analyzer market growth.
Moreover, rapidly growing industries in Europe such as automotive, oil & gas, and chemical are creating significant demand for FTIR gas analyzers.

Automotive, chemical, and oil & gas industries are expected to remain prominent end-use industries for FTIR gas analyzer market players.

Leading players in the FTIR gas analyzer market are focusing on merger and acquisition strategies to expand their footprint in untapped regions.
Key Factors Shaping the FTIR Gas Analyzer Market
Enhanced Focus on Vehicle Emission Reduction
Automobile manufacturers need to manufacture vehicles according to the new standards of vehicle emission set by the Environmental Protection Agency (EPA). In the automotive industry, the FTIR gas analyzer is used to check whether exhaust gas emissions are according to norms or not. Greenhouse gas emissions from the global automotive industry have been steadily declining, as the industry continues to produce new cars with reduced emissions.
The automotive industry is growing rapidly across the globe, especially in North America and Europe, due to strong presence of key manufacturers. Thus, these parameters are expected to propel the growth of the FTIR gas analyzer market across the globe during the forecast period.
Circular Economy Boosting Chemical Industry Growth
The demand for FTIR gas analyzers is increasing due to the growing chemical industry across the globe. Chemical industry, gas processing plants, and refineries require gas analysis instruments for carrying out their operations. The circular economy is a new paradigm in the chemical industry because the demand for raw materials is increasing with the increase in global population, but the supply is limited.
Moreover, North America and East Asia are prominent regions for the chemical industry as countries such as China, the US, and Japan have been leading players in the chemical industry. The result is likely to lead to accelerated growth of the FTIR gas analyzer market across the globe.
Growing Need for Gas Analysis in Various End-Use Industries
Leading players are focusing on manufacturing technologically-advanced FTIR gas analyzers for vehicle emission analysis, agricultural emission analysis, evaluation of biofuel exhaust, natural gas analysis, waste incineration, and other analysis. For instance, Horiba Ltd., a leading manufacturer of FTIR gas analyzers has recently launched the smallest stationary FTIR gas analyzer, with a highly dynamic system and quick response time.
According to the company's website, the company has developed a MEXA-4000FT FTIR motor exhaust analyzer for the analysis of hazardous air pollution components in vehicle emission gases. Significant portability and easy maintenance are increasing the usage of FTIR gas analyzers in various industries.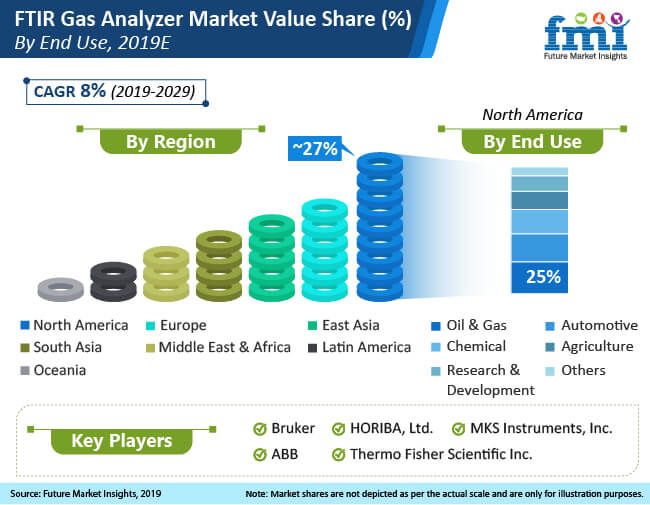 FTIR Gas Analyzer Market Structure Analysis
The global FTIR gas analyzer market is highly consolidated, where leading players are focused on manufacturing multi-functional analyzers.
The FTIR gas analyzer market is relatively large in size, due to its various applications in many industries.
Leading players operating in the FTIR gas analyzer market are manufacturing products with advanced technologies for greater market penetration.
For a stronger foothold in targeted regions, manufacturers of FTIR gas analyzers are advancing their product portfolios by continuously spending on research and development facilities.
Monitoring Air Quality by Simultaneous Scanning of IR Spectrum
The ability to scan the entire infrared spectrum, makes FTIR gas analyzers ideal for diverse applications. The software quantifies the amount of the gases - carbon dioxide (CO2), methane (CH4), carbon monoxide (CO), nitrous oxide (N2O) and 13C in CO2 - in the analyte according to the characteristic absorption with high accuracy.
High precision is achieved with reference to measurements of typical reference gases. Quantification of all the gases in the analyte in sync enables for fast-paced multicomponent insights and for compensation for cross-interference.
FTIR gas analyzers are automated and enable unaided working with minimal personnel intervention. Exactness of the recorded measurements fulfil and surpass the compatibility goals decided by the World Meteorological Organization - Global Atmosphere Watch for standard measurements in the unspoiled troposphere for all entities, save 13C in CO2.
The isotopic precision of the optically-based method and assessment encourages the deployment of FTIR gas analyzers in isotopic tracer investigations, for instance in detecting deviations of 13C in CO2 and 15N in N2O.
The fact that FTIR gas analyzers measure all the gases by scanning the same IR region enables straightforward addition of new compounds in the software sans disturbing the hardware section. The IR spectra can be re-assessed owing to consistency post analysis, permitting for trackable info and facilitates tracing the measurements for new gases retroactively. Further, FTIR gas analyzers require simple and low-cost installation following non-necessity re-calibrations.
Monitoring Vehicle Gas Emission to Comply with Legal Norms
The automotive space is rolling out the red carpet for FTIR gas analyzers on grounds of stringent regulations imposed on vehicle emissions. As such, automotive manufacturers are compelled to develop new automobiles complying with the standards specified by administrative authorities. FTIR gas analyzers provide continuous non-destructive synchronous multicomponent assessment of an individual gas stream for vehicle emissions - vital for developing mathematical frameworks and examining new after-treatment methods.
Compact gas cells in FTIR gas analyzers ensure highly dynamic response at a low flow rate with a rapid data sampling rate of 5 Hz. In addition, the cell geometry facilitates swift detection of variations of low gas concentrations. Based on multivariate analysis algorithm, FTIR gas analyzers deliver measurements of the components in undiluted exhaust gas, including ammonia, and methane.
Market Players Unlock the Window of Opportunities in North America
The trend of private vehicle ownership is intensifying among the millennial in the US coupled with emission performance standards. As such, governments of the US and Canada are urging car makers to elevate the production of electric vehicles (EV) – an eye-catching factor for FTIR gas analyzer manufacturers.
With the chemical industry in the US facing an uplift, the factory operators are required to monitor gas emissions in a bid to achieve legal compliance. Further, upsurge in oil & gas exploration activities are set to attract market players.
Stakeholders to Develop 'Portable', 'Cost-Efficient' and 'Fast-Paced' Devices
Performing periodic measurements are adequate to fulfil environmental norms in lieu of continuous monitoring, influencing market players to produce portable devices for a great fit. Portable FTIR gas analyzers allow operators to take the lab to the site – highly suitable for tower measurements, mobile platforms, and campaign-based measurements.
DTGS detectors exhibit high sensitivity to temperature changes due to the Curie point akin to room temperature. In addition, the detectors require thermostatting, adding to high manufacturing costs. Manufacturers are including lithium tantalate (LiTaO3) detectors as an alternative following the detectors eliminate the need of temperature control, and thermostatting.
Escalating the sample flow rate is beneficial while monitoring rapid variations in gas concentrations, accompanied by increased sampling frequency, and sample gas replacement rate. Such a method becomes toilsome during catalyst analysis where the sample flow rate is restricted. Players, including Horiba, have launched FTIR gas analyzers with highly dynamic system and quick response time by reducing the dimensions of sampling cell geometry to dismiss the need for increasing sample flow rate.
How Growth Will Unfold
Concern apropos changing climate of the earth is leading to the need for advanced measurement potentials for greenhouse gases in the atmosphere, paving way for FTIR gas analyzers to perform quality control (QC) of the air. In addition, rising environmental issues in Asian countries, such as China, and India, are resulting in uptight emission norms.
Stringent emission standards, set by regulatory bodies such as Environmental Protection Agency (EPA), are compelling the automobile makers to develop vehicles aligning with the criteria specified by governing bodies across the globe. As a consequence, automakers are required to receive regulatory approvals in a bid to sustain production footprint. Increasing oil & gas drilling activities in tandem with exploration projects are generating massive demands for FTIR gas analyzers in analyzing gas purity and checking gas mixing.
World's Most Profilic Intelligence Engine
Get Access To The World's Largest Market Research Database.
Sign Up Now
Key Segment
By Portability
By End Use
Automotive
Chemical
Agriculture
Oil & Gas
Research & Development
Others
By Equipment
High Concentration Range (up to ppm level)
Low Concentration Level (ppb and ppm level)
By Region
North America
Latin America
Europe
South Asia
East Asia
Oceania
Middle East and Africa
Need specific information?
Our Clients