Gasoline Generator Market - Key Research Findings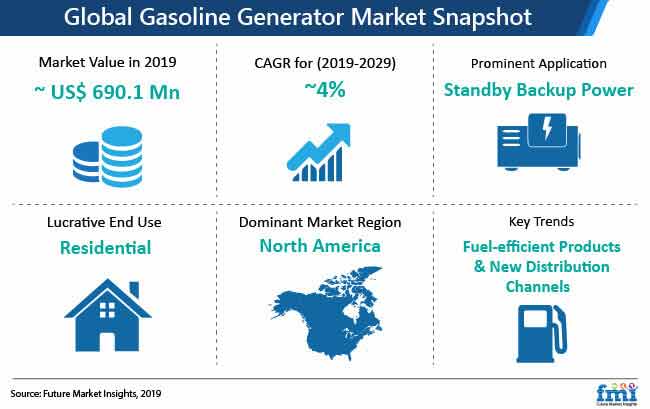 The global gasoline generator market size in 2018 was ~US$ 650 Mn and is set to reach ~US$ 1 Bn by the end of 2029.
The gasoline generator market is expected to register a CAGR of ~4% during the forecast period of 2019-2029.
According to FMI analysis, manufacturers are producing more compact gasoline generators, which are portable and can be transferred from one place to another. Moreover, increasing power outage, power cuts, grid failure, and adverse weather conditions are expected to drive the demand for gasoline generators.
Collectively, North America and APEJ are set to account for ~60% of the revenue shares in the gasoline generator market by the end of 2029. The increase in construction activities and significant growth in non-residential construction spending reflect on the prominent increase in the demand for gasoline generators from these regions.

The residential sector accounts for ~60% share of the gasoline generator market. Considering an increase in the U.S. non-residential construction spending, major manufacturers and key stakeholders in the gasoline generator market are redefining their future business strategies. Consequently, with a substantial production share in the world, the demand for gasoline generators is expected to remain steady in the region.

Governments of several countries are focussing on strengthening their energy infrastructure.

In 2015, the China government emphasised on developing ~300 infrastructure projects worth over a trillion USD to boost the country's weakening GDP. Multiple government initiatives are supporting the demand for gasoline generators in case of power outages, which, in turn is driving the growth of the global gasoline generator market.
Gasoline Generator Gratifying Electrical Requirement for Commercial & Residential Sectors
There is a robust usage of gasoline generators in commercial and residential end-use sectors for standby backup power in times of power shortage and grid failure. The compact nature of gasoline generators has assisted the acceptance in the residential sector, primarily as part of a modular uninterrupted power supply set up. Residential end users are dependent on continuous electricity.
The increasing dependence on electrical appliances is rising the demand for gasoline generators. In case of a rolling blackout, gasoline generators are the lifeline for an optimum functioning residential area. Further, for end users of renewable technologies such as solar panel based power, gasoline generators are a reliable back up power option. Gasoline generators also have some unique operational benefits compared to diesel fuel based generators.
The spare capacity of the U.K. national grid was ~15% in 2010, and this has dropped to ~4% recently. Therefore, the gasoline generator market can be considered a saving grace in this region.
Construction Sector Spearheading Gasoline Generators Market
The global increase in construction activities has subjected to the rise in the demand for gasoline generators. The significant growth in the construction industry is expected to drive the gasoline generator market. Importance of infrastructure security over protecting equipment and machinery from a sudden power outage, which leads to long-term damages is growing, thereby potentially raising the demand for gasoline generator.
A shift by manufacturers to sell compact generators through new channels, predominantly e-commerce will offer a notable boost to the gasoline generator market. For instance, companies, such as Kohler Co., Honda Motor Co. Ltd., and Generac Power Systems, Inc., among others, are offering compact gasoline generators, which make it logistically viable for customers.
Rolling Blackouts & Power Shortage Fuel the Growth of the Gasoline Generator Market
Developing economies can hardly cope up with the increasing urbanization and the surge in demand and capacity from newly affluent citizens. The abyss between the demand and supply of electricity causes a power outage and rolling blackouts. Solving power shortage becomes a priority for countries as millions of citizens suffer during the power shortage and blackouts for hours if not days.
Multiple service industries get profoundly affected due to the power outage, which, in turn, affects the country in a minimal but significant manner. As a result, several sectors are relying of gasoline generators to cope with power outages, thereby propelling the market growth.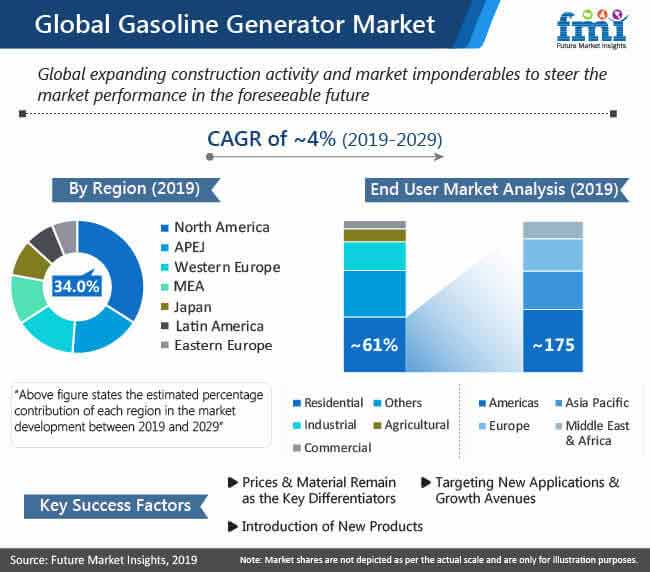 Limited Electric Supply with Increasing Power Demand in Latin America Driving the Market
Various reasons are supporting the statement that off-grid power consumption is increasing across several countries, such as Brazil, Mexico, and Argentina. Rising population, independence from the public grid, limited availability of conventional forms of energy, and limited access to electricity are the major reasons boosting the sales of gasoline generator sets used for backup power in off-grid power systems.
The number of households in Sub-Saharan Africa is expected to grow to almost ~300 million in 2040, in which, the Western Africa region is expected to be the fastest-growing region. The abovementioned factors are expected to drive the gasoline generator market in the region over the forecast period.
World's Most Profilic Intelligence Engine
Get Access To The World's Largest Market Research Database. Ngage with a revolutionary intelligence engine that scale and pricing that flexes as per your needs
Sign Up Now
Key Segment
By Power Output
Less than 1.0 KW
1.0 TO 3.0 KW
3.0 TO 5.0 KW
More than 5.0 KW
By Type
Portable Generator
Stationary Generator
By Application
Standby Backup Power
Continuous Power
By End Use
Commercial
Residential
Industrial
Agricultural
Others (Construction etc.)
By Region
North America
Latin America
Western Europe
Eastern Europe
APEJ
Japan
MEA
Need specific information?