Leading Manufacturers in the Surgical Generators Market Contribute 45% Revenue Share
The surgical generators market is dominated by the key manufacturers that are focused on providing regulatory compliant and technologically advanced medical devices in order to increase the acceptance of surgical generators. Portable devices with advanced technology and short technical time combined with superior user interface are being provided by the major companies operating in the global surgical generators market.
The major manufacturers in surgical generator market upholding large revenue share are Ethicon (J&J), Bovie Medical Corporation, Olympus Corporation, CONMED Corporation, Medtronic, Soring, CooperSurgical, and KLS Martin. The latest offering by manufacturers includes Argon Plasma Coagulation Generators. Compatibility and electrical output transducer are seamlessly integrated to the surgical generators devices.
In further addition to this, there is a major focus on improving safety features in the global surgical generators market to reduce the probabilities of burns and injury and consequently improve patient safety. Manufacturers are constantly introducing new and improved products in the global surgical generators market with emphasis on research and development in the electrosurgical radiofrequency generator for radiofrequency ablations. Furthermore, constant research and development is projected to generate substantial market growth during the study period.
Growing Demand for Advanced Energy Devices in Operation Theaters and Emergency Rooms
Integrated operating rooms have evolved and revolutionized the way surgeries are performed in the recent times. The new technologies have transformed the electrosurgery and associated devices. Modern-day integrated operating theaters are built with advanced hi-tech technologies that intended to maximize the productivity and efficiency. The advancement in surgical generators have modernized the concept of minimal invasive surgeries.
The ultra-precision in performing the cut and coagulation by the utilization of Argon Plasma Coagulation Generators have minimum side effects. New advanced ultrasonic generators and electrosurgical radiofrequency (RF) generators are capable of handling variations in the input requirement of ablation devices and cautery, additionally the increased compatibility of surgical generators with the ablation devices have made the surgical generator a choice of instrument in operation theaters, which is expected to nurture the growth of the surgical generator market.
In developed countries such as the U.S. and Germany the preferred location for performing surgeries is hospitals, rather than clinics, to reduce the vulnerability of getting nonstandard healthcare infrastructure, which increases the adoption of surgical generators in hospitals and ambulatory surgical centers.
Specialized Distribution Channels for Surgical Generators
The manufacturers of surgical generators are offering their devices through retail channels. Also, they are offering their approved devices through specialized distribution channels to clinics. The vertical integration strategy has given them a competitive edge over standard ablation device manufacturers. Hospitals that purchase surgical generators devices receive financial aid from government authorities in developed countries. For instance, Medtronics, in 2016 launched Valleylab FT10 energy platform, and Valleylab FT10 receives financial aid from government to facilitate the purchase.
Availability of Safety-oriented Surgical Generators
The conventional surgical generators are being rapidly replaced with advanced devices, on the account of increasing focus on safety associated with the electrosurgical devices. Medical device manufacturers operating in the electrosurgical radiofrequency generators market are focusing on providing enhanced safety features to the end users to minimize chances of burns and increase patient safety.
MEGADYNE MEGA POWER Electrosurgical Generator manufactured by Ethicon US LLC. (Johnson & Johnson), is equipped with an additional electrode Protection System (EPS) which protects the patient's skin from damage. During the electrosurgical procedure, when the fluctuations in the electrical current or anomaly in output from surgical generator are detected at the anode tip, EPS system turns off the electrosurgical generator which reduces the risk of burns.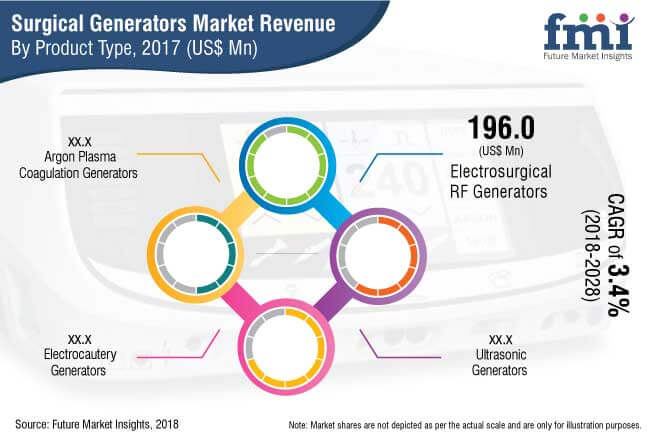 Competitive Landscape
This section of the report features profiles of the major key players operating in the surgical generators market based on their market shares, differential strategies, product offerings, marketing approach and company dashboard. Examples of some of the key players featured in this report include Boston Scientific Corporation, Bovie Medical Corporation, B. Braun Melsungen, Olympus Corporation, CONMED Corporation, ERBE Elektromedizin GmbH, Bowa, Medtronic, Soring, CooperSurgical, Ethicon and KLS Martin.
The key manufacturers of surgical generators are focusing on technological advancement to capture large share in the market. The companies offering low capacity surgical generators devices are concentrating on promoting dynamic pricing strategies. These companies are offering their products with additional operating training. Conventional distribution channels, such as hospitals, clinics, and online channels, are expected to be the key target of the key manufacturers.
Definition
The workflow of electrosurgical radiofrequency (RF) generator follows the conversion principle where electromagnetic energy is first transformed into kinetic energy due to resistance to current flow then to thermal energy. The preferred effect in the tissue is resulted based on number of electromagnetic properties as well as elements relative as contact point and tissue exposure time additionally the dimensions and profile of the surface of the anode pole near to or in contact with the target tissue.
About the Report
FMI conducted a research study on surgical generators market for the forecast period 2018 to 2028. The report offers a comprehensive evaluation of the business opportunities prevailing in the surgical generators market along with insights on the Usage Pattern, Install base, value chain analysis and awareness level for surgical generators market competition. The report elaborates the macroeconomic factors influencing the dynamics of surgical generators market and its futuristic potential.
Additional Questions Answered
Some of the additional questions addressed in this report on surgical generators market are-
What is the revenue potential of surgical generators market across regions of North America and Europe?
Who are the key competitors and what are their portfolios in surgical generators market?
What are major challenges influencing the growth of surgical generators market?
How intervention from regulatory authority is shaping the surgical generators market growth?
Research Methodology
The surgical generators market has been estimated based on install base approach. The market was first calculated based on surgical generators volume sale in different region/countries. The test volume was estimated based on product installed base in target healthcare facilities, life span of a device, reimbursement scenario, adoption rate and future impact of new technologies.
Other qualitative factors analyzed during test volume estimation include physicians, surgeons, key opinion leaders and supply-side providers of medical devices who provide valuable insights on trends, key treatment patterns, adoption rate, and purchasing pattern, technological development of patient education, medical devices, effectiveness of manufacturers and important strategies, pricing and competitive dynamics.
This information is further validated with rigorous primary research (including in-person interactions, interviews, surveys and viewpoints of seasoned analysts) and secondary research (including authentic trade journals, verified paid sources and resourceful databases).
The research study on surgical generators market also includes top trends and macro as well as micro economic factors shaping the surgical generators market. With this approach, the report on surgical generators market anticipates the industry attractiveness of every major segment in surgical generators market over the forecast period.
Segmentation
The report offers a comprehensive taxonomy of the surgical generators market based on product type, end user and region. By product type, the surgical generators market is segmented into electrosurgical radiofrequency (RF) generators, ultrasonic generators, electrocautery generators, and Argon Plasma Coagulation Generators. These Surgical Generators devices are used by ambulatory surgical centers and clinics and hospitals for various types of surgical procedures and interventions, such as plastic surgery, minimal invasive surgery, cardiovascular surgeries and other types of surgery. Surgical generators are utilized in 8/10 surgeries performed.
End-use segments in surgical generators market include hospitals, ambulatory surgery center, specialty clinics and trauma center. The Surgical Generators market has been analyzed across regions of North America, Latin America, Western Europe, Eastern Europe, Asia Pacific Excluding Japan, Japan and MEA.
Need specific information?
Talk Show:
The Rise of Intelligent Packaging
Personalized, Connected and Sustainable
November 18, 2021
11:00-11:45 AM PST (USA & Canada)
This is a LIVE session