An Incisive, In-depth Analysis on the Surgical Scalpel Market
This study offers a comprehensive, 360 degree analysis on the Surgical Scalpel market, bringing to fore insights that can help stakeholders identify the opportunities as well as challenges. It tracks the global Surgical Scalpel market across key regions, and offers in-depth commentary and accurate quantitative insights. The study also includes incisive competitive landscape analysis, and provides key recommendations to market players on winning imperatives and successful strategies.
Disposable surgical scalpels are widely used to ensure safety in surgical processes
Disposable surgical scalpels come with a fragile handle, a cutting blade and also a sheath in a single unit. The blade is made of stainless steel or high grade steel and the handle is mostly made of a lighter material like plastic. The other type of scalpel is the reusable surgical scalpel, which consists of two components: scalpel handles and blades. Blades come in sterile as well as non-sterile packaging but they are disposed of once used. Scalpel handles are usable again with different blades.
Disposable scalpels are widely used as they help in preventing cross contamination because these blades are disposed of after a single usage in a surgery. These blades are also available in different sizes and designs such as retractable blades, safe switch scalpels, etc. Manufacturers of medical devices are focusing on shifting their production base and network to regions that have cheap labour and huge demand from end users of surgical scalpels. This will help them grow and mark their presence in this highly competitive market. Key players are also looking for growth opportunities in the remote areas. Such manufacturers are helped by the decrease in regulatory requirements for a product launch – products used in surgical procedures are categorised as low risk devices and do not include stringent regulatory approval processes, which is supportive for new product launches and market growth. Moreover, the presence of local players offering products at lower price points facilitates a low barrier to access for such products, thereby promoting their use.
Mismanagement and risk of injuries related to scalpels hinders the growth of the surgical scalpels market
The research report suggests that the use of surgical scalpels may result in sharps injuries. There is a major concern related to injuries caused due to the use of surgical scalpels as these injuries lead to severe risk of transmission of blood-borne pathogens resulting in significant economic and psychological burden. Approximately 25% of needle stick injuries occur in the operating room, and 59% occur among surgeons. As a result, there has been a preference for less invasive techniques, as well as the use of safer alternatives to surgical scalpels. There are also some other concerns related to mismanagement in hospitals. Many studies have suggested that some medical centres are not efficient enough to perform operations and this is expected to result in a negative impact on the global surgical scalpels market, as the mismanagement also includes problems related to the disposal of surgical scalpels.
Disposable surgical scalpels to hold high market share throughout the forecast period
Of the two types of surgical scalpels widely used in the global market, disposable surgical scalpels are in high demand and the segment is estimated to reach a market valuation of over US$ 850 Mn by the end of the forecast period in 2027. The segment is also expected to register the highest CAGR of 4.0% during the period of forecast. The disposable surgical scalpels segment is expected to be the most lucrative among the product types, with a market attractiveness index of 1.2.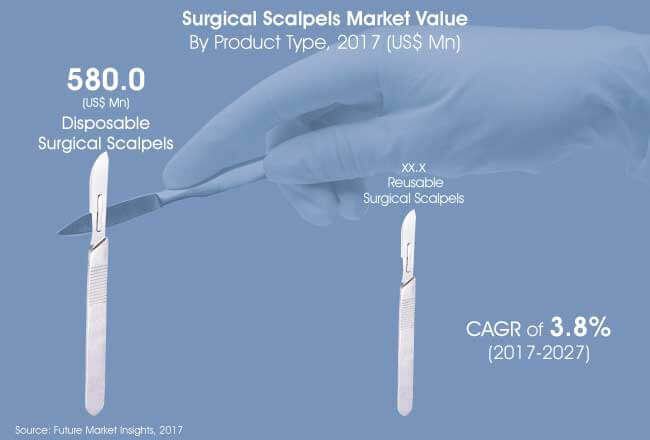 APEJ surgical scalpels market is helped by its growing medical tourism
There has been a significant growth of private health care facilities in the APEJ region, which has attracted medical tourists from all over the world. The disposable surgical scalpel market in the APEJ surgical scalpels market is expected to reach a market value of just over US$ 148 Mn in 2017, and this is projected to increase to US$ 227 Mn by the end of the forecast period. Disposable surgical scalpels segment remains the most attractive segment in the APEJ surgical scalpels market with an attractiveness index of 1.1 and is expected to remain a high growth segment throughout the forecast period growing at a CAGR of 4.3% over the period of assessment.
Report Description
A new research report by Future Market Insights titled 'Surgical Scalpels Market: Global Industry Analysis 2012 – 2016 and Opportunity Assessment 2017 – 2027' presents all the necessary information about the global surgical scalpels market. It is an initiative to analyse the global surgical scalpels market on the basis of trends governing the market, drivers driving revenue growth of the market, restraints that are limiting the growth of the market, and opportunities available to key players operating in the global market for surgical scalpels. The report is structured in a systematic manner that helps maintain a smooth flow and gives an understanding about every aspect of the market. It starts with the basic definition of the market, followed by a detailed market taxonomy. The market taxonomy bifurcates the market into various divisions and this helps simplify the market study and research. The report also includes a competitive landscape that gives a brief profile of all the major players involved in the global surgical scalpels market. This competition analysis can be of great help to all the businesses currently operating in the market and also to the new entrants planning to make their mark in this market.
Methodical Segmentation of the Global Surgical Scalpels Market
Product Type

Material Type

End User

Region

Disposable Surgical Scalpels

Reusable Surgical Scalpels

Scalpel Handles

Surgical Blades

Stainless Steel

High Grade Carbon Steel

Others

Hospitals

Clinics

Ambulatory Surgical Centres

Nursing Centres

Reference Laboratories

North America

Western Europe

Eastern Europe

Latin America

APEJ

Japan

Middle East & Africa
Research Methodology
Future Market Insights incorporates a systematic research methodology for all its extensive research reports. The process begins with in-depth primary and secondary research that helps in curating information such as market size of the global market as well as segments, market revenue drivers, restraints, trends, and opportunities, as well as identifying key market players. After the main data is collected, to get a conclusion on different points, major industry leaders and analysts are interviewed to ratify the gathered data and acquire additional accurate information about the market. All the information that is gathered in the report is then validated with the help of the triangulation method wherein primary and secondary research data as well as Future Market Insights analysis contributes to the final data points. This data is converted in the form of charts and graphs to make it easy for reader understanding. Data is presented in a ready-to-use format, so that it saves the time and labour of a lot of people who are looking to expand their business in this specific industry. The report gives them a descriptive analysis of the areas that have the maximum potential that will help them grow and acquire a competitive edge in the global surgical scalpels market.
COVID -19 : Impact Analysis
Request the coronavirus impact analysis across industries and markets
Request Covid -19 Impact
CASE STUDIES
See how our work makes an impact.
At FMI, we design strategies that are adaptive, impactful, and implementable.