Disposable surgical scalpels are widely used to ensure safety in surgical processes
Disposable surgical scalpels come with a fragile handle, a cutting blade and also a sheath in a single unit. The blade is made of stainless steel or high grade steel and the handle is mostly made of a lighter material like plastic. The other type of scalpel is the reusable surgical scalpel, which consists of two components: scalpel handles and blades. Blades come in sterile as well as non-sterile packaging but they are disposed of once used. Scalpel handles are usable again with different blades.
Disposable scalpels are widely used as they help in preventing cross contamination because these blades are disposed of after a single usage in a surgery. These blades are also available in different sizes and designs such as retractable blades, safe switch scalpels, etc. Manufacturers of medical devices are focusing on shifting their production base and network to regions that have cheap labour and huge demand from end users of surgical scalpels. This will help them grow and mark their presence in this highly competitive market.
Key players are also looking for growth opportunities in the remote areas. Such manufacturers are helped by the decrease in regulatory requirements for a product launch – products used in surgical procedures are categorised as low risk devices and do not include stringent regulatory approval processes, which is supportive for new product launches and market growth. Moreover, the presence of local players offering products at lower price points facilitates a low barrier to access for such products, thereby promoting their use.
Mismanagement and risk of injuries related to scalpels hinders the growth of the surgical scalpels market
The research report suggests that the use of surgical scalpels may result in sharps injuries. There is a major concern related to injuries caused due to the use of surgical scalpels as these injuries lead to severe risk of transmission of blood-borne pathogens resulting in significant economic and psychological burden.
Approximately 25% of needle stick injuries occur in the operating room, and 59% occur among surgeons. As a result, there has been a preference for less invasive techniques, as well as the use of safer alternatives to surgical scalpels.
There are also some other concerns related to mismanagement in hospitals. Many studies have suggested that some medical centres are not efficient enough to perform operations and this is expected to result in a negative impact on the global surgical scalpels market, as the mismanagement also includes problems related to the disposal of surgical scalpels.
Disposable surgical scalpels to hold high market share throughout the forecast period
Of the two types of surgical scalpels widely used in the global market, disposable surgical scalpels are in high demand and the segment is estimated to reach a market valuation of over US$ 850 Mn by the end of the forecast period in 2027. The segment is also expected to register the highest CAGR of 4.0% during the period of forecast. The disposable surgical scalpels segment is expected to be the most lucrative among the product types, with a market attractiveness index of 1.2.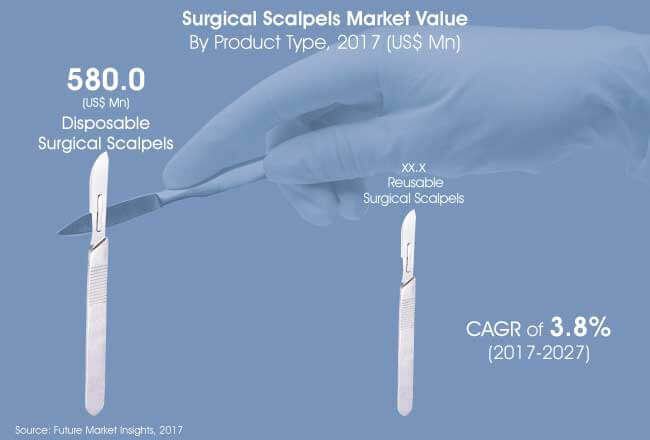 APEJ surgical scalpels market is helped by its growing medical tourism
There has been a significant growth of private health care facilities in the APEJ region, which has attracted medical tourists from all over the world. The disposable surgical scalpel market in the APEJ surgical scalpels market is expected to reach a market value of just over US$ 148 Mn in 2017, and this is projected to increase to US$ 227 Mn by the end of the forecast period.
Disposable surgical scalpels segment remains the most attractive segment in the APEJ surgical scalpels market with an attractiveness index of 1.1 and is expected to remain a high growth segment throughout the forecast period growing at a CAGR of 4.3% over the period of assessment.
Methodical Segmentation of the Global Surgical Scalpels Market
Product Type
Disposable Surgical Scalpels
Reusable Surgical Scalpels

Scalpel Handles
Surgical Blades
Material Type
Stainless Steel
High Grade Carbon Steel
Others
End User
Hospitals
Clinics
Ambulatory Surgical Centres
Nursing Centres
Reference Laboratories
Region
North America
Western Europe
Eastern Europe
Latin America
APEJ
Japan
Middle East & Africa
Need specific information?