Surgical Tourniquets Market Snapshot (2022 to 2029)
The global Surgical Tourniquets Market was valued at US$ 444.5 Million in 2021 and is expected to reach US$ 812.2 Million by 2029, finds Future Market Insights (FMI) in a recent market survey.
| | |
| --- | --- |
| Data Points | Market Insights |
| Market Value 2021 | USD 444.5 Million |
| Market Value 2022 | USD 481.1 Million |
| Market Value 2029 | USD 812.2 Million |
| CAGR 2022 to 2029 | 7.8% |
| Share of Top 5 Countries | 65.0% |
| Key Players | The key players in surgical tourniquets market are Zimmer Biomet, Stryker Corporation, AneticAid Ltd., ulrich GmbH & Co.KG, Delfi Medical, VBM Medizintechnik GmbH, Hammarplast Medical AB. |
Road accidents account for a considerable share of all orthopedic injuries worldwide. According to the Association of System Integrators and Retailers in Technology (ASIRT), almost 51 million persons in the United States of America are injured in road accidents each year.
According to WHO estimates, road accidents and traffic injuries are expected to be the ninth greatest cause of death worldwide by 2030, and the seventh leading cause of trauma-related death.
Traumatic injuries to the extremities are very much prevalent in sports and athletics and the earliest diagnosis and management of these injuries are critical. The number of trauma cases is increasing as a result of an increase in sports-related injuries and vehicle accidents, driving up demand for surgical tourniquets.
About 62% of pre-organized sports-related injuries take place during training and practice as opposed to during actual games. The most prevalent types of sports-related injuries are muscle strains, bone rupture, tendon rupture, sprains, repetitive motion injuries of bone or growth plate injuries, and bleeding due to equipment damage.
Thus, the rising incidence of road accidents, along with an increase in the aging population and sports-related injuries, are among the factors boosting the global surgical tourniquets market.
Don't pay for what you don't need
Customize your report by selecting specific countries or regions and save 30%!
How The Market Progressed Till June 2022?
| | |
| --- | --- |
| Particulars | Details |
| H1, 2021 | 7.85% |
| H1, 2022 Projected | 7.77% |
| H1, 2022 Outlook | 7.67% |
| BPS Change - H1, 2022 (O) - H1, 2022 (P) | (-) 10 ↓ |
| BPS Change - H1, 2022 (O) - H1, 2021 | (-) 18 ↓ |
In accordance with the impact of macro and industrial factors, the surgical tourniquets market is influenced by an increase in surgical procedural volumes and a global disease burden. According to Future Market Insights' comparative analysis of market growth rates in H1- 2021, a reduction of 18 basis point share (BPS) is estimated in H1-2022 (O).
Tourniquet pain is a well-known consequence of surgical tourniquets, which can be caused by mechanical pressure or the ischemia-reperfusion mechanism. Arterial injuries, compartment syndrome, and pulmonary embolisms are among the most prevalent consequences associated with the use of surgical tourniquets, limiting market growth and lowering the BPS value.
The relevance of surgical tourniquets in orthopaedic surgeries by instituting a clear operating area, taking down overall blood loss, and dipping the risk of microemboli at the time of release are some of the factors driving the overall market's growth. The H1-2022 outlook period in comparison to H1-2022 projected period showed negative growth in terms of Basis Point Share by 10 BPS.
2014 to 2021 Market Demand Outlook for Surgical Tourniquets Compared to 2022 to 2029 Forecast
Sales of surgical tourniquets grew at a CAGR of 7.2% between 2014 and 2021. In 2021, the global market of surgical tourniquets accounted for approx. 8.9% of the overall surgical equipment market which accounts for around US$ 5.0 Billion.
Orthopedic disorders cause disabling ailments such as musculoskeletal trauma, joint disorders, and knee disorders, which impact millions of individuals throughout the world.
Orthopedic disorders are conditions that cause bones to become porous and thin, reducing bone strength and increasing the chance of a bone fracture. As a result of the growing number of people suffering from musculoskeletal conditions, surgical tourniquets are becoming extremely popular.
It has been observed that orthopedic treatment and procedures have shifted from traditional invasive surgical procedures to minimally invasive surgical treatments.
The development of long-lasting reusable and cost-effective disposable surgical tourniquets is predicted to be one of the major factors driving the demand in the global surgical tourniquets market moving forward. Currently, technological advancements have led to the development of surgical tourniquets with a wider range of potential applications.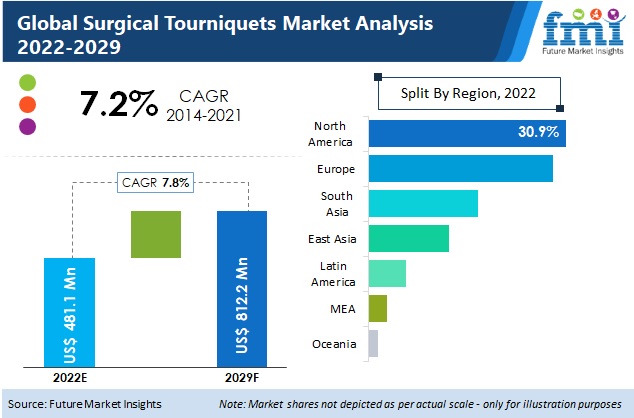 Traditional and conventional medical surgeries have various drawbacks, including a prolonged recovery time, a higher risk of infection, and massive costs. Due to these constraints, the transition to minimally invasive surgical tourniquets has occurred.
Surgical tourniquets have been around for almost 1,000 years, yet they've evolved into an extremely versatile technique. The pneumatic-computer-assisted surgical tourniquets have increased the device's adaptability and ease of use in difficult circumstances, building on the strengths of the original surgical tourniquets.
The surgical tourniquet market is expected to increase due to rising tourniquet adoption in invasive procedures for blood loss prevention and encourages young patients to live a painless lifestyle.
The surgical tourniquets market is anticipated to rise rapidly as people become more aware of the importance of early blood loss prevention. The surgical tourniquets market is likely to rise as a result of strategic alliances formed by key competitors to serve underdeveloped and developing countries, particularly in Africa and Asia.
Considering this, FMI expects the global surgical tourniquets market to grow at a CAGR of 7.8% through 2029.
Which Factors Are Restraining the Demand for Surgical Tourniquets?
The availability of alternative options for orthopaedic disorders, such as traditional elastic bands or rubber rolls on blood flow restrictors used in joint replacement, is likely to hamper the growth of the global surgical tourniquets market.
Utilizing the opportunity of a large patient pool, various medical device manufacturers are developing devices that can improve the care of orthopaedic disorders. Moreover, the agencies such as European Medical Agency or FDA has very stringent regulations against device failures. This can restrict the sale of these devices in the region, and hamper the growth of the surgical tourniquets market.
Several manufacturers of surgical tourniquets are focusing on the development of new products. However, frequent device failures are among the major factors that are affecting sales. Hence, alternative procedure options are being adopted, which restricts the market's growth.
As per CDC, 2020 report, Surgical-site infections account for more than US$ 3 billion in healthcare costs annually. This increases the overall cost of hospitalization by over US$ 20,000 for each admission in the USA. A hefty portion of Surgical-Site Infection in Orthopedic Trauma Surgeries can be attributed to higher readmissions, hospitalizations rates, and additional surgeries required for the treatment of affected patients.
The risk of developing surgical-site infections varies tremendously, with orthopaedic trauma demonstrating a higher rate of surgical-site infections than many other surgical specialties which is likely to hamper the growth of the global surgical tourniquets market.
Country-wise Insights
What Makes the USA the Largest Market for Surgical Tourniquets?
In 2021, the USA dominated the North American market, with nearly 93.6% of the market share owing to the rise in the number of road accidents, trauma cases, and cosmetic surgery cases, a well-established healthcare system offering effective treatment, rise in the number of emergency procedures and high adoption rate of technologically advanced systems in the USA Furthermore, the American Society of Plastic Surgeons (ASPS) estimates that nearly 18 million people in the United States of America underwent surgical and minimally invasive cosmetic surgery in 2018 resulting in a rise in higher demand for the surgical tourniquets that fuels the market of surgical tourniquets in the region.
Why is Germany Considered a More Lucrative Market for Surgical Tourniquets in Europe?
Germany dominates the European market for surgical tourniquets and accounted for approx. 27.7% of the market share in 2021, because of the large number of market players, trained healthcare personnel, and greater adoption of innovative technology.
In addition, the region's growing geriatric population and a spike in sports activities and sports-related injuries, as well as its developing hospitals, need the use of tourniquet systems. Furthermore, rising demand for minimally invasive surgical procedures and the introduction of novel products by key regional players contribute to their large revenue share in the surgical tourniquet market.
What Makes India an Emerging Market for Surgical Tourniquets?
India is one of the leading markets for surgical tourniquets and accounted for nearly 78.8% of the South Asian surgical tourniquets market in 2021 due to the growing population and an increase in the cases of major falls and road accidents. India will also benefit from an increase in the number of hospitals and surgical centers where the tourniquet system is used extensively.
Additionally, growing awareness about the need for early prevention of blood loss, increasing investment in Research and Development activities, and strategic alliances by key players are expected to propel the surgical tourniquets market growth in the region.
Get the data you need at a Fraction of the cost
Personalize your report by choosing insights you need
and save 40%!
Category-wise Insights
Why Tourniquet cuffs are Driving Market Growth by Product?
The tourniquet cuffs segment by product accounted for the largest share of around 78% in 2021 in the global surgical tourniquets market. The higher consumption and widespread availability in various sizes and rising demand among surgeons are the main reasons for the growing demand for these products.
Additionally, due to their capacity to produce a standardized pressure that can be readily adjusted and compressed regardless of location, tourniquet cuffs are commonly employed in orthopedics, trauma, and emergency surgery to generate a bloodless field of the desired area, allowing surgeons to reduce procedure time.
Why does Knee Arthroplasty Contribute to the Highest Market Share by Application?
Knee Arthroplasty has comparatively higher adoption of tourniquets worldwide which leads to account for the highest market share of more than 32% in 2021 by application. There are several benefits of surgical tourniquet use including improved visualization, shorter operative times, decreased blood loss, and improved antibiotic delivery in knee arthroplasty surgeries.
Which End User will be Most Preferred?
The hospital segment accounts for the highest share over 50.3% in 2021 by the end users due to a rise in the number of trauma cases demanding the necessity of tourniquet systems to control external hemorrhage. Furthermore, the growing needs for joint replacement surgeries, increasing footfalls to seek effective treatment, and the presence of qualified medical personnel in the hospital are the major factors to anticipate growth in the forecast period.
Competitive Landscape
Direct sales to healthcare professionals and tender-based sales to public health agencies are the common marketing and distribution strategies adopted by the key players in the global surgical tourniquets market. Companies are expanding the production capacity for surgical tourniquets in order to meet the global demand.
To accommodate the unmet demand in developing regions, most of the major competitors in the surgical tourniquets market are focusing on identifying and developing favorable technologies and targeted products from both external and internal sources.
Acquisitions and collaboration are the key strategies adopted by manufacturers to increase product sales in different geographies.
For instance:
In October 2018 Stryker announced the acquisition of HyperBranch Medical Technology, Inc., a privately owned company, for a total equity value of about $220 million. HyperBranch is focused on medical device development using its proprietary polymers and cross-linked hydrogels.
On October 15, 2018, Zimmer Biomet and Apple collaborated to launch a major clinical study detailing patient experience and improving joint replacement journey.
Scope of the Report
Attribute
Details
Forecast Period
2022 to 2029
Historical Data Available for
2014 to 2021
Market Analysis
USD Million for Value
Key Regions Covered
North America, Latin America, Europe, East Asia, South Asia, Oceania, and Middle East & Africa
Key Countries Covered
USA, Canada, Brazil, Mexico, Argentina, Germany, Italy, France, United Kingdom, Spain, BENELUX, Russia, Poland, China, Japan, South Korea, India, Thailand, Singapore, Indonesia, Malaysia, Australia, and New Zealand, Turkey, South Africa, South Africa, and GCC Countries
Key Segments Covered
Product, Application, End User, and Region
Key Companies Profiled

Zimmer Biomet, Stryker Corporation
AneticAid Ltd.,
Ulrich GmbH & Co.KG
Delfi Medical
VBM Medizintechnik GmbH
Hammarplast Medical AB

Report Coverage
Market Forecast, Competition Intelligence, Drivers, Restraints, Opportunities and Threats Analysis, Market Dynamics and Challenges, Strategic Growth Initiatives
Customization & Pricing
Available upon Request
Surgical Tourniquets Market by Category
By Product:
Tourniquet Systems

Single Channel Systems
Dual Channel Systems

Tourniquet Cuffs

Inflatable Cuffs

Disposable Cuffs
Reusable Cuffs

Non-Inflatable Cuffs

Disposable Cuffs
Reusable Cuffs
By Application:
Knee Arthroplasty
Amputation of Limbs
Plastic Surgeries
Trauma Cases
By End-User:
Hospitals
Ambulatory Surgical Centers
Specialized Clinics
By Region:
North America
Latin America
Europe
East Asia
South Asia
Oceania
Middle East and Africa (MEA)
Frequently Asked Questions
The global surgical tourniquets market is worth US$ 444.5 Million in 2021 and is set to expand 1.7X over the next seven years.
The surgical tourniquets market is expected to reach US$ 812.2 Million by the end of 2029, with sales revenue expected to grow at a 7.8% CAGR.
From 2014 to 2021, the market for surgical tourniquets expanded at the rate of 7.2% CAGR.
North America currently holds 31.0% of the global market share in the surgical tourniquets market in 2021.
Funding to deliver high-level trauma care, development of new and effective products, and rising demand for outpatient surgical procedures are the key opportunities in surgical tourniquets.
The demand for surgical tourniquets is expected to register a growth rate of 7.4% during the forecast period in the European market.
The demand for surgical tourniquets is expected to register a growth rate of around 8.7% during the forecast period in the East Asia market.
Japan's market in surgical tourniquets is offering lucrative growth opportunities and is expected to exhibit healthy growth of 8.3% CAGR during the forecast period.
The USA, India, China, Germany, and the United Kingdom are the top 5 countries that are driving the demand for surgical tourniquets.
Leading companies of surgical tourniquets are Zimmer Biomet, Stryker Corporation, AneticAid Ltd., ulrich GmbH & Co.KG, Delfi Medical, VBM Medizintechnik GmbH, Hammarplast Medical AB.