Surgical Tourniquets Market - Key Research Findings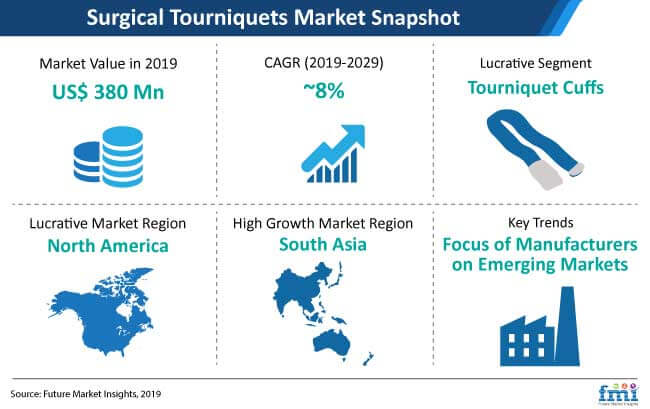 The global surgical tourniquets market size in 2018 was ~ US$ 350 M
The surgical tourniquets market is expected to grow at a CAGR of ~ 8% over 2019-2029.
North America and Europe are expected to remain the largest regional markets for surgical tourniquet products.

North America and Europe are the leading regions in the surgical tourniquets market owing to the increasing adoption of surgical tourniquets for the prevention of blood loss during invasive surgeries and assisted trauma care.

Manufacturers are majorly focusing and delivering their products to underserved regions such as Africa and Asia. Government organizations and NGOs are raising awareness regarding accidental trauma care. Additionally, higher inclination of surgeons towards the utilization of pneumatic surgical tourniquets is expected to boost the growth of the surgical tourniquets market.

Major players in the surgical tourniquets market include Stryker Corporation, AneticAid Ltd., Hammarplast Medical AB, ulrich GmbH & Co.KG, Zimmer Biomet, Delfi Medical, VBM Medizintechnik GmbH, and others.

The inflatable cuffs segment is expected to be the most lucrative product type in tourniquet cuffs.

The growth of this segment can be primarily attributed to the increasing demand for precision and effective blood restriction products. Increasing product adoption and rising awareness among surgeons are the main reasons for the growing demand. It is expected to be the most preferred product type segment of the surgical tourniquets market in the coming years.
Key Factors Shaping the Surgical Tourniquets Market
Surgical Tourniquets – Availability of Several Treatment Options
The rising awareness by NGOs & government organisations and the increasing adoption rate of trauma care devices is expected to boost the overall revenue of the surgical tourniquets market. Several campaigns conducted across the world are creating awareness and encouraging the population to opt for preventive blood loss solutions for the same.
Higher utilization rate of surgical tourniquets by surgeons in orthopaedic surgeries is creating favourable demand in developed markets. The development of pneumatic tourniquet cuffs and tourniquet systems together is expected to generate high revenue sales for the surgical tourniquets market during the forecast period.
Market Set to Grow 2.1X between 2019 and 2029
Increase in the patient pool suffering from orthopaedic disorders as well as high incidence of road accidents throughout the world are expected to boost the revenue growth of the surgical tourniquets market during the forecast period. Rising tourniquet adoption in invasive surgeries for blood loss prevention is likely to fuel the growth of the surgical tourniquets market.
Awareness about the need for early prevention of blood loss is expected to significantly contribute to the growth of the surgical tourniquets market. Strategic alliances by key players to serve underdeveloped and developing countries, especially in Africa and in some Asian countries are expected to propel the surgical tourniquets market growth.
Focus of Manufacturers on Emerging Markets
Most of the key medical device manufacturers are increasing their focus on emerging markets due to the lucrative growth potential in these regions, as well as to increase their distribution channels. Variation in disease patterns are triggered by lifestyle choices. In addition, sports-related trauma, rising affluence, lifestyle changes, rise in the demand for quality healthcare, and improved access to healthcare services are making emerging markets highly lucrative for medical device companies in the surgical tourniquets market.
Increasing elderly population represents additional opportunities for the manufacturers of surgical tourniquets. In addition, reimbursement schemes in most developed countries are expected to fuel the demand for surgical tourniquet products and are expected to contribute to the growth of the surgical tourniquets market in these regions. North America continues to be a prominent region in the surgical tourniquets landscape, with sales growing at a relatively higher rate.
Rising Economic Burden of Road Accidents and Sports-related Injuries
Road accidents comprise a significant portion of the international burden of orthopaedic injuries. According to the Association of System Integrators and Retailers in Technology (ASIRT), it is estimated that nearly 51 million people get injured in road accidents each year in the U.S.
As per the data from WHO, road accidents and traffic injuries are projected to be the ninth primary cause of deaths worldwide, which is predicted to become the seventh leading cause of trauma-related deaths by 2030. In sports and athletics, traumatic injuries to the extremities are very common. Moreover, the diagnosis and initial treatment for these injuries is important. This factor is boosting the patient pool and increasing the market growth of surgical tourniquets market.
Technological Advancements Resulting in the Availability of Enhanced Care Options
Traditional and conventional medical surgeries have several limitations such as long recovery time, more chances of infection, and highly expensive procedures. These limitations have resulted in a shift to minimally invasive surgical tourniquet devices. Surgical tourniquets have been in use for over 1,000 years, but today, they have become extremely versatile.
Pneumatic computer-assisted surgical tourniquets have built upon the strengths of the original surgical tourniquets by increasing the device versatility and ease of use in complex cases. This transformation has led to a positive impact on the global surgical tourniquets market growth.
The number of surgeries with surgical tourniquets is expected to increase by using this technique, as it encourages young patients to live a painless lifestyle. These technological advancements have largely contributed to the growth of the surgical tourniquets market.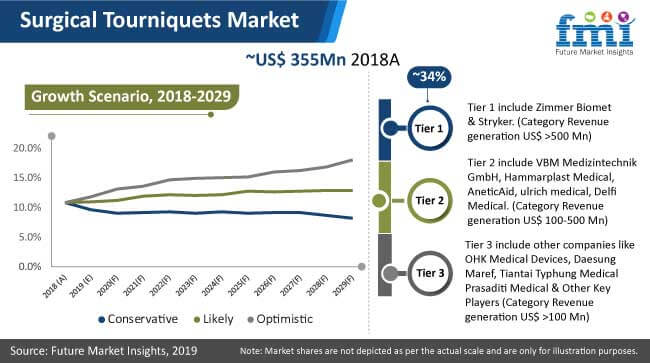 Surgical Tourniquets Market Structure Analysis
The global surgical tourniquets market is a moderately fragmented market owing to the presence of major players and region local manufacturers.
Some of the prominent companies in the surgical tourniquets market include Zimmer Biomet, Delfi Medical, Stryker Corporation,
Most of the key players in the surgical tourniquets market are emphasising on recognising and developing favourable technologies and targeted products from external and internal sources to meet the unmet demand in developing regions.
Companies are focusing on collaborations to realise the potential of emerging markets and restrategizing their alliances with distributors and key product facilitators.
Manufacturers of surgical tourniquets are focusing on implementing vertical and parallel integration strategies for their product lines and additionally expanding their distribution to developing economies through collaborations with local manufacturers and distributors. Key players are concentrating on the development of technologically-advanced computerised surgical tourniquet systems that are gaining significant acceptance for use in invasive surgeries. All these factors are significantly boosting the surgical tourniquets market growth.
Surgical Tourniquets - Creating a 'Bloodless' Field of Vision for Surgeons
As the health care settings continually advance with electronic diagnoses and consultation, robotics, nanorobotics, and AR devices, today's life-saving technologies remain revolutionary. While these technologies have been empowering the first responders, a range of new devices are being developed that offer immense promise for bystanders, first responders, and surgeons to deliver emergency services. Additionally, these devices are likely to play crucial roles in reducing the emergency response times and improving the survival rates for patients.
Tourniquets - the device used to temper the blood flow – is almost as old as warfare itself, and has been a widely used tool in current wars. Although different variations have been designed since its inception in the middle gges, the simplicity of design has remained. In a surgical procedures, tourniquets are used pertained to amputations and trauma cases within accepted clinical guidelines as the standard of care.
With scientifically based guidelines and safe parameters established for surgical tourniquet use, the benefits of surgical field free of bleeding and of limiting intraoperative blood loss have made it standard for extremity surgery.
Surgical Tourniquets Market - The Future Lies in Digitization
Consisting of a pressure regulated control unit, hose assembly, and tourniquet cuffs, pneumatic computer-assisted surgical tourniquets have gained significant traction as a viable tool to occlude arterial blood flow by compressing the patient's blood vessels during surgical procedures.
Surgical tourniquets continue to evolve in tandem with rising incidence of road accidents and sports-related injuries that demand for immediate medical attention and care, especially to stop traumatic bleeding which is used along with bleeding control kit.
Due to the risks of higher tourniquet-related injuries associated with higher pressures and pressure gradients, manufacturers are hard-pressed to innovate their products that use minimum pressure required to stop the blood flow. Several studies have also reported that lower tourniquet pressures are linked to minimal complications and pain.
Other than its usage in traumatic bleeding, it is well used along with surgical sutures in knee replacement procedures which have helped patients worldwide for decades, leading to a rise in the demand of various surgical devices including surgical tourniquets. With a global shift toward value-based healthcare and emergence of digital health care innovations, the surgeon's toolbox is expanding to make procedures more efficient, thereby compelling surgical tourniquets manufacturers to direct their investment in digitization and enhanced products.
Favorable Government Initiatives in Developing Countries - A Growth Influencer
Global demand for surgical tourniquets is recent based on the rising adoption rate of trauma care devices, especially in hospitals in remote areas, along with rising geriatric population and expansion of patient pool suffering from orthopedic disorders. Europe and North America continue to account for relatively large sales of surgical tourniquets, in the view of strong presence of market players, skilled healthcare staff, and increased adoption of innovative technologies.
Market consolidation in Asian Pacific countries such as China and India will remain a key gaining distinct competitive edge, considering favorable government initiatives to enhance healthcare sectors and rapid shift of manufacturing facilities in the region.
'Personalization' Marks a Turning Point for Surgical Tourniquets Manufacturers
In a highly regulated industry such as medical-device production, manufacturers continue to face various obstacles, as governments and health insurers implement measures and regulations to monitor product efficiency while controlling the costs. Although the surgical tourniquets are placed in the lowest risk category for medical devices, they can cause nerve, vessel, and tissue injuries to the patient, which remains a challenging factor for the manufacturers.
As the parade of new technologies and scientific breakthroughs became relentless, the surgical tourniquets market has been spectating massive investments in R&D to meet regulatory requirement and minimize the risk of injuries to patient. The trend of 'personalization' has also been impactful on the market.
Designed to better match patient limb shape and size, personalized tourniquet systems provide automatic means of measuring the Limb Occlusion Pressure (LOP) and include novel features to reduce errors, improve accuracy, and ensure patient safety. Additionally, digital displays and intuitive user interfaces are making their way in personalized surgical tourniquet systems that will allow perioperative staff to offer safe and effective care for the patients.
How Growth Will Unfold
A notable rise in the demand for surgical tourniquets has been weighing on a same scale as the growing number of patients undergoing knee arthroplasty and vascular surgeries, especially elderly population who have significant co-morbidity such as diabetes, heart disease, and renal failure. In recent times, rising application scope in orthopedic replacement implants in line with rapid adoption of reverse shoulder arthroplasty for its ability to reduce pain in patients is likely to work to the advantage of surgical tourniquets market players.
In addition, a remarkable shift in operative procedures – from conventionally invasive to minimally invasive surgeries – is likely to prompt the manufactures to develop surgical tourniquets with improved features that not only expand the potential applications but also eliminate the existing complications.
Key Segment
By Product Type
Tourniquet Systems

Single Channel Systems
Dual Channel Systems

Tourniquet Cuffs
Inflatable Cuffs

Disposable Cuffs
Reusable Cuffs

Non-Inflatable Cuffs

Disposable Cuffs
Reusable Cuffs
By Application
Knee Arthroplasty
Amputation of Limbs
Plastic Surgeries
Trauma Cases
By End User
Hospitals
Ambulatory Surgical Centers
Specialized Clinics
By Region
North America
Europe
Latin America
South Asia
East Asia
Oceania
Middle East And Africa
Emerging Countries
Need specific information?
Talk Show:
The Rise of Intelligent Packaging
Personalized, Connected and Sustainable
November 18, 2021
11:00-11:45 AM PST (USA & Canada)
This is a LIVE session