Gloves to Account for 2/5th of Total Sales
[226 Pages Report] In 2019, gloves (examination and surgical), one part of an infection-control strategy, accounted for 40% of the total sales value. Increased emphasis on hand hygiene to prevent new infection from the COVID-19 has led to a sprung in global sales of medical gloves. It is imperative to note that fluctuations in prices of raw materials for latex gloves and risk of latex allergies are influencing manufacturers to move toward the production of synthetic gloves in the time of pandemic. Rapid spread of the disease across multiple countries is also significantly contributing to the demand for protective clothing, gowns, N95 respirators, and surgical masks.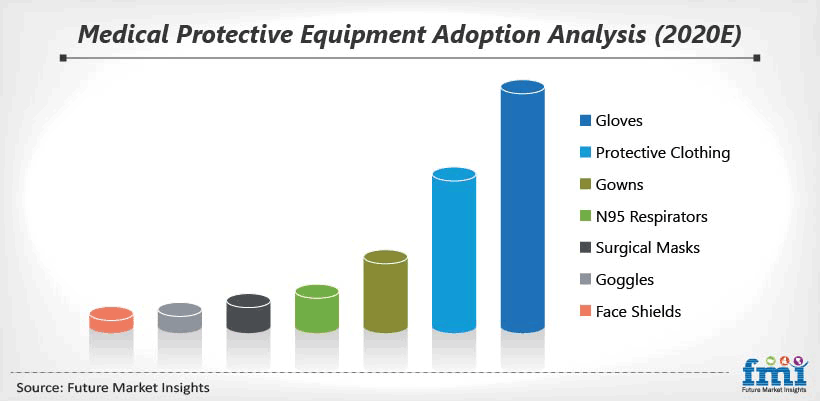 Development Markets - The Current Epicenter of COVID-19 and Market Growth
As the COVID-19 pandemic's epicenter shifts from China to the U.S. and Italy, the medical protective equipment market is experiencing robust growth in Europe and North America. An exponential rise in number of COVID-19 patients in these regions is pressing manufacturers to increase the production of medical protective equipment.
Moreover, governments and health authorities are using federal powers to force manufacturers to increase production at a significant pace and seeking to purchase any quantities that major manufacturers in Asian Pacific countries can spare. However, concerns about the quality of products from these countries are paving way for new entrants in North America and Europe's markets.
Health Authorities Emphasize 'Rational Use' to Bridge Demand-supply Gap
Considering the widespread use of medical protective equipment, mainly N95 respirators and surgical masks, outside patient care by common citizens to protect themselves from community transmission of COVID-19, manufacturers and suppliers have been leveraging the opportunity to increase the price of their products.
Public health authorities such as the World Health Organization (WHO) and Centers of Disease Control and Prevention (CDC) have warned that severe disruptions in the global supply chains in line with misuse and hoarding of protective equipment is putting lives at risks for healthcare workers, patients, as well as non-infected individuals.
Therefore, these organizations have put forward several guidelines and strategies to facilitate rationalized use and optimal availability of the equipment and normalize the supply chain.

How Growth will Unfold
Adoption of medical protective equipment in hospitals continues to influence growth strategies, while growing application in diagnostic and research laboratories is expected to result in increased market share. Fast construction of hospitals to accommodate ever-increasing number of patients is weighing on a same scale as growing demand for medical protective equipment.
In the time of COVID-19 pandemic, shortages of protective equipment are posing a tremendous challenge to the healthcare systems, which in turn has resulted in influx of fast-produced, low-cost alternatives. Market frontrunners are thus hard pressed to differentiate their products from the competition while meeting the swelling demand.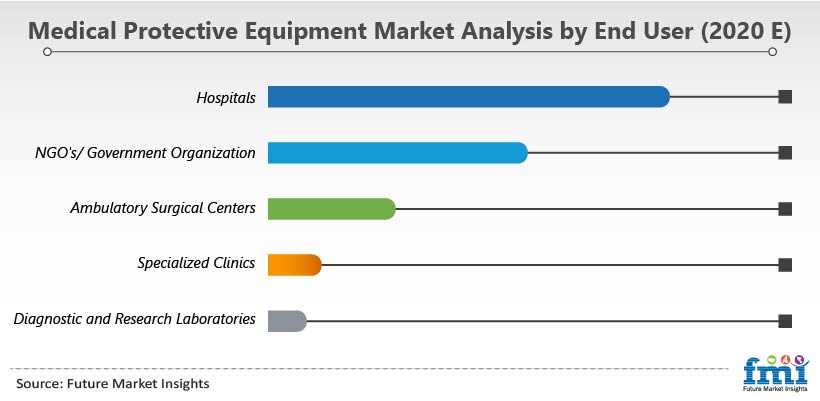 World's Most Profilic Intelligence Engine
Get Access To The World's Largest Market Research Database. Ngage with a revolutionary intelligence engine that scale and pricing that flexes as per your needs
Sign Up Now
MEDICAL PROTECTIVE EQUIPMENT MARKET TAXONOMY
The global medical protective equipment market is segmented in detail to cover every aspect of the market and present a complete market intelligence approach to the reader.
Product Type
Gloves
Protective Clothing
Gowns
N95 Respirators
Surgical Masks
Goggles
Face Shields
Head Cover
Shoes Covers
Usage
Disposable
Non-disposable
End User
Hospitals
NGO's/ Government Organization
Ambulatory Surgical Centers
Specialized Clinics
Diagnostic and Research Laboratories
Region
North America
Latin America
Europe
East Asia
South Asia & Oceania
Middle East and Africa (MEA)
Need specific information?