Disposable Coverall to Propel Market Growth

Coverall is the full body protective clothing that is used in almost every industry, especially in manufacturing, healthcare, chemical and firefighting sector. From cleanrooms to chemical plants, coverall is utilized increasingly to address hazardous conditions pertaining to physical, electrical, heat, chemicals, biohazards, and airborne particulate matter. The growing usage and concern related to spread of infection has propelled the demand for disposable coverall in the market. Extensive R&D leads to the development of disposable coverall around the globe.
Numerous rules regulations and standards have been established to ensure worker's safety at the workplace. Regulations like Personal Protective Equipment's Regulation 1992 in the UK require employers to provide protective clothing to their workers who are at risk of getting exposed to hazardous substances while at workplace. Hence, coverall which act as an important aspect of protective clothing, is accelerating its demand among end use industries.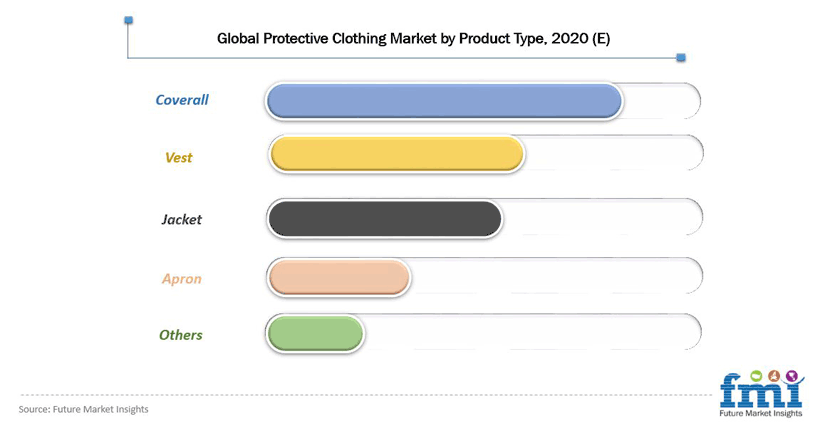 East Asia to Dominate the Global Protective Clothing Market
Regionally, the global protective clothing market covers North America, Latin America, Europe, East Asia, South Asia, Oceania and the Middle East and Africa (MEA). Among these regions East Asia holds the largest share in the global protective clothing market. Growing worker's safety is the primary reason for the usage of protective clothing. Industries, organizations, and governments are constantly striving to build a safe workplace for their workers by providing instructions, training and also supervision to encourage them to work responsibly and safely.
Therefore, workers safety along with stringent labour laws and safety policies in countries have pushed the companies or organisations to use protective clothing and avoid injuries caused by an accident at workplace.
Countries in South Asia however offers substantial growth opportunities to the market. India is expected to drive the South Asia market owing to country's growth opportunity. Large number of company establishment, large number of labour base, and high growth opportunities in manufacturing, chemical sector is accelerating further demand of protective clothing market.
Current Coronavirus Pandemic Outbreak Resulting in an Increase in Demand
During a coronavirus pandemic outbreak, health professionals use protective clothing to reduce the risk of infection. In such situations, the protective clothing is crucial for all the health workers who are working in the frontline to fight the pandemic. Current reports show that the COVID-19 pandemic outbreak has resulted in an increase in demand for protective clothing.
The governments and health organizations across many regions are facing a shortage of protective clothing required to protect their health workers from getting infected. Organizations and industries are working for extended hours to increase the supply of products.
The workers in organizations like DuPont are working around the clock to fulfil the scaling demand for protective clothing in the market. The manufacturing facility of DuPont is currently operating at its full capacity to accommodate the rise in demand.
How Growth will Unfold
According to the report, increasing focus workers health and safety, strengthen government regulation and adequate supply of protective clothing to the build-up of the market through 2030. Technological innovation, accompanied by changing needs of workers and consumers for protective clothing, is further projected to augment market expansion.
The industry has also been witnessing a surge in disposable protective clothing. Rising demand for protective clothing will also expected to increase demand for product material such as non-woven materials. On the basis of product type, the coverall are expected to dominate the global market owing to its high usage in chemical, lab & medical companies, manufacturing and construction companies.
The use of protective clothing will dominate the market however the market is gaining pace owing to the profound growth of the regional personal protective equipment (PPE) companies.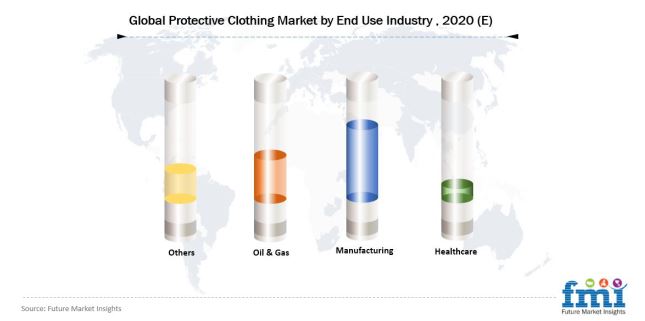 PROTECTIVE CLOTHING MARKET TAXONOMY
The global protective clothing market is segmented in detail to cover every aspect of the market and present complete market intelligence to readers.
Product Type
Coverall
Vest
Jacket
Apron
Others
Material Type
End Use Industry
Manufacturing
Oil & Gas
Healthcare
Others
Demographics
Sales Channel
Region
North America
Latin America
Europe
South Asia
East Asia
Oceania
Middle East & Africa (MEA)
Need specific information?