An Incisive, In-depth Analysis on the Medical Device Packaging Market
This study offers a comprehensive, 360 degree analysis on the Medical Device Packaging market, bringing to fore insights that can help stakeholders identify the opportunities as well as challenges. It tracks the global Medical Device Packaging market across key regions, and offers in-depth commentary and accurate quantitative insights. The study also includes incisive competitive landscape analysis, and provides key recommendations to market players on winning imperatives and successful strategies.
Advancements in medical devices to spur the need for safer packaging
The medical device industry is witnessing advancements at a high rate. A medical device also goes through a lot of stages like sterilization, handling, shipping and usage. Therefore these devices require extra care while packaging and transporting. Its packaging should enable protection of medical devices against shock, puncturing, vibration, tearing, bursting, splitting, atmospheric changes in humidity and heat. The market is also witnessing a need for easy to use and easy to dispose packaging solutions. The advent of thermoformable materials enabled usage of new packaging solutions such as, thermoformed trays and blister packaging. Thereafter, a growing demand for good lidding materials compelled the manufacturers of medical device packaging solutions to come up with new packaging solutions with improved film laminations, which was made possible by the introduction of thermoplastic polymers. As the quality of healthcare continues to improve across the world, it is anticipated that the global medical device packaging market will benefit from the growth in demand for newer medical device packaging solutions aimed at enhancing consumer confidence.
Manufacturers have realised the need for sustainable packaging that proves to be cost efficient
Out of all the opportunities that are available to the businesses in the global medical device packaging market, a smart approach or sustainable packaging system can be the most beneficial opportunity for these companies. They need to focus on a sustainable packaging solution which involves a modern and smart packaging technology and is also cost efficient. For instance, auto identification is one of the technologies that is used to help the machines identify objects or persons. This includes a number of individual technologies such as barcodes, biometrics, and Radio-Frequency Identification (RFID). The advent of smart and intelligent packaging systems has enabled medical device packaging manufacturers to optimize their efficiency, thereby facilitating growth of the medical device packaging market.
Packaging manufacturers are also constantly enhancing their product development activities to concoct arrangements that permit medical device manufacturers (MDMs) to save cost while additionally convey value to purchasers and end clients of medical devices. Arrangements, for example, installing rehashed watermarks composite flexible structures or multi-layer rigid packaging formats enable producers to anticipate against duplicating of medical devices. Anti-counterfeit technology embedded in packaging maintains integrity of packaging as well as medical device products throughout complex supply chains. Thus, manufacturers of medical devices are increasingly demanding packaging solutions that have cost effective anti-counterfeit solutions.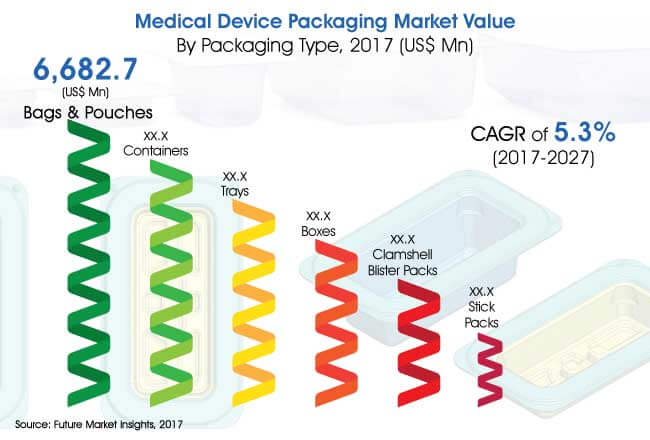 Trays packaging type to surpass the bags and pouches segment in terms of compound annual growth rate
According to the regional analysis of global device packaging market, North America dominates the market with the highest market share. The share is contributed by various packaging type segments. Among these segments, bags and pouches segment rules the market with a value of around US$ 2,300 Mn during 2017, expected to grow at a CAGR of 4.9% during the forecast period. It is followed by containers segment which has a market value of over US$ 2,000 Mn in 2017, growing at a CAGR of 4.3% during 2017-2027. However, the segment that is ahead all other packaging types, in terms of highest CAGR is trays, which is anticipated to grow at a CAGR of 5.7% during the forecast period.
Report Description
A new research report by Future Market Insights titled 'Medical Device Packaging Market: Global Industry Analysis 2012 – 2016 and Opportunity Assessment 2017 – 2027' focusses on covering every aspect of the activities and developments that are taking place in the global medical device packaging market during the forecast period. It includes an in-depth research on various factors that are influencing the growth of the market in some way or the other with the help of industry experts and analysts. The outcome also consists of drivers that are driving the market growth, the trends that are governing the market and also the limitations that are restricting the growth.
Segmentation of the global medical device packaging market
By Packaging type

By Material Type

By Application

By End User

By Region

Bags & Pouches

Containers

Trays

Stick Packs

Clamshell Blister Packs

Boxes

PE

HDPE

LDPE

LLDPE

PET

PP

PS

PVC

Aluminium

Glass

Paper Laminates

Fabric

Disposable Consumables

Monitoring & Diagnostic Equipment

Therapeutic Equipment

Medical Manufacturing

Contract Packaging

Others

North America

Western Europe

Eastern Europe

MEA

APEJ

Japan
A report structure that facilitates seamless access to key market information
The report structure of FMI's research report on medical device packaging market has been given a systematic structure. To form a strong base for the readers, the report starts with the basic definition and summary of the market. The summary includes all the key outcomes of the research and the results. This is followed by a taxonomy which shows the segments a market is divided into. The market taxonomy for global medical device packaging market includes segmentation done on the basis of packaging type, material type, application, end user and region. It helps to simplify a huge market by breaking it into different parts. The report includes an individual analysis of every segment that helps covering every part of the market and get more accurate results, and also the businesses to identify the most lucrative segment of the industry.
Another major section of the report is covered by a competitive landscape of the market. It includes a detailed profile of the major players that are participating in the market during the forecast period. It consists of their current development scenario and also their future market strategies. This section can be of great help to the businesses that are looking for opportunities to excel in the industry and compete efficiently with the current key players. The competitive landscape acts as a guide for new entrants in the market as well as the existing businesses, to understand the market better and plan their counter strategies.
Why should you invest in this study?
There are several reasons for you to invest in the research report. The main facts supporting your decision are zero biasness in the research data collection, detailed and a comprehensive segmentation of the entire market, key trends and developments taking place in the market, statistical analysis with maximum accuracy, global market forecasts for a period of 10 years that give an idea about the future market scenario based on the current and the past market scenarios thus assisting the reader in slating important strategies with a view to maintain the right tempo and overcome the challenges owing to the changing market dynamics and achieve competitive advantage.
Medical Device Packaging Market Reports - Table of Contents
Akshay Godge
Client Partner - Global Business Development
CASE STUDIES
See how our work makes an impact.
At FMI, we design strategies that are adaptive, impactful, and implementable.