Medical Cannula Market Outlook & Key Findings
Medical cannula market likely to grow at nearly 7% in 2020
Technology advancements leading to effective clinical use of medical cannulae are driving adoption
Rising preference for minimally-invasive medical procedures creating lucrative opportunities
Manufacturers focusing on offering customized products to meet varied needs
Increasing number of Surgical Procedures
As per NCBI, over 234 Mn surgeries are being performed across the globe every year.
Delivery of therapeutic and diagnostic agents, anaesthetic procedures, suction, and irrigation – all these procedures need medical cannulae.
Furthermore, a sizable population is opting for minimally invasive surgeries. NCBI states that provision of proper package with regards to surgical procedures (including medical cannulae) has the potential of averting 6-7% of deaths.
Also, the fact that the number of patients with cardiovascular ailments and other chronic diseases like diabetes is increasing at an alarming rate can't be ignored. As per the WHO, cardiovascular diseases account for 17.9 Mn lives every year. Diabetes accounts for 1.6 Mn deaths every year.
Use of apt infusion set for diabetes-affected patients and increase in surgeries related to cardiovascular ailments are also likely to drive market growth during the assessment period.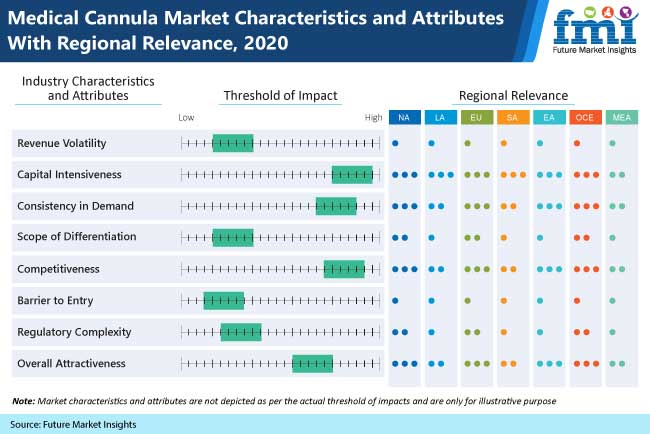 Medical Cannula Market Characteristic and Attributes
Medical cannula market players are focusing on development as well as approval of products to cater to the demand from patients and healthcare professionals.
Capital intensiveness is at its peak with low volatility as far as revenues are concerned. The demand has been consistent due to increase in the number of surgical procedures.
Covid-19 has resulted in further exponentiation and the trend is expected to continue until first two quarters of 2021.
Besides, new players trying to enter the market face less stringent measures in the present scenario. This trend will definitely make the market competitive, but will impact product differentiation, as players would be more focused on innovations.
For instance –
In May 2020, Medtronic plc MDT tabled a novel kind of cannula to address balloon kyphoplasty surgeries all over the US. Medtronic's BKP (balloon kyphoplasty) products would be assisting this directional cannula for treating vertebral compression fractures caused due to benign lesions, cancer, or osteoporosis
In Oct 2019, Innovia Medical announced its partnership with DTR Medical to increase its geographical presence regarding design as well as production of single-use surgical instruments for specialist as well as general surgical procedures
LivaNova PLC, in Jun 2020, announced that its B-Flow ECMO (Extracorporeal Membrane Oxygenation) cannula obtained CE Mark approval to conduct ECMO procedures. In 2019, the same cannula had acquired approval for cardiac surgery procedures
In Aug 2019, Cook Medical released 2.6 Fr CXI Support Catheter's 2nd generation with platinum-iridium marker bands to be used in superselective/small-vessel anatomy for interventional and diagnostic procedures, inclusive of peripheral use
In Sep 2017, LivaNova PLC received US FDA approval for launching its Optiflow Arterial Cannulae Family. The basic objective was to enhance blood flow characteristics, thereby causing reduced WSS (wall shear stress) profiles
Improper Cannulation: A Key Challenge
Though medical cannulae are inevitable in surgical procedures, improper cannulation is likely to result into hypersensitivity, extravasation, infiltration, phlebitis, and systemic or local infections.
Moreover, if an infant is subject to IV cannulation, it could prove to be utterly painful if not approached in a supportive manner. Also, very few institutes across the globe provide are providing training for medical cannulation.
Lack of this skilled workforce followed by error in cannulation is likely to hamper market growth in the forecast period.
Region-wise Analysis
North America medical cannula market continues to be the largest in the world
Europe medical cannula market is the second largest in the world
Asia Pacific and Latin America are expected to provide ample opportunities to market players
Key Medical Cannula Players
The market is witnessing an entry of novel players as regulations have been relaxed on this part. Moreover, the key market players are engaging in launching new products to gain a competitive edge.
"CENTRALCARD" from CardioMed, EZEDERM from Olberon, MICS FLEXFLOW 200-200 from LivaNova are amongst the venous cannulae available in the market.
The other categories of medical cannula include cardiac cannula, vascular cannula, dermatology cannula, arthroscopy cannula, and nasal cannula.
The key players in medical cannula market include:
Americas
Medtronic plc
Becton, Dickinson and Company
Stryker Corporation
Boston Scientific Corporation
Teleflex Incorporated
Conmed Corporation
Cook Medical LLC
Innovia Medical LLC
Beaver-Visitec International
Europe
B. Braun Melsungen AG.
Smith & Nephew
Getinge AB
Ypsomed Holding AG
LivaNova PLC
Entrhal Medical GmbH
Asia Pacific
Terumo Corporation
Harsoria Healthcare Pvt. Ltd.
Medical Cannula: The Way Forward
Medical cannula market in the long run is expected to go strong, with FMI estimating it to grow at over 7% Y-o-Y.
Covid-19 has certainly resulted in short-term increase in demand for medical cannula, but the market won't be looking back in terms of traction in the forecast period as the number of surgical procedures will keep on increasing throughout.
The key players are catering to the demand from ASCs (Ambulatory Surgical Centres) and the patients opting for non-invasive surgical procedures. As such, they need to take a collaborative approach, so as to cater to the above mentioned sections.
Key Segment
Products
Guedel
Yankauer
Berman
Frazier
Spackmann
Barron
Novak
Poole
Robertazzi
Bellucci
Brackman
Karman
Others
Medical Procedure
Vascular Access
Surgery
Intubation
Lipofilling
Suction
Irrigation
Biopsy
Insufflation
Hysterography
Insemination
Cardioplegia
Size
14G
16G
18G
20G
22G
24G
26G
Material
Latex
Latex-Free
Neoprene
End User
Hospitals
Ambulatory Surgical Center
Clinics
Other
Region
North America
Latin America
Europe
South Asia
East Asia
Oceania
Middle East & Africa (MEA)
Need specific information?